Forget the plastic, and have some spooky fun in the woods with a Halloween forest school session.
Over the years I've built up a whole assortment of frightfully good nature activities to do with children in October.
Here are thirteen of my favourite tried-and-tested Halloween activities for nature play.
Halloween Forest School activities
Autumn is perhaps my favourite time of year for playing with nature. And Halloween is one of my favourite events (second only to Bonfire Night!), so I can never resist it as a theme for nature activities at my Halloween forest school sessions.
All of these activities are ones I have done in outdoor forest school settings, so I can promise you the kids will love them!
Any product links in this article are mostly Amazon affiliate links. You can find out more about what that means on my 'about affiliate links' page.
---
Hammering wooden golf tees into pumpkins is a classic preschool activity that I've found works just as well with primary school-age children too.
This has become a must-do activity at my Halloween forest school sessions because everyone loves it just so much. Pumpkins? Check. Smashing? Double check!
Take a look at this quick post to find out what you need, and what extension activities you can add to this as well.
(And just a note, this is also a great summer activity if you substitute watermelons for pumpkins!)
Nothing says autumn like conkers! Its a bit of a ritual in my house come September time to go on a pre-Halloween horse chestnut hunt, and gather up those shiny nuggets of autumn gold.
But what do you do with them then? If you've exhausted conker playing, made some conker creatures, thrown a few conker comets, strung together a conker snake and woven a conker god's eye, there's only one thing left to do.
Turn them into a cauldron-full of Halloween eyeballs!
Great for making at a Halloween forest school, and threading onto string for necklaces to take home.
All you need for this Halloween forest school activity is shiny silver paint and homemade spiderweb stamps, plus some black paper and glue.
Get them foraging for leaves, seeds, and other bits to make a nature collage, then make a conker spider to live on their web!
I don't use glitter nowadays, but if you do want add a bit of sparkle to your web, try this eco-friendly biodegradable glitter to add to your paint.
Another Halloween forest school must! Magic wands can be made in all sorts of ways – all you really need are some twigs and a bit of string or wool/yarn to tie around it. Then the kids can go hunting for treasures to tuck in.
These ones are a bit more elaborate, and require a glue gun. They can still be made outdoors, but you'll need something like this cordless glue gun.
Be warned, the power drains quickly though! I take along my multipurpose power bank/torch to keep the battery topped up.
Halloween forest school potion play
A Halloween forest school isn't complete without magic potions! For younger children, all they need for this are things to pour with… and things to pour into.
A nice big caldron like mine makes a great focal point. Just add some bottles of water and get them foraging for other ingredients to add to the mix.
A nice long spoon is great for stirring everything up. Or just use a big stick.
(There's no tutorial for this one, because honestly, the picture says it all!).
These hedgehog 'pumpkins' (okay, butternut squash!) are almost too cute for Halloween forest school.
But they're a great autumn craft that works perfectly as a preschool-friendly make (big kids like making these too, though!).
Combine with the golf tee hammering to make the holes, and this is a simple project that kids can complete in a single session, even with time spent foraging for twigs.
Halloween sits on the edge of autumn, so it's a great time of year to start kids thinking about how wildlife will cope with the colder months coming.
This little bird feeder looks great hanging outside, and making it involves just a few simple tools to hollow it out and make the holes for the 'arms'.
I also like to get the kids to decorate ours with a carving, but younger children could also paint them.
This is another simple project that can be done in a single Halloween forest school session.
A pumpkin trail is a great addition to a Halloween forest school set up. These can be made as a tools activity during the session, or you can set it up for them to find and follow while exploring the area.
To make the trail preschool friendly and forest school themed, why not make animal pumpkins like mine?
Because I had ten pumpkins to make (on my own!!) and because my session was during the day, I didn't hollow mine out but just carved the surface.
While that meant they didn't light up, it also meant they lasted much, much longer!
Halloween forest school conker comets (or ghosts)
This is a favourite activity of mine for the autumn time – though I actually think of it more as a Bonfire Night activity than Halloween.
However since the two events fall so close together (5th November and 31st October for those non-Brits out there), I often end up doing these at the same session.
To make this more spooky than sparkly, make them with white tissue paper or crepe streamers, add some eyes with black felt-tip pen, and you've got conker ghosts that fly.
Another Halloween forest school activity that doesn't really need explaining. But I love this so much, I did one anyway!
You've got pumpkins and thick, gloopy paint. You've got natural confetti in the shape of leaves, and pine needles, and seeds. And that's basically all it takes.
This is a perfect Halloween activity for younger children who aren't up to carving.
Wrapping twigs in wool (or yarn) is all you really need to do to make these fabulous twiggy letters. I've used them for Halloween forest school decorations, and on a smaller scale they are a perfect activity for kids to do while out in the woods.
Give them some seasonal colours, and maybe set them some spooky works to make. Then you've got a twiggy word search in the forest.
This can be extended into a full-on literacy activity in all sorts of ways. The simplest is to get the kids to find all the words and then use them for the basis of spooky ghost stories round the campfire.
Spiderweb maze
This is a great Halloween forest school activity that gets the kids moving in ways that really challenge them.
Alas, I forgot to take many pictures of this one, so there's no tutorial, but basically you just need to string up a spiderweb-like net (use thick white wool or cord) between three or four trees, and hang some spiders from it.
The children clamber through the web, counting spiders. You could put letters on the back of each wood cookie, that the children collect and have to make into a word.
But honestly, they'll be happy just climbing through this and pretending to get stuck!
Clay boggarts
A favourite forest school activity, whether for Halloween or any other time of year. Just provide some clay, and the woodland should give the kids everything else they need. (If you're in a clay soil area, it might even give them that!).
Make creepy clay faces to add to tree trunks and rocks. If they want to take them home, help them to make their boggart on a stick instead (like the traditional marotte, or jester's stick.
If you use air dry clay, be sure to remove it after the session. Air dry clay contains nylon to strengthen it and so isn't biodegradable.
For a more environmentally friendly alternative, use standard potters clay or buff school clay – the natural clay material that needs to be fired in an oven to harden. It will crumble away over time, leaving no trace.
---
Pin Halloween forest school activities for later!
Want to bookmark this post for later? Save it to Pinterest!
Looking for more fun things to make and do with the kids? Check out these great activities from Rhubarb and Wren!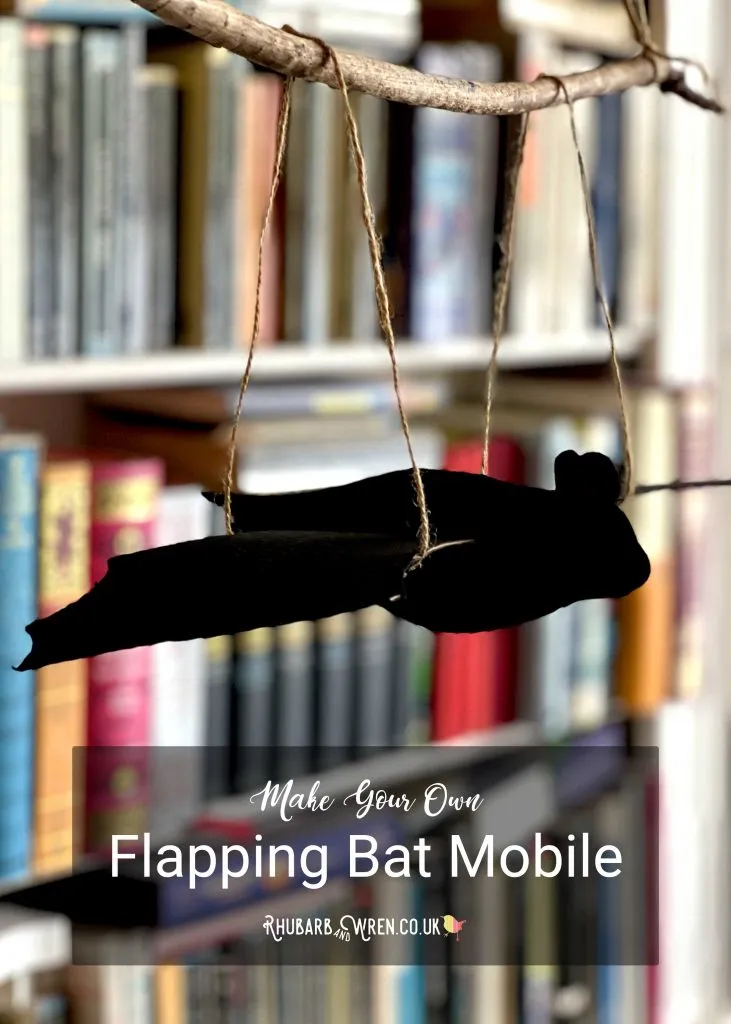 [smartslider3 slider="5″]