Last Halloween I had the challenge of putting together a pumpkin trail for small children. This meant carving pumpkins that were friendly rather than frightening, and more gorgeous than gruesome. And so what could be more perfect for little ones than a Pumpkin Animals trail?
Want some inspiration and ideas for your own unscary pumpkins? Read on to see what I made!
My pumpkin animals trail was set in the wooded garden of a Victorian former school, and had lots of trees and undergrowth for my pumpkins to lurk in.
Making Pumpkin Animals
I made the pumpkins for this trail by myself, over the course of a day. Sooo… that's a lot of pumpkins! To make things easier on myself (and, frankly, to make it even possible) I had to simplify the carving.
Rather than hollow out my pumpkins and cut out holes to create traditional jack-o'-lanterns, I carved my images into the surface skin instead. This had the added advantage of making the pumpkins last much longer before they started to go bad. And as our pumpkin trail was happening during the day, nobody seemed to miss the lights.
This post uses affiliate links, which means I receive a small amount when you click through to a link and buy. You can find out more on my 'about affiliate links' page.
Materials needed
Pumpkins!
Carving tools – I use a rotary tool like this one, plus assorted kitchen knifes!
Protective gloves (because, assorted kitchen knives)
Pumpkin Animals Instructions
To make these pumpkin animals, I started by drawing my designs onto the pumpkins with a pen. Then I used a rotary tool to score over it, to a shallow depth just below the surface. Be careful not to smudge the pen marks with your hand as you do this.
And the beautiful thing about pumpkins is that the colour of the top layer of skin is often in sharp contrast to the colour found just underneath. Scratch the surface of my dark green pumpkins, for example, and you find bright yellow. This made my designs really stand out.
There were one or two exceptions that I did carve, and these were the mini pumpkin spider and mouse. Because they were small, carving them was really quick.
A parade of pumpkin animals!
Pumpkin Mouse
This pumpkin mouse was a really quick and simple one to do. I did hollow it out, but in retrospect that probably wasn't necessary.
The kids actually helped me with this little guy too. I carved the ear and eye holes. And they drilled (using this kids' sized hand drill) the holes for the whiskers and the string-tale, and added those bits themselves
You can see a bit of white paint that we put on to emphasise our carving details, which is something we did on a couple of the pumpkins. However, once again, I don't think it was really necessary in the end.
Pumpkin Snake
Most of my pumpkins were carved like this slithery adder. I drew on the outline with a felt-tip pen, making sure to make clear which bits were to be carved out, and which bits left with the surface skin colour. For example, the eye and the pattern on the snake's body have been left orange.
A snake was perfect for this particular kind of pumpkin, which is called Rouge vif d'Etampes or (for obvious reasons!) Cinderella's pumpkin. It's big but rather flat, so you don't have much width to work with.
Pumpkin Fox
This giant pumpkin, on the other hand, was perfect for a fox. Its big, round shape and gorgeous orange colour provided a wonderful canvas for this friendly face, peering up out of the undergrowth.
This was a very easy one to do, with just simple ears, eyes and a muzzle of white fur. But it is unmistakably a fox!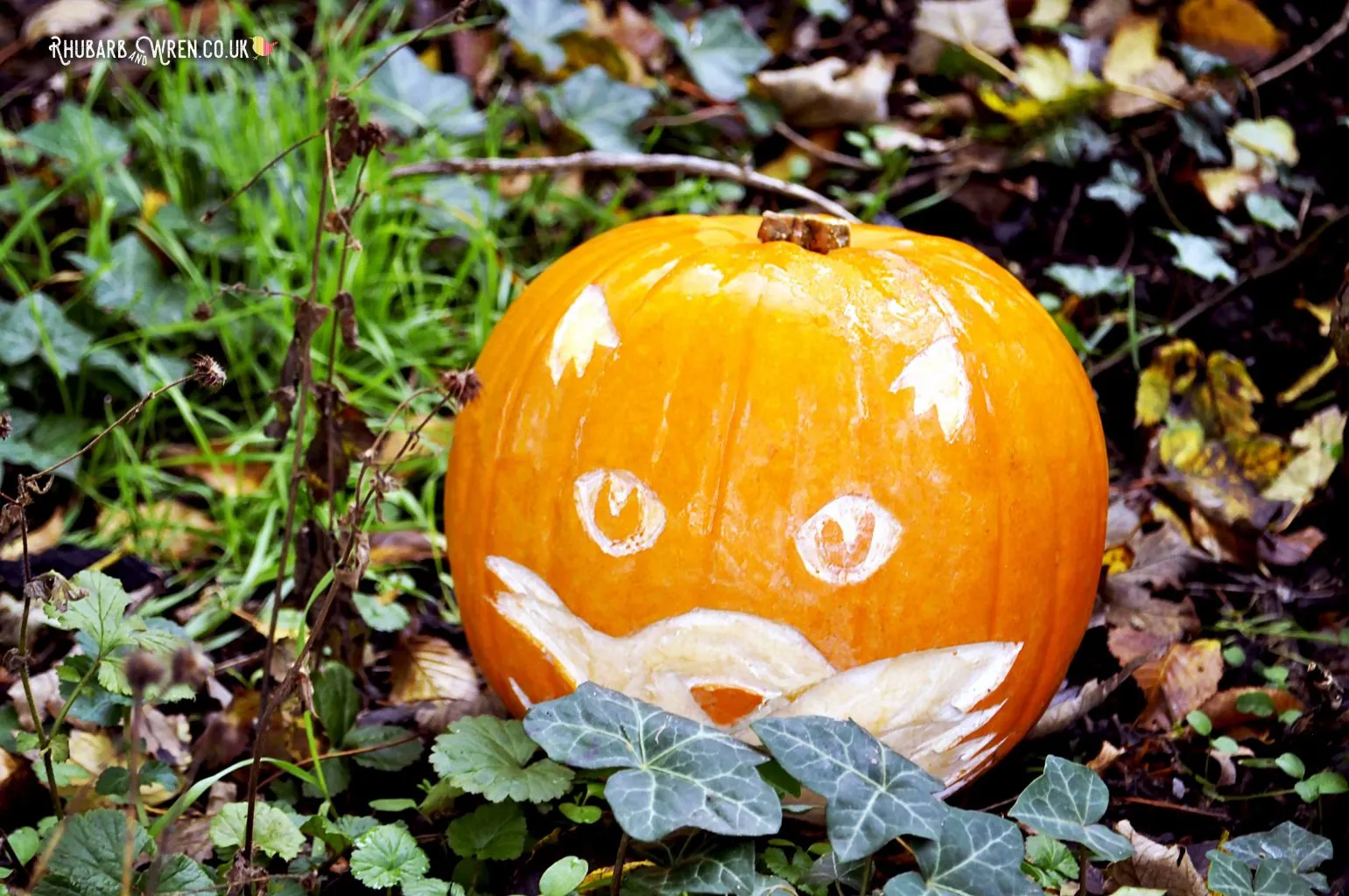 Pumpkin Badger
Mr Badger, however, required a bit more work. The design isn't any more complicated than the fox; it's just that there was a lot more white to carve out!
But we couldn't have a British woodland menagerie without a badger, carved on my biggest pumpkin – a frankly enormous beast.
Pumpkin Cat
Like the badger, the cat had a lot of white areas to carve out, but this time entirely on the background! This was probably the most Halloween-y of the pumpkins, given the association with witches' familiars.
I love the full moon glow behind the cat, and I did use a bit of white paint to bring this out more. It would have been a pale orange moon if I'd left it, which would also have looked good.
Pumpkin Owl
Our pumpkin owl was one of the quickest to carve, yet as this was another massive, giant pumpkin, it also looked one of the most impressive.
Just eyes, simple wing shapes, a triangle beak and some feathery 'v's, this owl looked quite majestic on his tree-stump perch.
Owls come in many different shapes and sizes, just like pumpkins. So a smaller bird would have looked just as good. Next time I might have to do one to put up in the trees!
Pumpkin Spider
Like the mouse pumpkin, this friendly fella was hollowed out first. Unfortunately that meant that it didn't endure as well as the surface carved pumpkins. So this was the first one to start to go bad (we had the trail up for a couple of weeks).
However, while he lasted, he was a surprise hit with the kids. Adding just a touch of spookiness, his friendly smile and big eyes seemed to negate any negative or scary associations. My kids also gave me a hand with this one, carefully drilling eight holes and inserting the twig-legs.
Pumpkin Butterfly
This green pumpkin was absolutely beautiful, so it made sense to carve on it a creature also known for its good looks. The butterfly!
This pumpkin butterfly was a simple carve, and I tried (with limited success) to vary the colours by only scrapping away the very top layer in the wing patterns, to make them light green.
I was going to make a matching caterpillar out of green mini pumpkins (laid in a row to make the body), but, alas, ran out of time.
Pumpkin Robin
I love the autumn season and cling to Halloween and Bonfire Night as their own special events, resisting the slow merge with Christmas. However this pumpkin was such a gorgeous almost-red colour that it just cried out to be a robin, that most Christmasy of birds.
This one was a favourite with most of the adults, and I have to admit it's probably my personal favourite too. It wasn't actually any harder to carve, either. You can see I tried to 'feather' the body by carving lines, and they worked pretty well to give a bit of variety and depth to the image.
I added white paint to this robin, in order to maximise the contrast. I think that it worked particularly well here because the outer skin was such a lovely, deep colour.
Pumpkin Hedgehogs
Like the pumpkin mouse and spider, we made these spiky sweeties by drilling holes and poking in sticks. As such, the kids did most of the work for me on these ones, and had a great time doing it. You can see all the details on how to make these guys over on their own pumpkin hedgehog post.
Made with butternut squash instead of pumpkins, they were naturally the perfect shape for hedgehogs. And if that seems like Halloween heresy, just remember that the original Irish and British pumpkins were, in fact, turnips.
---
More pumpkin animals
Want to make some of these pumpkin animals yourself? You can see how I made my hedgehog pumpkins in a more detailed tutorial, here. Or check out my hanging bird feeder pumpkins right here.
Like my 'Pumpkin Trail' banner? You can see how I made my twiggy letters on this post too.
---
More from Rhubarb and Wren
Looking for more fun things to make and do with the kids? Check out these great activities from Rhubarb and Wren!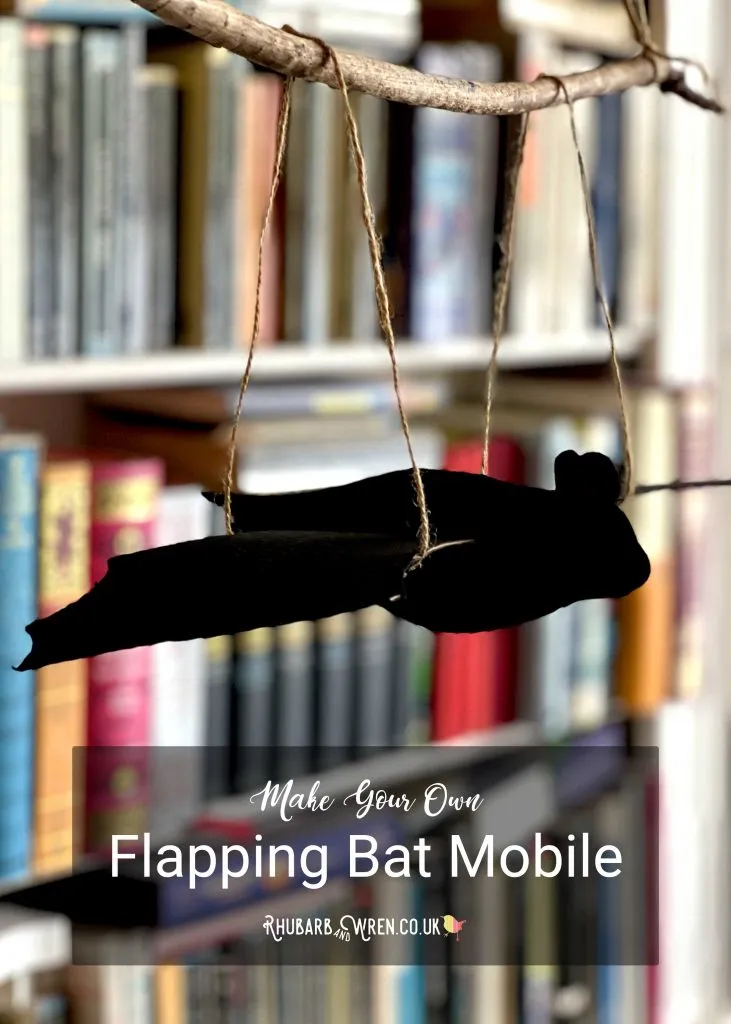 [smartslider3 slider="7″]
Pin this for later!
Want to bookmark this for later? Save this post to Pinterest! Which is your favourite pumpkin?
---