Whether you want them for ornaments or to use in a party banner, making DIY twig letters is a wonderfully easy craft to do. Here at Rhubarb and Wren, we've been making them for forest school parties, seasonal events, and even as individual letter ornaments to hang on the Christmas tree and decorate presents!
Want to make some too? Read on to find out how!
Not got much time or just want the bullet points on how to make these? Click here for the Quick Read Instructions.
My children are always bring into the house armfuls of sticks that they find out and about, or collect from the trees in our garden. Friends laugh because I always have a bucket of them stood in the corner.
So over the years we've found many different ways to make use of their stick treasures. We've painted them, used them as picture frames, made bows and arrows, giant bubble wands, magic wands, mini dens, and even twig lanterns.
But one of my all-time favourite stick crafts has to be these adorable twig letters. And it's one of the most useful too.
We've strung them together into words for party and event banners and signs. We've made miniature ones to hang up as monogram twig ornaments or to tie onto presents. And we even made a whole alphabet for forest school.
Wrapped in colourful wool or left in a more natural bare twig state, each twig letter is completely unique, just like the sticks we used to make them.
And it doesn't take much effort create these twig letters either, so you'll have your own alphabet before you know it!
How to make DIY twig letters
This is such an easy craft that I've done it many times with my children, though always under supervision as those wire snippers are sharp! We've used this technique to make letters, but of course you could use it for shapes, patterns and simple images too.
Materials needed
This post uses affiliate links, which means I receive a small amount when you click through to a link and buy. You can find out more on my 'about affiliate links' page.
You don't need many things to make these gorgeous letters, and the twigs at least should be easy to find for free!
Before you begin, you'll need to decide how big you want your twig letters to be as the sticks should be at least as long as your letters will be tall.
(You can click on any item in the list above to see exactly what we bought to make these on Amazon)
Instructions
Firstly, decide how tall you want your twig letters to be. Cut one stick to this height to use as a yardstick for measuring. Then you can start to make your first letter.
1. Making your twig letter shapes
Arrange some twigs into the shape of the letter, using more than one if necessary. A letter with all straight lines (like 'A' or 'E') is easier to start with than one with curves (like 'D' or 'G').
It's also much easier to do capital letters as they have less completely round letters than lower case, but both are absolutely possible.
Trim the twigs to size if necessary (those wire cutters also work for sticks!). Remember though, that you can twist, tuck and fold bendy ends of sticks together too, and this will give some extra strength.
Once you're happy with how it looks, uses pieces of the paper-covered vine wire to fasten the whole thing together.
I like to leave a few bumps and joints and offshoots to keep the letter looking as twiggy as possible, and you can also use twists of wire to create these features if your sticks are a little to smooth and bland.
For curvy letters, try fastening one corner first, and only then bend the stick around to the other side to fix into place.
2. Add hanging loops
You can see in some of the pictures that, at this stage, I also twisted a bit of wire into a loop and secured this at the top of each letter. This was so that I could hang them up in a garland or banner.
Some letters ('M' and 'W' for example) needed two hoops so that they wouldn't hang lopsided.
You don't have to do this – you can tie your letters on with string if you decide to hang them up later.
Once done with all this, you've got a twig letter! I like the look of them just as they are – bare and twiggy. You may also, therefore, want to finish there and leave them as they are (once you've made your other letters, of course!).
But if you want a bit more colour, the next step is decoration.
3. Decorating with colourful faux buds
While you can just use wool (yarn) to decorate your letters, I love the extra colour you get from adding some florists' artificial buds (otherwise known as pip berries) as well.
You can buy these little fake buds or berries loose, but they are easiest to use if you get them already fixed onto a pre-cut stem of vine wire.
This is basically the same stuff you've used to join the twigs together to make your letters, so it blends beautifully.
Wrap the pip berry stems around your twig letter shapes, keeping them tight against your sticks. You can trim them down into shorter sections if you don't want these everywhere.
The pip berry wire actually adds some additional strength and support too, so make use of this to reinforce any weaker joints or sections.
For these particular letters, I wanted bright colours to make a vivid contrast against my wool. So I used all the colours I had for a very non-natural look!
However, if you stick to the greens, whites, reds and pale pink, these little pip berries look surprisingly realistic – just like new leaf buds growing out from your twigs.
4. Twig letters wrapped in wool / yarn
The final step (I told you these were easy) is to wrap your letters in wool.
Tie the end of your wool onto your DIY twig letter, and start wrapping it around the whole thing. You'll find that, wrapped tightly, the wool stays securely wrapped without any need for glue.
However I do like to add a little wire to the ends of any branches so that I can bend the tip of this over the wool to keep it from slipping off the ends.
If you've used pip berries, make sure you don't cover them up as you go!
When you have covered the entire twig letter, tie the wool securely and trim down the knot. You could use a blob of glue, but a knot works just fine.
For these particular DIY stick letters, I added a further bit of colour by wrapping a second, contrasting colour wool around the letters, on top of the first.
I made sure to do this more sparsely than the first layer, so you could still clearly see that original colour wool. This is obviously optional!
5. Hang your DIY twig letters up for display!
If you added the loops of wire from step 1 (you can see them in this picture) to your letters, hanging them up is as simple as threading a length of string through those hoops.
This makes them easy to remove if you want to change what they say or use them for another purpose – they'll just slide right off the string.
Alternatively, you can just tie on some twine or string to display your wonderful twig alphabet – they aren't heavy, so this works just as well!
---
A DIY twig letter garland
Since you can make these letters to any size, from tiny to huge, they are incredibly versatile in what you can use them for. These particular letters were used on a pumpkin trail I set up for local children.
I love how natural their shapes are and yet (due to those colours!) how eye catching they were in the dark wood. They brought a lovely bright splash of colour that tied in to our many-coloured pumpkins.
Of course they'd also make great nature-themed banners for birthdays, weddings, parties and events, and I can tell you that they hold up well in the rain!
Smaller letters look lovely as individual decorations, whether it's for a child's bedroom door or hung up at Christmas. And smaller sizes are more manageable for children to make themselves too, as they may not have the patience to wind all that wool around a larger letter.
What would you do with them? I'd love to see how you use your letters, so if you make any, let me know!
---
Pin this for later!
Want to bookmark this for later? Save this post to Pinterest!
---
More from Rhubarb and Wren
Looking for more fun things to make and do with the kids? Check out these great activities from Rhubarb and Wren!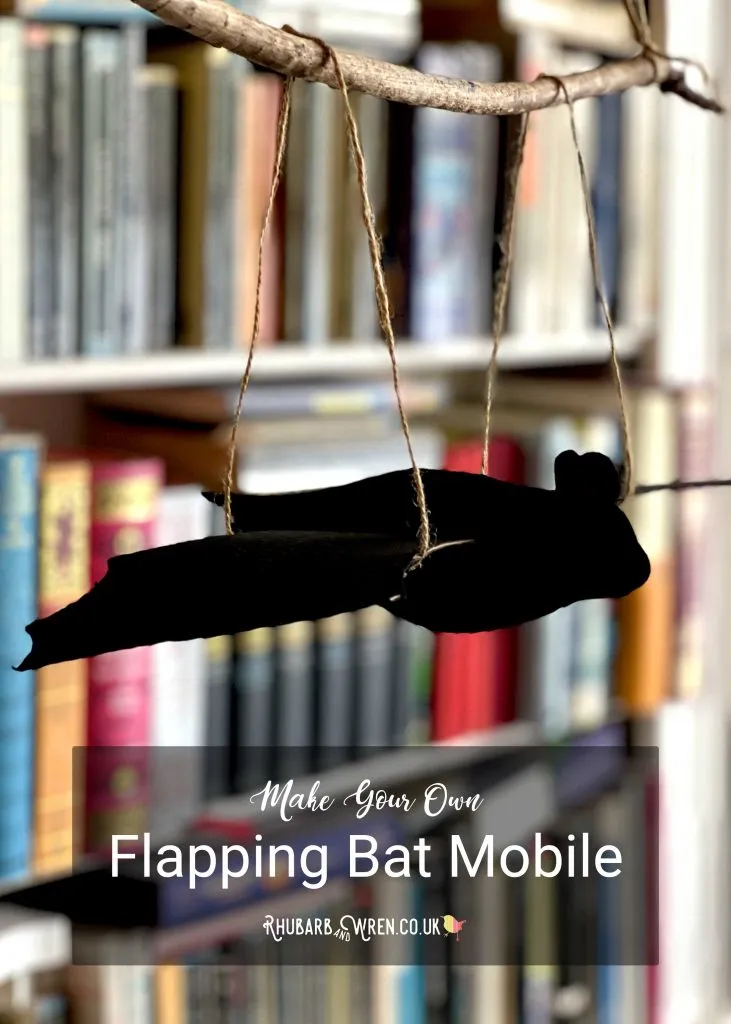 [smartslider3 slider="5″]
---
Quick-Read Instructions
For when you just want to get right to the point…

Materials needed:
(these are all Amazon affiliate links – see my 'About Affiliate links' page for more information)
● Twigs (any sort). Some will need to be bendy, for letters with curves.
● Florists' paper-wrapped vine wire Wire
● Wool / yarn (optional)
● Artificial buds on wire stems (optional)
● Wire cutters


Method:
1. Cut a guide stick that is the height your letters will be. This is your yardstick.
2. Lay out your sticks in the shape of your letters. Cut to size if necessary, but you can bend and twist the ends together too.
3. Use your vine wire to fix the sticks into place. Add loops at the tops of the letters to hang them up with later.
4. (Optional) Wrap the pip berry wire (the artificial buds) around your letters for some extra colour.
5. (Optional) Tie the end of your wool onto your letter and wrap it around the sticks until they are completely covered. Be sure not to cover the pip berries though. Tie off the other end and trim down to the knot.
6. (Optional) Use a contrasting colour wool and repeat the wrapping process, making sure that the original wool underneath still shows through.
7. Hang up your letters for display!


Hints and Tips:
● Uppercase letters have less curves and round shapes, so are much easier to make.
● Add extra vine wire to create interesting 'twiggy' lumps, bumps and branches. It will be invisible under the wool, and nearly invisible anyway!
● Add wire at the ends of branches. Once you have wound on your wool, twist the end of the wire back on itself to stop the wool sliding off.