Think of ancient Egypt, and there's an image that immediately comes to mind – King Tutankhamun's mask. So when number one son was set a homework project to make something Egyptian, there was only one thing he wanted to do. And this was even after I'd told him about crocodile mummies.
We wanted to make a mask as much like the real King Tut's as possible, and with a little bit of work and quite a lot of mess, we made a fantastic (and even wearable!) facsimile.
Our DIY Tutankhamun's mask was a lot of fun to do, and was actually pretty easy. Read on to find out how we made it.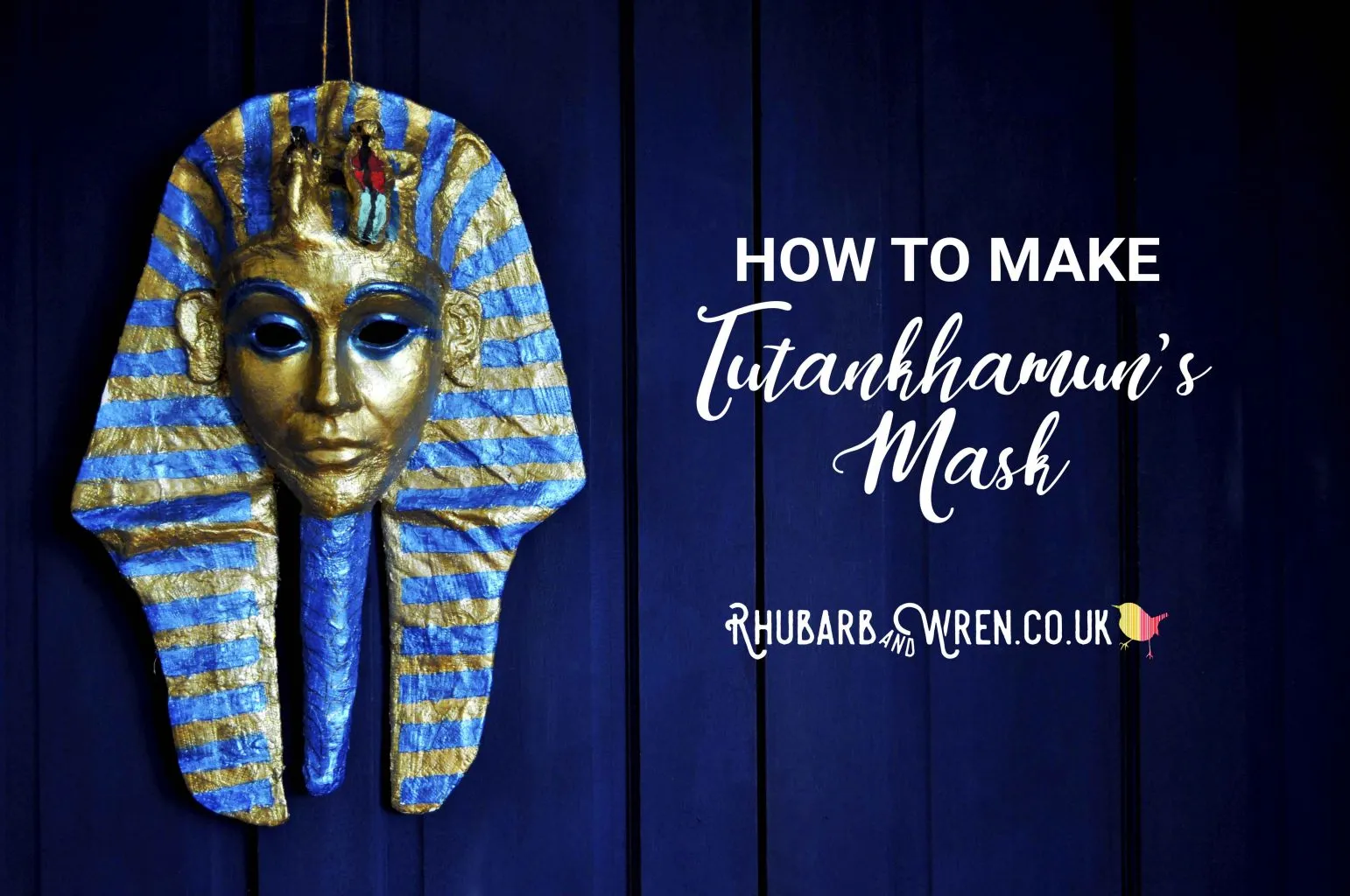 This post uses affiliate links, which means I receive a small amount when you click through to a link and buy. You can find out more on my 'about affiliate links' page.
Not got much time or just want the bullet points on how to make these? Click here for the Quick Read Instructions.
The funeral mask of Tutankhamun has to be one of the world's greatest treasures. I was lucky enough to see it – and visit Tutankhamun's tomb – on a trip to Egypt, and it is one of those objects that is just mesmerising to see in the flesh.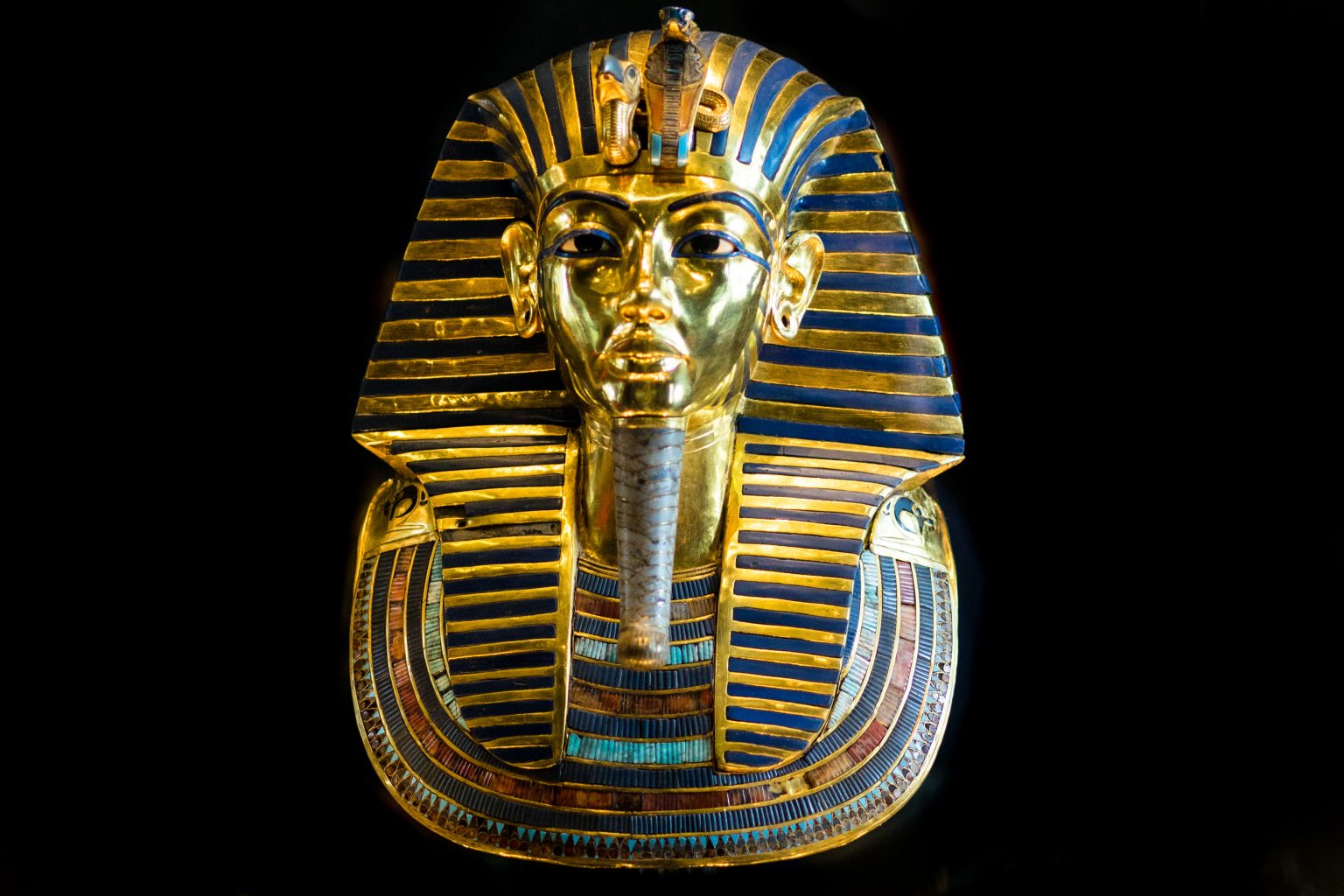 But don't worry if you can't get to the Egyptian Museum in Cairo to see it – we're here to show you how you can make your own DIY Tutankhamun's mask that's (almost) as good as the original. Almost.
DIY Tutankhamun Mask
Our DIY Tutankhamun's mask looks really impressive, and is mostly all our own work. However I must admit we took a little shortcut.
We didn't have much time for the project, so decided that we would use a pre-made mask (a paper mache blank from a craft shop) for the face, and build the rest of Tutankhamun's mask around it. This saved us a lot of time, but if you want to make yours completely from scratch, feel free to make your own face mask instead.
You could make this mask entirely from paper mache, and the process would be much the same. I wanted to introduce my son to a different technique, however, and so we used modroc.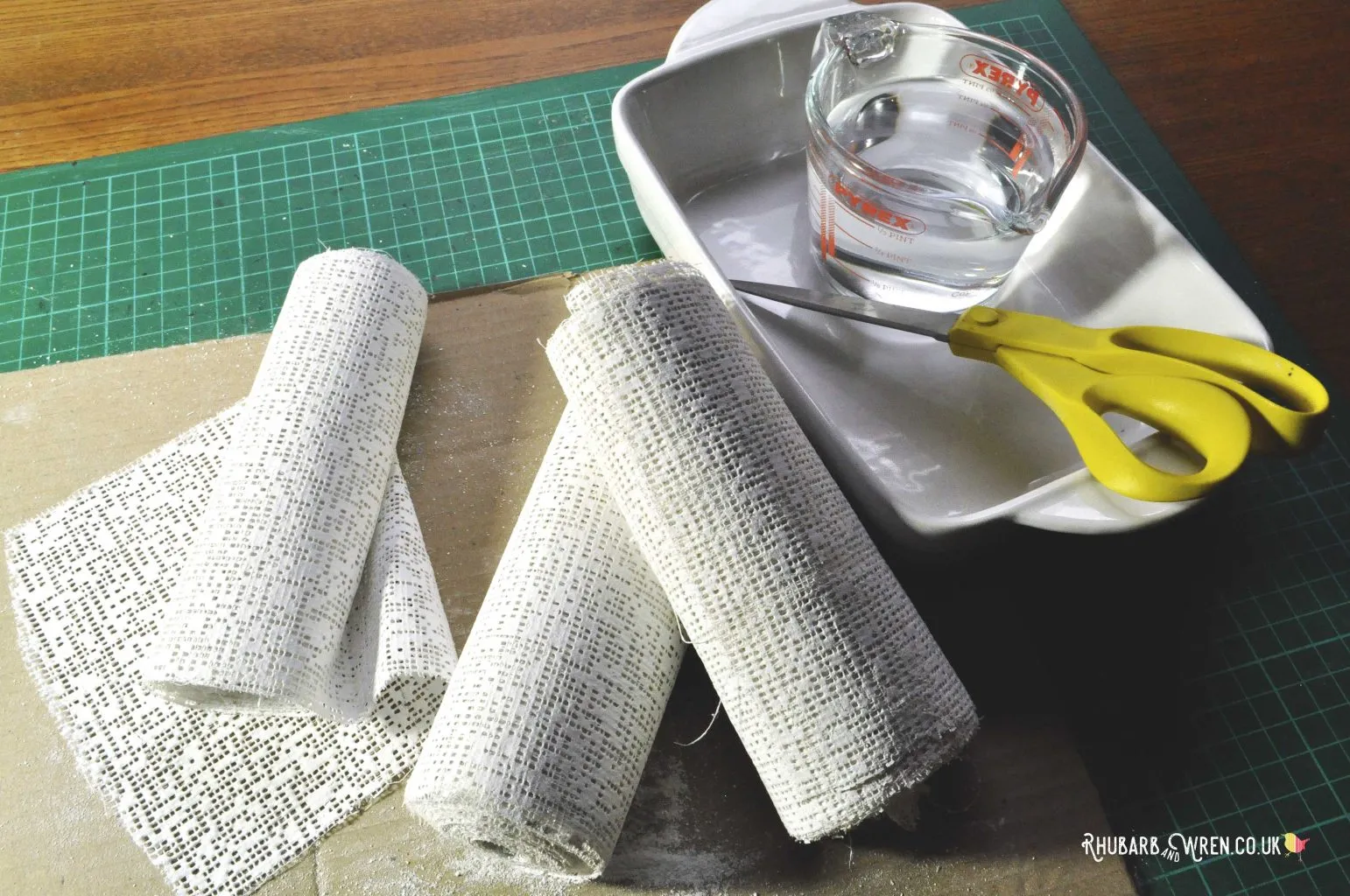 Modroc (plaster bandages)
If you've never used Modroc before, it's simply gauze fabric that has been coated with plaster of paris and then dried. It comes in rolls, which you cut into pieces and layer on in the same way you do paper mache.
Dipping the strips in water before you apply it re-moistens the plaster, and you can then smooth and blend it into other strips to create a seamless finish. It dries strong but relatively light, so it's great for projects like this.
Materials needed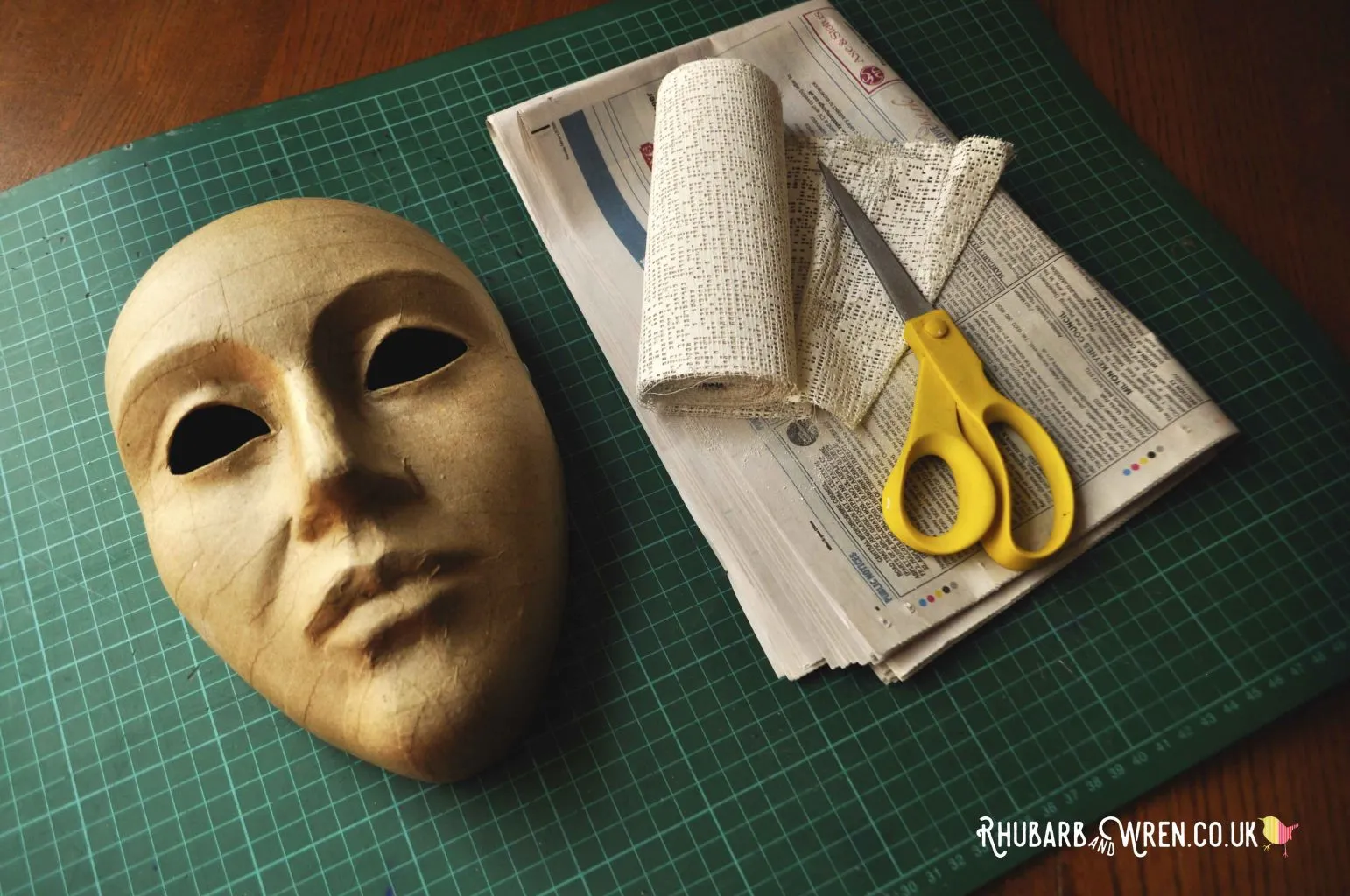 Instructions
Prepare your materials
Before you start, it helps to cut your plaster bandages into small strips. Once you get going, your hands are going to get messy, so it's easier to prepare everything in advance.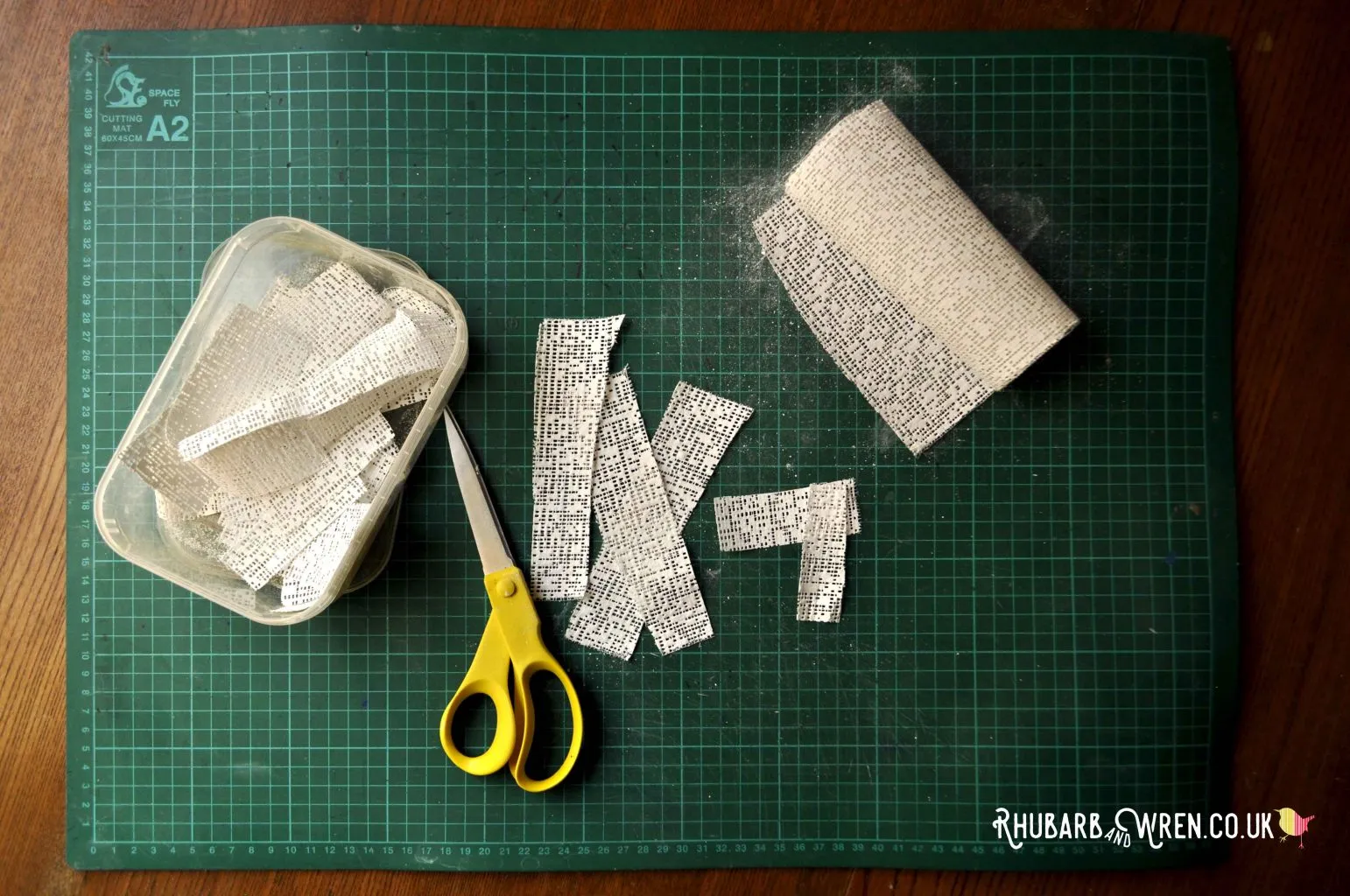 Lay out a shallow dish of water and some newspaper too.
Create the nemes
Draw the outline of Tutankhamun's nemes (the striped head cloth) onto corrugated card. Lay down the paper mache mask in position, to check the curve at the top is in line with the mask's curve, and that the overall size is right. Draw around the paper mache mask, then put it to one side.
Cut out the nemes, including the middle where the mask will sit.
You need the cardboard you use to be strong enough to bear the weight of the paper mache mask and also the plaster bandages you'll be adding. Ordinary box cardboard is fine for this, but thin card won't work.
Combine the mask and nemes
Place the mask onto your cut-out nemes, and flip them both over. Dip strips of plaster bandages into the water, and use them to attach the mask to the nemes. Do this by smoothing them around the inside edge of the mask and onto the cardboard.
Once they are attached all around the inside edge of the mask, let them dry and then turn back over.
The two parts should already be quite firmly joined, but make sure to add some more plaster bandages to join them together around the edges at the front too, which will make your DIY Tutankhamun mask even more secure.
Add moulding to your DIY Tutankhamun mask
Your mask should already be looking a little Tutankhamun-ish, but it still needs a bit more detail. To make the nemes look like cloth and three dimensional instead of flat, you need to use a filler to make raised areas.
Take a sheet of newspaper, and fold it in half, then position it at the top of the nemes and over the forehead of your mask. Wet some pieces of the plaster bandages and cover the newspaper completely, folding over the edges of the nemes to hold it in place.
You will find that you can smooth and mould the plaster to give the impression of cloth.
Add a long, folded strip around the forehead (just above the eyebrows) to make the clean edge of the nemes, just like on the real Tutankhamun mask.
Use more folded bits of newspaper to give shape to the bottom of the nemes too – on either side of the mask, at chin level. Use a picture of Tutankhamun's real mask as your reference, to check what it should look.
Add facial molding
Your King Tut is looking great, but if you refer back to the picture of the actual mask, you can see he needs a few more facial details. For a start, he needs more defined eyebrows.
You can use doubled-up strips of wet bandages to make King Tut's defined eyebrows, laying them on top of the mask. Then you will also need to give him some ears and that signature platted beard.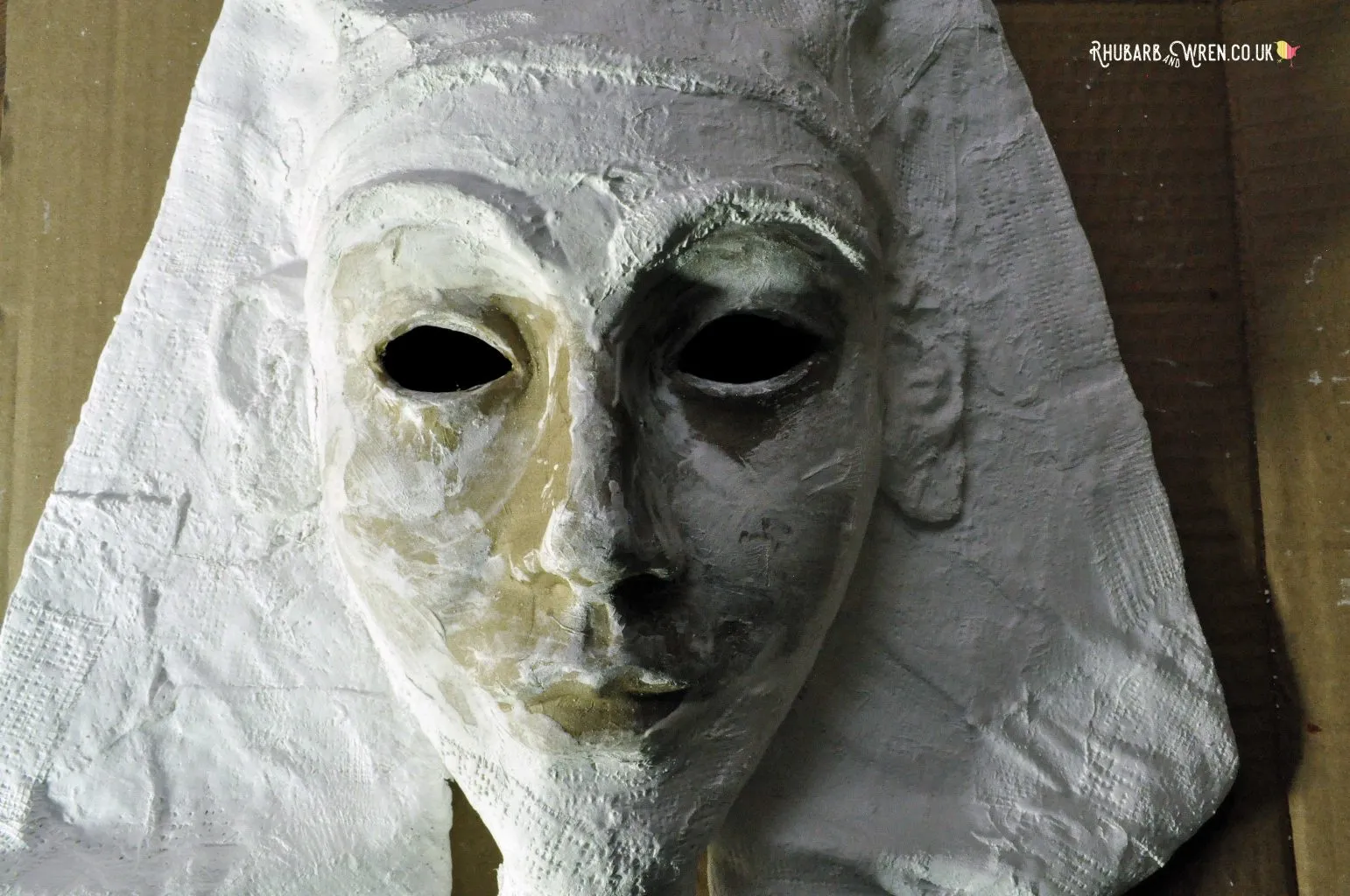 To make the ears, cut two pieces of cardboard in rough ear shapes, then position them on your mask. Use (quelle surprise) more plaster bandages to fix the ears on, and give them curves, lumps and bumps.
Grow a beard
We made our beard with a roll of newspaper as the filler. Take a close look at King Tut's mask and you'll note his beard is wider at the top where it attaches to his chin. It also has a lumpy bottom (ahem). Once you've shaped your beard, cover it in the plaster bandages and use them to fix it into place.
One thing to keep in mind is that the beard is a weak point on your mask. Treat it gently and make sure you use lots of modroc to fix it on. The real King Tut's beard has fallen off at least twice, so take heart if this also happens to you!
Put a bird (and a snake) on it
At this point, your mask is looking fabulous – and pretty nearly finished! You could stop here, paint it up and be done. A beautiful DIY Tutankhamun mask, that people will gasp at in wonder and delight.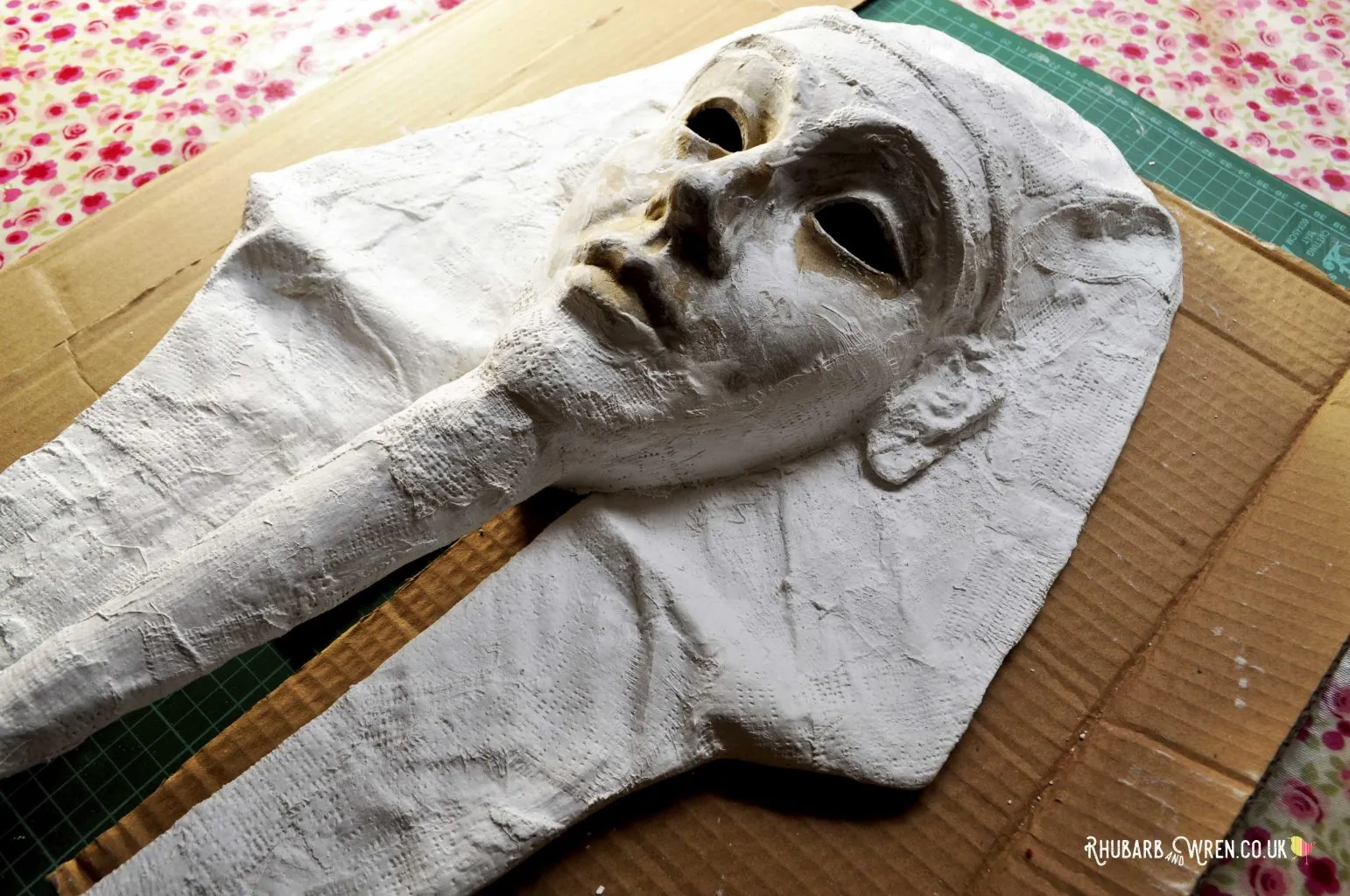 But if you have a child like mine (a stickler for details and a bit of a perfectionist), you'll be told that there are two more bits to do.
And they are a bit tricky.
Take another look at King Tutankhamun's mask and you'll see that there are two beautiful ornaments adorning the front of his nemes. A cobra and vulture, these royal insignia symbolise Tutankhamun's rule over Lower Egypt and Upper Egypt respectively.
To make these, our trusty cardboard comes to the aid once more. Draw the profile of the vulture, a long, thin, triangle, and the outline of a cobra. You can use mine (below) as a template – I won't tell.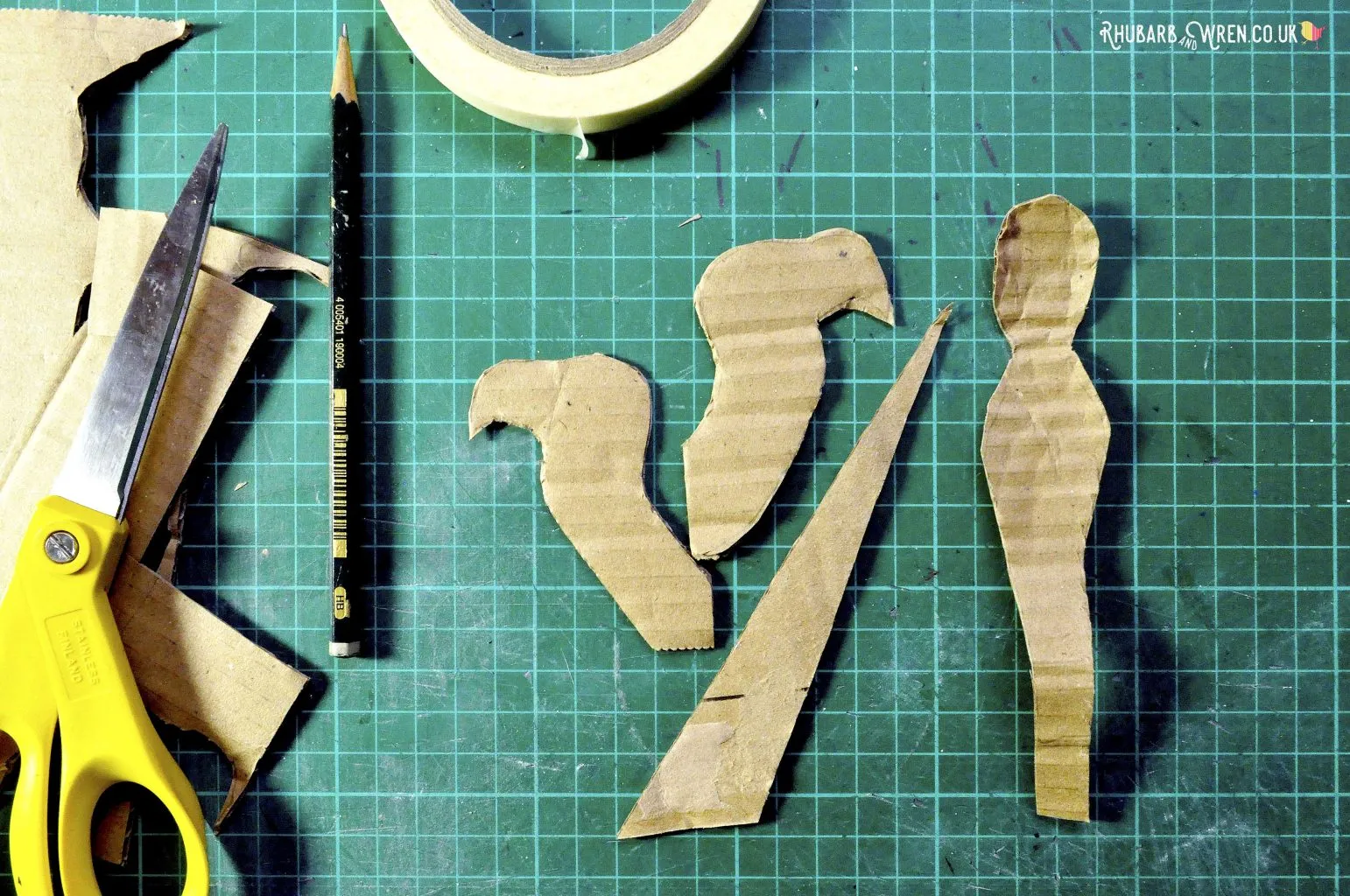 Making the vulture
The vulture is the trickiest, so let's start with that.
To make the vulture, take one of your vulture cardboard profiles, and stick the long triangle along the top edge, from beak to the base of the neck (as shown below). I used a bit of masking tape to stick it together – it's going to be covered in modroc so anything will do.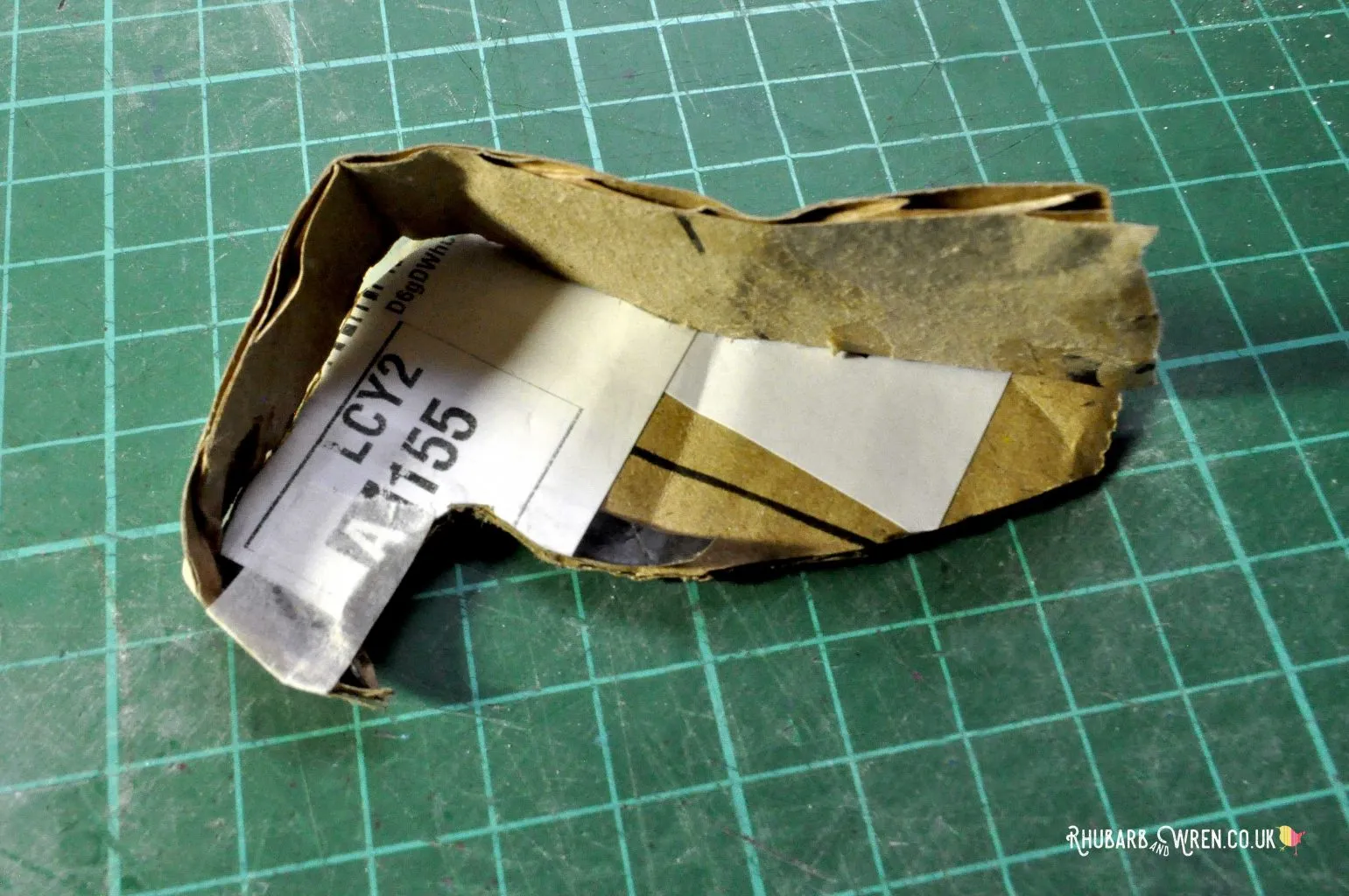 Flip the bird (oh dear) over, and attach the other cardboard profile piece. Looks a bit like a vulture now, right? Remember that you can use your modroc to add more details and refine the shape, so it doesn't have to be perfect.
Finally, tape the two profiles together around the beak and at the base, joining the two sides (see below). It is now ready to cover in modroc and attach to the mask (in whatever order works for you).
One down, one to go…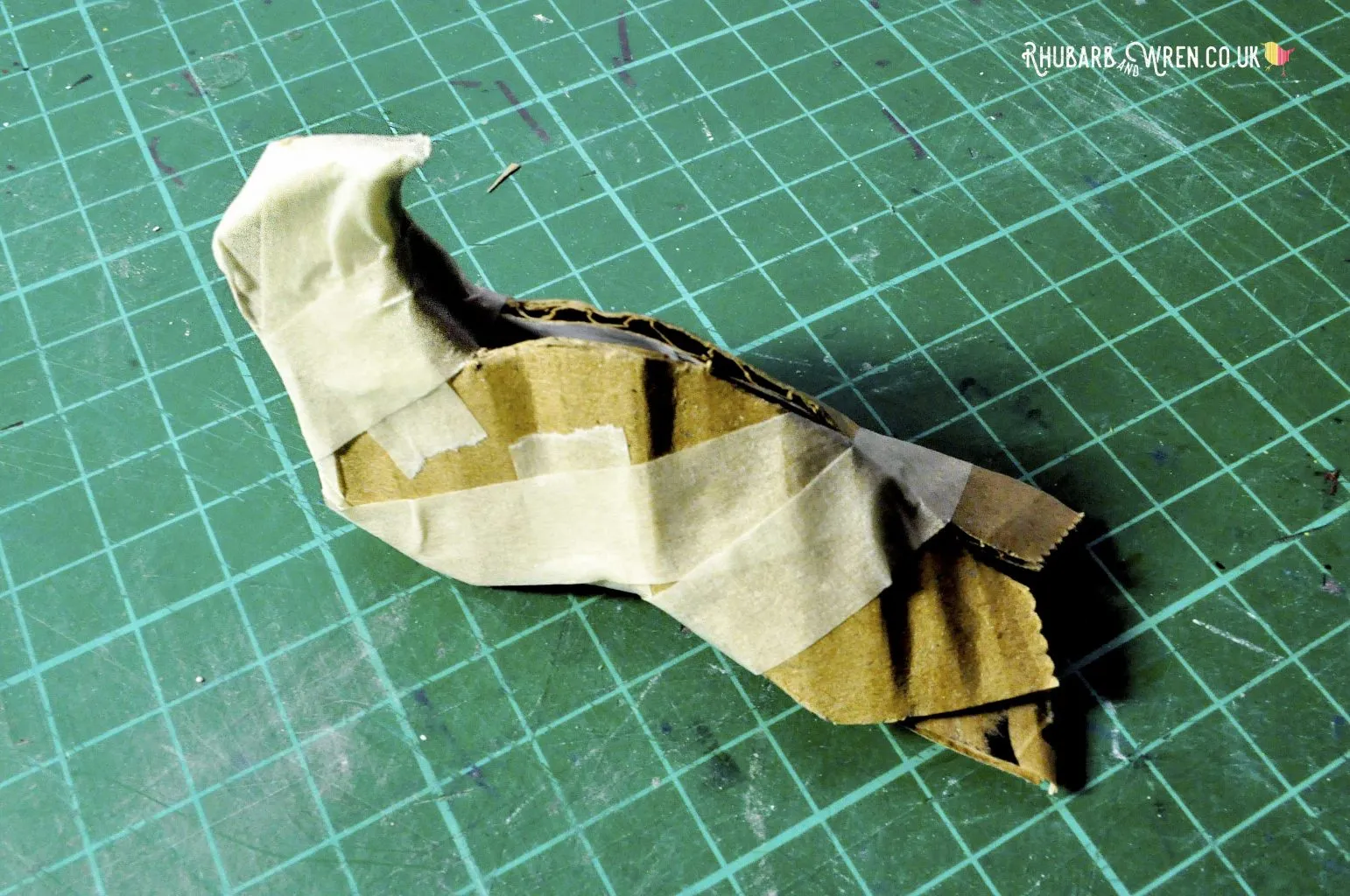 Making the cobra
The Cobra is much easier. Honestly.
Bend your cardboard cut-out into a striking snake-shape, then attach the cobra to the mask with modroc. Curve the edges of the top section so it is like the hollow of a spoon, then bend the tip forward. This is the cobra's hood.
Cover your snake in modroc, then thicken up and finesse the shape with extra layers.
And that's your snake done.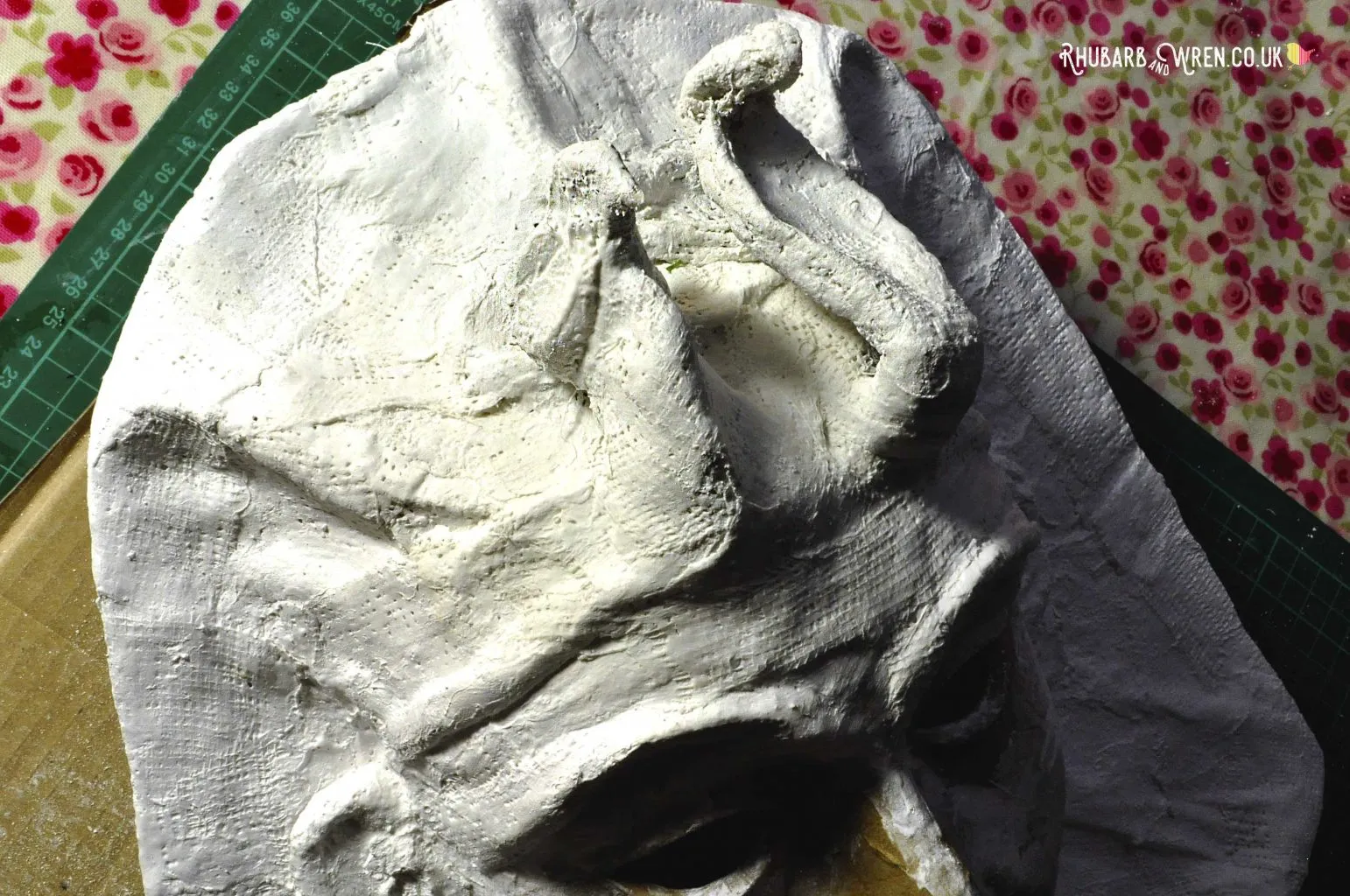 Now both pieces are fixed into place, you can leave it to dry. Your mask is finished but for the painting.
Painting your DIY Tutankhamun mask
Once all the modroc has thoroughly dried, cover the whole mask in a base coat of paint. This evens up any different colours (our mask was brown, while the modroc was white, for example) and helps give a smoother finish.
We used white for our base coat, but a darker colour is also fine – and might even work better with your metallic top coats. Do a small test on a spare bit of cardboard if you're not sure which way to go.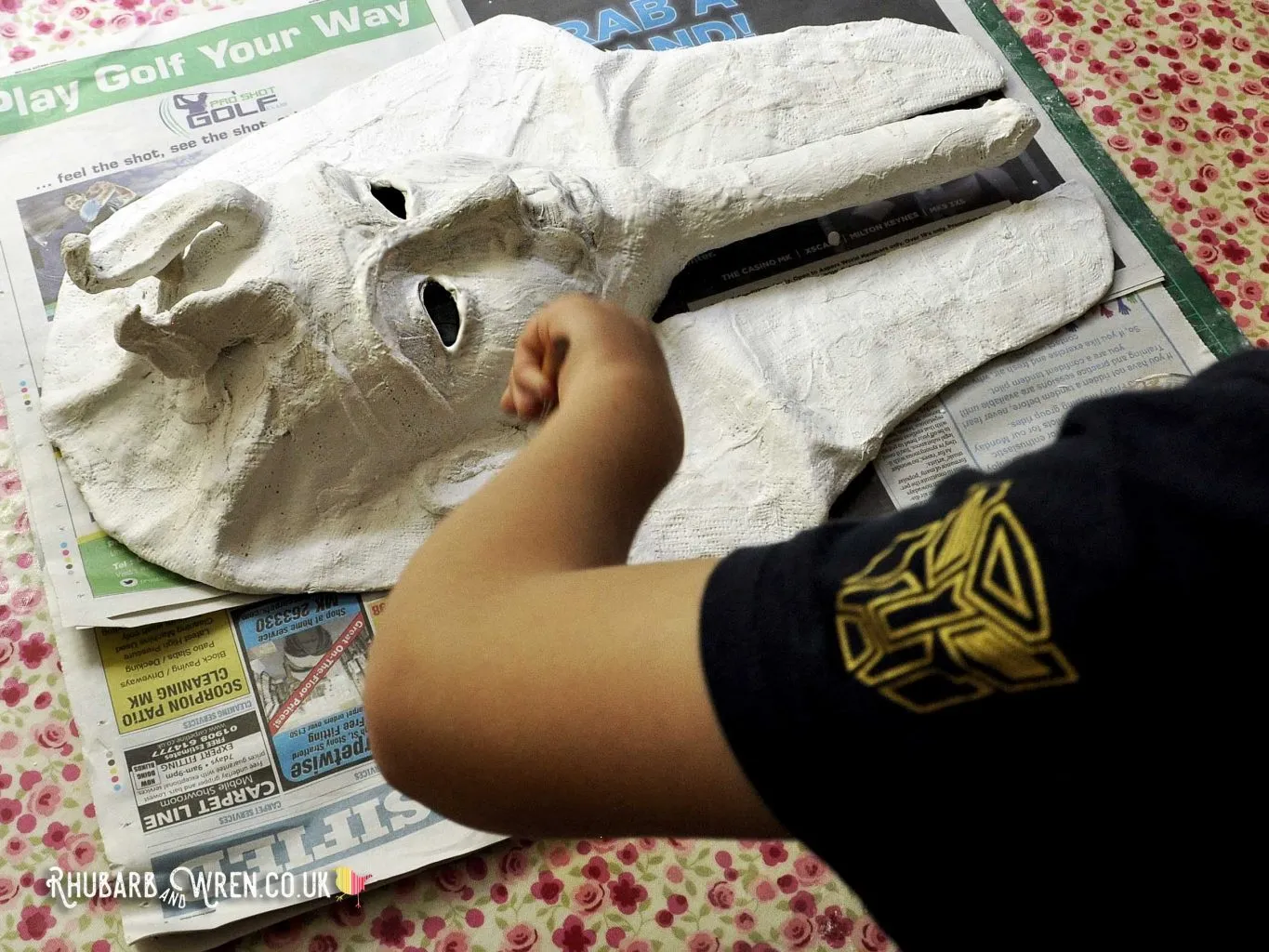 Paint your mask gold all over, and leave to dry. Then add the blue details and, if you want to be super-exact (like my son) touches of turquoise and red to the cobra.
To get neat stripes of blue on the nemes, we used strips of masking tape to mask out the gold. Our eyeliner and eyebrow colour wasn't quite as neat, but it wasn't bad for a first go. I'll make a new New Romantic out of him yet…
The plaiting on the beard was drawn with a gold marker pen – it's even more wobbly but, with breaks for drying times, this project had taken us several days by then and we were a bit tired. So even Master Perfectionist agreed it would do.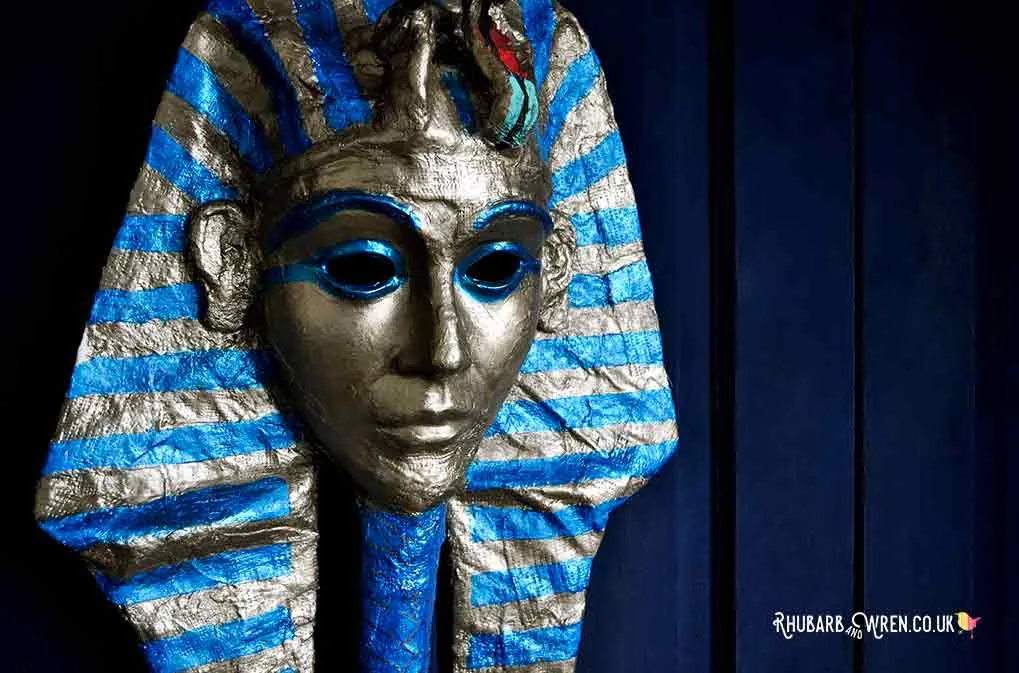 Finished – King Tut's mask
With that last touch, our mask was, finally, finished! We were really pleased with the final result, and there were triple merits from the teacher at school, so everyone was happy!
---
Find out more about Tutankhamun
There are loads of resources around the web if you want to find out more about Tutankhamun and his beautiful funeral mask. Here are just a couple that we enjoyed.
Joy of Museums has a virtual tour of the Egyptian Museum in Cairo, where the treasures of Tutankhamun's tomb are displayed. They have a whole load of pictures, information and stories about King Tut's mask
Free online education site, Khan Academy, has lots of stuff on Ancient Egypt, including this fascinating and very readable essay on the discover of Tutankhamun's inner coffin and gold mask.
One of our favourite publishers of kids' reference books (and, full disclaimer, my former employer) Dorling Kindersley, have a fabulous interactive site called DK Find Out. This interactive map of Ancient Egypt, will take you down a rabbit hole of factoids, images, photos and videos when you click on the labels. These include snippets about pharaoh Tutankhamun and his tomb, and a whole load of other fascinating information.
National Geographic Kids never disappoints and has a page of Tutankhamun Facts, with a link to downloadable resources for Primary (linked to the National Curriculum).
---
More from Rhubarb and Wren
Looking for more fun things to make and do with the kids? Check out these great activities from Rhubarb and Wren!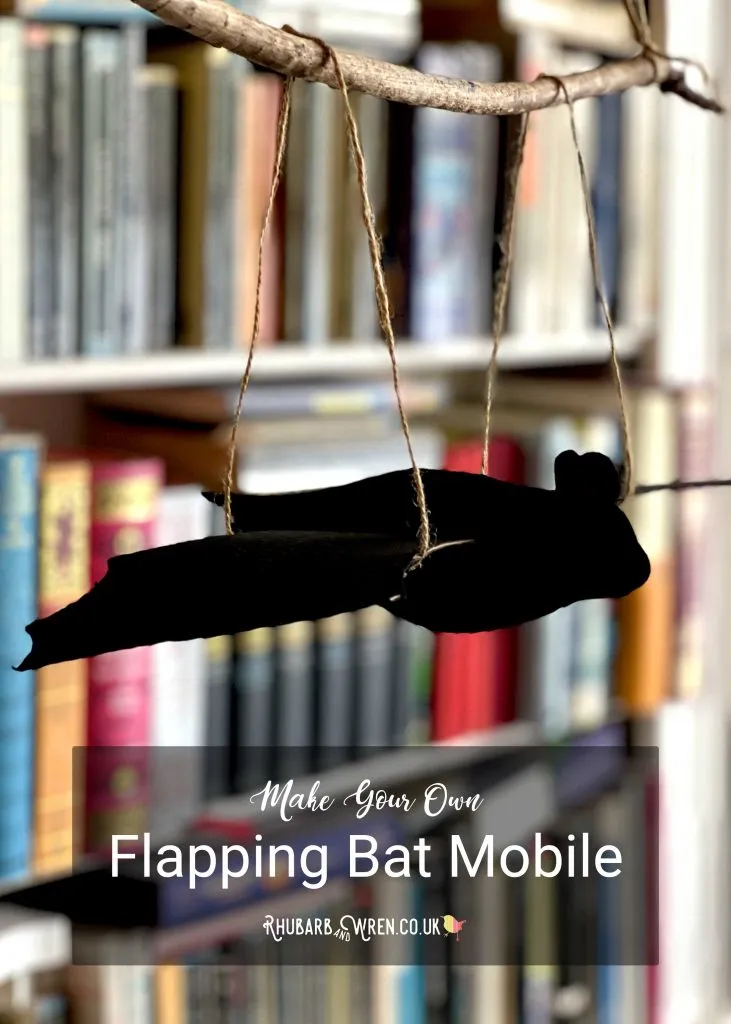 [smartslider3 slider="5″]
Pin this for later!
Want to bookmark this for later? Save this post to Pinterest!
---
Quick-Read Instructions
How to Make Tutankhamun's Mask
For when you just want to get right to the point…

Materials needed:
(these are all Amazon affiliate links – see my 'About Affiliate links' page for more information)

Paper mache mask
Plaster bandages (also known as Modroc)
A shallow dish of water
Cardboard
Newspaper or scrap paper
Metallic paint – blue and gold

Method:
1. Cut strips of modroc and fill a shallow dish with water.
2. Draw the outline of King Tut's headcloth (the nemes) onto cardboard. Place the mask in position on top, and draw around it. Remove the mask and cut out the nemes.
3. Place the mask in position on top of the nemes, then flip both over and attach together around the inner edge of the mask, using modroc. Leave to dry.
4. Turn back over, and use folded newspaper to create the 3D folds of the nemes. Fix in place and cover completely with modroc.
5. Cut out ear shapes from cardboard, fix in place and cover with modroc.
6. Add strips of modroc to make eyebrows.
7. Use a roll of newspaper to make the beard. Fix in place and completely cover with modroc.
8. Make a simple cardboard vulture and cobra shape, cover in modroc and attach to the mask's forehead. Leave the mask to dry completely.
9. Paint a base coat of white paint to even out the colour.
10. Paint the mask gold, then use masking tape to create blue stripes around the nemes. Outline the eyes and paint the eyebrows blue, and add any extra details.