I've been making a few odds and ends with the kids over the holidays in preparation for this September's Scarecrow Festival (yes, I know it's still only August!). Last year I managed to rope in friends on my street to do Alice in Wonderland scarecrows.
This time our scarecrows will be characters from Roald Dahl's books, in celebration of what would have been his 100th birthday. I've got grand plans for our tableau (which will be a character and scene from Charlie and the Chocolate Factory), and one of the things I wanted to include was Willy Wonka's iconic hat, laid casually on his desk as if he'd just popped away for a moment.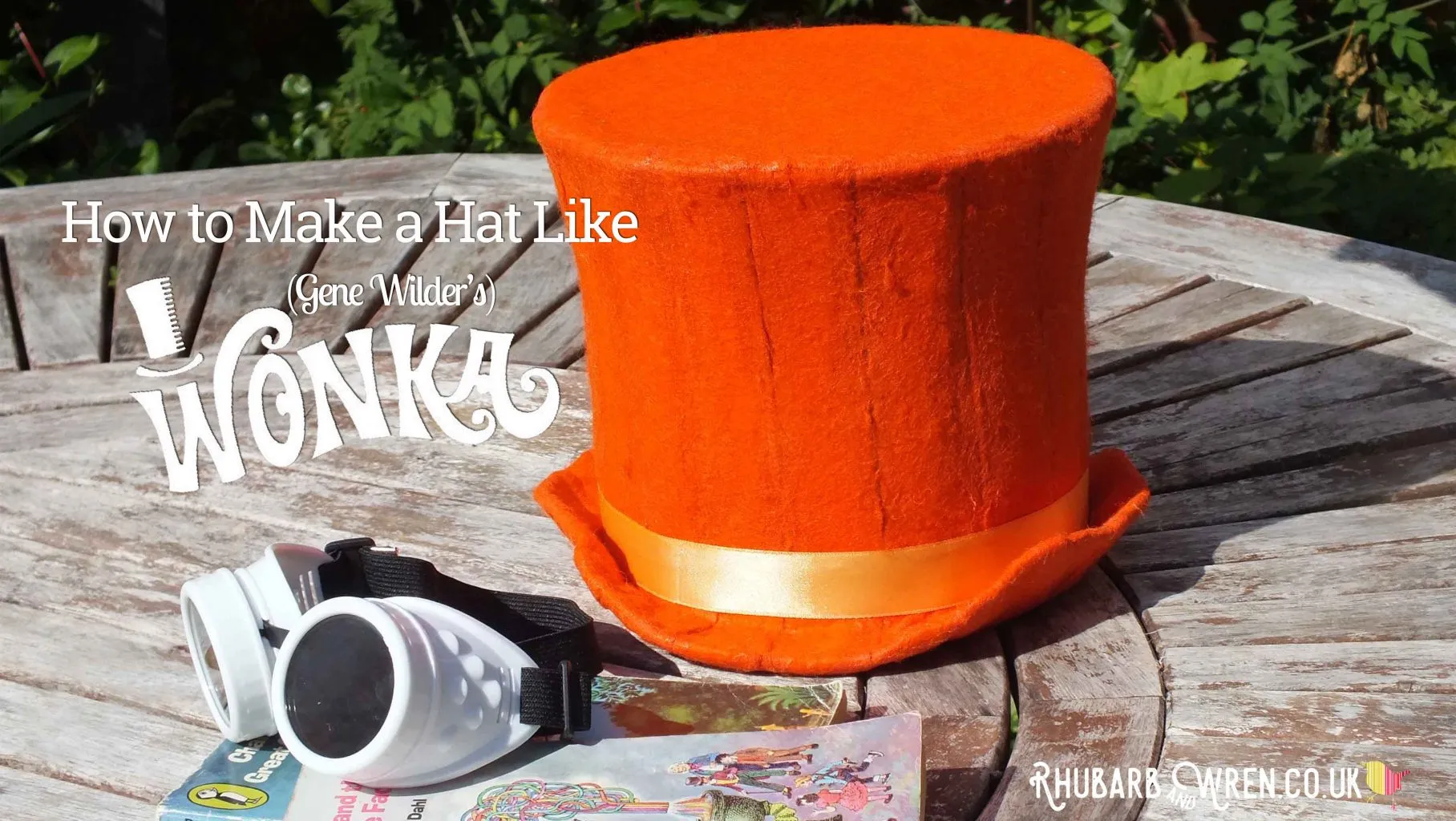 Making the Willy Wonka hat turned out to be surprisingly easy – read on to see how I did it!
I was inspired to make my own Willy Wonka hat by this ace Instructables tutorial for a Burton-esque Mad Hatter Hat. If you are thinking of making one of these yourself, I highly recommend checking it out (along with the über helpful comments) – the Mad Hatter hat is a slightly different, bigger and more exaggerated shape than Wilder's Wonka hat, but the basic construction is the same.
While the instructions there (and here!) may seem pretty detailed, don't be put off as this is actually an easy make with everyday materials and an impressive end result, and is something the kids can (with a little bit of help) even do themselves.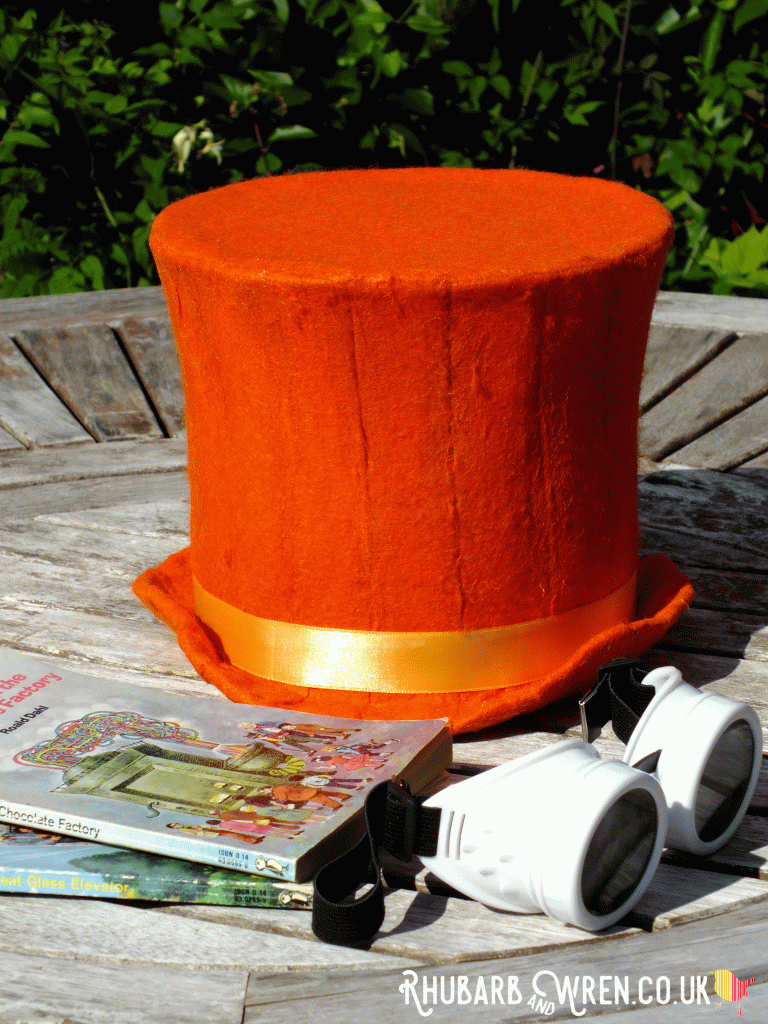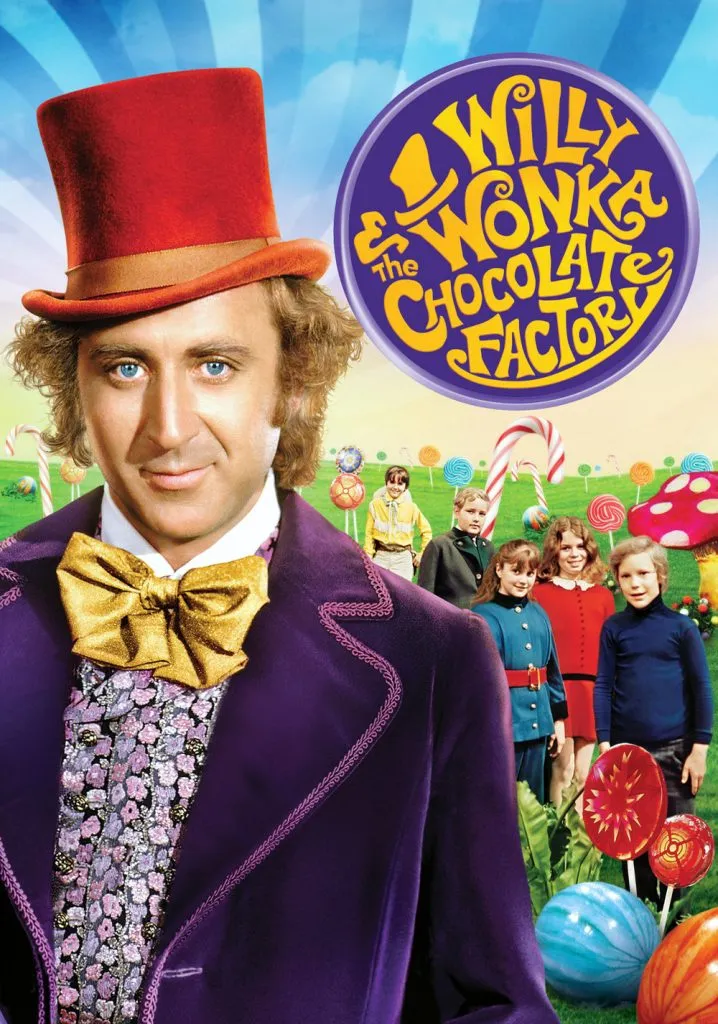 Materials Required
To make Willy Wonka's hat, you will need the following:
Corrugated cardboard (width and height will depend on the dimensions of your hat)
Double-sided sticky tape and/or glue
Scissors and/or craft knife
Compass and ruler
Pencil
Stiff paintbrush and water
Fabric or other material (such as crepe or tissue paper) for the covering. I used felt.
Making a Wonka hat – Instructions
Stage 1 – Measuring and Scoring the Tube​
Your first task is to make the TUBE part of your Willy Wonka hat. For this, you will need a rectangular piece of corrugated cardboard. Let's call it your TUBE PIECE.
To work out the size of this rectangle, take the following measurements:
Measure the circumference of your head and add 2 centimetres for an OVERLAP. This measurement will be the width.
Decide on the height of your hat. Add 6 centimetres in total. This measurement will be the height of your tube piece. Note that the extra 6 centimetres are for the following:

2 centimetres to allow for a slight outward bulge at the top of your hat (not as exaggerated as the Burton Mad Hatter hat though!). You can omit this for a straight up/down top hat.
2 centimetres for tabs at the top (to attach the top of the hat)
2 centimetres for tabs at the bottom (to attach the hat brim)
Cutting, marking, and scoring
Cut out your rectangle to this height and width, and ensure it's free of any sticky tape or plastic from its previous life as a box. Trust me, it's worth taking time to do this!
Draw two horizontal TAB LINES across the full width of your tube piece, positioned 2 centimetres from the top and 2cm from the bottom of the rectangle, as a reference mark showing where your tabs will end.
Using your pencil, score vertical parallel FOLD LINES, pressing through only the top layer(s) of your corrugated cardboard (but NOT all the way through. At this stage, the last layer should remain intact to hold all these strips together). These fold lines should be at roughly 4cm intervals, as shown in the picture below.
Mark the last 2 centimetre-wide vertical strip as the OVERLAP (used to join the tube together).
​These fold lines will allow your cardboard to curve smoothly to form the tube.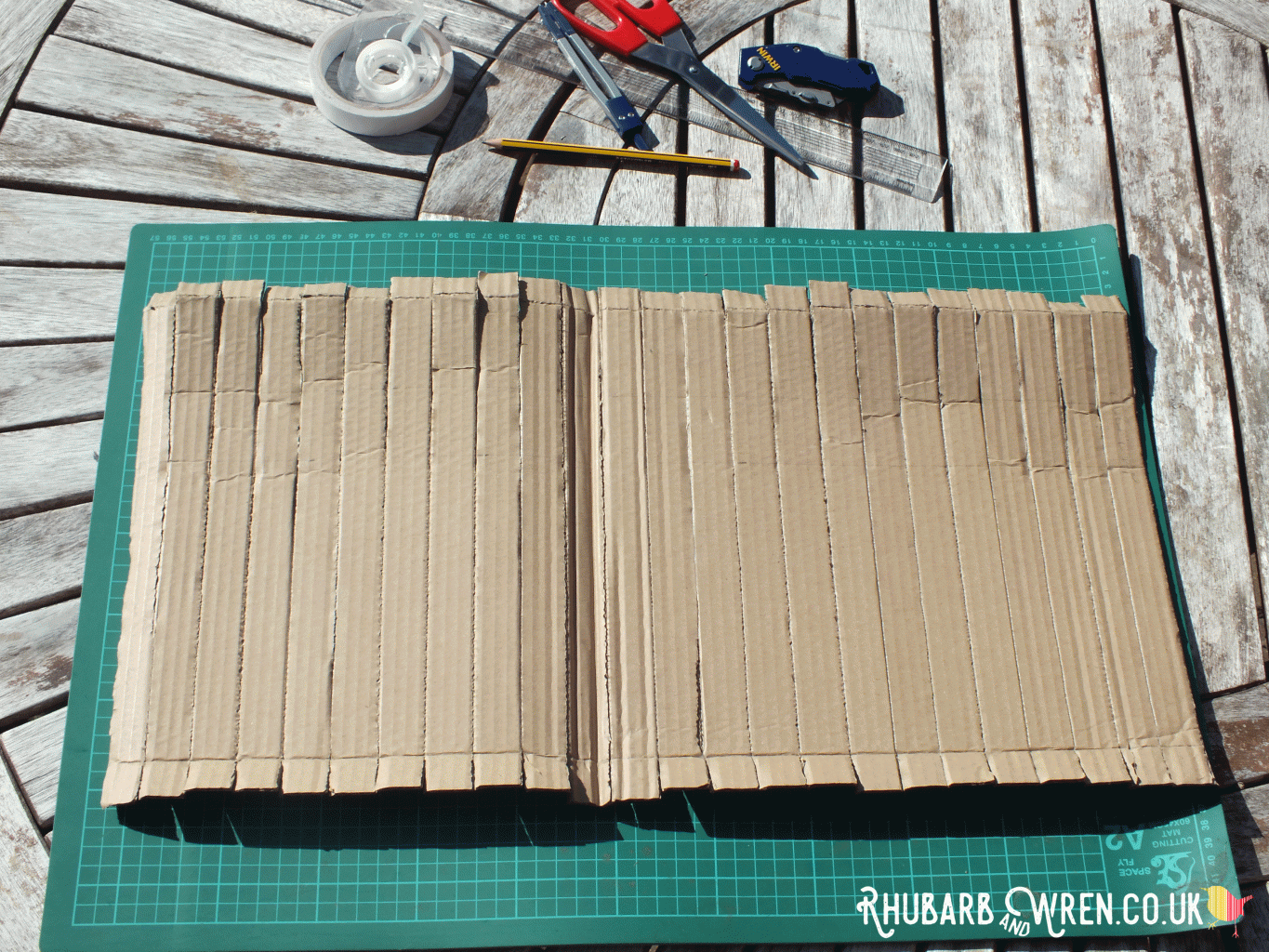 Next, snip all the way through your fold lines at the top and bottom edges, just to those tab reference lines you drew before. This will give you a fringe of tabs at both ends of the tube.
The bottom fringe (let's call it the BRIM FRINGE) will fold outwards to attach the brim, whereas the top fringe (let's call it, imaginatively, the TOP FRINGE) will fold inwards to support the top of your hat.
Willy Wonka hat 'bulge'
Final task before joining your tube together is to decide where you want the outward bulge of the hat to begin.
Mark this with a horizontal line (faintly – so as not to score or dent the cardboard).
Then, snip right down along each of your fold lines, starting from the top (so continuing the top fringe cuts) until you get down to that horizontal line. This time cut right through all the cardboard layers, just as you did with the fringe.
At last, you can now join your tube together by attaching the overlap to the opposite edge of your tube piece – I used double-sided sticky tape, but you could glue it.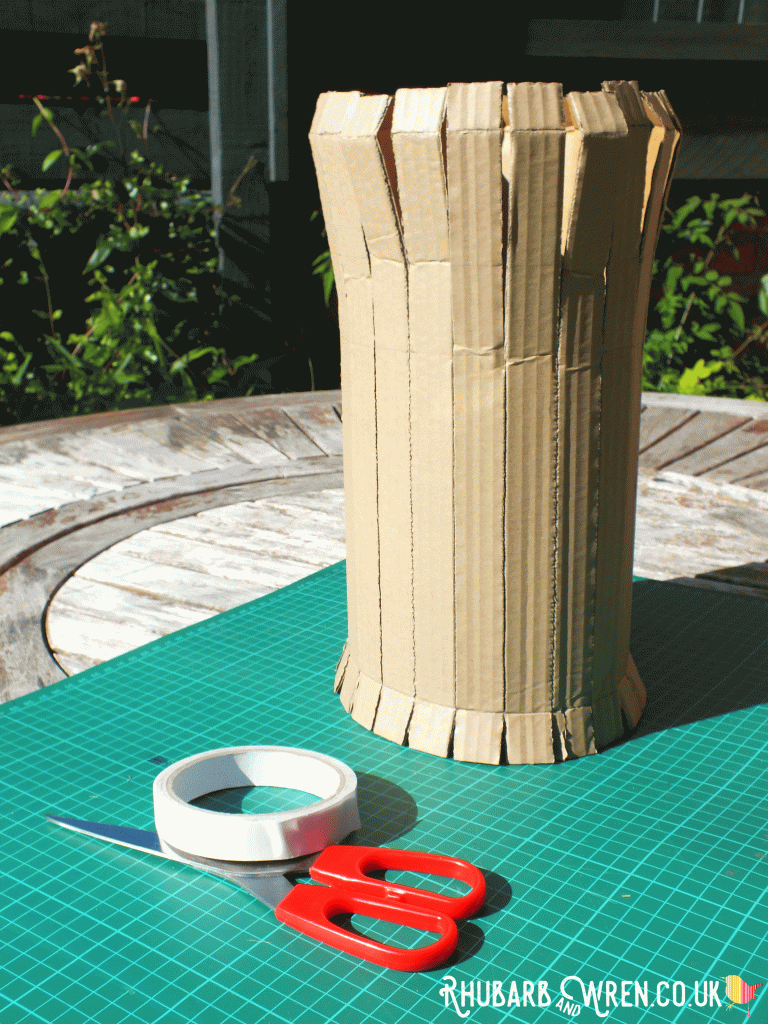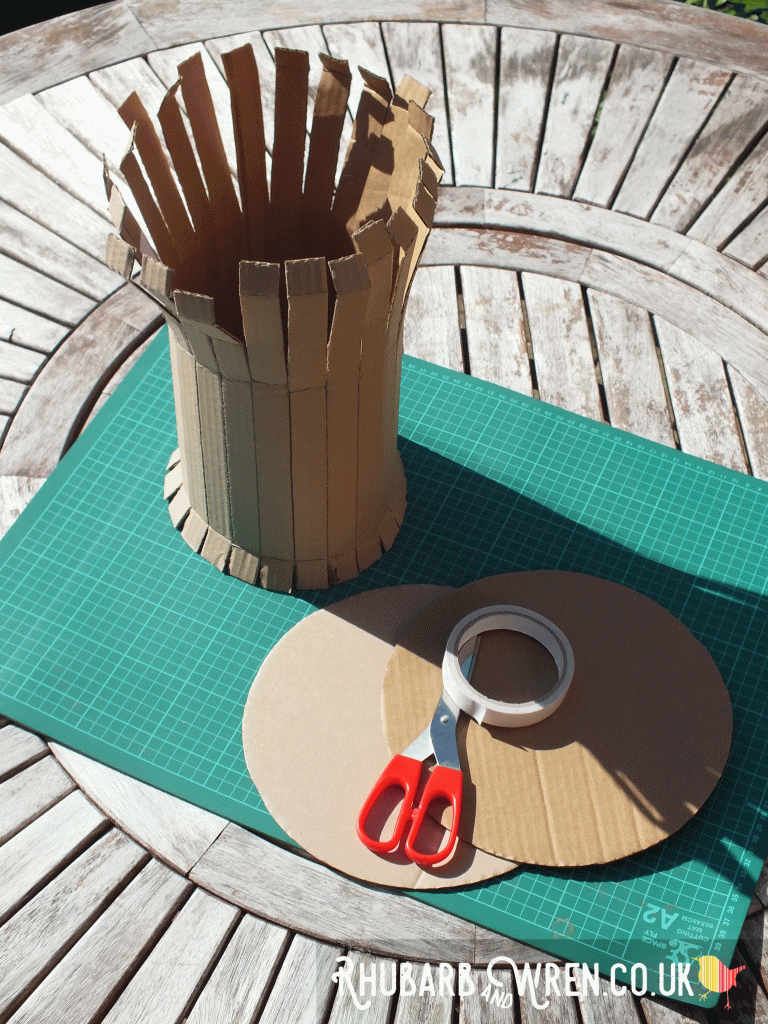 You can see in the pictures here that I originally made my hat far too tall for a Willy Wonka hat (following the Mad Hatter instructions too closely!), and later trimmed it down by about a third. However you should get the general idea.
Once you've formed the tube, gently bend the top strips (where you snipped all the way through to make the bulge) outwards, being careful not to make too definite a crease – you want a gentle outward curve. You should find that your tube now looks a bit like a chimney pot.
If you haven't done this already, then now's the time to also bend (with a sharp crease) your top fringe tabs inwards, and your brim fringe outwards, as shown in both pictures above.
Stage 2 – Top and Brim
Now it's time to cut out the top of your Wonka hat, and also cut out the brim.
​For the top of the Willy Wonka hat, you'll need your compass to draw a TOP CIRCLE roughly two centimetres wider than your original head circumference measurement. You will need TWO of these – but If you have enough corrugated cardboard, I recommend cutting out three and setting one to the side to use as a template for the covering later on.
You will also need to cut out the BRIM. Start by drawing an INNER CIRCLE (your head-hole!) the same circumference as your original head measurement. Check that this matches up with the bottom of your tube as you will be joining these two together…
Centred on this inner circle, draw the outer circle of the brim, approximately 5 centimetres wider. Cut out inner and outer circles to leave you with a cardboard donut shape – this is your brim. Do not discard the inner circle piece you've cut out though – you will use this very shortly to level out the top of your hat, so put it aside with those two top circles.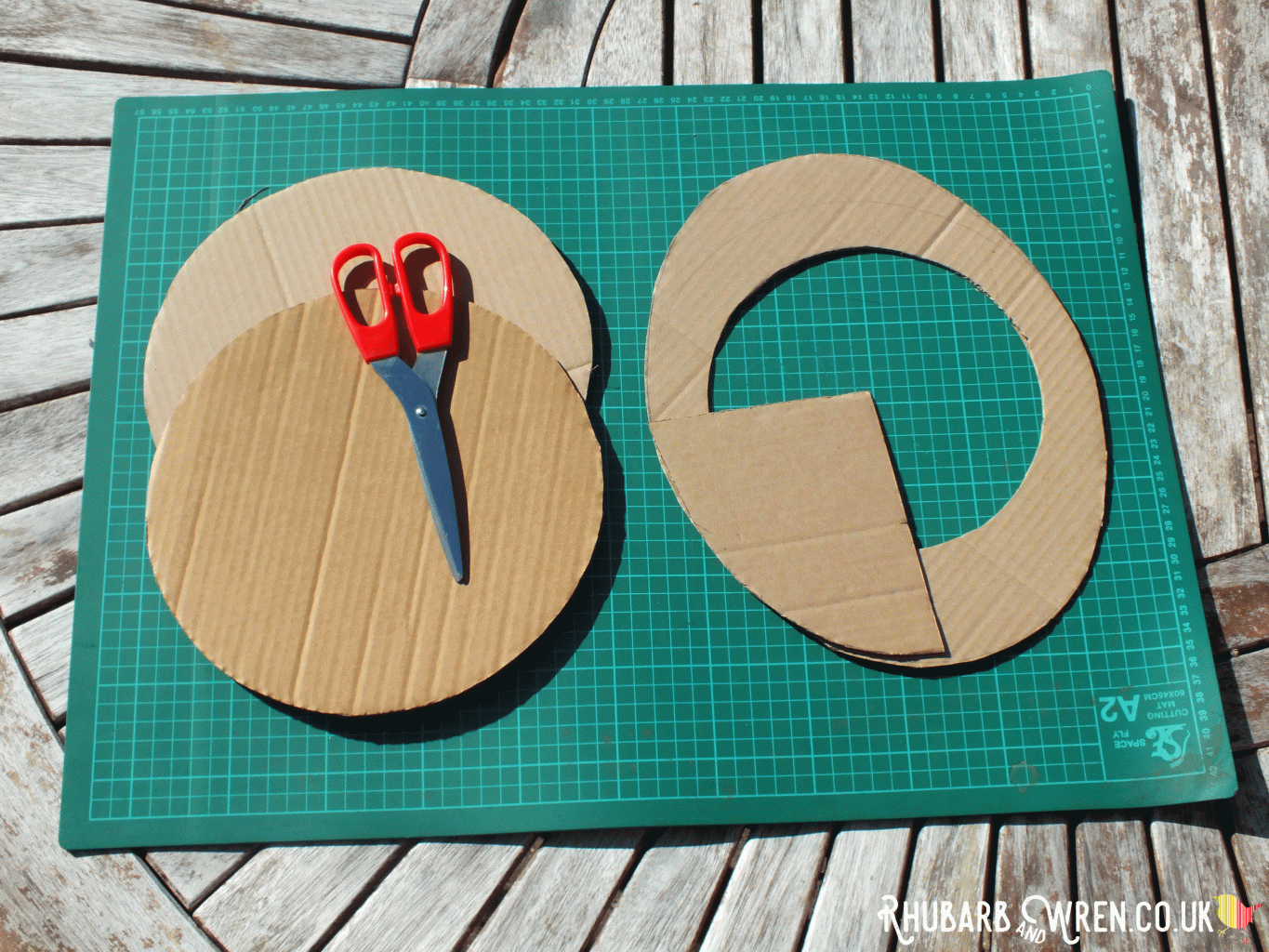 You'll notice in the picture above that my brim is oval as I was still following the Burton hat instructions at this point. Later on, I trimmed this back to the circle that you can just faintly see is marked in pencil.
Stage 3 – Attaching the Top and Brim
Take one of your top circles, and attach it to the top of your Wonka hat. Note that the tabs need to be folded over on TOP of your top circle (see photo). This will create your bulge and make your Willy Wonka hat look suddenly much more hat-like!
Stick on that inner circle piece you saved from before as well, filling most of the gap in the centre of your bottom-most top circle. This will create a level surface to glue the final top circle onto (so tabs and inner circle piece are sandwiched between those two larger top circles). This gives you a perfectly smooth top to your hat.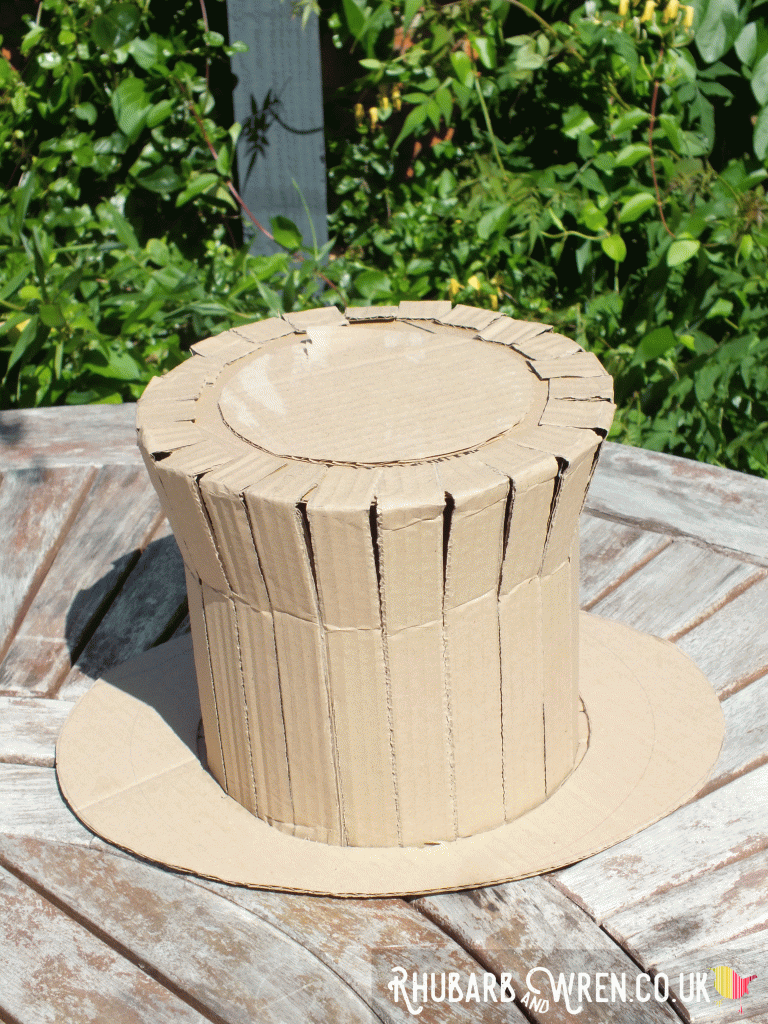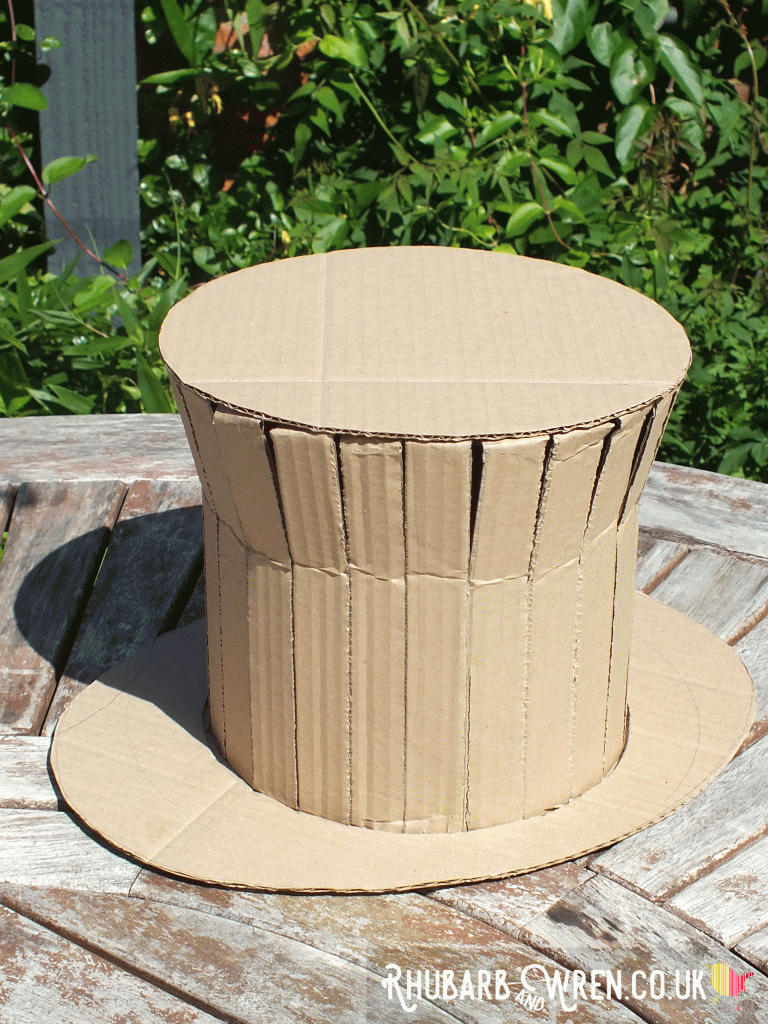 Attach the brim to the bottom of the hat, on TOP of the tabs this time (see pictures). Yes, my incredible magic hat is short and Wonka-sized above, and then suddenly tall and Mad Hatter-ish below (or scarily Number-Taker like if you're a Cbeebies parent).
I didn't take a short-hat picture showing the brim tabs being glued, but hey, this way you can see what a Mad Hatter Hat would look like too!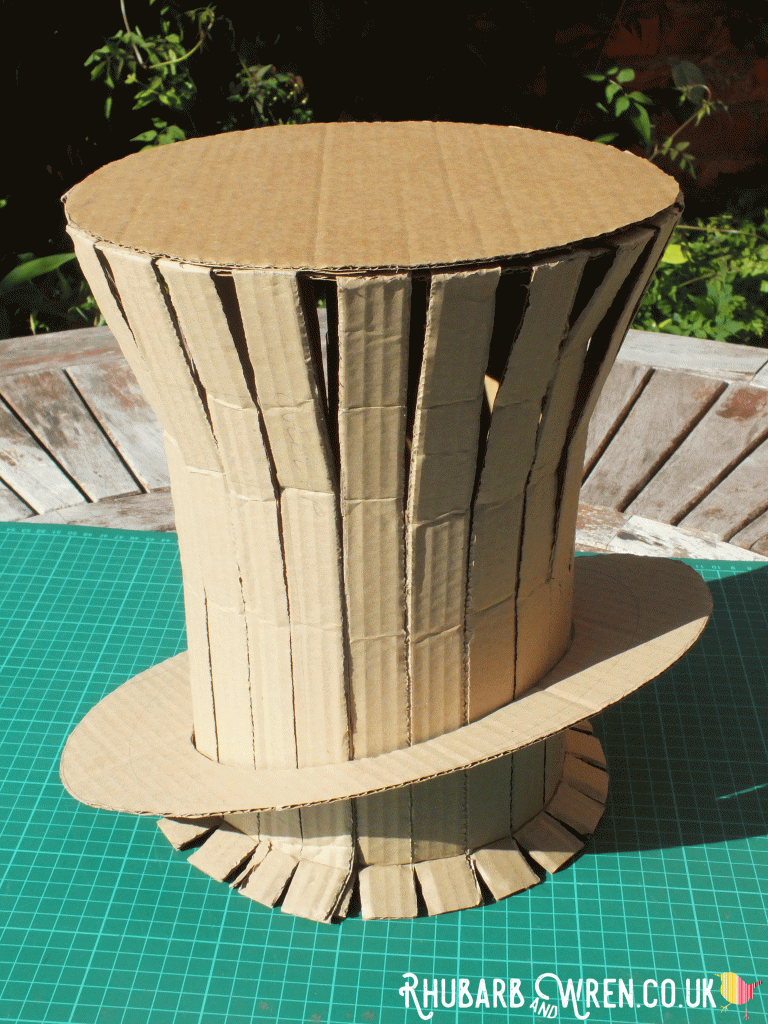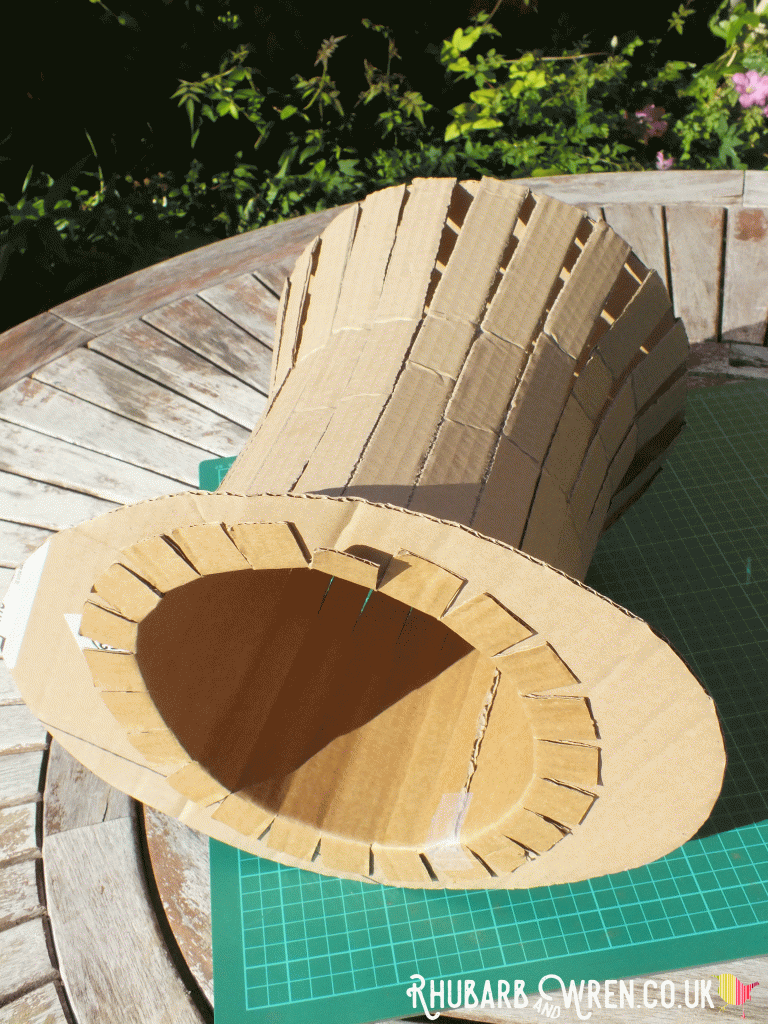 Once your brim is on, you're almost done with the structure of your Willy Wonka hat, but there is just one more thing to do before you can move on to covering or painting.
Stage 4 – Shaping the brim
The last thing to do on your cardboard hat skeleton is to shape the brim into that distinctive Wonka curve. This is not as tricky as it might sound!
First off, you'll want a nice rounded edge to the brim to soften the otherwise rigid straightness of the cardboard. Using your paintbrush and water, thoroughly dampen the outer edge of the brim (only up to the tabs), and then gently roll between your fingers. You should create a roll of damp board about the thickness of a drinking straw all around the edge.
Next, to create the iconic Wonka undulation, dampen down the two opposite sides of the brim (this time from the rolled edge right up to the inner circle). Pin these back with a peg or bulldog clip, and then leave both rolled edge and pinned sides to dry.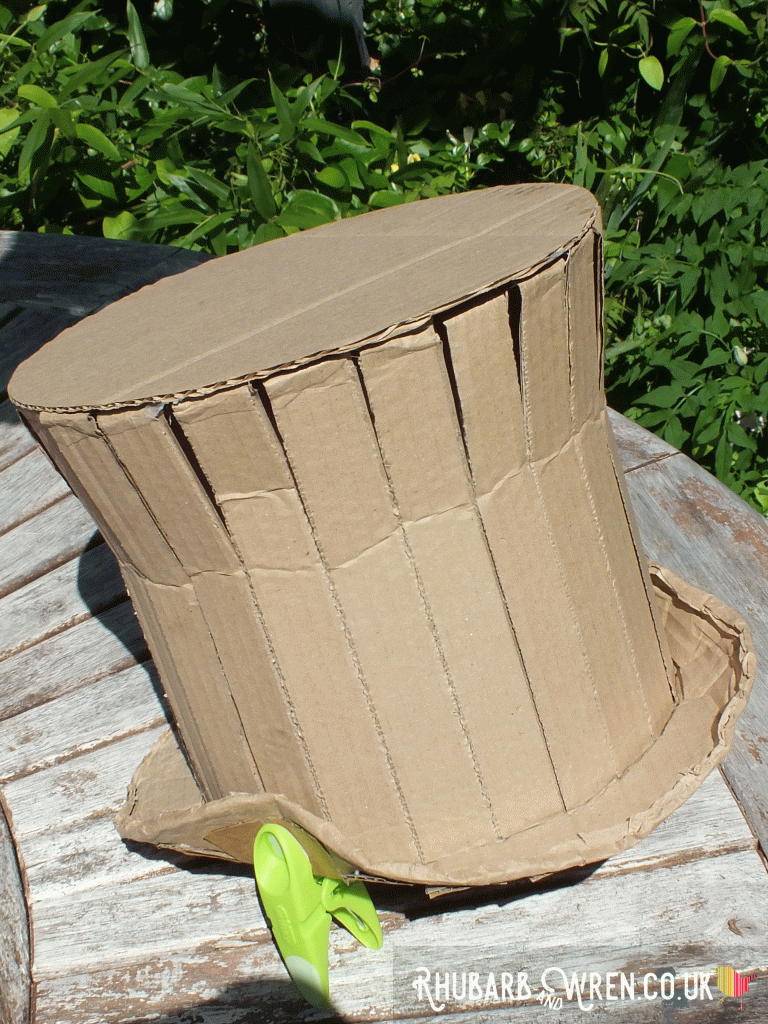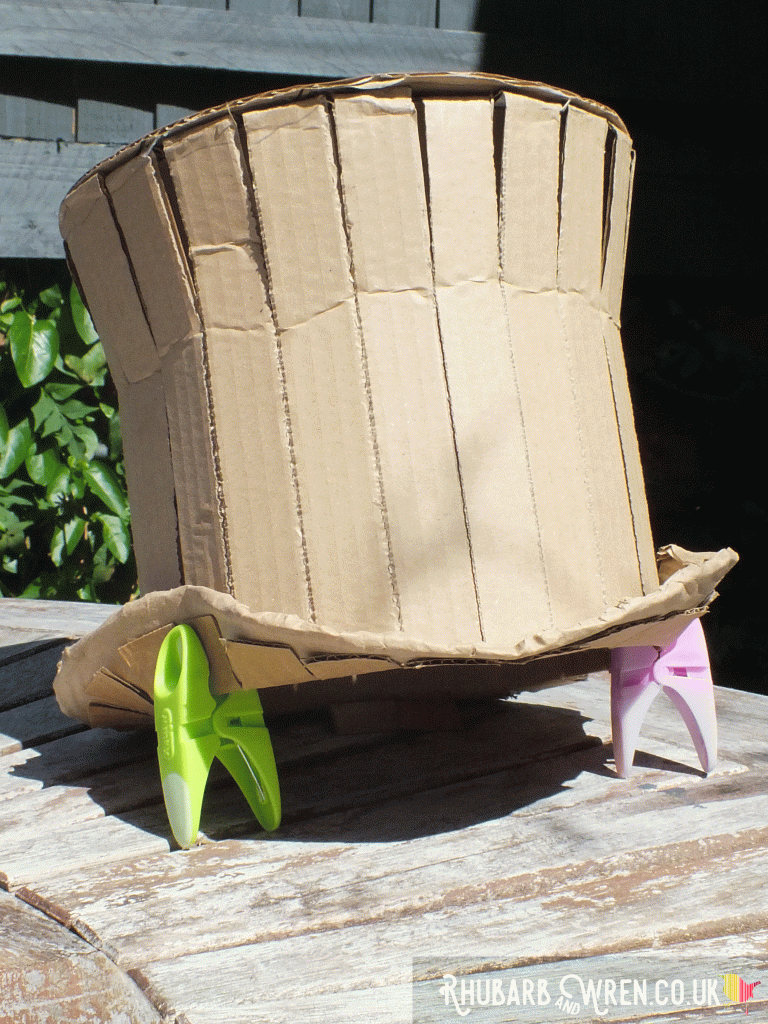 Once your board has dried, remove the clips and you should find the brim now permanently bent into that Wonka undulation. Congratulations – your Wonka hat is all done but for the decorating!
Stage 5 – Finishing Touches
I chose to use orange felt for my Wonka hat – admittedly not perfect colour-wise (I'd have preferred an orangey-brown to the outright Leprechaun orange I ended up with), but it was the closest I could get and is not quite as day-glo as it looks in the pictures!
To attach the felt, I cut it into strips a little wider than the original strips in the tube piece, and fixed double-sided tape onto the hat itself. You could just as easily (and in fact in may even work better) use a white glue such as PVA.
I attached my strips around the edge, with a little overlap onto the top, and with enough length to cover the underside of the brim and slightly up into the hat tube. I covered the top of the hat with a circle of felt (cut using that template you put aside at the beginning!).
Any gaps (and there are likely to be a few, as you're applying straight lines to curves!) can be filled with snippets of felt and glue once you're done.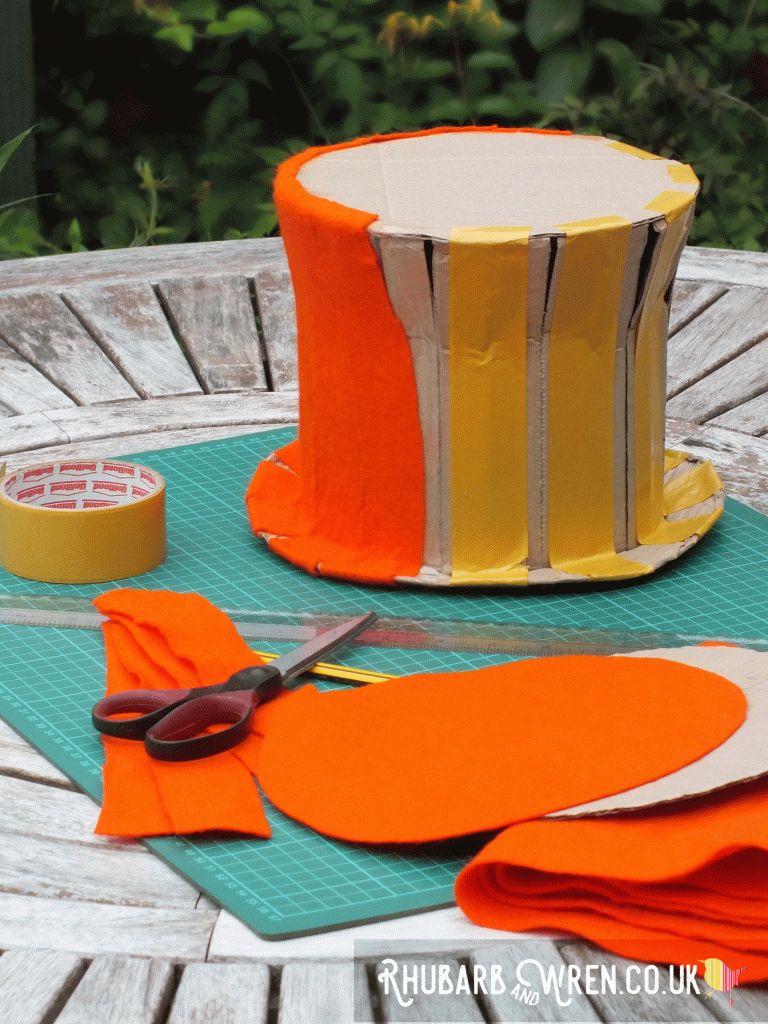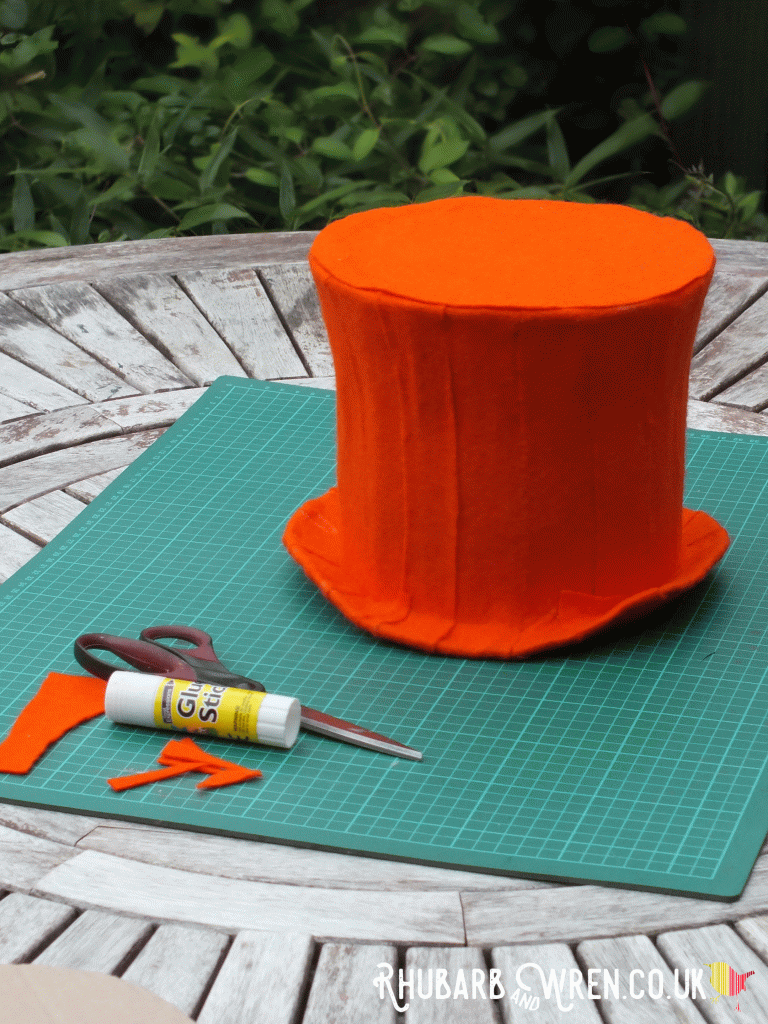 Finally, to soften the edges of the felt where they met, I teased them with my nails to fluff them out, and then damped them down with a clear glue. The lines are still visible, but much softer – I quite like the effect!
You could cover your Wonka hat with a single piece of fabric around the tube section, but be warned that this will be quite fiddly because of the way the hat curves.
Alternatively, applying squares of paper and glue all over would give you a better surface for paint, if you didn't want to bother with fabric at all.
So there you have it – a Willy Wonka hat, created from an old cardboard box and a bit of felt! Now all I need are the Wonka bars…
---
Pin this for later!
Want to bookmark this post for later? Save it to Pinterest!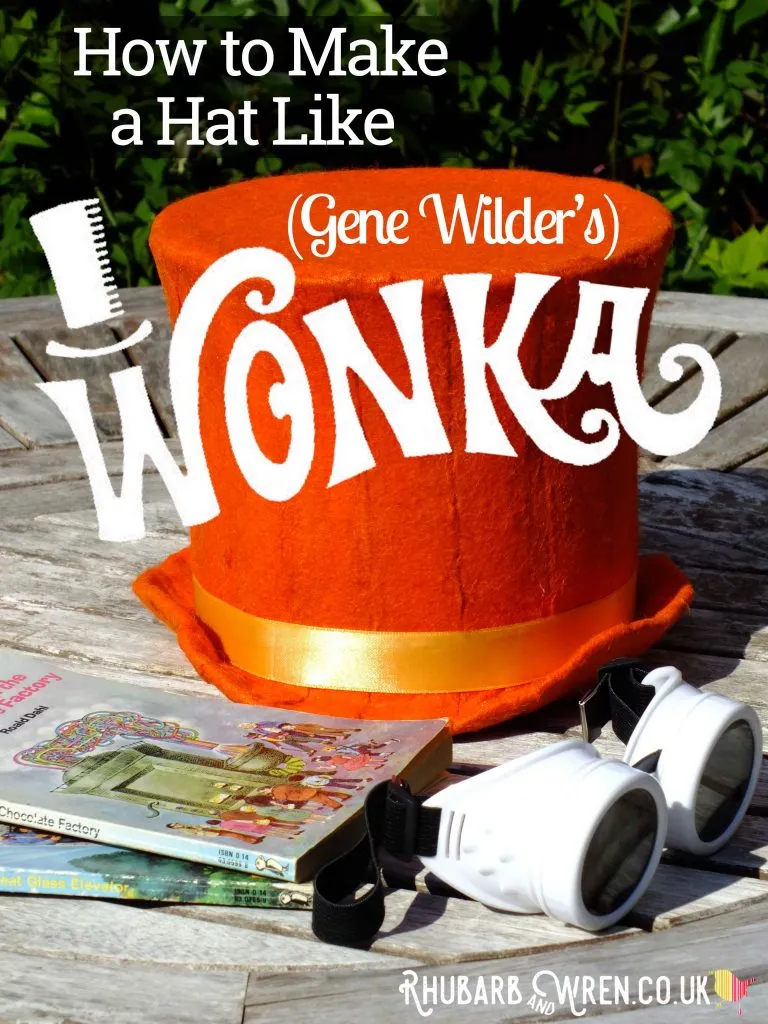 ---
More from Rhubarb and Wren
Looking for more bookish inspiration? We've got plenty to keep you entertained…
Would you like to see how our 'Charlie and the Chocolate Factory' Scarecrow Festival display looked? Check it out here – there are plenty of other crafty makes on display.
If you're more of an 'Alice in Wonderland' fan, take a look at the Alice Scarecrow Festival display we did the following year, featuring one of the Queen of Hearts' playing card gardeners and some half-painted roses…
Or for Potter heads, we've got a Harry Potter themed party bag full of crafty DIYs, and our top tips for visiting the amazing 'Making of Harry Potter Warner Bros. Studio Tour', just outside London.
---
Shopping like Veruca Salt!
The following are affiliate links, which means if you click through and buy anything, I will receive a small (everlasting gum-sized) amount towards the running of this website. Thank you so much for your support!
Looking for some accessories to go with your new hat? Look no further!
| | |
| --- | --- |
| You've made your Wonka hat, but if you're too tired to make a Wonka cane, this one is just a click away… | When you truly want to look like Gene Wilder's Wonka, it helps to have a Gene Wilder face mask |
And for the more laid-back Wonka fan…
| | |
| --- | --- |
| Wear your golden ticket with pride! And, easiest World Book Day costume ever. | For the Gene Wilder Wonka fan who has everything… Wilder's Wonka nesting dolls! |
Not seen the Gene Wilder version of the film? Really?! Fix that, pronto! And while you're at it, re-read the book…