Drum roll, please, for our Roald Dahl scarecrow!
Every September, members of our local community are invited to make and display a scarecrow for the annual festival, and then everyone troops around all the houses looking at what we've all done. It is a whole heap of fun, and also involves a stop for tea and cake at the local Community Orchard, making it even more fabulous.
This year's event was only a few days after what would have been Roald Dahl's 100th birthday, so of course our scarecrow had to be Roald Dahl themed!
Roald Dahl scarecrow ideas
Our kids have recently discovered one of my favourite Roald Dahl books, 'Charlie and the Chocolate factory', and I came up with a great plan to make an amazing Violet Beauregarde blueberry scarecrow, complete with three-course dinner gum machine.
However, best laid plans and all that… Number One son decided that Mike Teavee was a much better subject, and, alas, Violet was sent to the discard pile.
Once I got over my disappointment and stopped sulking, we came up with a host of fun ideas for our Wonkavision Roald Dahl scarecrow spectacular.
Enter Wonka's television room…
Something that always stuck with me from my own readings of the book and repeated viewings of the (1971 classic) film was the fantastical and yet entirely practical and matter-of-fact signage that abounds in Wonka's factory, so I was determined to include some in our display.
If you like the look of any of the signs we used, you can download them for free! Check out my printables page for the link (these are provided for personal use only).
Warning, Charlie Bucket!
The first sign, hung on the garden gate, includes a safety warning. After all, the Television Room is one of Wonka's most dangerous areas, as Mike Teavee finds out to his cost.
To set the scene, I bought a cheap pair of steampunky goggles on ebay. To go with this, I nabbed Kiddo Numero 2's doctor's costume to hang on a peg in the display. These were meant to look like spare Oompa Loompa safety gear.
Wonka Factory tour!
Our Roald Dahl scarecrow display itself was made up of three distinct parts – the Wonkavision camera, giant Wonka Bar and of course the Wonkavision television set, where our teeny tiny Roald Dahl scarecrow hung out.
Everything (bar the Wonka bar) had to be bright white, of course, though admittedly this was as seen in the film – in the book, the camera is black and the Oompa Loompa jumpsuits are red.
Blame it on insidious Apple branding or too many Seventies sci-fi programs (Logan's Run, anyone?), but the stark white look just seemed that bit classier and hi-tec to me, so we stuck with the 1971 look for styling.
As luck would have it, we'd had a new sofa delivered the weekend before the festival, so had an abundance of boxes to use as raw material for our Roald Dahl scarecrow set.
Wonkavision television set
One of the biggest boxes made a handy television set. Cue a liberal coating of white paint, some old lids for buttons, a twisted up coat-hanger ariel, and a Wonka-esque spiral on the screen.
​I cheated a bit (okay, quite a lot!) with the white paint, using disposable white paper tablecloths and white duct tape to cover larger areas instead of painting them. Much, much quicker to do!
Roald Dahl scarecrow – Mike Teavee
Our Roald Dahl scarecrow, Mike Teavee, was a blank bendy rope doll that I happened to have, leftover from another project.
I whipped up a simple jumpsuit by drawing around his basic shape on doubled-over white fabric, then stitching around the outline, before cutting out and turning right-side-out. A bit of orange embroidery thread created the lines (not very neatly, but it was late and I was doing it while drinking wine…).
His features are drawn on using the kids' felt tip pens, and his mask was cut out of a bit of craft foam.
Yes, I should have painted his feet and hands white, but I was SO sick of white paint by this stage.
Ta-da! The smallest Roald Dahl scarecrow in the world.
Wonkavision camera
The camera for our Roald Dahl scarecrow display was junk modelling at its finest – random bits from the recycling bin, stuck together and painted white. I made the lens section silver to add a bit of space-age oomph.
Admittedly, our camera looks nothing like the one in the film (either film, come to that) or the book, but I still love it!
Giant wonka chocolate bar
The Wonka bar was even easier as we just happened to have a box that was already the right size and shape.
It took next to no time to cover it with some silver wrapping paper at each end. Then three cheap disposable plastic tablecloths (one pink, one orange and one brown) were staple-gunned on. Alas, they were too heavy for tape or glue.
The lettering was another – paper – tablecloth, then cut out and glued onto the box with PVA. I went over the letters with white paint once the glue dried, to give it a bit more of a painterly look.
As I only had enough yellow card to do the hat in that colour, I had to do the word 'bar' in white. Not very accurate but I don't think many people would have noticed! But yes, it irks me still…
Wonka chocolate factory story room signs
I managed to find a font that was pretty close to the lettering used on the signs seen in the 1971 film. I admit, I got a little carried away making signs with it.
The ones I love best are the two 'store room' signs we put up in the window. In fact I like them so much that they have ended up hanging permanently somewhere in the house!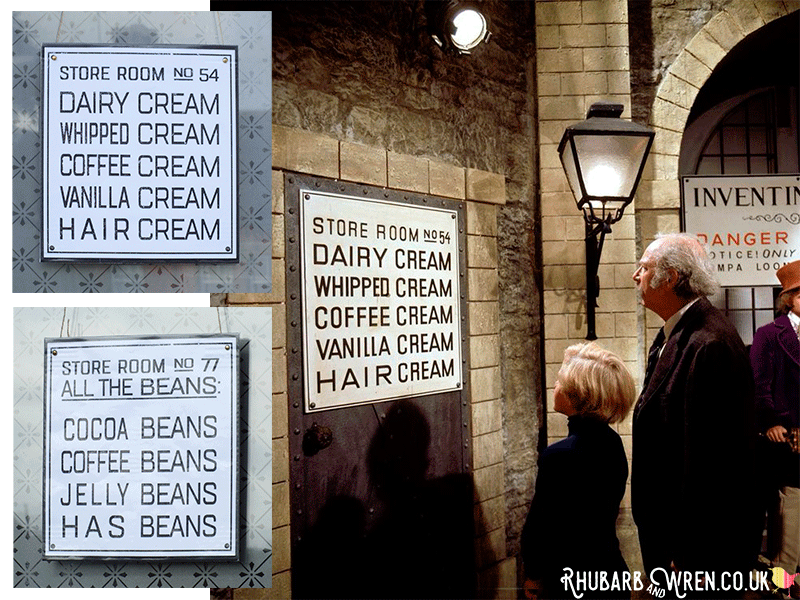 If you like them too, you can download (for personal use only) FREE copies from my printables page.
Days since an accident sign
I loved the idea of including a 'Days Since This Factory Had An Accident' sign with our Roald Dahl scarecrow. It felt like the kind of thing Mr Wonka would have done. Plus it also gave me another opportunity to use that font.
My original version was based on the number of days since a giant blueberry incident (done pre-change of theme!). I couldn't bear to completely scrap the blueberry. So the new sign included references to the fates of all the other children touring Wonka's factory with Charlie.​
This poster is also available for you to download!
Augustus Gloop is, of course, the pollutant fouling up the chocolate river. Veruca Salt (and parents) were blocking up the rubbish chute. Violet Beauregarde was the one who turned into a Blueberry ("Violet, you're turning violet, Violet!"), and Mike Teavee (our Roald Dahl scarecrow) was shrunk by Wonkavision.
I stuck a little 'Must try harder' memo from Mr W. Though I can't see him loosing sleep over any of those zeros!
Willy Wonka's office
In front of the television with our little Roald Dahl scarecrow in, was a little desk. We set our home-made Willy Wonka hat onto it, along with a card, a cup of tea (or possibly hot chocolate!), a small posy of flowers and a Wonka's original Everlasting Gobstopper.
This was our little nod and thank you for Gene Wilder, who died a couple of weeks before. Wilder's portrayal of Willy Wonka was a magical part of my childhood and has since entranced my children as well. So it was important to us to make some gesture in acknowledgement, whether or not anyone else even noticed it!
The last item on the desk was Mike Teavee's toy gun. Obviously far too big for him to hold now, so labelled up with a 'property of…' ticket. It's resting on another pre-change of theme item – a sign-up form for a Juicing Room clean-up crew… I imagined that de-juicing Violet might have been a messy affair!
DIY everlastiing gobstopper
Incidentally, the everlasting gobstopper was a real last-minute addition to our Roald Dahl scarecrow tableau. It was made with plasticine in about five minutes flat.
G-Man was so intrigued by this that he spent half the day crafting a whole heap of gobstoppers. We could easily have recreated the conveyor belt scene by the end!
They're very easy to make so I highly recommend as an activity for the kids.
Wonka Inventing Room sign
Our front door displayed an Invention Room sign. Yep, it should be 'Inventing'. And yep, I noticed too late to change it! I've corrected it on the printable version though, so you can be absolutely accurate with your signs.
I also put up in the entry an advert for Wonka's Rainbow Drops. "Suck them and you can spit in seven different colours!"
I was going to do adverts for other Wonka products too. However:
I ran out of time and
was told I was going too far and needed to think of the trees…
Wonka factory arrow signs
The last thing we put up for our Roald Dahl scarecrow display were arrow signs to direct people to the other rooms in the factory. Naturally they pointed in all directions! And yes, it's that font again…
All in all, making the props for this Roald Dahl scarecrow display was great fun, and certainly seemed to create an impact on the day. Most importantly, the kids loved it. In fact, they are very reluctant to say goodbye to the Wonkavision television set, which is finding a second life as a puppet theatre!
I feel like Mr Wonka would approve.
---
Pin this Roald Dahl scarecrow for later!
Want to bookmark this post for later? Save it to Pinterest!
More book-related fun!
Want to make a hat like Wonka's? Check out our easy tutorial, and take a look at our other book-tastic scarecrow festival display for Alice in Wonderland!