Learning how to assert yourself without falling into a temper tantrum is a tricky skill for children to learn. Tom Percival tackles this dilemma perfectly in his sweet and fun latest book, Ravi's Roar.
Read on to take a peek inside and find out what we thought!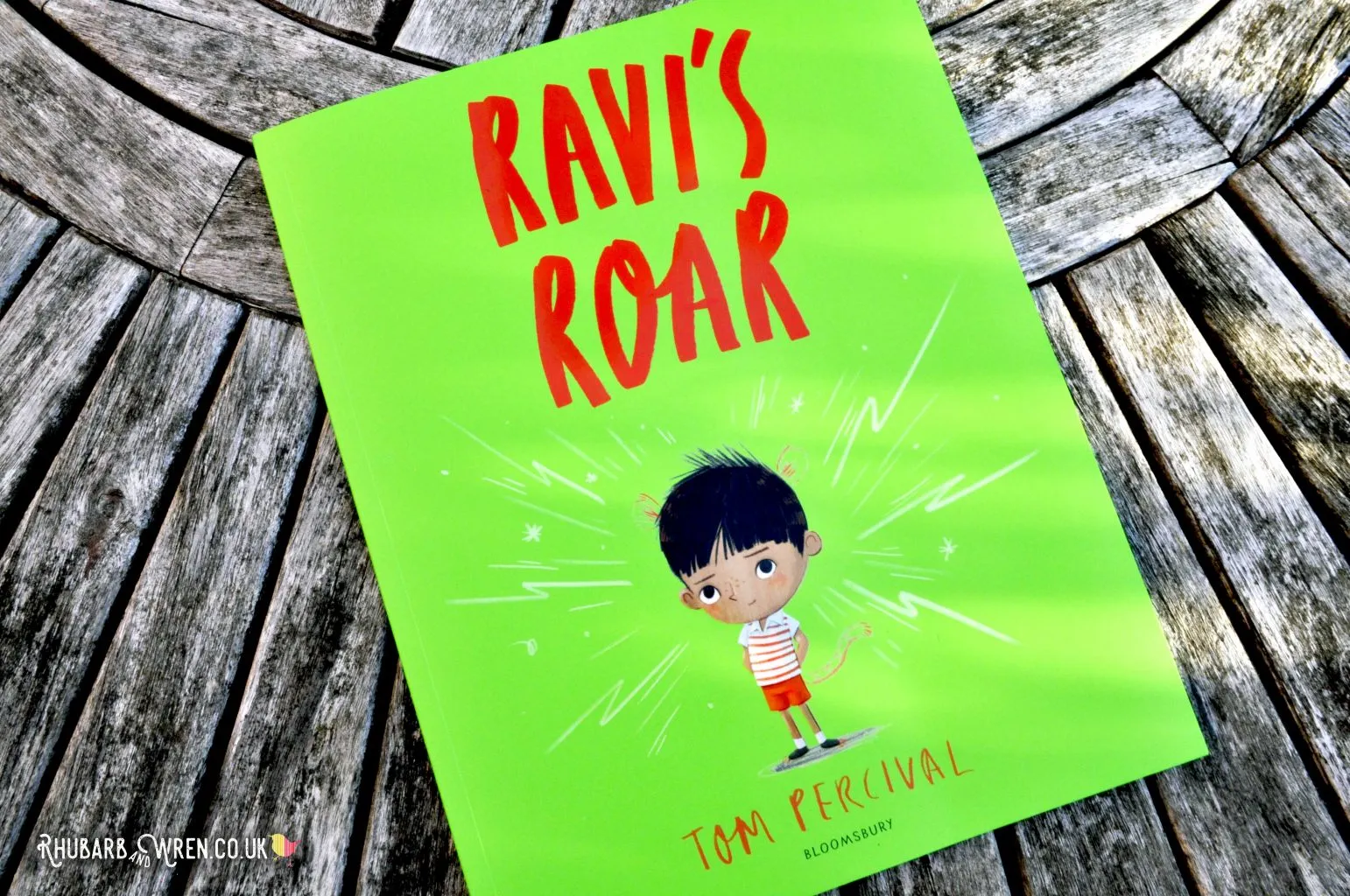 Links in this article to Amazon are affiliate links. This means I receive a small amount when you click through and buy. It does NOT add anything to the price you pay. You can find out more on my 'about affiliate links' page.
We're big fans of Tom Percival's previous books, but Ravi's Roar is quickly becoming a new favourite. The story follows Ravi, the smallest in a large and boisterous family. But while being little can be fun, Ravi finds that it can also mean feeling left behind or left out.
The final straw comes on a trick to the park, when Ravi is the last in a race to the ice-cream lady. And, horrors! By the time he arrives, there are no ice-creams left!
Now this is a pretty epic disaster by anyone's standards. And so my kids and I completely understood why poor old Ravi ends up completely losing his temper. Much to everybody else's shock and surprise!
Meaningful colours
Throughout this book, Tom Percival uses colour brilliantly. Rich, bright, colours give way to black and white and grey as Ravi's mood deteriorates. They also act as a spotlight to focus the reader's attention on a particular area. And when Ravi finally lets loose, this is used to particularly wonderful effect.
Ravi turns (literally!) into a furiously orange and red tiger, and ROARS in huge, angry letters across the black-blocked page.
My children loved this spread, which provoked lots of awed giggles. It's clear that the injustice of his experiences is deeply frustrating. Ravi's anger is not just temper; it's justified and relatable.
But then Ravi finds that he loves being a tiger. He uses his new superpower to get himself an ice-cream (as well as a place to sit and eat it). And, for the moment at least, it seems that maybe becoming a tiger is the best thing ever.
I really love the way Ravi is illustrated in these pages. Not only is he transformed into a tiger, but a cloud of red scribbles sparks and flares around him. It's a great visual representation of how an angry mood can affect the world around you.
Ravi's Roar – little life lessons!
My youngest even commented that Ravi looked very dangerous now. And this is exactly the kind observation you hope children will make, when you read this book. It lead us quite naturally into a little conversation about how Ravi might have managed his situation. Could there have been a way to express himself that didn't threaten or frighten other people?
And, of course, Ravi's transformation is soon revealed to have a downside. Ravi finds that other children do not want to be around him and that being fierce is not always fun.
Saying Sorry
But as soon as Ravi starts to feel sad and alone, his family find him. Racing across the page in a shaft of sunlit colour, Ravi's family are a chaotic yet warm and friendly bundle of energy that soon surrounds him with their love and reassurance.
Ravi says sorry, and it's because he feels sorry rather than because he's been told to say the words. And, of course, as soon as he apologises sincerely, he begins to feel better. Suddenly, Ravi isn't a tiger any more.
Ravi's Roar is such a warm and funny book that it's impossible to feel you are being preached to. Yet the message for children is loud and clear. Ravi is both a relatable and realistic character AND a great illustration of how our emotions can sometimes feel out of our control.
And it's easy to forget how overwhelming emotions can be for children, especially when you are on the receiving end of a display of frustration.
So Ravi's roar is also a good reminder for parents that those little irritations grown-ups deal with (mostly!) without fuss, are not so little or manageable for our young ones.
We also loved that the experience of being a tiger was something that Ravi learned from in more ways than one. He learned that being a tiger made him no fun to be around, and made him ultimately unhappy and lonely. But he also learned that just a little bit of tiger is sometimes necessary and useful. Sometimes we all need to "have a bit of a growl!"
By the same author
Ravi's Roar is from the Big Bright Feelings series of books from Tom Percival. These books focus on emotional issues children have, offering ways to deal will new feelings and experiences. The issues are tackled in a way that is charming, thoughtful and, most importantly, non-preachy!
It is also a delight to see that the characters themselves are all of different ethnicities, making this series wonderfully diverse and inclusive.
Perfectly Norman looks at being different to those around you through the story of a little boy who grows wings. How will his friends and family react?
Ruby's Worry is about a happy little girl who finds a worry one day. The worry grows bigger and bigger, making Ruby sad and withdrawn…
Another entry in the series is Meesha Makes Friends which focuses on that eternal childhood problem – how to make friends.
Tilda Tries Again
The latest in the Big Bright Feelings series, Tilda Tries Again is the story of what happens to Tilda when her world quite literally turns upside down, and how she learns to cope with change, using perseverance to solve her problems.
You can check out all the latest news from Tom Percival, and find out more about his work on his website: tom-percival.com
Children's books and mental health
Tom Percival has written about his motivation and intent for the Big Bright Feelings series on the fabulous Nerdy Book Club blog – check out his post here.
And, specifically relating Ruby's Worry (below) he also wrote about how books can help mental health and ease anxiety in children, for the UK reading charity, BookTrust.
And lastly, you might also want to check out this article from The Guardian in 2018, where Tom and other authors talk about whether picture books can meet the crisis in children's mental health.
---
Picture Books with Diverse Characters
Have you seen my full list of the best 23 picture books with diverse characters? Just like Ravi's Roar, all of these picture books feature black, Asian or minority ethnic (BAME) boys as main characters. Something that's as rare as proverbial hen's teeth in children's books, and a problem I've written about here.
Check out the list to find out more about our favourites, and take a peek inside. If you like the look of this book, I'm sure you'll find some others to love there too!