Everyone's favourite toy turns 60 this year! Sunday, 28th January 2018, marks the 60th anniversary of the patent approval for the Lego brick that we know and love playing with today. To celebrate this great achievement (and because we need little excuse to party) we've made our own Lego brick. And we've fixed the only downside to Lego (plastic – boo!) by making ours out of a far more environmentally-friendly material… Cake. Yes, it's a giant Lego brick cake – Yum!
Read on to find out how to whip up a Lego brick cake yourself – it's so easy, you can do this even if you're an absolute baking beginner.
This post uses affiliate links, meaning I receive a small amount when you click through and buy. You can find out more on my 'about affiliate links' page.
A Lego cake for novices
I freely admit that I'm not a frequent maker of novelty cakes. Mostly because my home baking tends to taste better than it looks. And also, alas, because most of those fancy-pants, Pinterest-worthy cakes are way out of my ability league.
But a Lego brick is just a rectangular cube with a few studs on top. How hard could that be? No seriously, not that hard, right? Right!
In fact, it's easy peasy – and you can make one too.
What kind of cake is a Lego brick cake?
Before we begin, a quick word on the cake itself.
You could use any recipe to make a LEGO Brick cake, as long as it's baked in a rectangular tin. And it's going to be completely covered in icing, so if you prefer chocolate or lemon cake, it won't make any difference.
We went with a classic Victoria sponge cake recipe. It's a family favourite and firm enough to hold the shape well (at least when I make it!). Another benefit of a Victoria Sponge recipe is that it needs just four, readily available, ingredients (not counting filling and icing). And it's so quick and simple that my children can (and do) make this all by themselves.
Lego Brick Cake Recipe
For this cake, I used my mega-huge square cake tin. This wonder-tin has dividers to create all sorts of square and rectangles in all sorts of sizes. However, I will confess that I'm rubbish at judging sizes (ahem). So I may have 'accidentally' made a rather humongous cake…
In fact, it was so big I had to make a second batch of cake mix to top up the first, just to fill up the tin. I used eight eggs in the end! Like I said, HUGE cake.
The recipe quantities here are based on the assumption that you are being more modest/sensible, and using a rectangular tin of around 9" capacity.
Ingredients
You will need the following:
For the Cake:
4 large free-range eggs

. Weigh these (in their shells) to determine how much flour, sugar and butter to use. You need equal weights of each of these key ingredients, so always start with weighing the eggs.
Approx 400g (or however much the eggs weigh) of each of the following:
Self raising flour

. If you've had the flour for a while, also add a heaped teaspoon of

baking powder

.

C

aster sugar

Margarine (e.g. Stork)

– you'll get a lighter cake than using butter, and it contains much less fat.
This is a very easy recipe to alter as quantities are based on the weight of the eggs. So if you need it a bit bigger (no judgement here), then just add another egg or two (before you start mixing!). Make sure you also increase all other ingredients to the new weight as well.
For the Lego studs (on top of the brick cake):
I made my cake extra long so I could trim some thick slices off the end. Then I cut out the circular stud from these, using a round cutter.
Alternatively you could bake a separate small cake for this purpose (or cheat and buy a nice firm Madeira cake). Basically, you just need something edible and the right shape that you can cover in fondant icing and stick on top…
Other suggestions I've seen include using a sliced-up Swiss roll, Oreo biscuits or those giant Reece's Peanut Butter cups. Oh my goodness!
Then again, you could just shape a big lump of fondant for the studs. That way you wouldn't need to wrap anything at all. Your choice!
For the decoration:
Jam or buttercream – e.g. sticky stuff to cover your cake with, so that fondant icing sticks on.
Fondant icing in your choice of colour.
I started out with red, ready to roll fondant icing. However you could also buy white and colour it yourself. You'll need to use food dye gel (not liquid) to do that.
Top tip – check how much you need before you begin! I used a whole 250g packet to cover just the studs for the top. But I needed another 500g for the cake itself…
This was a disaster! The pre-dyed red icing was all sold out when I went to buy more. So I had to get white and dye it to match. It took three tubes of red, a dash of maroon, and a little of both rhodamine and brown dye to get the colour right!
But I am pretty proud of the final colour match. And my hands match the cake now also. Bonus.
How to make a lego cake
To make the cake:
Pre-heat the oven to 180° C / 350° F / gas mark 4. Grease and line your cake tin (or tins if you're making a layer cake).
Cream together the margarine and sugar until light and fluffy. Once you think you've done enough, stop and scrape down the sides. And then do some more.
One at a time, beat the eggs into the mix along with a spoonful of the flour.
Once all the eggs are mixed in, sift in the rest of the flour (and baking powder, if you're using it) and fold that in too. If you must use the mixer here, try not to over-beat the batter at this stage. You need the air you've sifted in with the flour to get a good rise.
Put the mixture in your prepared cake tin(s), and pop in the oven.
Bake for approx 25-30 minutes – don't be tempted to open your oven too early or the cake will fall flat. You should be able to smell the cake when it's near ready. When you take it out it should be golden brown in colour and shrinking slightly away from the tin. Test by sticking in a skewer or knife. It should come out cleanly with no sticky mix on it!.
Leave in the tins for 5 – 10 minutes, then turn out to cool completely. It must be absolutely cold for the decoration stage. And no, don't put it in the fridge! That'll just dry out the cake and make it all stale and yucky.
Making the Lego brick cake studs:
If using some of your cake to create those classic Lego brick studs, slice off enough from one end for the amount of studs you need.
I made six studs for my brick (because, 60th). But yes, I now realise it should have been eight for the classic brick. I cut three studs from two slices of cake I took off the end, using these circle cutters.

Preparing the cake for icing:
Use a piece of string to measure diagonally across your cake (including sides and a little extra for safety). You will use this as a size guide when rolling out your icing.
Prepare your cake by coating it in either jam or buttercream. Buttercream will fill in any holes and create a much more even surface. But it is more work, and my youngest is currently very against anything butter or cream related. So, we stuck with jam.
You'll need to pop the cake in the fridge for half an hour or so after coating if using buttercream. There's no need to do this if using jam though. This is to harden up that coating a little before you put on the fondant icing, otherwise it'll slide straight off.
Also, if using buttercream, add a second layer of buttercream on the 'raw' end (where you cut off slices), after the first layer has set. This ensures that any crumbs are caught by the first layer and smoothed out by the second. I didn't need to do this with my jam coating, but then I wasn't being overly fussy about the finish!
Icing the Lego brick cake:
Sprinkle a little icing sugar onto a clean, smooth surface and knead your fondant until it is easy to mould.
Form a rectangular cube and roll it out until it's big enough to cover your cake. Use your string to check the size. You don't want this puppy too thin, or it will stretch and tear when you lift it onto the cake. Between half to one centimetre thick is about right. But this is the most fiddly part of the whole cake, so be warned!
Carefully lift and drape the icing over your cake. Once in place, gently pull down any edges where it is not quite long enough. Be careful not to tear it though.
Use your hands or something smooth like a glass with straight edges or this smoothing tool to flatten and smooth the fondant into place. You'll find that the sides mould neatly as you smooth them down, but you'll need to trim off the excess as you go.
Finishing the Lego brick cake studs
Cover your cake studs the same way as the main cake. I used a larger circle cutter to cut out fondant icing circles for these. They were actually much easier to do than the main cake because of their smaller size.

If you have any (unused!) letter stamps, you may want to imprint the words 'LEGO' into the stud fondant icing circles BEFORE you put them on the cake studs. You can make a better imprint that way. But do make sure the stamps are clean and not contaminated by non-food safe ink.
Alternatively you can pipe the lettering using some royal icing or a tube of ready mixed writing icing.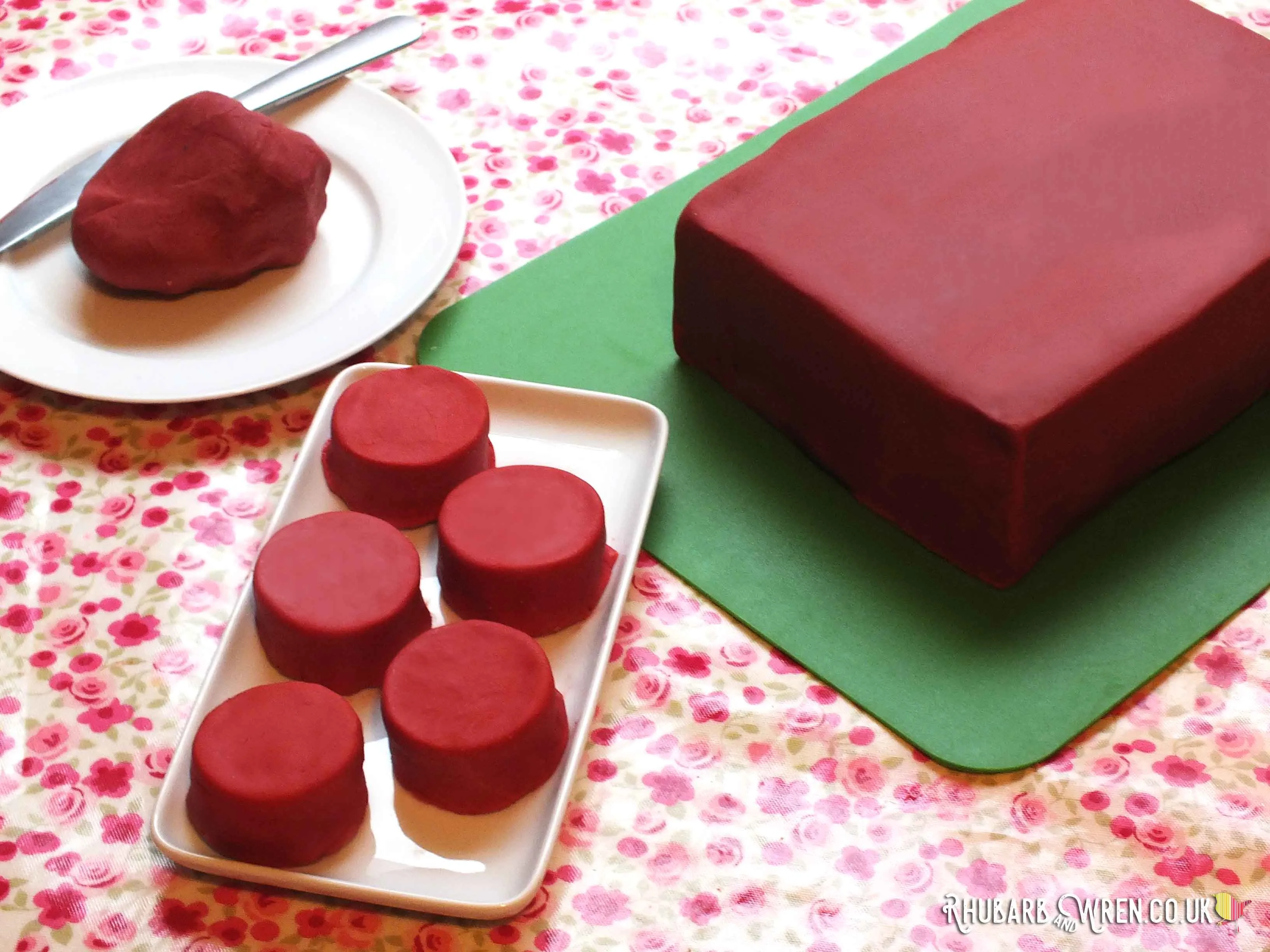 Position your fondant-covered studs onto your cake and press/smooth gently around the joins. Ta-da! One giant Lego brick cake for party-time…
A Lego brick cake masterpiece!
The kids and I had great fun making this Lego brick cake . There's no doubt that fondant icing can be a little fiddly to apply (especially on a big cake), but don't let that put you off. It actually it wasn't as hard as I thought it would be to get a decent-enough-for-the-kids finish. So if you can roll out play dough, you can certainly tackle this too.
And while mine won't win any cake decorating awards (and would most likely be rejected by Lego's quality control for its wildly inaccurate measurements), this Lego brick cake looks effective enough to please my kids, and make them smile.
It is also rather tasty.
So happy birthday, Lego brick – here's to 60 more years!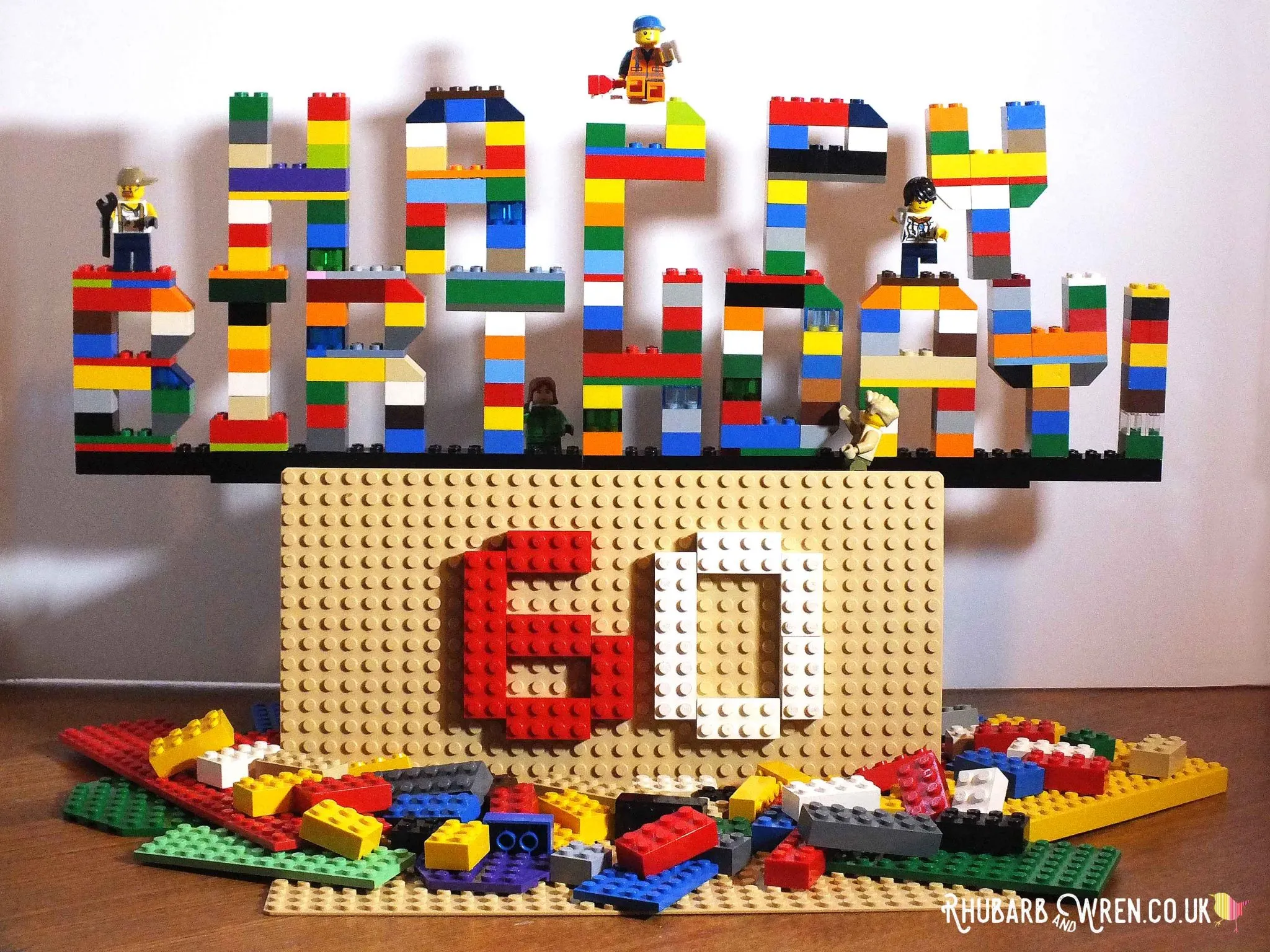 ---
Lego Cake Making Must-Have Equipment
If you are looking to make a Lego brick cake yourself, the main things you'll need are a rectangular cake tin and some circle cutters. Though a fondant smoothing tool is a useful extra as well.
These are similar to the ones I have. And I've my eye on those fabulous Lego silicone moulds too – just think of the possibilities…
---
Limited Edition 60th Anniversary Lego Sets
We could't make a Lego cake without talking about some actual Lego!
As part of their 60th Anniversary celebrations, Lego have released these special limited edition sets, with the theme 'Building Bigger Thinking'.
Rather than having a specific design to build, these sets encourage more imaginative and open-ended play by providing a range of blocks and some starting idea instructions.
I love the look of these. I's great to see a range of budgets, from the pocket-money friendly £4.99 to the birthday busting £44.99. Not cheap, but still far from the most expensive Lego set around.
I'm pretty sure that one or two of these will end up in the Rhubarb and Wren nest before too long!
More from Rhubarb and Wren
Looking for more cakey goodness? Check out my other easy-peasy cake recipes here!
---
Pin this for later!
Want to bookmark this post for later? Save it to Pinterest!