Why a marble run is such a marble-ous toy.
A marble run is one of the toys I consider essential for children of any age, offering as it does a wide range of play and development opportunities whilst simultaneously giving a sensory experience too.
But understanding why and how these toys are so great is vital if you want to encourage kids to play with them and help them get full value from the activity.
Read on to  find out more about the benefits of this type of toy, and how to find the perfect set for your child.
This post uses affiliate links, meaning I receive a small amount when you click through and buy. You can find out more on my 'about affiliate links' page.
The educational and developmental benefits of marble runs
Everyone loves a marble run, right? That hypnotic race of a marble through a maze of tubes or track, winding its way through to come shooting out at the bottom.
But there's much more to marble run play than that, and the true benefits aren't really in having an end product of a finished track (no matter how impressive), or even in that exhilaration and pride kids feel when a marble makes it all the way through.
What makes a marble run a great developmental toy for kids is, of course, the actual process of construction. And the challenges that this activity poses for them.
Under 3s playtime
Even when very young children* are playing with marble run-style ball tracks, they are discovering and exploring cause and effect, gravity, and momentum.
They can start to understand the properties of spheres. (Spheres roll! They roll fast downhill! Spheres don't roll uphill…) Perhaps they will notice different shapes, weights, and colours (depending on the set). And they will also be exploring simple concepts like up and down, connections, direction and paths.
*Very young means under three. At this age  children may still be tempted to put marbles or other parts of the toy in their mouth.
For under threes, there are runs that use large balls too big to be a choking hazard, instead of marbles. We love the look of this musical ball track set from HABA, for example. Sets like this allow very young children to experience this kind of play safely.
Developing skills
As children progress onto building more complex or freeform runs, they will face engineering and physics challenges creating a working route for their marbles.
They will need to maintain a stable structure. And they will need to use deduction, logic and analysis to solve problems and overcome obstacles.
All of this also requires and helps develop good hand-eye co-ordination and fine motor skills too.
Open-ended play
Marble runs are the ultimate open-ended toy. They promote creativity in that, with many sets, there are countless ways to construct the marble run. So, children will need to use imagination as well as spatial skills. First to picture what they want to build in three dimensional space, and then to construct it.
It also takes perseverance and patience to get to that final moment of truth when the marbles can be launched. And because it's often not easy building a marble run, kids are also building their self esteem and confidence as they play.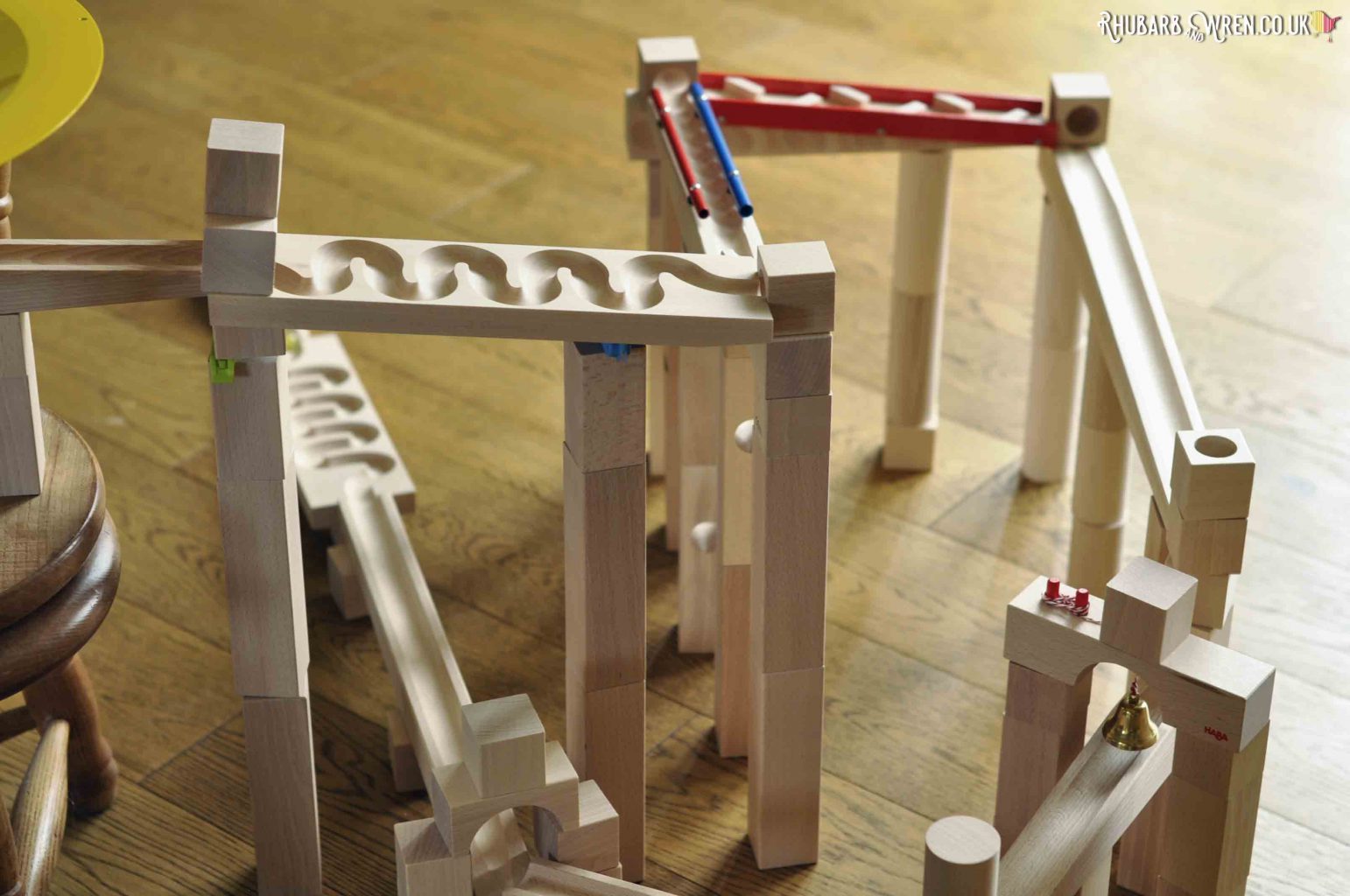 Collaborative play
Marble runs are also often collaborative. One of the advantages to getting a bigger set like the one pictured (which we were given for the purpose of review by HABA) is that more than one child can play at a time.
This, of course, has its own challenges and rewards. When children play together, it helps develop co-operative skills of communication, discussion, negotiation, and compromise. Not to mention those all-important skills of patience and perseverance that are so vital to successful teamwork.
All this, and that's without additional educational applications that you can introduce into the play.
Engineering challenges
You can use a marble run to give children even more challenges.
As them, for example, to create the fastest/longest/tallest route. They will need to consider and apply mathematical and physics principles (often without even realising it) to figure out how.
Give them limited building blocks and see what they can make. Or ask them to start and finish their marble run at specific places. There are all sorts of challenges you can give them which will turn maths, engineering, and physics into puzzles they can solve with their hands.
And with or without adult involvement (and let's face it, it's often hard to keep the grown-ups away!), marble runs promote the type of play that is full of active learning. With a marble run, children have to think about what they are creating, and use focus, imagination and problem-solving skills all while having fun.
Buying a marble run
If you're looking to buy a marble run for your children, there are many fabulous options on the market.
It's worth remembering the ideal of open-ended, imaginative play when choosing one. Some marble runs look fantastic, with extra elements like lights and sounds and special obstacle pieces.
But if the construction is limited to clicking together a few pre-set designs, you may find that kids will likely lose interest pretty quickly. With sets like that, they will not face those construction challenges that actually help them learn and grow. And which keep making marble runs interesting.
This can be as true of some wooden sets as well as the (generally cheaper) plastic sets.
Things to look for when buying a marble run
So if you are choosing between the many, many marble runs available to buy, I would consider these things:
Is it robust? Some cheaper sets can be made of flimsy plastic. This makes it difficult to build stable structures, and makes them easily broken. We found these to be a false economy for us – one of this kind broke quickly after very little play and a lot of frustration.
Can the pieces be combined in any way, or is there a set structure to build? Blocks or tubes that click or slot together in specific designs can make it easier to build. But this sort also allow for less open ended play and free-building. Consider which is your priority.
Are there a good variety of basic track pieces? Different lengths/inclines, corners and/or direction turners etc. Plus a good proportion of supports to raise the track off the ground. You need a lot more supports than track pieces! Variation makes for more possibilities when building, and obviously adds loads to the fun.
If it is a wooden marble run, are the tracks sloped? We were given a small but lovely-looking painted wood set a while back, that looked great. But it was really difficult for the kids to build successfully with because ALL the tracks were absolutely level. That one was just a little too frustrating for us!
Are there at least one or two 'special' pieces? These are great fun and can often inspire kids to look for or make their own 'specials' out of found objects around the home. Noisy/musical sections are very popular in our house!
Is the set expandable? Good quality (though usually more expensive) brands often have compatible sets or add-ons that can extend play options and help prolong the toy's use. These also make great options for gifts come birthday or Christmas!
Go forth and build!
There you have it – our guide to the greatness that is marble runs, and our top tips for what to look for when buying your own. We'd love to see how you use your marble runs, too, so feel free to show us your creations!
HABA's Wooden Marble Run
Do you like the look of our marble run? The set used in the pictures in this article is (affiliate link) HABA's Master Building wooden marble run, along with the add-on Winding Track section.
We were lucky enough to be sent these toys by HABA in return for an honest review, and so you can read about how we got on with it, and what we think of HABA's marble runs generally, in our other marble-tastic post – the HABA Master Building Set Review.