Bonfire Night is a very special night for our family;  it's a birthday for one of the kids as well as probably my all-time favourite event. Who doesn't love fireworks, bonfires, roasted chestnuts in a paper bag. And (don't underestimate this thrill for kids) going out after dark for all of the above on a crisp and cold autumn evening? So when I saw this vintage edition of the 'Topsy and Tim's Bonfire Night' book, I had to buy it. Read on for a look inside!
The original Topsy and Tim
Like many other kids of the 70s and 80s, I grew up reading the original Topsy and Tim books in all their brightly-coloured and fantastically illustrated splendour.
Nowadays, I love sharing my little collection of vintage editions with my children – they're just as captivated as I was by the charm and wit of these original versions.
Personally, I much prefer the gorgeous original artwork of these over the new illustrations done for the modern Penguin editions. And my kids enjoy how much more mischievous the twins of old were. Don't even mention the TV twins!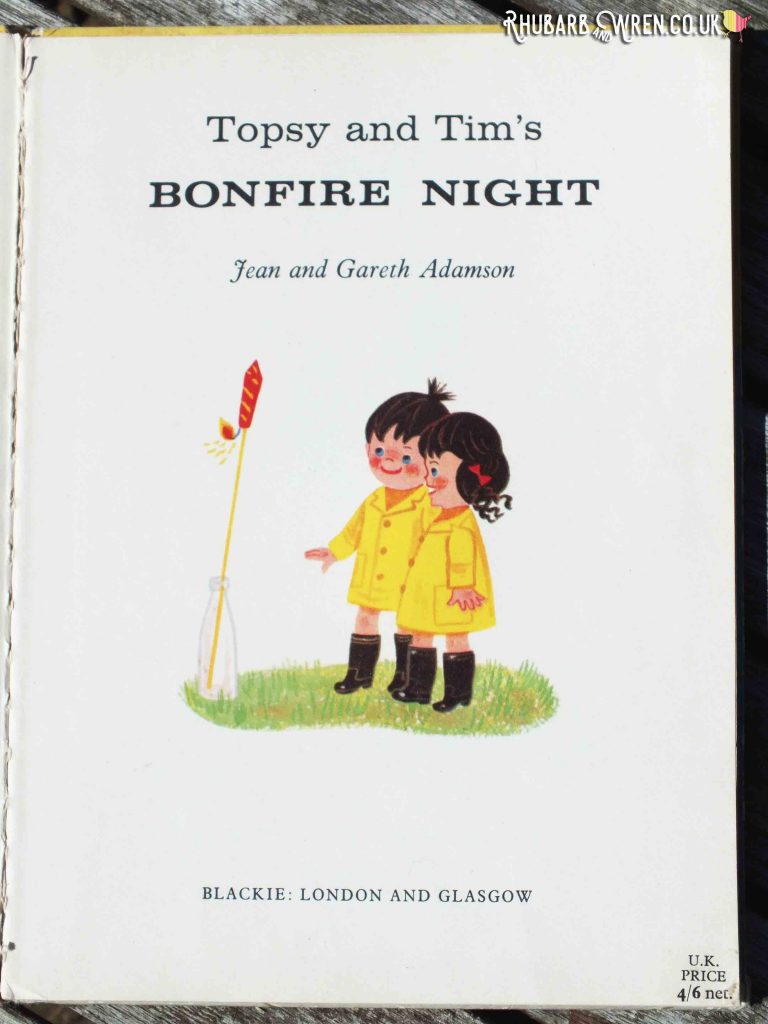 Children in peril
'Topsy and Tim's Bonfire Night'  illustrates this perfectly. The cover shows Topsy and Tim running gleefully out of a shop clutching a Guy Fawkes mask and a couple of fireworks. Not an activity you'd associate with today's preschoolers.
Let's just hope that they'd paid for them. And that is not a given with those two!
Then there are the opening and closing illustrations that bookend the story. In the first, Topsy and Tim have found a milk-bottle to use for launching their firework. This sets up the end page payoff showing a rocket shooting up in a shower of sparks, while the twins dance around in excitement.
I don't think there's much doubt about who lit that fuse!
Real-world inspiration
Jean Adamson has said that she and her late husband, Gareth Adamson, devised the Topsy and Tim series after visiting a bookshop in Northumberland in the late 50s.
They found children's books that were full of dragons, fairies, and witches, and so on. But none that reflected modern real life experiences for the average 50s child.
Both Jean and Gareth were trained illustrators and they were inspired by this experience to create Topsy and Tim. They formed an author-illustrator team, with Gareth doing the writing and Jean the illustrations.
Life in full colour
The style of those beautiful illustrations was developed very deliberately. Jean used all the skill and sophisticated techniques she had gained studying and teaching design at Goldsmiths.
According to Jean, the characters of Topsy and Tim were 'carefully constructed to be instantly recognisable little icons. And the illustrations had a bright, uncluttered look, but plenty of texture'.
They were groundbreaking for children's books at the time because they were full colour throughout. And they were a hit right from the start.
Perfectly observed details
It's easy to underestimate the artistry going into these illustrations in 'Topsy and Tim's Bonfire Night' because they are so effortlessly bright and cheerful. But look closer and you see how effectively these simple forms capture the emotions and actions of the characters.
Look at the stretch in the legs of the man in green trousers, above, for example, as he helps place the guy on top of the tottering pile of sticks. You can really feel how precarious it all is just through the arch of his foot and that over-extended leg.
I love little details like Topsy and Tim's chubby, scabby, knees; the curve of their mother's back as she stoops to hold their hands; or Topsy tugging on her mother's skirt in a way that every parent in any era will have experienced at sometime.
Despite the deceptive simplicity of the images, they perfectly capture those childhood moments that are just as true today as when the books were first published.
Challenging gender stereotypes
I was intrigued to learn that it was also a very deliberate – and very modern – decision to make Topsy and Tim girl-and-boy twins with equal status in the stories. This was in order to give a girl the same opportunities for getting dirty and being naughty as her brother.
Gender stereotypes were almost universally unchallenged back in the 50s. Jean recounts in several interviews how annoying she found the lack of parity between boys and girls as a child.
This no doubt fuelled her determination to make things more equal in her and Gareth's creative endeavour. 
Topsy and Tim share their adventures pretty equally – especially considering when they were written. And Jean has admitted that when Gareth gave her the text to illustrate, she would occasionally change the names around 'if I thought he'd given Tim all the best bits'.
A family affair
Topsy and Tim themselves were were not at first based on real people. But their adventures were inspired by the real-life antics of the couple's own friends, family. And eventually by the authors' own family life, once they had children themselves.
Other characters in the books were based on actual people they knew. Because of this, even the most minor character often feels like an individual. And this is undoubtably part of the enduring appeal of the books.
You could say that the world the twins inhabit is recognisable and relatable because their adventures and the people they meet are all from the everyday and 'real world'. And it turns out children love that as much as dragons.
Childhood memories
For Jean Adamson the books are full of memories, because many scenes are based on her childhood adventures with her brother, Derrick.
And later on, the books are also full of little details from her and Gareth's own family life.
There are everyday moments like the time her children chose and looked after a new pet. And more momentous moments like when a tiger licked the car window on a family outing to the safari park.
All these real life incidents inspired similar stories in the 'Topsy and Tim' series. Including 'Topsy and Tim's Bonfire Night'.
Illustration art
But while the stories may be real, the super-saturated bright colours and simple yet beautiful artwork, as seen in 'Topsy and Tim's Bonfire Night', elevates the books into more than just the everyday. It makes these everyday little stories truly magical – without a dragon or fairy in sight.
I can still remember how passionately I wanted my mum to make me a gypsy costume using curtain rings and scarfs (as in The Friday Book).
Or how excited my sister and I were whenever we went to see the dinosaurs in Crystal Palace Park (as featured in Topsy and Tim Meet the Monsters).
Jean said that 'the stories are aimed directly at children, not parents or guardians.' To her, it seemed that 'adults sometimes forget that experiences that seem commonplace to them are wonderful, first time adventures to young children.'
And this makes perfect sense to me. From my own experiences, if they were everyday, the adventures in their stories weren't 'ordinary' to us back then. And to my delight I've found my own children are just as transfixed by these vintage Topsy and Tim's adventures today.
More on Topsy and Tim from around the web…
There's surprisingly little on the net about this amazing series and the author/illustrators Jean and Gareth Adamson. So if you've enjoyed this peek at 'Topsy and Tim's Bonfire Night' and you'd like to discover more, here's a list of the best bits I found:
---
More from Rhubarb and Wren…
If reading about 'Topsy and Tim's Bonfire Night' has got you in the Guy Fawkes mood, try our bonfire night craft and make some 'conker comets' – easy and so much fun for all ages.
Or for more on children's books, take a look at our review of one of our favourite modern children's classics – 'The Bog Baby' by Jeanne Willis and Gwen Millward.