Do your kids love having little picnics with their toys? Mine do, but what they don't love so much is tidying away, and those little bits of teeny tiny doll food often go astray.
So instead of buying them more, why not try out our quick and easy DIY solution? All you need is a bottle of wine and some paint…
Corks – the ultimate craft material.
No, seriously, you don't need the bottle (or the wine, but I'm not judging) – just the cork.
Wine corks have become my absolute favourite, numero uno, best of the best, go-to resource when it comes to making play or doll food for my kids. If you've read the previous article on play-food sliced mushrooms, you'll have scraped just the tip of my wine-cork obsession. 
Why do I love them? Well, they're readily available (ahem), environmentally friendly (cork is a natural, biodegradable and renewable material) and extremely versatile. Basically, it's dead easy to cut up!
A feast for a mouse
For our Maileg Mouse camp-out, we made a whole doll food feast of little mouse-bites out of cork. The kids haven't stopped playing with them since, and the best part is they were both free and quick to make.
Now, received wisdom says that you should soak your corks for an hour or two before cutting them up – this is supposed to make them easier to cut and less prone to crumbling.
I wouldn't know about that, as I'm far to impatient to bother with this bit of prep. But if you've got particularly crumbly cork, you could give it a go.
Instructions
To make our doll food starter (jammy toast), main course (a wedge of cheese with a side of potato wedges) and pudding (chocolate birthday cake), you'll need one whole cork. Ideally quite a big, chunky one.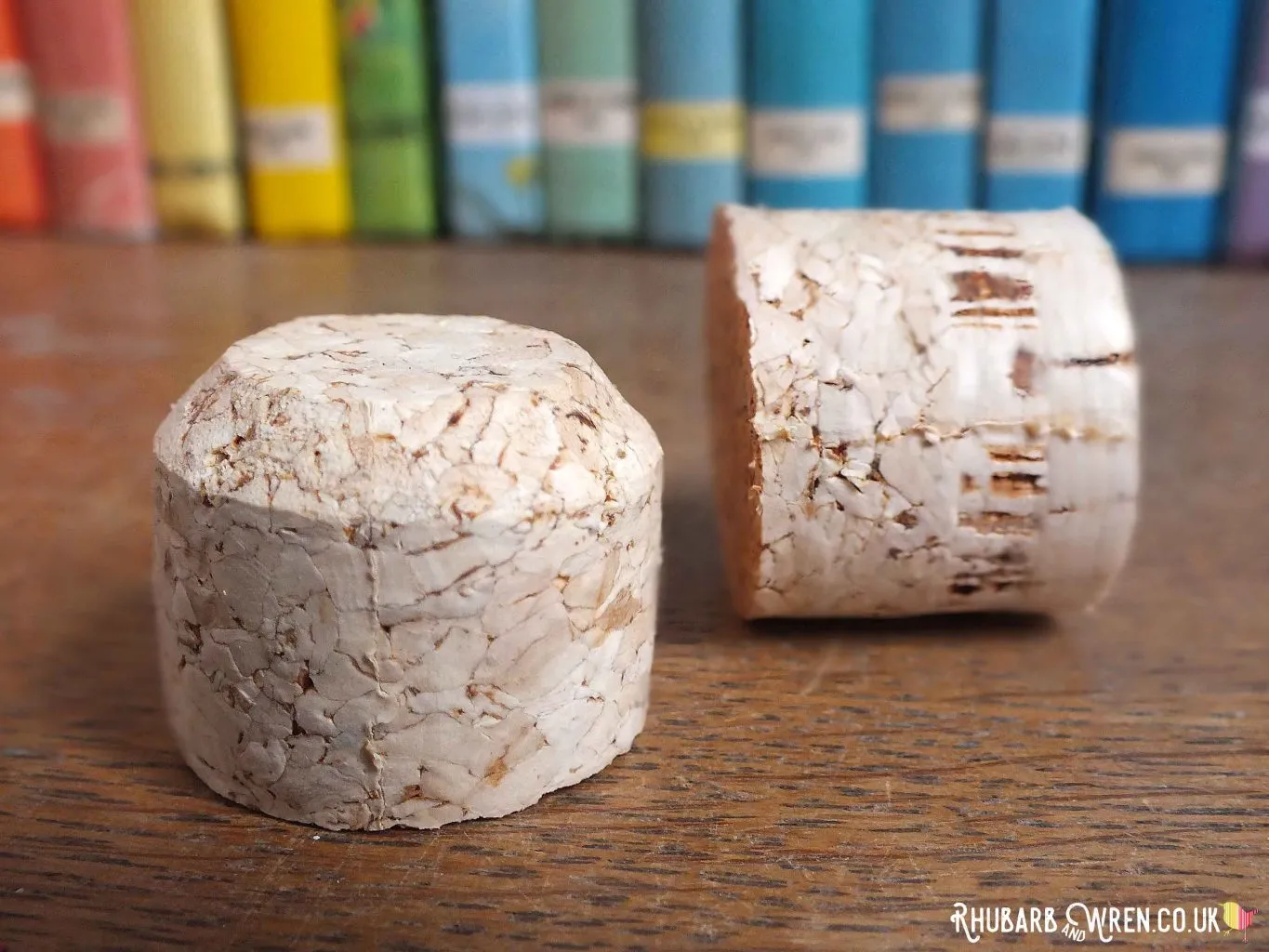 Start by cutting this bad boy in half to make two roughly equal stubby cylinders.
The top half will be your cake.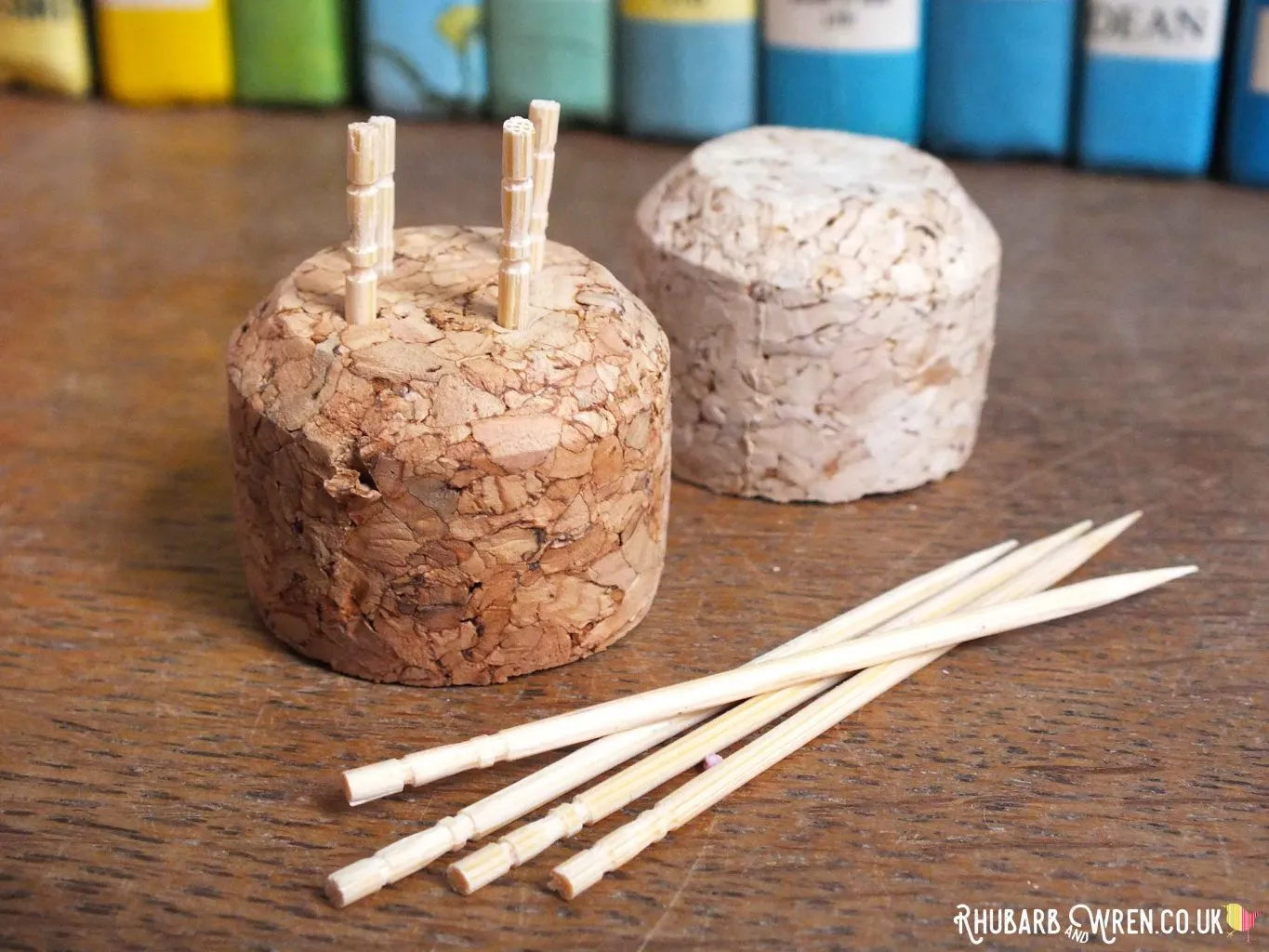 DIY doll's food cake
Paint it brown (or whatever colour you fancy for your icing).
​Dot on a few real cake sprinkles while the paint is wet for added cakey-ness.
Cut into quarters. Or not – it's your cake.
As we like a layer cake in this house, I painted brown stripes on each wedge for the cake filling.
Stick in a few cut-down, painted toothpicks for candles, and you're done!
DIY doll's food cheese
Take the bottom half of your cork.
​Cut off the curved edges in three sections (save those sections!), to leave a cheesy wedge shape.
Carefully carve out a few 'craters' of different sizes on each side of the wedge.
Paint yellow, et voila! You have a mouse-tastic chunk of doll food cheese.
DIY doll's food chips / french fries
Now for those sections cut off to make the cheese.
Slice two of them into strips.
Paint yellow. Aaannd you have a pile of chips/wedges/French fries – whatever you want to call them.
I made a simple little paper bag to hold them using a rectangle of paper, folded in half. And I trimmed the open edges to a scallop shape, just because.
​You could also make this with washi tape. Pretty…
DIY doll's food toast and jam
Take the last section.
Note how it already looks a bit like a crust of bread.
Slap on a bit of paint. I used yellow for butter, topped with red for jam once the yellow had dried. My kids don't like butter, so I got told off for this – should have just done red!
​Anyhow, jammy toast. Done.
DIY doll's food marshmallows
T-Bird was insistent that our doll food picnic included marshmallows (odd, as she can't stand them herself), so a second cork was needed…
Cut a thick slice from your cork.
Cube it.
Stick the cubes onto the pointy ends of toothpicks.
Paint pink and white.
Your marshmallows are ready to toast!
DIY doll's campfire
Of course, then you'll need a campfire to cook them on
Cut out a circle of thick cardboard.
Place an electric tea-light in the middle.
Glue some pebbles around the edge.
Cover the tea-light with twigs. Campfire.
​Make a tripod out of a few more sticks if you want. Once you start down this road, it's hard to stop!
Ideas for more DIY doll's food
The trouble with making bits of doll food like this is that once you start chopping up corks, you start to see their limitless potential. 
Why stop at yellow cheese? What about some camembert or blue cheese?
That cake shape could just as easily be a pie – cut some strips and you can make a lattice over it.
Take round slice and you've got a pizza. Or a cookie. Or an omelette.
Glue a few thin triangles together and make a sandwich, or round slices for a burger.
Odd shapes on a toothpick would make a kebab, orange sticks could be carrots, a triangular one could be a Toblerone (might have to try that one!).
So. Many. Choices…​Have fun!
DIY Toy Bell Tent
PS – if you're looking for instructions on how to make our bellissimo toy bell tent (pictured above and in our Maileg Mouse review), they'll be posted soon… make sure to check back!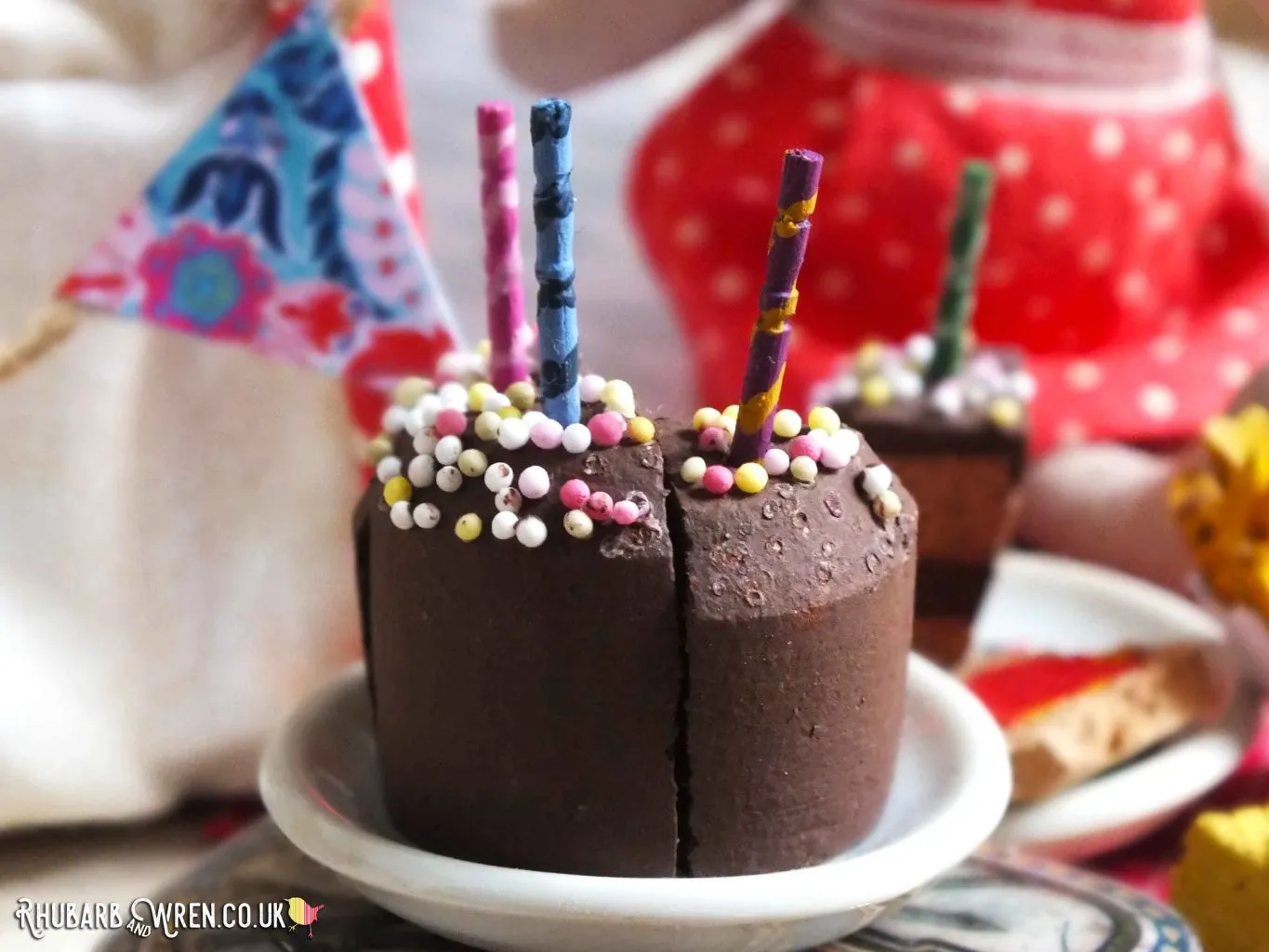 ---
More from Rhubarb and Wren
If you've enjoyed reading this, why not check out these other entries?
---
Pin this for later!
Want to bookmark this post for later? Save it to Pinterest!