The problem of diversity in children's picture books is an issue that's been in the media a lot lately. It comes hot on the heels of a greater awareness about problems with how girls are being represented in children's books, and these two things are clearly connected.
We all know that books can help shape attitudes an opinions, especially for young readers, and so it is incredibly important that all children get to see themselves reflected in inspirational characters and stories. I'm really passionate about this, and, with a background working in education and children's publishing as well as a rainbow family, thought I was pretty clued up. But I had an experience recently that made me wonder whether there was another issue I had over looked.
Read on to find out why, along with pushing for greater diversity for all and better role models for girls, I think we should also be asking where the BAME boys are?
The quest for a birthday book
I came up against this issue of diversity in children's picture books recently when I went to buy a picture book for a boy who had a birthday coming up. But instead of a fun book-buying outing, I found nothing but frustration. My daughter's friend was 5 years old, and liked books, and dinosaurs, pirates and aliens. So we thought it would be great to get him a picture book on one of these themes. And as my kids love it when book characters look like them, we thought, 'let's get one with a character that looks like him'.
Simple task, right?
But despite searching in book shops and online, we couldn't find any. Not one single pirate, dinosaur or alien picture book that we found (and there were many!) featured a BAME (black, Asian or Minority Ethnic) boy main character.
Not one.
Superheroes to the rescue…
So we'd failed with pirates, dinosaurs and aliens. But what about superheroes? There had been black male superheroes in hugely successful recent movies like Black Panther'and 'Spider-man: Into the Spiderverse'. Surely, therefore, there would be some BAME boys in superhero-themed picture books too?
Well, actually, surely not. We found that is considerably easier to find a picture book about a superhero vegetable than a superhero BAME boy.
Now it is no reflection on the greatness of superhero veggies, which we love as much as the next family. But, frankly, that was ridiculous. And it is a perfect example of problem of lack of diversity in children's picture books.
Where are all the BAME boys?
This lack of racial diversity in children's books isn't news to anyone – me included. I'd struggled for years to find books that reflected my mixed-race niece's family for example. So I was well aware of the issue (at least in how it related to girls).
But even knowing this problem existed, our failed quest to find a picture book for our friend shocked me. I realised for the first time precisely how very nearly invisible ethnic minority boys are in children's picture books.
Even in the genres that you might (traditionally) expect boys to dominate – pirates, dinosaurs, aliens, superheroes – they just aren't anywhere near well enough represented.
Our favourite finds
You might be nodding your head or rolling your eyes. And you're probably thinking 'duh, this is true but obvious'. If so, then please skip on to the good news…
Which is that while there aren't enough of them, there are some great books out there. My children and I went through the ones we could find. Both on our own shelves and out there in shops and libraries. And we created a list of our favourite brilliant and (importantly) high quality picture books.
All of them star black, Asian or minority ethnic boy characters.
All of them are wonderfully illustrated, and fun to read. And we did, in the end, even find a few with dinosaurs and aliens.
I am still looking for pirates and superheroes though – so let me know if you find any!
Click here to check out the list. You can also read my reviews of each title and get a sneaky peak inside.
If you're up for a longer read, I'd love to share with you why I focused on boys and what I found out during my search for these books. Researching around the issue gave me plenty of food for thought. I would love to know what you think about this too. So scroll on to join me down that rabbit hole!
Why diverse characters in picture books are so important
It seems like it must be obvious why it's important that our children's books contain a diverse array of characters. And in many ways it is.
Just for starters, they help our children embrace diversity by showing them faces, cultures and experiences different to their own. Simultaneously, they help our children develop their sense of identity by showing them faces like their own too.
Any way you look at it, diversity in children's books is a good thing for ALL kids. But if it's so obvious, why do we need to talk about it?
The answer to that question is twofold.
Firstly, though diversity in books is obviously a good thing, it hasn't been happening enough. You'll find the evidence for that below. So talking about it raises awareness with book makers and sellers, and with buyers and readers too. That conversation is already leading to positive (if slow) change.
And secondly, the reasons why diversity is a good thing are many and varied. Understanding these reasons, rather than just intuitively 'knowing' it's a good thing, has helped me personally try to make better choices. It's helped me really think about what messages the books I buy are giving to my children. And it's challenged assumptions I didn't even know I had.
The CLPE 'Reflecting Realities' report
But where is the evidence for all this? Well, a few weeks ago, the CLPE (Centre for Literacy in Primary Education) published their latest 'Reflecting Realities' report, looking at representations of ethnic diversity in children's books published in 2018 in the UK. This is the follow-up to their pioneering survey, published last year, which looked at books published in 2017.
The first reflecting realities report came up with some grim, but sadly unsurprising, figures. 9115 children's books were published in the UK in 2017. But the CLPE found that only 1% of these books had an ethnic minority main character. And this was out of only 4% that had any BAME character at all.
Proportional representation
You could ask, if we are talking about minority groups, doesn't it make sense there is correspondingly lower representation for them in books? Maybe (and I stress 'maybe'!), but even on that criteria, publishers are failing miserably. To put this into context, in 2018, 32% of UK school children were of ethnic minority origins. So, far more than 4%, and vastly more than 1%.
In fact, it works out as very nearly a third of our children who rarely encounter faces like their own in books they read. And while the focus on improving diversity is often on black faces, the biggest ethinic minority group is Asian (6.8% of UK school children, compared to 3.4% black children). Yet Asian faces appear in only 0.14% of the 2018 UK children's books analysed – fewer than any other ethnic minority.
The CLPE had gone in to the study expecting to find an imbalance. There was already an understanding within publishing that more representation of ethnic minorities was needed. Yet this was the first time in the UK that research had put hard numbers to quantify the problem.
Reflecting Realities – diversity in books report, year 2
It is great, therefore, that this year's report shows a slight improvement on the original figures. Just look the numbers for picture books specifically, for example. The numbers went from 6% that featured a BAME character in 2017, to 9% in 2018.
What the CPLE say they found most encouraging, however, was not this slight increase in numbers but rather the effect that their report had on the book community. As a result of the report, inspiring new initiatives were begun within book publishing, book selling, education and the wider community of book buyers.
Books can take years to create, produce, and put on sale. Undoubtably therefore it will take a little more time for the full impact of these reports to be clear. But hopefully all of this increased awareness and understanding will result in ever greater numbers of ever greater diverse books for all our children.
Quality of diversity in children's picture books
But it's not all about quantity. The CLPE survey was designed around their key questions about ethnic diversity. And so an important element of this research was to look at the quality of representation too.
They were, for example, looking at how many BAME characters featured in each book. Or whether they were main or secondary characters. How much impact they had on the plot; how was their ethnicity communicated, and so on. They asked, were characters token background figures or active and fully realised participants in the stories?
This year's report delved even deeper into the issue of quality. The CLPE analysed not only 'how many' but also 'how well' ethnic minority characters were represented in these books. And they found that there is still a way to go to ensure that the BAME characters in these books are positive, central and authentic representations of the communities and cultures they aim to portray. Being visible isn't enough if it means being diminished or erased in other ways.
Developing identity
All this is especially important when it comes to books for younger children because research shows that children form their understanding and attitudes about race and their own racial identities by the time they are eight or nine. So their ideas about race and identity are set when the books they are reading are most likely to be picture books.
What they see in picture books during this time when their racial attitudes are developing is therefore incredibly significant. Arguably more significant and impactful than at any other stage of their reading journey.
Diversity for all
This also all means it's just as important for children to see reflections of 'others' in stories too. Their experiences inside the world of books should also more accurately reflect the world in which we all live.
This is often talked about as books acting as windows, letting children see through to another viewpoint or culture beyond their own.
In books, children can meet a diverse range of characters – whether it be race, gender, physicality, culture or some other marker of identity. This allows children to practice empathising with those who are different to them. It allows them to see that people are not all the same on the outside, even as it encourages them to understand how much we have in common on the inside.
And the world of literature is vast, so children are likely to encounter a far wider range of identities than might be visible in their everyday community.
Books as mirrors
By contrast, books that offer children 'mirrors' rather than windows have been shown to help them relate more personally to the journey the characters may be on. And this in turn helps them build a better understanding of the world in which they live.
When children see people 'like them' visible, valuable and central to the stories they are being told, it reaffirms their own position and importance in society.
To fulfil both those needs, all our children need to be represented fairly in the books that we give them. And, as the CLPE's report makes clear, it's not just about the amount of representation. The quality and range of books is important too.
The 2018 CLPE report had one statistic that highlighted this. Only one book that featured a BAME character in their survey had been defined as a comedy. Which is, if you'll forgive a terrible pun, nothing at all to laugh about.
Gender diversity
Illuminating and important as the Reflecting Realities reports are on the issue of diversity in children's picture books, one thing they don't look at is gender representation. So there are no facts or numbers to back up my impression that BAME boys are infrequent main characters in picture books. Even in comparison to BAME girls.
It is girls who are usually under-represented in books, so this is an odd impression to get. Yet after spending a lot of time going through the books currently on the market, I am positive it's correct.
Girl power
One reason for this is probably effect of high profile recent campaigns around gender equality. Publishers seem to have taken to heart the need for better representation of girls. As a consequence, BAME girls have benefited with lots of really wonderful books being released.
Though this is great, it should be seen in the context of the CLPE's figures. And I'm not suggesting that representation of BAME girls needs to be scaled back to make room for BAME boys. Quite the opposite. Both are far from the levels they really should be, so we need more, and better, of both. My point is just that it seems to me BAME boys are falling even further behind.
Digging through the rabbit hole of academic research and public discussion made me question what additional problems this lack of BAME boy visibility might cause. And here I stumbled upon a well-documented, worldwide problem about boys and books. Boys, it seems, don't read as much.
The gender literacy gap
There is a mountain of evidence from all over the world pointing to a gender literacy gap between girls and boys. Including from here in the UK. What this means is that (statistically) boys are falling behind girls in reading and literacy skills. This gap starts as soon as they enter education and only grows worse as they progress through school. And as literacy skills are the foundation for most studies, this has them falling behind in other areas too. Not "just" reading.
So not engaging with books means potentially, therefore, not developing the literacy skills that frequent reading promotes. This can, and often does, lead to children not doing as well at school. And not doing well at school can limit the opportunities they then have when they leave school.
With such a clear, well-documented, chain of consequences, we obviously need to be getting boys reading more. We need to help more of these children achieve their potential. Boys need to find enjoyment in reading right from the start. That literacy gap starts as soon as they enter school. Beginning, therefore, with picture books.
Boys and reading
How to develop a love of reading in children is one of the great conundrums of education. But people generally agree that a great way to create readers is with books that make a personal connection; stories featuring relatable characters that reflect a child's own sense of identity back to them.
So, like all children, BAME boys would undoubtedly benefit from books that include characters on whom they can project themselves. Characters who have adventures and experiences that they want to make their own. Books featuring kids like them.
Boy, girl, animal, vegetable…
Now, I'm not saying that boys can't relate to a white, female or even animal character. Because of course they can. At that age, for instance, one of my son's favourite characters was Lisa in the picture book Corduroy. Lisa is a black New Yorker who loves teddies and sewing. Two things that held no interest for my son at all. But he liked her, he told me, purely because she is so kind to Corduroy.
Reading about 'other' kinds of people – people who look, act, talk and live differently to them – is a great way to built empathy in children for those different to themselves.
But by the same token, what about children who never see a character who reflects their own face or identity? Do we risk sending them the message that these stories, these books, are not for boys like them? And if they never, ever, see themselves reflected in the stories they read, then making a connection with books will surely be that much more of a challenge.
What picture books with BAME characters are out there now?
The statistics from 2017 on diversity in children's picture books are shocking. But the report for 2018 was (a little) better. Publishers, authors, illustrators, and booksellers are making efforts to redress the balance, providing more picture books with BAME characters.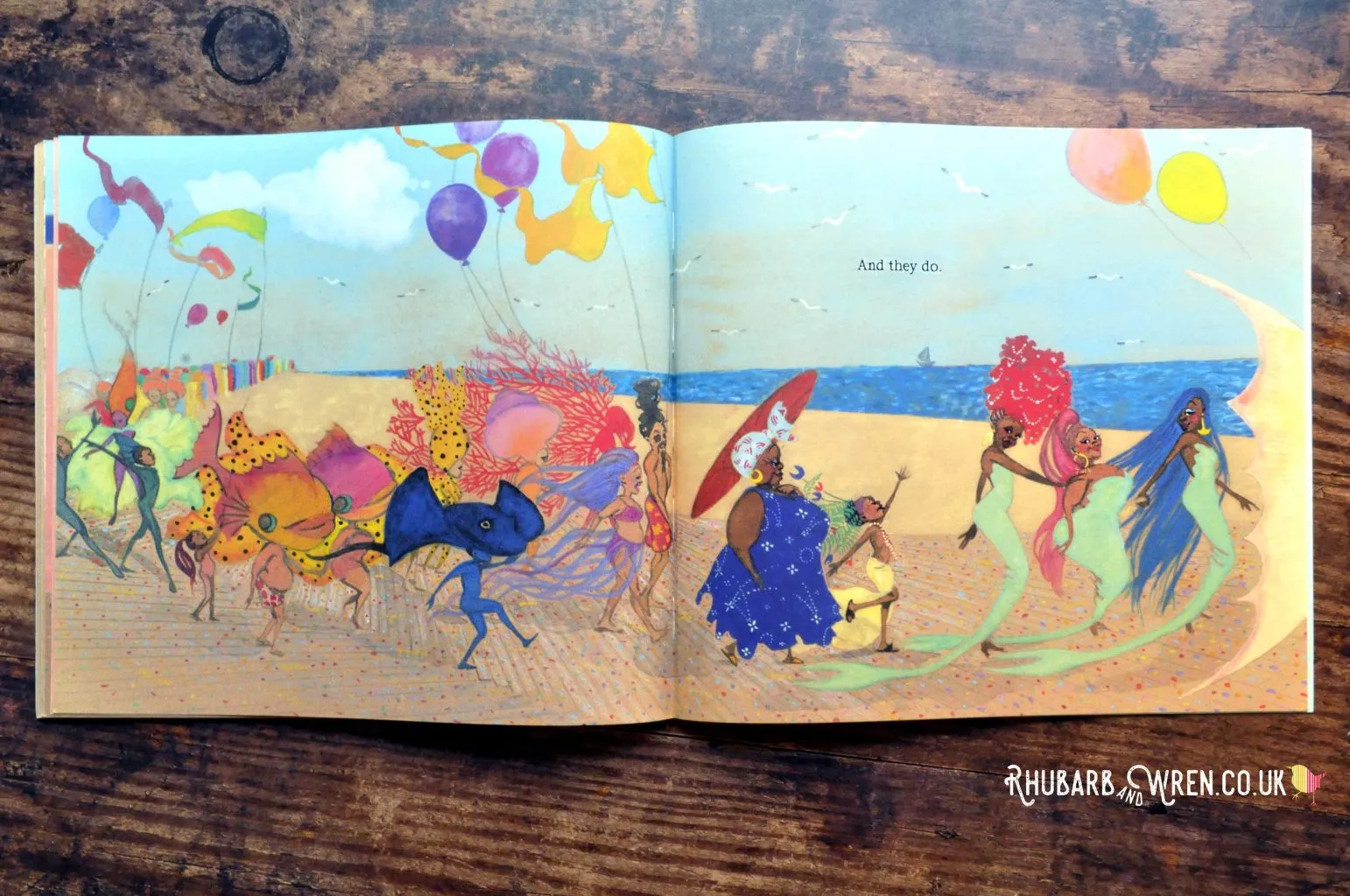 But improving diversity in children's picture books needs to be more than just a passing trend. This is not the first time that the publishing industry has been called out on diversity – some authors, illustrators, academics and book buyers have been calling for change for more than half a century. And yet it is still a struggle to find positive representation of BAME children – especially boys – in the picture books published today. Undoubtably the publishing industry needs to work harder to fix this.
And not just by publishing more diverse books, but by nurturing and supporting BAME illustrators and authors too. I've focused on diversity in the content of children's books, but there is an even more pronounced shortfall in the creators too, with the Booktrust report on who are making the books revealing only 1.9% of UK authors and illustrators identify as BAME. So it is no wonder that the industry is struggling to represent other ethnicities and identities in the children's books currently being published.
Parent power
As parents, we have more power than we realise to address this problem. We are, after all, the people most likely to be buying children's books in the first place.
So we can use that power. We can seek out those books that are full of diversity of all sorts regardless of how we ourselves identify. We can read these books with all our children. And we can talk about them; spread the word so others find them too. We can ask our schools, libraries and bookshops to put them up front where everyone can see them. We can show the people who make and sell these books that having diverse characters does not limit their audience.
And we can be demanding of these books too. To improve diversity in children's picture books, it isn't enough to include a child coloured in with a darker crayon as one of the group. Or always the sidekick, or the best friend. Don't confine BAME kids to books about race or loving their black hair (important as those books may be). Our brilliant authors and amazing illustrators are capable of far more than that, and our children deserve more too.
---
Diverse picture books with BAME boy characters
It's not all doom and gloom! BAME boys do star in many wonderful picture books. We've made a list of our absolute favourites, and you see read it here. I've even done mini reviews with sneak peaks inside each of the books on the list. So you can take a closer look at these fabulous stories.
Further reading on diversity in children's picture books
Want to read more on the subject of diversity in picture children's books? Take a look at some of the sources I found.
I highly recommend starting with Dr Rudine Sims Bishop's seminal essay 'Mirrors, Windows and Sliding Glass Doors'. This hugely influential article is the origin of the oft-repeated metaphor of 'mirrors and windows' in conversations about children's literature.
"When there are enough books available that can act as both mirrors and windows for all our children, they will see that we can celebrate both our differences and our similarities, because together they are what makes us all human'

Rudine Sims Bishop "Mirrors, Windows, and Sliding Glass Doors"
Check out the CLPE's Reflecting Realities Reports 2018 and 2019. Both reports are full of thoughtful insights, careful analysis and inspirational examples of diversity done well.
Read the BookTrust research into representation of people of colour among children's book authors and illustrators. This important research project looks at the representation of authors and illustrators of colour in children's books published in the UK over an 11-year period, between 2007 and 2017. This report, commissioned by BookTrust, seeks to establish a clear picture of who writes and illustrates the books our children read. Spoiler alert, it's mostly not people who identify as ethnic minorities.