(and which to watch first!)
Want to know which are the best studio ghibli movies to start your family with? You're in the right place! My family are all huge Studio Ghibli fans, and so we were really excited when the news broke that Studio Ghibli films are coming to Netflix from the start of February.
Yes, okay, we already (huge fans, remember) own most of them on DVD or blu-ray. But many of our friends don't, and so them being on Netflix makes it even easier to share the love. Plus, there are one or two that will be new to us too, and we're really excited to see.
If you haven't yet discovered this most delightful of animation studios, read on to find out more and find out which are the best Studio Ghibli movies for newbies to start with.
Studio Ghibli movies to fall in love with
They are all great, but we do, of course, have our favourites!
These are the films that we consider to be the best Studio Ghibli movies. So, if your children have never seen a Ghibli, start them off with:
And just in case you are wondering, while Studio Ghibli is Japanese, all of these films have been seamlessly dubbed into English with very A-list Hollywood casts.
So no, you don't have to watch these with subtitles, and you wouldn't even know they weren't made in English in the first place.
Click here to skip down to our notes on age recommendations for these films
Or click here to skip down to see the full list of Studio Ghibli films coming to Netflix, and their release dates.
Find out more about Studio Ghibli and Hayao Miyazaki here.
Not got enough Ghibli in your life? Find out about their TV series Ronja the Robber's Daughter here
---
The best Studio Ghibli Movies
My Neighbor Totoro
Available from 1st February on Netflix – U rated
The film that gave Studio Ghibli its logo and biggest star, My Neighbour Totoro is a charming and fantastical film with a big, warm and furry heart.
Sisters Mei and Satsuki move to a house in the country with their father, but their mother is very ill in hospital. The house is old and long empty, and full of strange little creatures called soot sprites, though these soon disappear once the family settles in.
Magical neighbours
It isn't long before little Mei spies more strange creatures collecting acorns in their garden. Following them, Mei discovers a nearby hollow camphor tree and befriends the friendly, furry, giant who lives there. Their father tells the children he must be a forest spirt – a guardian of the tree and the woods.
A little while later, the children are expecting their mother home for a visit, when a telegram arrives from the hospital unexpectedly delaying it due to a sudden change in her health. While their father rushes off to see her, the children fear the worst.
Mei to the rescue
Headstrong Mei decides to take matters into her own hand. Granny, an elderly villager, has told her that her fresh vegetables would make Mei's mother better straight away. So Mei runs off with an ear of corn, determined to take it to her mother in hospital. When Mei's disappearance is discovered, Satsuki enlists their forest friends to help find her.
There is no real villain in My Neighbour Totoro, and no conflict to be resolved. Instead, the film is a gentle exploration of the sisters' experiences in their new home, with the worry around their mother's absence a continual hollow ache in their otherwise happy lives, like a nagging pain that's always there in the background of their thoughts.
Happily ever after
But don't worry – while the mother remains ill, she doesn't die and there is renewed hope at the end of the film that she will be coming home. In fact a montage of images in the end credits shows the family reunited and the mother playing happily with the girls. Thank goodness for that!
The nature-spirits who befriend the sisters, as well as the local people they get to know, all help the girls find happiness in the here and now, and show them the wonders of the extraordinary world around them.
There's a touch of Enid Blyton's Enchanted Wood about this ordinary little country house with its host of magic neighbours, and a similar sense of timelessness that is undoubtedly part of its appeal.
The perfect children's film
My Neighbour Totoro is a film that can be enjoyed on many levels, but never patronises or forgets the children watching. There is a gentle quietness in typically-Ghibli moments of stillness, but also laugh out loud silliness too. It is one of the most thoughtful and sweetest, yet least saccharin children's films you'll ever see.
We also love the setting – glimpses of 1950s rural Japanese life, the utterly beautiful landscapes and the magic that feels so natural and real – it's a film that has enchanted my children (and us!) since they were very small, and still does.
Totoro is definitely one of the best studio ghibli movies. And there's a reason Totoro is Studio Ghibli's mascot – if you are only going to watch one Studio Ghibli film, this one should be it.
Totoro trailers, books and more
See the trailer here, or check out the blu-ray and dvd on Amazon.
If you love Totoro as much as us, you might also want to check out the My Neighbour Totoro picture book, full of wonderful illustrations from the film. We have several of these Ghibli story books, and absolutely adore them!
There is also a wonderful Art of My Neighbour Totoro book by Hayao Miyazaki that is best for older kids and grown-ups as it (and the others in the series) explore the whole process behind the film, from concept art to final film cells. Really, really interesting stuff!
---
Kiki's Delivery Service
Available from 1st February – U rated
Studio Ghibli's first big hit (Totoro only gained popularity once it was broadcast on television after its cinematic release), Kiki's Delivery Service is a fine addition to the company of fiesty good witches that includes Mildred, Samantha, and (of course) Hermione.
The story follows the adventures of 13-year-old trainee witch, Kiki, who must leave her village and establish herself in a new community for a year, in order to qualify as a witch.
Setting up shop
Setting up in a seaside town with her cat, Jiji, she finds a room in a friendly (and very pregnant) baker's attic. Her only real magical skill is her talent for flying, so she starts a broomstick courier business, and strikes up a friendship with flying-nut local boy, Tombo.
But living independently is harder than Kiki expected, and before long she loses her most precious magic through self-doubt and insecurity. How she gets it back and becomes a fully-fledged witch is the central plot of the film.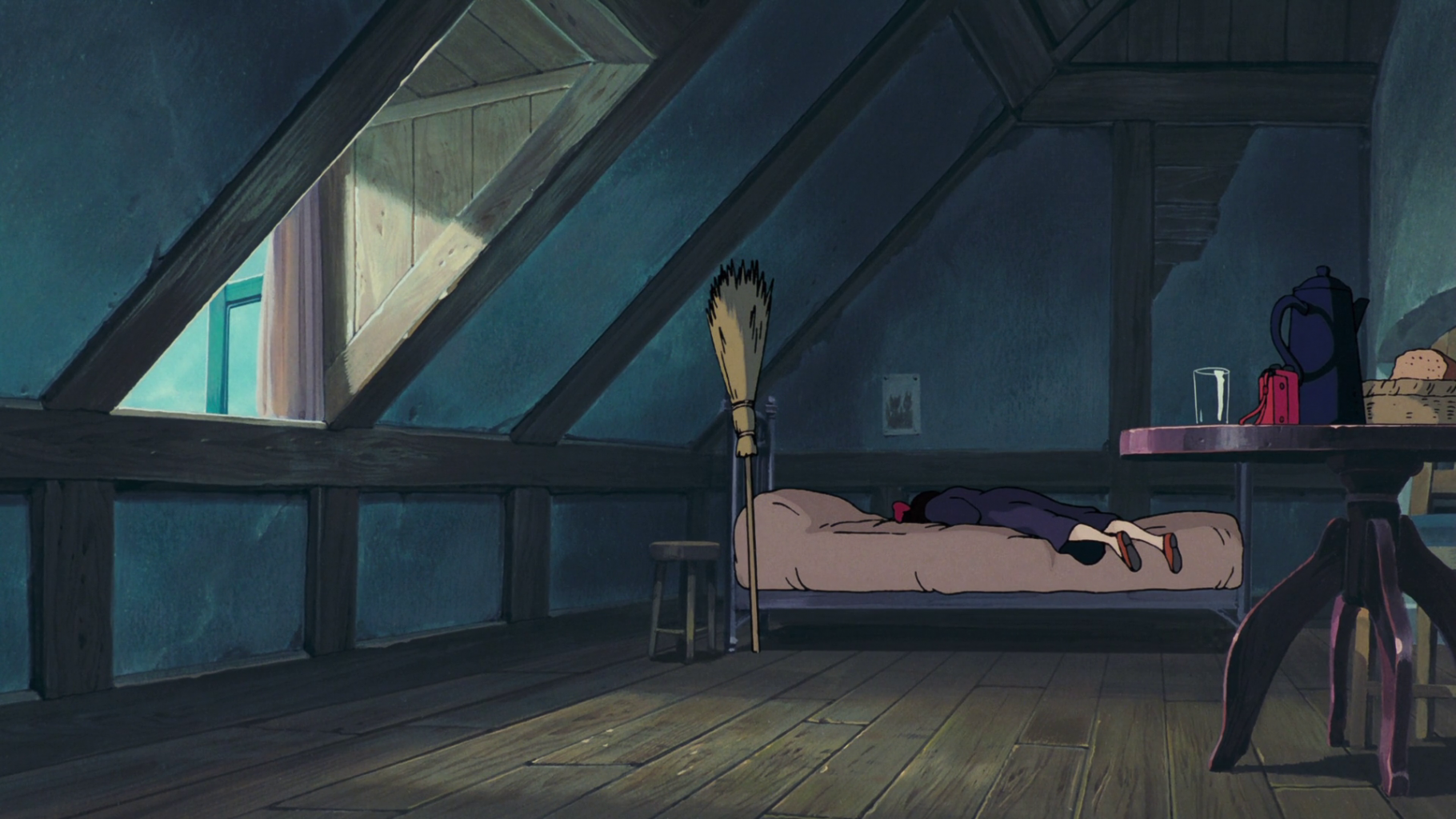 The path to adulthood
Like all the best studio ghibli movies, this is a coming-of-age story. And in this world, magic is as normal as any other talent. We meet artists, artisans and inventors who all have their own special gifts, so in the film, Kiki's ability to fly is seen as just a different sort of ability.
She learns many lessons from the different people she befriends, but most of what she discovers comes from inside her – faith in her abilities and the determination to keep going when things are hard.
Kiki Trailers, books and more
See the trailer here, or check out the blu-ray and dvd on Amazon.
My other half got the Kiki picture book before the film was available in the UK, so this is a much-read and well-loved book in our house. If you also fall in love with Kiki, make sure to check out the Kiki's Delivery Service Picture book too, full of lovely artwork from the movie and a great retelling of the story.
Hayao Miyazaki's Art of Kiki's Delivery Service is another, more grown-up book, which includes some of the beautiful concept art produced during the making of the film.
---
Arrietty
Available from 1st March – U rated
We love Mary Norton's Borrowers books, and yes, we've also really enjoyed the live-action film version and the television series (both 1990s Ian 'Bilbo Baggins Holms version AND the 2011's Christopher 'Dr Who Eccleston series).
But this retelling of Arrietty's story by Studio Ghibli is something else entirely. For one thing, this (as the title makes clear) is Arietty's story – no top billing for Pod-actors here – and like most Studio Ghibli films is focused around the adventures of our young heroine.
The story of a girl
Arrietty has been relocated from the original 1950s England settting to a modern-day Tokyo suburb. And the setting is not the only change.
Don't expect slapstick comedy and broad humour from this version. Instead, you'll find a beautiful, occasionally funny, but overall ever-so-slightly melancholy tale about change and, like Kiki, a young girl taking her first steps on the journey to adulthood.
In this adaptation, Arrietty lives with her parents Pod and Homily under the floor boards of an old house. They venture out only at night in order to 'borrow' from the big people above while avoiding the sharp claws of the household's cat.
All the other Borrowers have long gone, and Arrietty, lonely for friends and hemmed in by her mother's careful care, wonders if she will ever see another of her own kind again.
The big people who live upstairs
An old woman lives in the house above, helped by the crotchety housekeeper who works for her. And while the old lady is both gentle and kind, the housekeeper is nothing of the sort.
Things change when the old woman's sick grandson comes to stay just as Arrietty is deemed old enough to go borrowing with her father, and it isn't long before their secret existence is at risk of being discovered.
This is a charming and beautifully animated story. It's my six-year old daughter's absolute favourite, so it had to make our list of the best Studio Ghibli movies. It has lots of moments of tension and humour and adventure, but it is also a wonderfully poignant movie. Definitely one to make time for!
Arrietty trailer, books and more
See the trailer here, or check out the blu-ray and dvd on Amazon.
While we've tried to move her on to the Mary Norton original, our youngest still loves reading the Studio Ghibli Arrietty Picture Book. Well worth getting if you are also big fans of the film. And yep, there's an Art of The Secret World of Arrietty book too!
---
Howl's Moving Castle
Available from 1st April – U rated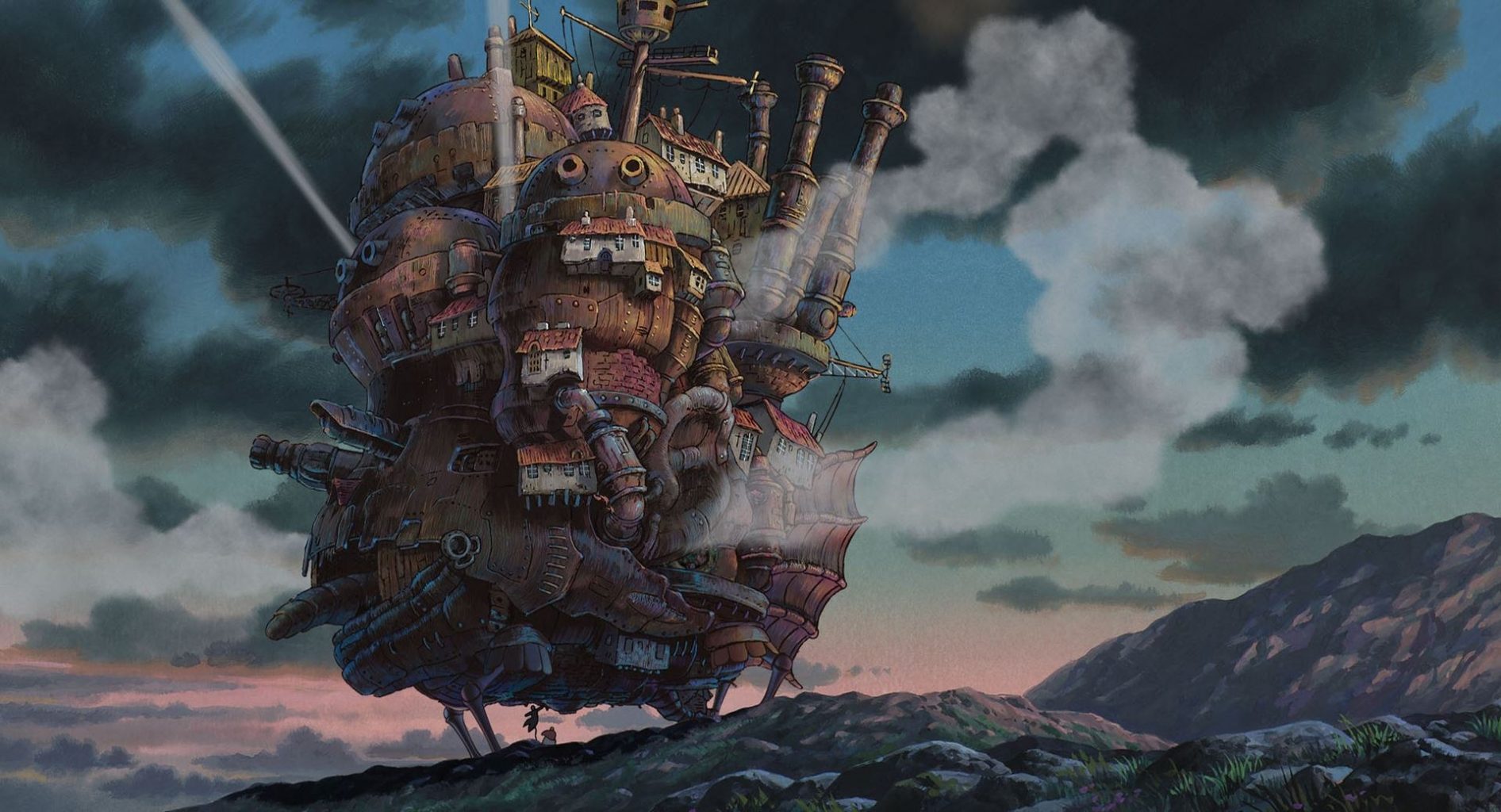 I have been a huge fan of Diana Wynne Jones – author of the Howl's Moving Castle book that the film is based on – since my own childhood. So of course I have been fully indoctrinating the kids in her work since they were old enough to be propped up with a book. So this is possibly my favourite and had to be on our list of the best Studio Ghibli movies.
Set in a magical land called Ingary (aargh, so hard to avoid spoilers!), this is the story of young Sophie Hatter. Sophie is, appropriately, enough, a hat-maker working for her rather flighty and selfish stepmother.
A fairytale curse
One day Sophie gets on the bad side of a rather demanding customer, and discovers to her cost that this is none-other than the fearsome Witch of the Waste.
Cursed by the witch to grow suddenly old, poor Sophie flees her home and finds refuge in a most unexpected place – the wandering castle (yes, literally – it has legs) of the mysterious and notoriously bad Wizard Howl.
And oh yes, that is Christian Bale's voice you hear. Now try to keep your mind on the film…
Growing old disgracefully
This is a wonderful adaptation – even if it is rather more steampunk than the original. Those flying machines are pure Ghibli all the way.
And Sophie is a great character – determined enough as a young girl, but when she is trapped in the body of an old woman, she discovers a new kind of freedom that allows her to become even more of a force to be reckoned with. Pore Howl doesn't stand a chance!
Figuring she has nothing left to lose, in her quest to rid herself of the spell Sophie says and does things as a grumpy old woman she would have been afraid to do before. And, so yes, in many ways it is another coming-of-age tale. This one with added magic and just a dash of (spoiler!) romance.
Howl trailer, books and more
See the trailer here, or check out the blu-ray and dvd on Amazon.
Need more Howl in your life? There is a wonderful Studio Ghibli Howl's Moving Castle Picture book – of course we have it, and of course it is great, and the more adult-orientated Art of Howl's Moving Castle book.
But I also highly recommend checking out the Diana Wynne Jones original novels. There are three of them, though Sophie and Howl are only secondary characters in the other two books – Castle in the Air (no relation to the Ghibli film Laputa: Castle in the Sky) and House of Many Ways.
Oh, and the audio books for these are great too! You can never have too much Diana Wynne Jones.
---
Laputa: Castle in the Sky
Available from 1st February) – PG rated
Also known as plain old Castle in the Sky, Laputa is the first officially Studio Ghibli-made film. It follows the adventures of a young boy called Pazu, who lives in a mining town very much inspired by Miyazaki's visit to Wales during the 1980s.
One day, a mysterious young girl called Sheeta falls from the sky into Pazu's arms – her fall slowed by the glowing blue crystal she wears around her neck.
The girl who fell to earth
Sheeta reveals that she is an orphan who had been kidnapped by a sinister government agent called Muska, and taken away on an airship. But Muska was not the only one after Sheeta's secrets – a family of air pirates attacked mid-flight, and as Sheeta tried to escape them all, she fell, straight down to Pazu.
Pazu makes the connection between the power of Sheeta's crystal and a legendary flying city, once glimpsed amongst the clouds by his father, and that has ever since been something of a family obsession. The city is called Laputa (a nod to the flying island of the same name, in Swift's Gulliver's Travels).
With both Muska and the air pirates hot on their heels and still after both Sheeta and the amulet, Pazu and Sheeta flee from their pursuers as they try to unravel the mystery of Sheeta's past.
Steampunk action
A glorious and distinctly steam-punky romp, Laputa: Castle in the Sky is more action-packed than some of Ghibli's other films. The plot is much more involved and there are battles and villains galore. But there are also gentle robots and loving friendships, and some very funny pirates.
It had to be on our list of the best Studio Ghibli movies because both my kids adore this one. And it's been a family favourite since they were very small so don't let the relative complexity put you off – it is certainly no more 'adult' than most modern Hollywood cartoons.
Laputa trailer, books and more
See the trailer for Studio Ghibli's Laputa: Castle in the Sky here, or check out the blu-ray and dvd on Amazon.
The Studio Ghibli Laputa: Castle in the Sky Picture book is great for older kids (and adults) and is full of beautiful artwork from the film. Grown-ups who love the art should also check out the Art of Castle in the Sky book too – the details in this world are so beautifully realised, it's easy to get lost in them!
---
Spirited Away
Available from 1st March – PG rated
The one that won an Oscar and a sure-thing for our list of the best Studio Ghibli movies. Spirited Away is a wonderfully immersive fairytale that has enough plot to keep older kids and adults happy too – it's one of our absolute favourites, and a film we can watch over and over again.
The trouble with parents
Spirited Away is about Chihiro, a rather lethargic ten-year-old girl. It's moving day, and Chihiro and her parents are driving to their new home when Dad's shortcut down a bumpy lane leads them to an abandoned amusement park.
As her parents clearly don't watch horror films, and despite Chihiro's protests, they insist on going for an explore… and so, of course, very soon come a cropper. As the sun sets, Chihiro's parents are turned into pigs (much to my children's delight) because they guzzle down the enchanted food they find in a deserted restaurant.
So, poor Chihiro finds herself alone and, even worse, stuck in the spirit world that has materialised around them. Luckily, a mysterious boy called Haku offers to help her. Haku tells Chihiro to ask Yubaba, the cantankerous witch who owns a nearby bathhouse, for a job – and therefore also a refuge in this dangerous new world.
Trapped in the spirit world
But Yubaba's help doesn't come for free – she takes Chihiro's name from her and calls her 'Sen'. Without her true name, Sen cannot escape the spirit world or free her parents from the spell.
So as she is put to work in the bathhouse, Sen has many mysteries to solve and many other people to help before she and her parents can find their way out of the spirit world and finally reach their new home.
A different kind of kids' film
Spirited Away is very different from the kind of animated films Hollywood studios tend to put out. The world Ghibli created with this film is visually stunning and rich in detail and complexity, and this is one of their films that is resolutely Japanese. So culturally there may be the odd thing that has you scratching your head, though never in a way that gets in the way of the story.
Yet Spirited Away IS still a film that is very much for the whole family – don't be put off by these differences if you generally tend to stick to US or UK kids' films. Children (and grown-ups) everywhere love Spirited Away, even if what they are used to is a lot more conventional. Give this a chance, and I bet it will charm and delight your family just as much as it has done mine.
Spirited Away trailer, books and more
See the trailer here, or check out the blu-ray and dvd on Amazon.
The Art of Miyazaki's Spirited Away is one of the best in the series, so well worth a look at, and we found the Spirited Away Picture book great for explaining one or two moments in the movie that we'd struggled with – though I have to say I think the English-language dub does a great job of adding in unobtrusive little pointers for western audiences, so very little gets lost in translation.
---
Nausicaä of the Valley of the Wind
Available from 1st March – PG rated
Strictly speaking, Nausicaä of the Valley of the Wind (try saying that five times fast) is not a Studio Ghibli film. So why is it on our list of the best Studio Ghibli movies?
Well, it's because of the success of this film that Studio Ghibli exists. And it has all the trademark Ghibli style and charm as Nausicaä was directed by Studio Ghibli co-founder and creative force, Hayao Miyazaki, who adapted it from his own manga comic. For many people, Hayao miyazaki IS Ghibli, so we couldn't leave this out.
A post-apocalyptic story, Nausicaä of the Valley of the Wind is set one thousand years after a war destroyed civilisation and created a huge, toxic forest full of giant, mutant insects.
Nausicaä is a princess who lives in the Valley of the Wind – a human kingdom outside of the forest. Yet while most people live in fear (quite sensibly, in my opinion) of the giant creepy-crawlies, Nausicaä explores and studies the jungle, and even communicates with its' creatures.
An anti-war movie
There's quite a complicated plot to this movie – it involves saviour prophesies, doomsday weapons and battles between armies. There's plenty of action and some very cool flying machines (Nausicaä's glider for example – which has inspired this amazing real life version), but at its heart this is a movie with a clear anti-war and environmental message.
When Nausicaä fails to save a rival kingdom's cargo plane from crashing in her valley, she discovers a plot to use ancient bioweapons to destroy the jungle. The other humans cannot see the jungle or its' creatures as anything but harmful, yet Nausicaä discovers a secret that could change everything.
But in the meantime, the actions of the other kingdoms have sparked a conflict that threatens to spiral out of control and destroy everything. Can Nausicaä save humanity and find a way for them all to live in harmony with the natural world?
High sci-fi for children
I have to say, I really love this film. There are clear shades of Dune in the story, but this is a creature all of its own. The central character is both scientist and saviour, and her superpowers are essentially loving everything, judging nothing, and a fierce desire to understand.
But yes, she is also a fearless and kick-ass pilot!
Nausicaä of the Valley of the Wind probably isn't a movie for really young kids, purely because of the complexity of the story. But at the same time there's a lot that youngsters can get from this, especially if they like giant bugs! It's on our list of the best Studio Ghibli movies because it its an epic sci-fi story with both a mind and a heart, and that's a rare thing these days.
Nausicaä trailer, books and more
In my opinion, this unofficial fan-made trailer is a better intro to the movie than the official trailer, which is a little dated and (unlike the fully-English language dubbed film) subtitled. But now you have both links, so make up your own mind!
And as for books, I have two fabulous ones to recommend. Full of gorgeous stills from the film, the Nausicaä of the Valley of the Wind Picture Book is a lovely addition to the Studio Ghibli children's book collection. If your children love the film, this tells the story in a way simple enough for little ones, but with enough detail to satisfy bigger kids too.
If it's the artwork you love, then I cannot recommend the Art of Nausicaä of the Valley of the Wind highly enough. These Ghibli 'Art of' books are all wonderful, but this one is especially great. Full of concept art sketches as well as finished stills, it's a beautiful and fascinating read.
Not got Netflix, or want to get this for keeps? Check out the blu-ray and dvd on Amazon.
---
Princess Mononoke
Available from 1st March – PG rated
The final entry in our list of the best Studio Ghibli movies, and possibly the most challenging for younger audiences. Although this movie is called 'Princess Mononoke', this is no Disney-fied princess. And it's debatable as to whether she's even the main character. It might be more accurate to call the film the tale of Prince Ashitaka – this was actually an alternate title proposed for the film that Miyazaki himself apparently preferred.
We meet Ashitaka right at the start of the film, when he saves his village from a rampaging demon. However, in the process his arm is infected with a corruption. After the battle, Ashitaka discovers that the demon was actually a nature spirit – a boar-god corrupted by a wound from an iron musket ball.
This corruption that now infects Ashitaka will eventually kill him, but on the plus side, it also gives him super-strength. However, not in love with the dying bit, Ashitaka sensibly leaves the village in search of a cure. knowing he will never return.
Quest for a cure
On his journey, Ashitaka is told that the Great Forest Spirit may be able to save him. But before he can find this mystical being, he is embroiled in a conflict between a town of metal workers (called Irontown, of course), the local nature spirits, and a human girl, called San, who was raised by wolves.
San is called Wolf-Girl or Princess Mononke by the townspeople (Mononoke is a vengeful spirit or shapeshifter in Japanese folklore). She is more wolf than human. And she fights with her wolf-tribe and wolf-goddess mother, Moro against the human annexation of the forest.
Because of her closer connection with nature, San can communicate with the spirits. And it is through her that Ashitaka will eventually find the Great Forest Spirit.
But Ashitaka isn't the only one seeking the Great Forest Spirit. And saving the forest is the last thing that the townsfolk want to do. Ashitaka finds his loyaties torn as the conflict builds between both sides.
Man versus Nature
On the surface, Princess Mononoke is another film with a distinctly pro-environmental message. Yet it's also one of Studio Ghibli's most complex and thoughtful films. Despite also being the one that I find the most violent.
There are no absolute villains or heroes in this film. The battle between man and nature isn't resolved by one side triumphing over the other. Instead, a balance between human industry and the natural world is found. So it's a film that has a lot to say, in a way you don't find often in family movies.
And bear in mind the PG rating – Princess Mononke is not THAT violent. But there are scenes that are rather disturbing. Mostly the boar god, for me. Plus someone gets their arm chopped off. And people do die. And there's some other stuff.
Frankly, I'm still traumatised by seeing the '70s film of Watership Down as a child. I'd say Princess Mononoke isn't (in my opinion) anywhere near as nightmare inducing as that. Or, for that matter, The Dark Crystal (no, no, no!). It is such a beautiful and interesting film that I'm more than happy for my kids to watch it.
But you might want to check out the trailer first, before showing younger children.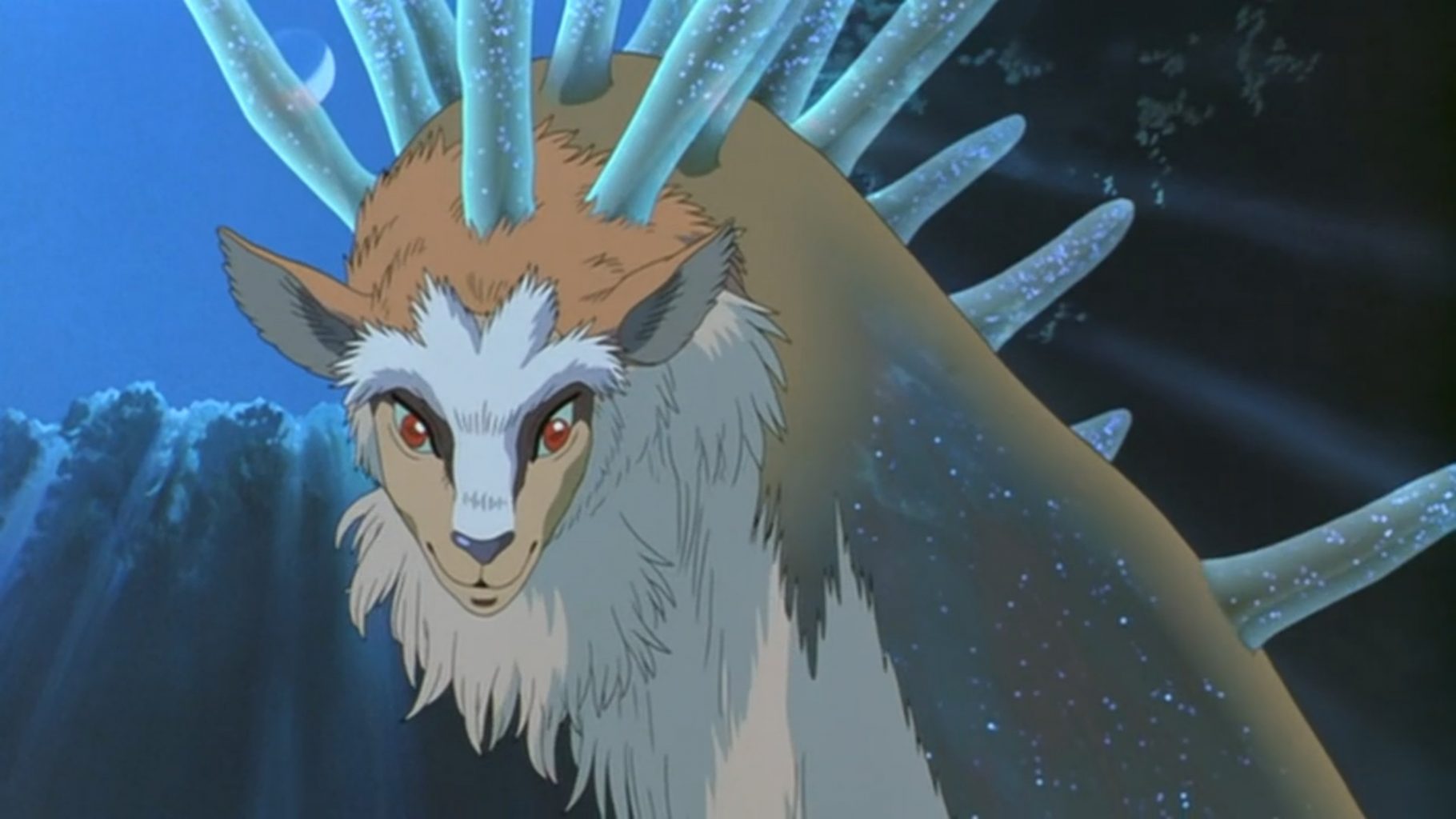 Princess Mononoke trailer, books and more
Given that I don't really think this film is suitable for preschoolers, the Princess Mononoke Picture Book might seem an odd recommendation. But as this book is essential the story told with stills from the film, it's also great for older kids. And those boar-god worms are nowhere near as disturbing in the book. Alternatively, there is also the Art of Princess Mononoke book, which includes concept art as well as finished film cels.
See the trailer here, or check out the blu-ray and dvd on Amazon.
---
Age guidance for Studio Ghibli movies
Like any filmmaker, Studio Ghibli's movies cover a range of genres, and some are definitely aimed at older audiences. But as my kids (currently six and ten) have seen and still loved all of these favourite choices, the ages I would recommend them for are a bit of a grey area. I was actually quite surprised by how much my youngest took to some of these when she was still only four or five. Note to self, don't underestimate the power of great storytelling!
Order of complexity
So instead of recommended ages, I've listed our favourite Studio Ghibli movies in order of complexity.
The top of the list (number 1) being the ones we found most universal/simple (and so suitable for even the very young). While the last are much more challenging and contain elements of violence that you won't find in Totoro, for example!
That said, none of our favourite Studio Ghibli films are rated higher than PG (Parental Guidance) by the BBFC.
This rating means that they consider these films generally suitable for all ages, but there are some scenes that may be unsettling for children under 8. As we know our kids best, parents should therefore decide for themselves whether your children are ready.
---
The greatness of Ghibli
Founded in 1985, Studio Ghibli is one of Japan's most treasured animation studios. It is responsible for six of the ten most successful anime films of all time. Mostly hand-drawn using traditional animation techniques, each film is beautiful to look at.
The Studio Ghibli worlds are a mix of the real and fantastical, with relatable yet beguiling characters that range from small children to grumpy old women. Without exception, the films manage that rare trick of appealing to film-watchers of all ages, yet never losing sight of the children in the audience.
There is a distinct Japanese feel to some of the films. Totoro, for example, is set in a rural Japanese community and the characters live in a traditional Japanese house. It has sliding screen walls, a deep ofuro bathtub, tatami mats and and futons.
Book adaptations
However several of the stories are adapted from gobal classics of children's literature. For example, Howl's Moving Castle by Diana Wynne Jones, Tales of Earthsea by Ursula Le Guin and The Borrowers by Mary Norton. These films have a much more European (albeit as seen through Japanese eyes) setting. But whatever the scene, there is always an element of fantasy mixed in with the real world – whether it be nature spirits or witches on broomsticks.
If you are lucky enough to visit Japan, there is an amazing Studio Ghibli museum just outside Tokyo. It includes a tiny cinema which shows Studio Ghibli shorts that you can't see anywhere else.
Possibly even more excitingly a Studio Ghibli Theme Park is in development. The first areas due to open in 2022, so there'sjust enough time to save up for tickets before it opens…
Hayao Miyazaki
You can't talk about Ghibli without mentioning Hayao Miyazaki.
Miyazaki is a legendary Japanese renaissance man – director, screenwriter, animator and manga artist… I may have missed out some things, but you get the idea – let's just say multi-talented!
He is the most famous of Studio Ghibli's founding fathers, and his influence can been seen all over the world. Pixar, for example, credit Miyazaki in particular and Ghibli in general as being hugely influential on their work. And James Cameron has said that Studio Ghibli's Nausicaä, Laputa and Princess Mononoke were among the inspiration for Avatar.
Most of Ghibli's films were either directed by or overseen by Miyazaki. Such is his influence that, when he announced his retirement, Ghibli shut up shop. But, as with previous reports of his retirement, this turned out to be a little premature. Miyazaki is now back at a reopened Ghibli, working on his next project.
Ghibli television series
If you make your way through all the Ghibli movies on Netflix, try the Ronja the Robber's Daughter tv series. Available on Amazon Video or on blu-ray and DVD, this charming Studio Ghibli co-production is based on the novel by Astrid 'Pippi Longstocking' Lindgren. Directed by Hayao Miyazaki's son, Gorō Miyazaki, it's as Ghibli as they come and another of our family favourites.
Studio Ghibli release dates on Netflix
Netflix will be releasing the Studio Ghibli movies on Netflix UK and around the world* in three batches, seven movies at a time. The first batch is being released on 1st February 2020. The next batch on 1st March and the last on 1st April.
*alas, not you, USA – you'll have to wait until May 2020 to stream them, when they will be available on HBO Max rather than Netflix.
When are all the Studio Ghibli films released on Netflix?
The Studio Ghibli films will be released on Netflix UK and around the world in three batches of seven titles, on the first day of consecutive months.
1 February 2020
Castle in the Sky (1986)
My Neighbor Totoro (1988)
Kiki's Delivery Service (1989)
Only Yesterday (1991)
Porco Rosso (1992)
Ocean Waves (1993)
Tales from Earthsea (2006)
1 March 2020
Nausicaä of the Valley of the Wind (1984)
Princess Mononoke (1997)
My Neighbors the Yamadas (1999)
Spirited Away (2001)
The Cat Returns (2002)
Arrietty (2010)
The Tale of The Princess Kaguya (2013)
1 April 2020
Pom Poko (1994)
Whisper of the Heart (1995)
Howl's Moving Castle (2004)
Ponyo (2008)
From Up on Poppy Hill (2011)
The Wind Rises (2013)
When Marnie Was There (2014)
---
More from Rhubarb and Wren
Looking for more reviews, articles, tutorials and receipes? Head to the home page for all the Rhubarb and Wren goodness you could want!