Do you let your children play with bubbles? Though I love letting my kids get stuck in to some messy play, I sometimes find the thought of the inevitable cleanup just too daunting. On days like that, I often resort to our tried and tested fallback -the cleanest messy play imaginable – bubble play!
Both our kids have loved playing with bubbles from a very young age. Even as babies just able to sit up, we would give them a scoop or two of soapy bubbles and a spoon to play with. It's a great highchair activity on a smaller scale too. Though the best fun is had when you let the kids have a huge pile of bubbles and a good selection of tools!
If you've not tried it, it's the easiest thing in the world to set up. And it really does require only what you already have. Just stir up some bubbles in your kitchen sink. Use either ordinary dish soap or (for sensitive skins) a bit of their own bubble bath. I whisk them up with my hand, but you could also use a hand mixer.
Scoop the bubbles into a dish (preferably unbreakable!) that is wide and shallow enough for them to reach into easily. I like to use this big caldron planter as it contains loads of bubbles and is light enough for them to move around easily. Plus, obviously, it looks like a caldron!
Make sure you take as little water as possible – you want to skim off the bubbles from the top.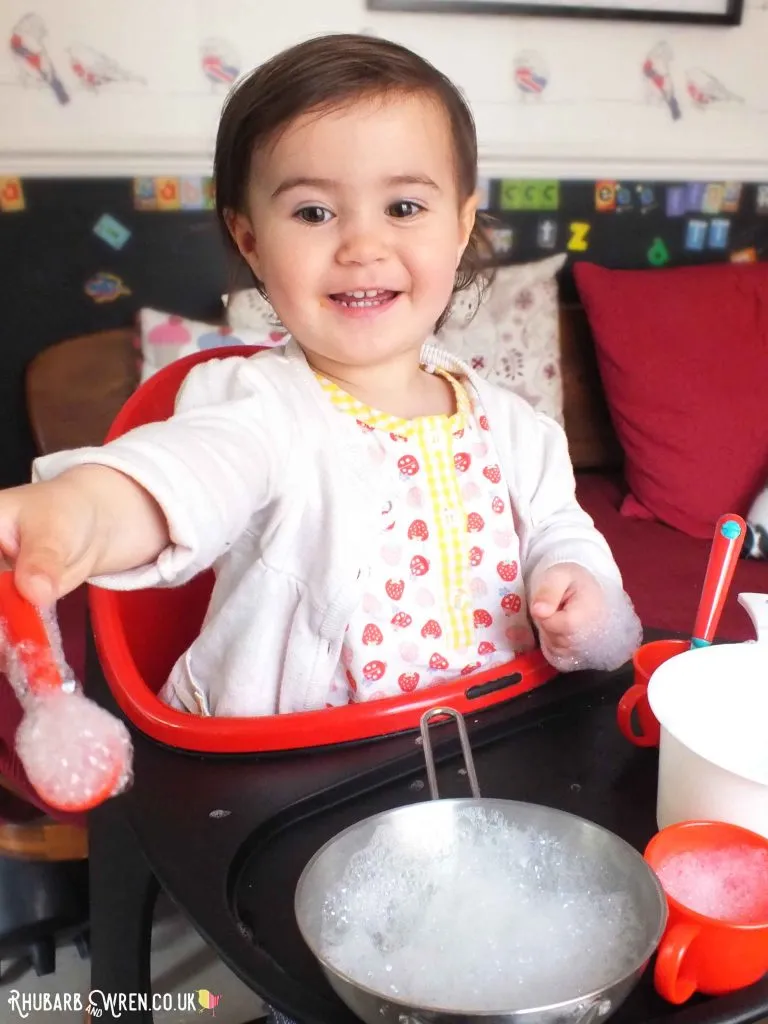 Colourful bubbles
You can make the bubbles coloured by mixing in a little washable paint. I avoid food colouring, though, as it can stain. But usually that's just too much flaffing for me and doesn't seem to make much difference to my kids!
And besides, the beauty of this activity is that it can be set up on the spur of the moment. And in literally minutes. Throw a towel on the floor, grab some utensils and pots, whisk up a few bubbles and you're done.
Bubble Cafe
In the unlikely event of your kids running dry on ideas, try asking them for some bubble tea or bubble soup. They'll soon have a whole cafe going. Or pile up a load of 'dirty' play kitchen cups and saucers, and get them practicing their washing up. It'll come in handy when they're older!
My kids also love mixing up potions. Or we go fishing for treasure / dinosaurs / assorted animals that I hide amongst the bubbles for them. Bubble disguises are hilarious fun too (think beards, horns, eyebrows, sideburns…).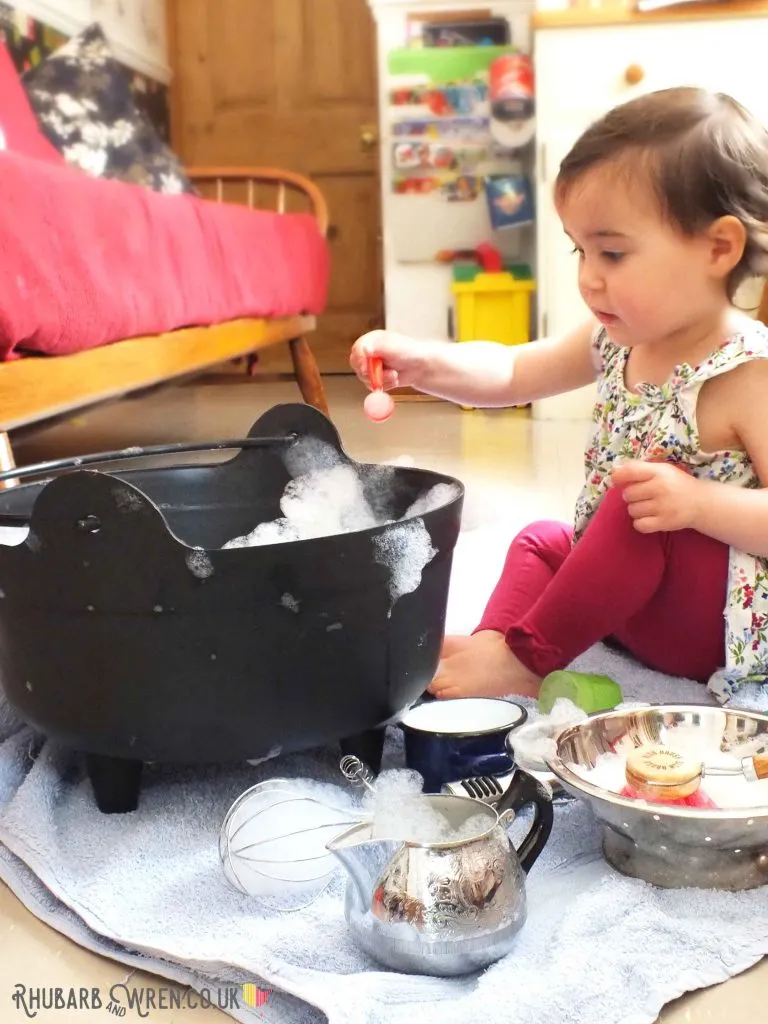 As babies and toddlers, my kids loved having a few different containers and some easy to handle spoons or ladles. Young ones always have fun transferring the bubbles from pot to pot, scooping, stirring, touching, tasting. Though this last experiment usually just the once… Bubbles are reassuringly unpleasant to eat! They just love squishing, blowing and generally exploring this interesting new substance in front of them.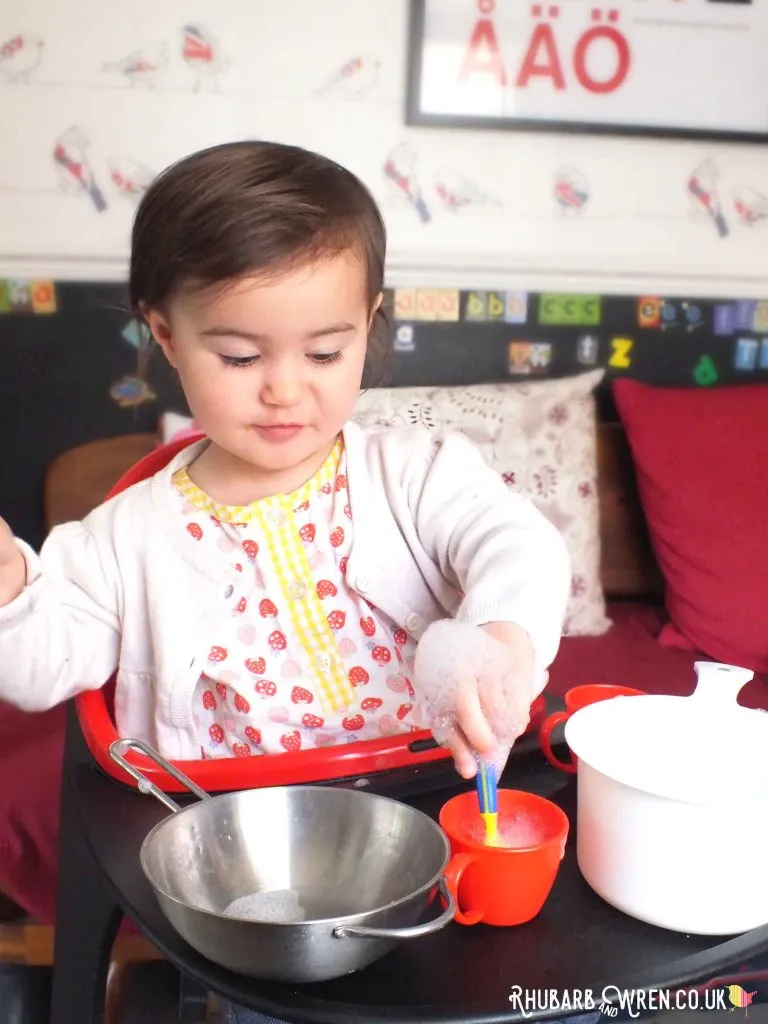 Indoor or outdoor bubble fun
This is an activity that can be enjoyed indoors or outdoors. In the garden, it gets a little messier. The kids love to mix up bubbles with ingredients in our mud kitchen. Or explore what happens when they pour in water. Lots of water, over and over again….
In the house, as long as we've got a towel down, there's very little clean up. And the kids enjoy having towels to dry up any wet utensils and toys at the end of play, so they tidy up for me. Bonus score!
Playing with bubbles is such a great sensory experience for young children, and it's one of those simple activities that generations of parents have done with their kids, like emptying the saucepan cupboard to make drums or building a fort out of blankets.
I like to think that our Victorian kitchen has seen a fair bit of bubble making over the years, and we're just continuing a grand tradition of fun!
---
Pin this for later!
Want to bookmark this post for later? Save it to Pinterest!
​If you've enjoyed reading this, why not check out these other entries?