Some books feel like instant classics the moment you open then. Last Stop on Market Street is one of these. Rich, vibrant colours and charming illustrations help tell the simple story of a boy on a bus ride with this grandmother.
But, like all the best picture books, this simple story is more than it seems. Read on to take a peek inside and find out more!
This post uses affiliate links, which means I receive a small amount when you click through and buy. You can find out more on my 'about affiliate links' page.
There's something about this book that takes me instantly back to my '70s/80's childhood. The illustrations have an irresistable, vintage feel. They remind me of the Fredun Shapur jigsaw puzzles we had and loved as kids. There's also a little bit of (original) Topsy and Tim in all those Seventies shapes and colours.
Yet for all that, Last Stop on Market Street is also a very modern story.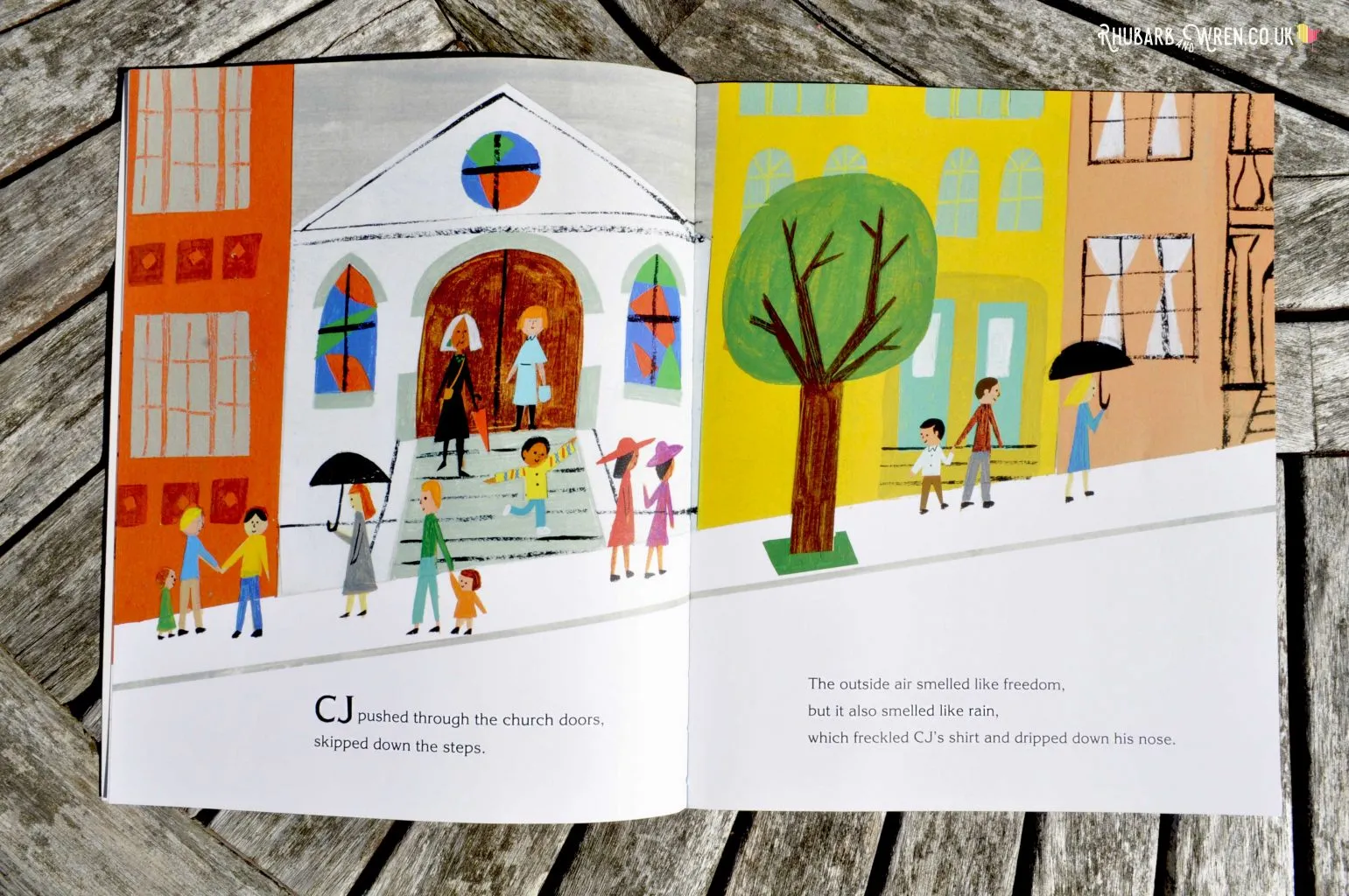 At the start of the story, a young boy called CJ runs down the steps of a church. His grandmother follows behind, a folded umbrella in her hand. There's an obvious feeling of liberation in CJs wide stretched arms and jaunty step. The text even tells us that "the outside air smelled like freedom".
But with the umbrellas appearing on the street, we know it also smells like rain.
Ticket to ride
CJ and his grandmother shelter at the bus stop, waiting for it to arrive. One of CJ's friends waves from a passing car. This is a recognisable scene for my children and I. Like CJ's family, we currently don't have a car either and so take a lot of buses. And it's not unknown for it to rain.
So while the setting of last stop on Market Street is distinctly American (no red double-deckers here!), CJs journey feels very familiar to us.
But CJ learns, as my children and I have learned, that a journey made on a bus is an experience in itself. All manner of people ride the bus. And CJ sees on that ride what it means to be part of a community full of diversity.
When a busker begins to play music, he sees how something as simple as that can bring all sorts of different people together.
Rainbows and graffiti
In many stories, that would be enough. But Last Stop on Market Street takes us to the end of their journey. CJ and his Nana get off the bus and walk down an urban street that has clearly seen better days. There is graffiti on the buildings, barbed wire stretched along fences, and iron bars on the doors.
CJ takes his Nana's hand and asks him why it's always so dirty there? His Nana tells him that sometimes being surrounded by dirt only makes you "a better witness for what's beautiful".
And on the next page we see the street garlanded by a rainbow as CJ and his Nana reach their destination. Their friends are there with welcoming smiles, and CJ and his Nana take their positions behind the counter of the soup kitchen.
There are not a lot of children's picture books that feature soup kitchens. Though the recent It's a No-Money Day is about a mother and daughter having to go to a food bank. It's a sad reflection of our times that both are so common, talking about them with young children feels appropriate.
But of course, neither food banks nor soup kitchens are new. And if it seems bizarre and upsetting to children that they are needed, then perhaps we should be asking ourselves why we adults accept the need for them more easily.
A simple story of everyday life
But Last Stop on Market Street doesn't make political points. It just shows a visit to a soup kitchen from a small child's perspective. The lead up to their arrival shows community spirit and strangers being nice to each other (whether they are heavily tattooed, or elderly ladies, or blind men with guide dogs).
And the soup kitchen is an extension of that – from CJs point of view, it is about being nice to others and helping those who need help.
So while it may be, on one level, an 'issue' book, it is also a simple 'day in the life' story of a little boy, who just happens to regularly go to a church, and take a bus to help out in a soup kitchen. It can be read in that simple way for children to enjoy and make sense of however they wish. But it also opens a window to experiences that are (hopefully) outside of their own, and make them think about the difficulties that other people suffer.
I think it's an amazing book, and I love it because it doesn't push an answer or an opinion. It's an observation of the world, designed to make us and our children think.
By the same author and illustrator
---
Picture Books with Diverse Characters
Have you seen my full list of the best 23 picture books with diverse characters? Just like Last Stop on Market Street, all of these picture books feature black, Asian or minority ethnic (BAME) boys as main characters. Something that's as rare as proverbial hen's teeth in children's books, and a problem I've written about here.
Check out the list to find out more about our favourites, and take a peek inside. If you like the look of this book, I'm sure you'll find some others to love there too!