Jessica Love's groundbreaking and utterly beautiful picture book, Julien is a Mermaid, is the simple story of a boy who decides to dress up as a mermaid.
Celebrating being who you are, this is a book that encourages children to find joy in self-expression. At the same time, it also gently challenges conventional gender and identity stereotypes, and shows children wonderful examples of acceptance and inclusion.
We made a list of our 23 favourite picture books staring BAME boys, and Julian is a Mermaid had to be on it. Read on to take a peak inside and find out why we love it.
This post uses affiliate links, which means I receive a small amount when you click through and buy. You can find out more on my 'about affiliate links' page.
Quickly becoming one of our all-time favourite picture books, Julian is a Mermaid is the debut book from American author/illustrator Jessica Love. And it's one that has already become a classic.
The book is set unmistakably in New York. Yet this is a New York that is awash with gorgeous, glowing colours fading dreamily away at the edges.
In this warm and friendly wonderland, Julian and his Nana return home from their swimming outing. And on the way, much to Julian's wide-eyed wonder, they encounter a group of people dressed as mermaids on a subway train.
Entranced, Julian imagines himself transformed into a mermaid too, with long flowing hair and a magical pink-and-gold tail.
When they get home, his Nana disappears to take a shower. Julian is still dreaming of mermaids, and while she's gone, Julian uses things around the house to dress himself up.
He makes a trailing tail out of a curtain, a fabulous, ferny headdress from a houseplant. And then, as a finishing touch, he adds on some bright red lipstick.
Julian the Mermaid…
There is a wonderful moment when his Nana emerges from the shower, wrapped in a towel. The two of them regard each other in silence.
And then Nana disappears off the page.
She leaves a woebegone Julian staring after her and examining his costume with new, heartbreaking uncertainty.
But this is a book that is, without being preachy or cloying, about acceptance and love. And when Nana reappears it's with a long necklace of beads to add to Julian's outfit.
Nana leads the resplendent Julian out into the streets, where they join in the mermaid parade.
Acceptance, encouragement and love
I love the story behind this book almost as much as the book itself. Inspired by a trans-friend's story, Jessica Love realised there is a desperate lack of stories for gender-questioning children.
She was further inspired by the realisation that mermaids hold a deep significance for trans people, and the simultaneous discovery that there is an annual Coney Island Mermaid Parade.
The illustrations are undeniably beautiful and carry the storytelling burden. I really like the spare use of words, letting the pictures speak for themselves.
A great example of this is the three spreads in a row where Julian daydreams about being a mermaid. And without a single word getting in the way.
This quietness leaves room for children to make their own interpretations of Julian's journey. And so it is a book that will speak to the boys and girls who love dressing up, just as much as the gender-curious children that originally inspired it.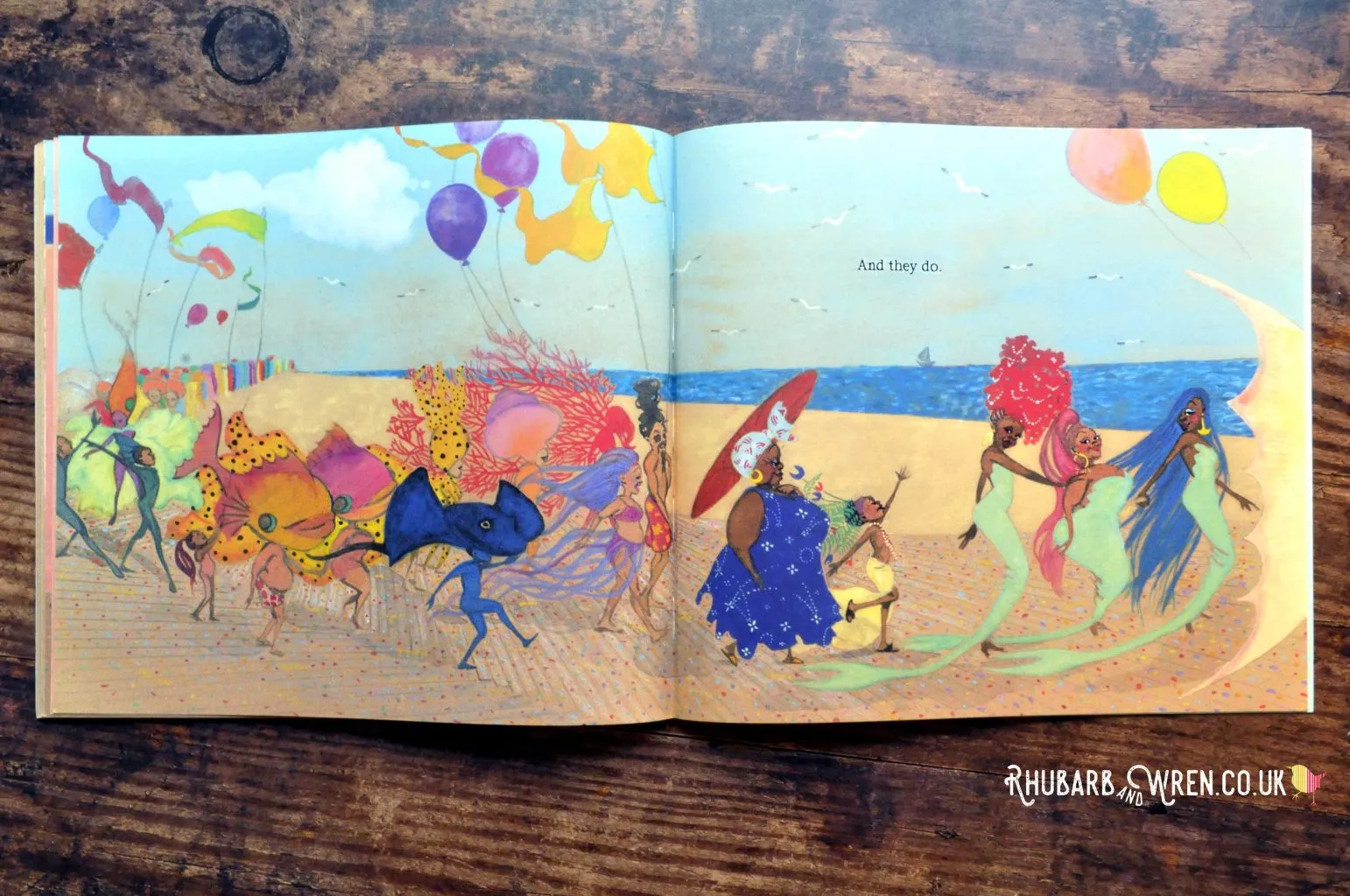 By the same author
Since it was published, Julian is a Mermaid has won all sorts of awards. And so it was no surprise (and great news!) that the author began work on a sequel.
Julian and his Nana are off to a wedding in this fabulous follow up to Julian is a Mermaid. Resplendent in his purple outfit, Julian makes a friend, gets up to mischief, and saves the day in another joyous tale of acceptance, friendship and vive la difference.
The fun is definitely in the foreground in this Julian at the Wedding, and it's great to see even more reflections of diverse lives in the two brides, both dressed in full, fairy-tale, white.
---
Picture Books with Diverse Characters
Have you seen my full list of the best 23 picture books with diverse characters? Just like Julian is a Mermaid, all of these picture books feature black, Asian or minority ethnic (BAME) boys as main characters. Something that's as rare as proverbial hen's teeth in children's books, and a problem I've written about here.
Check out the list to find out more about our favourites, and take a peek inside. If you like the look of this book, then I'm sure you'll find some others to love there too!