Scissor skills are really important for young children, yet parents can be nervous about letting their child get started. But it doesn't need to be scary! And starting with something small and simple can help both parent and child get the hang of things really quickly.
Handling scissors correctly is a difficult skill to master, and so we try to practice every chance we get. In the house, we have a "snip box" full of different scraps to cut up, following patterns and lines or just snipping away.
But sometimes we like to take our scissor skills practice outside, to try our hand at cutting things we find around us while exploring in the sunshine.
Creating a Nature Snip box takes absolutely no effort at all – in fact, the kids do pretty much all of the work!
Outside scissor skills practice
We are lucky enough to have a garden of our own; small but chock full of plants. There's plenty for us to choose from when we're in the mood for practicing our scissor skills outside, but sometimes we'll go on a walk to forage different things. We find large leaves or long stems and petals are the easiest to handle, but the kids can have enormous fun snipping clusters of buds, berries and flowers as well, and brittle, dry stalks and twigs can also be snipped up very satisfyingly.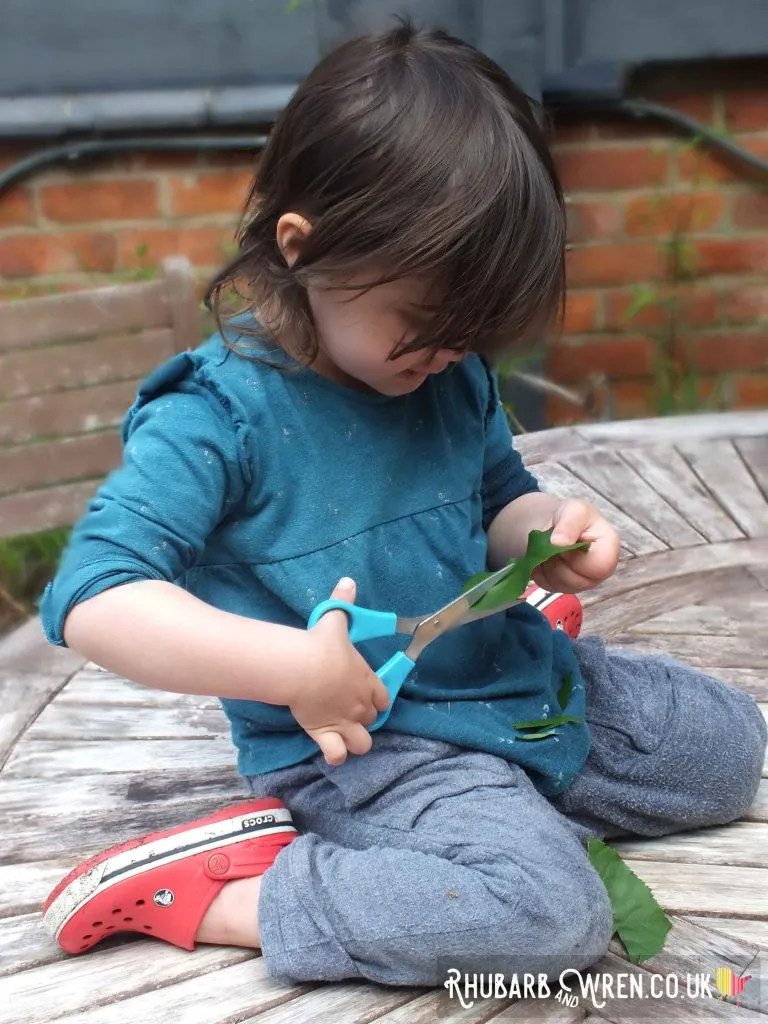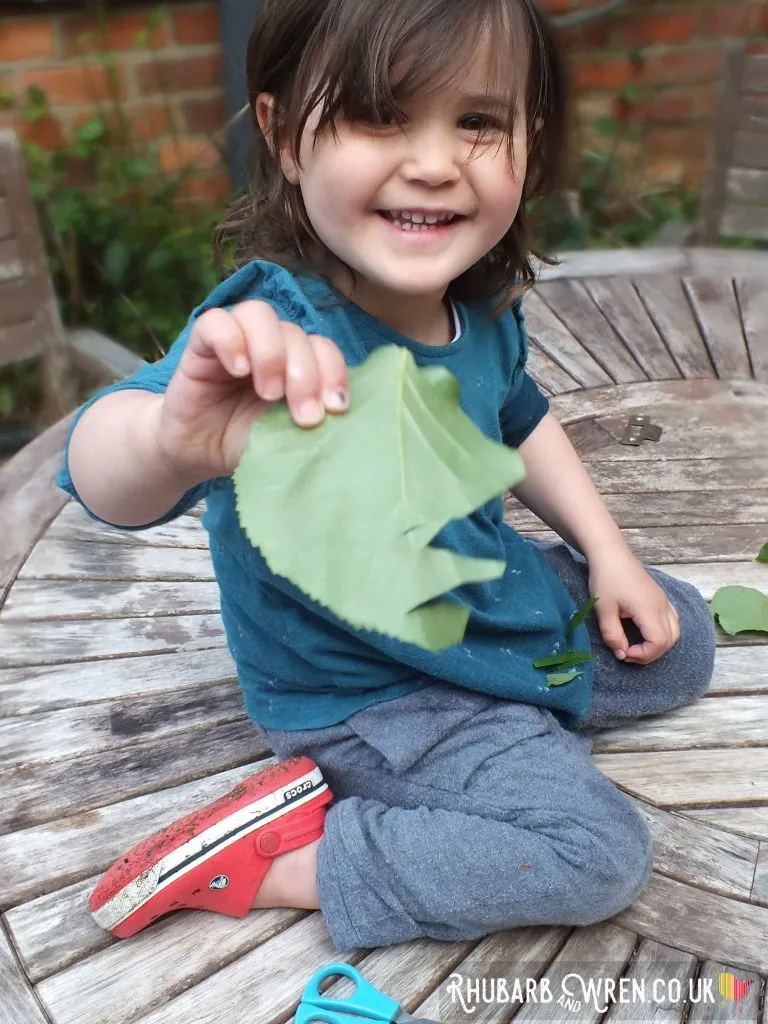 We follow the grown up rules when collecting for our scissor skills practice:
We never take more than a few things from any one plant, and are careful not to damage them in the process.
We never take more than we need (though any leftovers generally end up cooking in the mud kitchen anyway!), and if we don't know what something is, we'll take a picture or a small sample to identify, just to make sure it's safe.
We also don't take anything from other people's gardens unless we have permission!
Once we have our selection, we'll take them home and either spread them out on the garden table or pop them in a large shallow container so that the kids can reach in easily.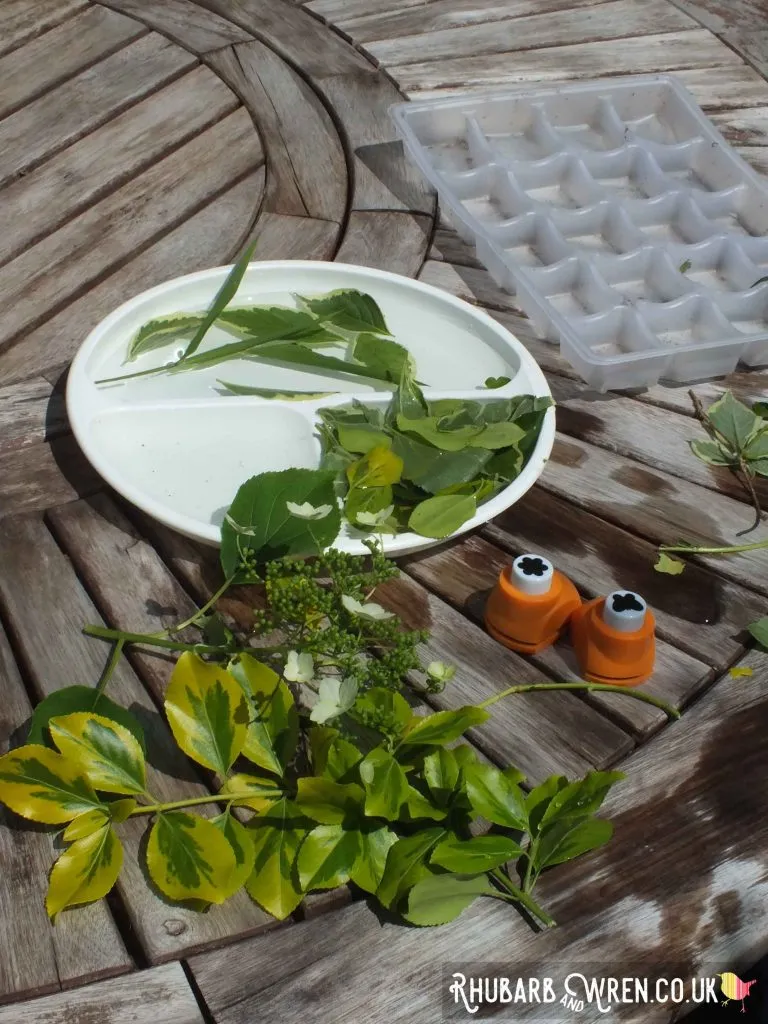 I'll lay out kid friendly scissors (both the normal kind and some with zig zag teeth), and also a few hole punches. As T-Bird is into garden 'cooking' in a fierce way, I'll usually put out a couple of her garden kitchen pots and pans too. Everything else is up to the kids!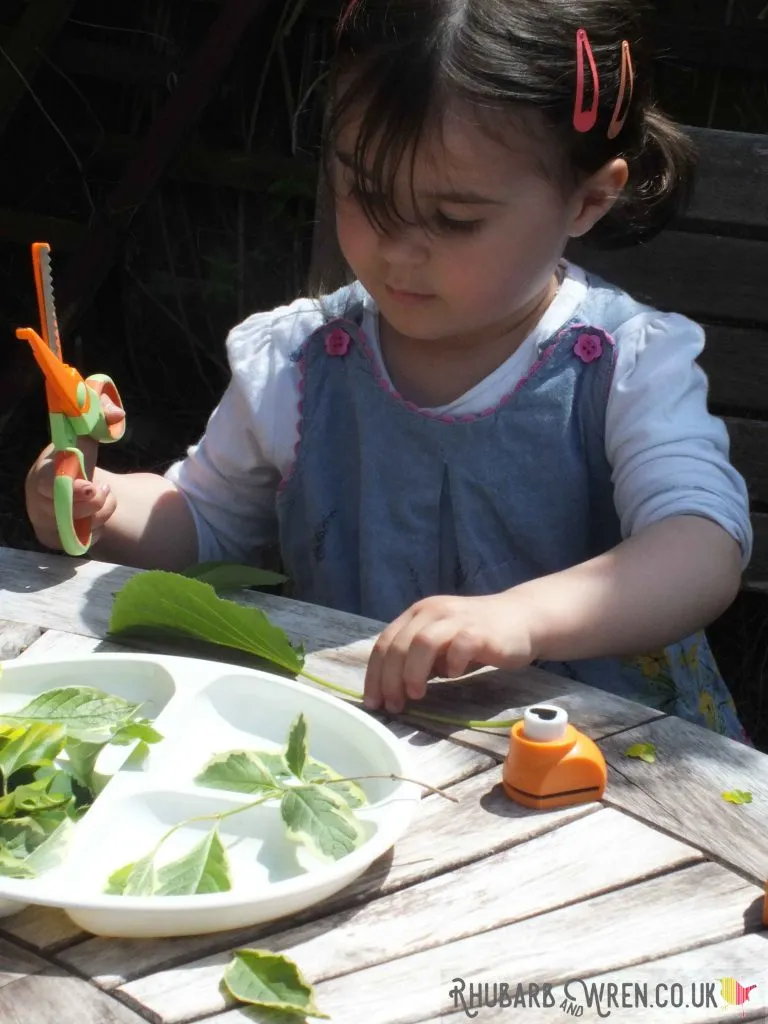 Sometimes, T-Bird will be more interested in the hole punches than practicing her scissor skills, and that's fine – she's developing her hand-eye co-ordination and building up her hand strength.
Added bonus, the shaped craft punches produce some lovely leaf confetti!
Of course, the holes they make in the leaves are just as interesting…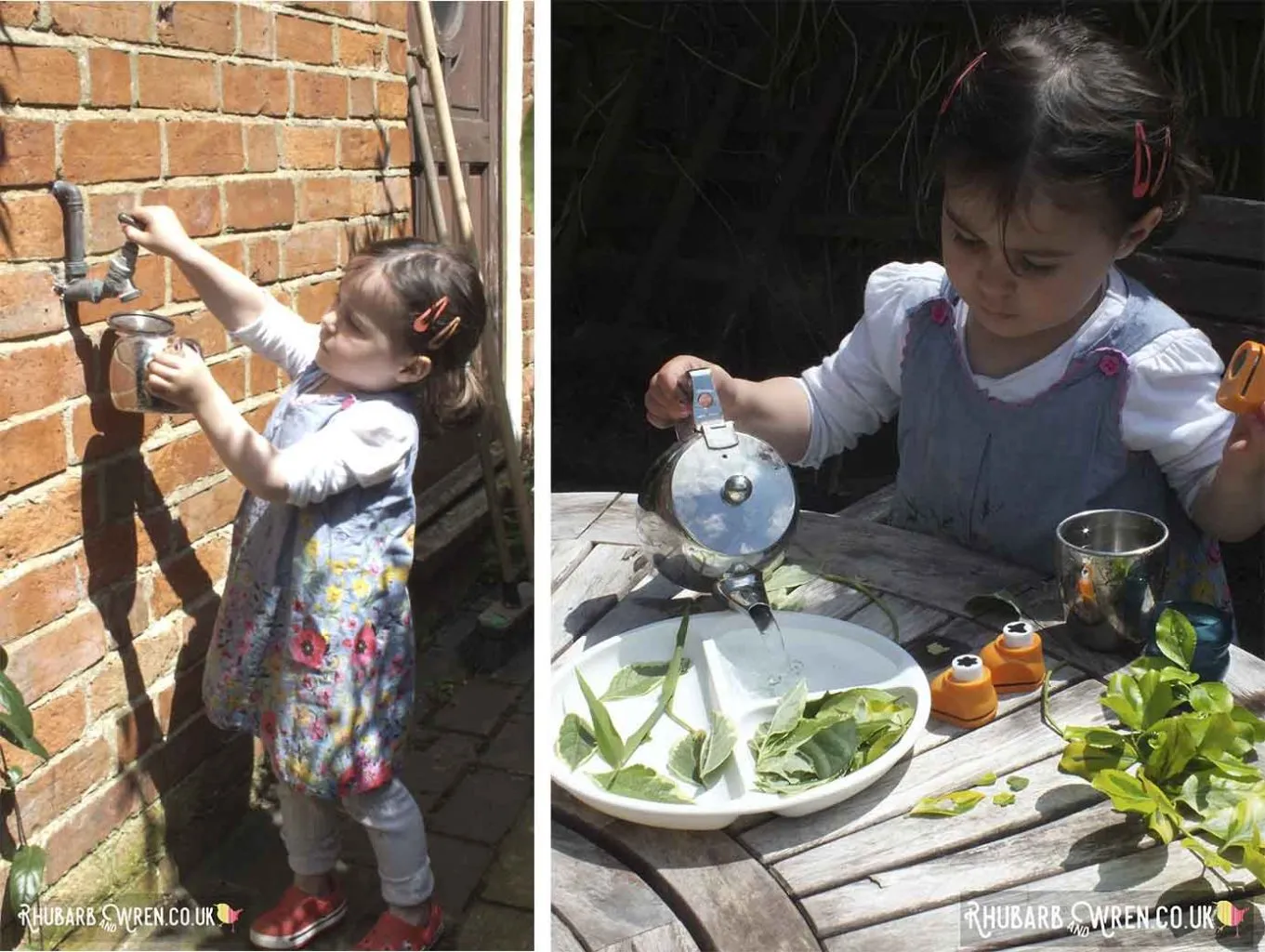 At some point, the scissor snipping or hole punching usually turns into a cookery masterclass. Sometimes this requires water – we usually fill a bucket at the start of our playtime, so that the kids can help themselves. But the lure of the garden tap is irresistible! This Charity-shop-bargain-buy teapot lives outside in the mud kitchen, and is a favourite for pouring and mixing.
Mmm – Leaf-Confetti Soup!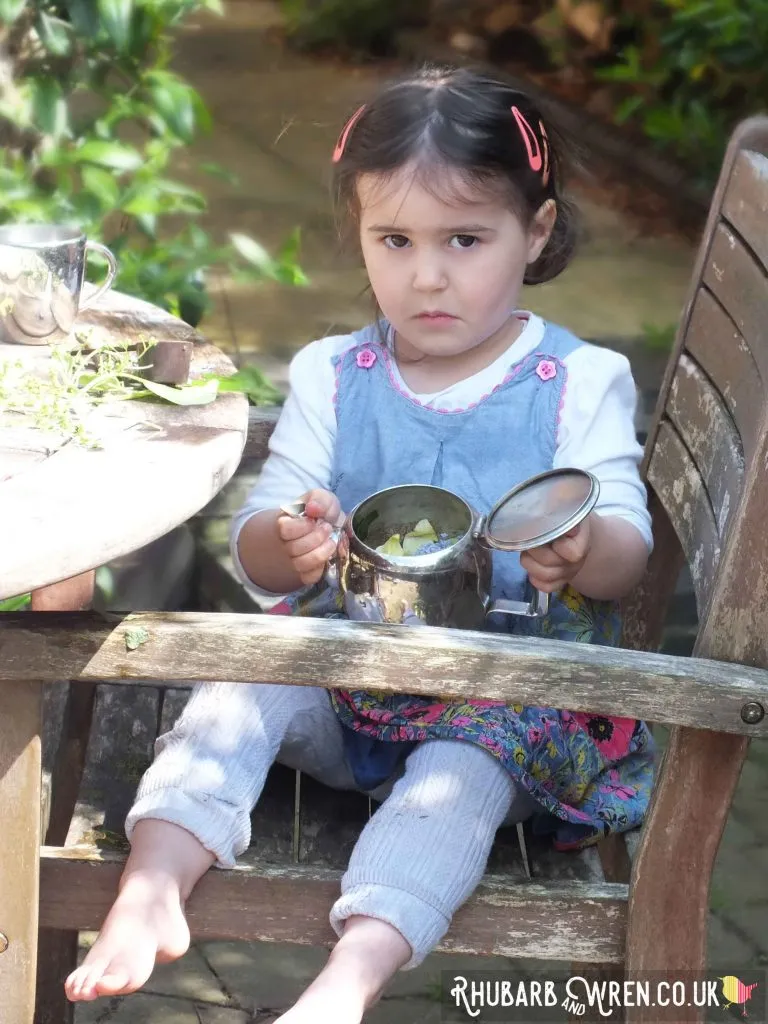 No water left in the teapot? Use problem solving skills to get a bigger saucepan-full!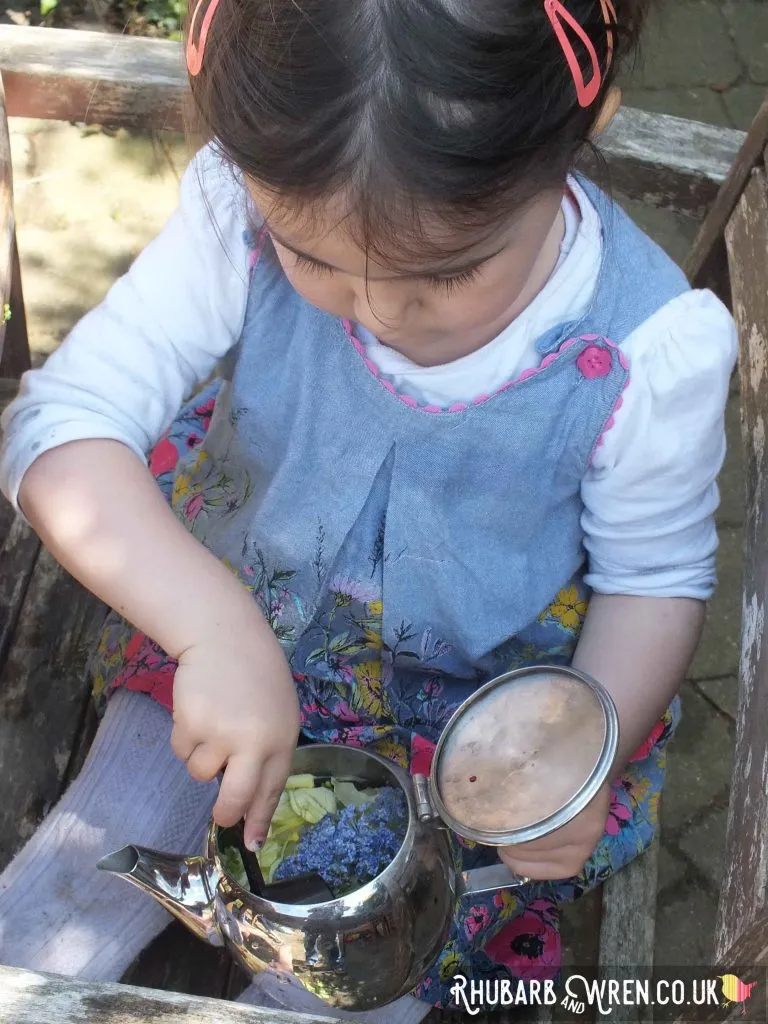 And what green leaf tea is complete without adding flowers? Pretty blossoms and petals offer lovely contrasting textures and smells, and will fragment, tear and come apart in lots of different ways.
Now that's a tasty cuppa!
---
Pin this for later!
Want to bookmark this post for later? Save it to Pinterest!
---
If you've enjoyed reading this, why not check out these other entries?