There are images of some amazing mud kitchens out there on the web. But it can be so easy to fall down this rabbit hole of great ideas. If you're not careful, you end up never actually making one for your child!
I was certainly guilty of this. Until one day my sister stopped by. While I described the great mud kitchen I was going to make (one day), she started hunting around the garden. And with that, I abandoned my dreams of perfection, because the kids were ready to play, right now.
And you know what? We did something incredible. By pulling together a few things already lying around, together we made a mud kitchen in about thirty seconds!
My kids have been playing with it ever since (we're talking for years now!). And though I still dream and plan of a more beautiful and robust solution, they're out there having fun today. They really couldn't care less that it's not perfect.
So read on to see what you need to make a mud kitchen right now. And I guarantee that you'll have enough stuff already to get your kids playing today.
Why Kids Need a Mud Kitchen
Mud, mud, glorious mud! There are a whole, muddy, marvellous heap of reasons why you should encourage your kids to get stuck in and playing with mud. Just google 'the benefits of mud'. You'll come up with a muddy pile of academic studies that have posited any number of positive effects.
These include helping kids' immune systems to develop. My favourite factoid has to be that friendly bacteria in the soil boots serotonin levels in the brain. This, don't you know, increases feelings of calmness, well being, happiness, and improving cognitive functions as well. So it makes kids both happier and smarter!
Playing in the dirt helps create a connection with nature. It provides opportunities for all kind of sensory, imaginative and co-operative play. And it helps make memories that our children will cherish forever. With all these benefits just waiting for them, don't you want your kids to get started today?
So by all means keep pinning those rather smashing mud kitchen images for your future plans. But don't keep the kids waiting either. Cobble something together for today's playtime in the meantime!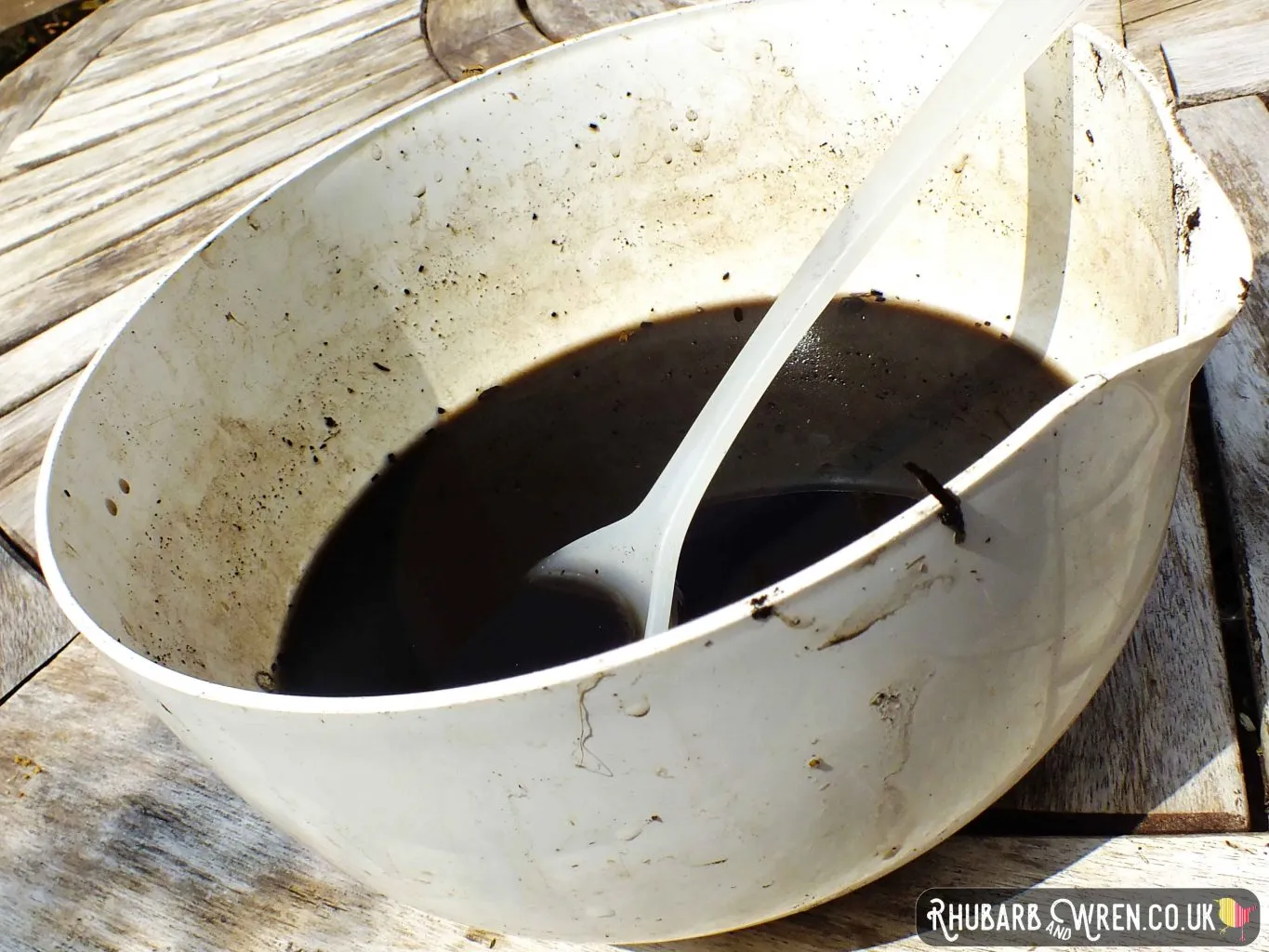 Mud Kitchen Essentials
What is it that every mud kitchen needs? Well, to start with, it helps if you have some mud! Now, our own garden is rather small, and mostly either paved or covered in decking. There are some borders, but they're filled with large and vigorous plants so there isn't a good spot for the kids to use for digging up some mud.
My solution for their mud kitchen was just to use a big old flowerpot full of mud for them to dig out mud from. Later on, I found a cheap flower planter that had hooks on for hanging on railings – I hung this on our half-barrel planter and use it for extra mud, or other mixable materials, such as sand.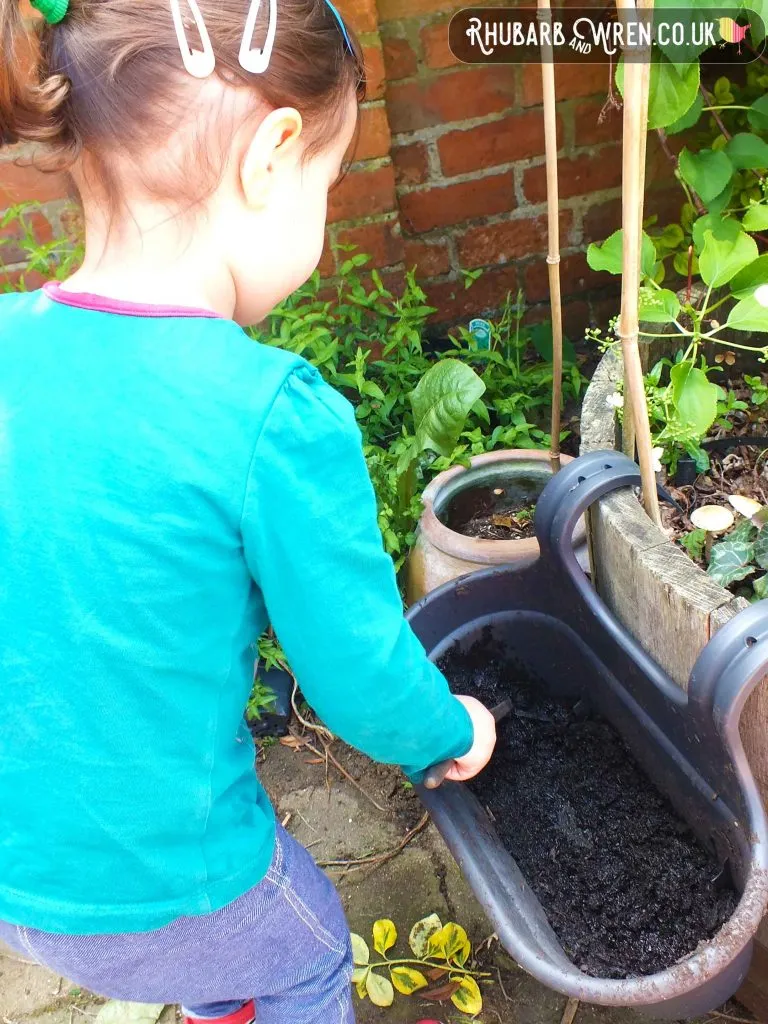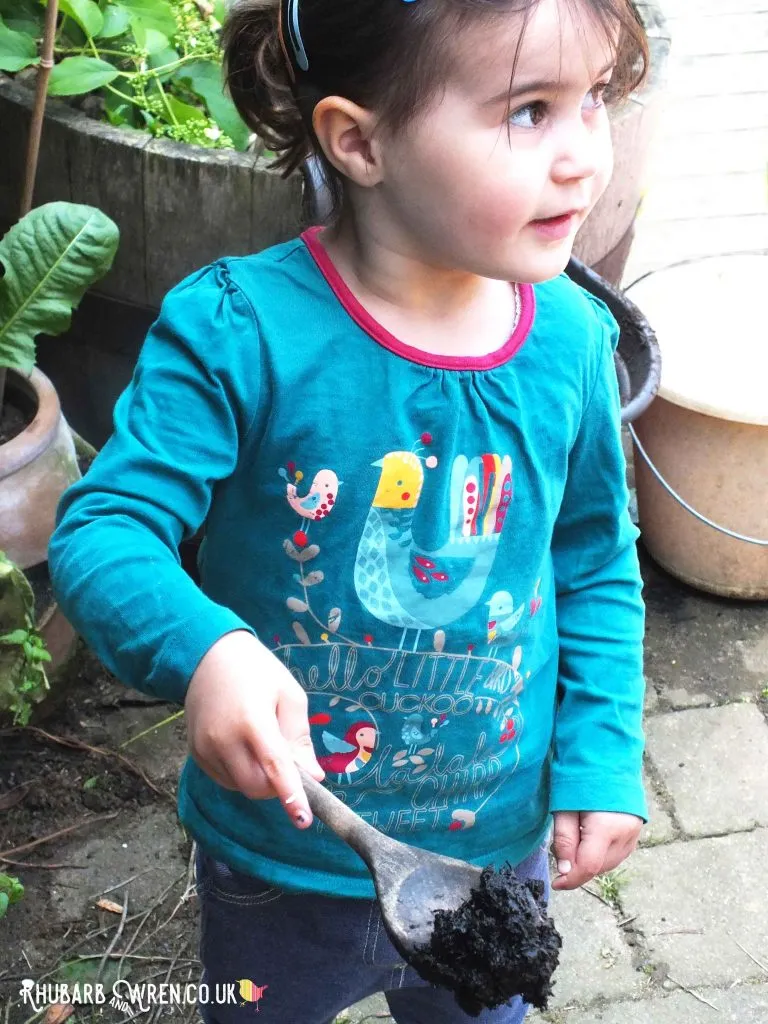 Dirty Dirt and Premium Mud
If you're using garden dirt, be vigilant for animal faeces – kids aren't the only ones who like a fresh bit of dirt; any neighbourhood cats, for example, may also be drawn to it. Some of those scientific studies suggest that part of the immune system boost from mud is down exposure to the inevitable traces of old animal waste in garden soil, so it can defeat the point if we try to make this too sterile an activity.
However, contact with faeces does pose a health risk, and, personally, I certainly don't want my kids mixing up any 'fresh cat poo surprise'! ​If you're really concerned, keep a supply of bought-mud in a coverable container.
The best (and – weirdly – cleanest) kind of mud you can buy for a mud kitchen is topsoil – it's the closest to 'garden dirt' and has got the best texture for mixing – it makes extremely satisfying muddy gloop! Compost is probably the least effective for a mud kitchen as it has a springy and un-mud-like texture, and doesn't mix very well with water.
Raiding the Kitchen Cupboards
Not got any mud for play today? You can pick some up later for another day, but why not have a look in your kitchen cupboards to see what the kids could use in a mud kitchen right now.
Used coffee grinds make an excellent mud substitute (or addition); or just dig out any out-of-date pasta, rice, cereals or flour. I always seem to have a ton of old herbal teabags hanging around, perfect as they are for dirt-tea time, or opened up to add a pinch of fragrant 'spice' to that stone-stew. Or what about that tin of soup that you bought for emergencies but don't know why, 'cos nobody likes that flavour… I'm looking at you, Oxtail…
Somewhere you'll have something that the kids will be really excited to use, because it's real. Never mind that you think it's manky, or that it's so out of date even cockroaches wouldn't eat it. It's biodegradable, it's clean, and it will be great fun.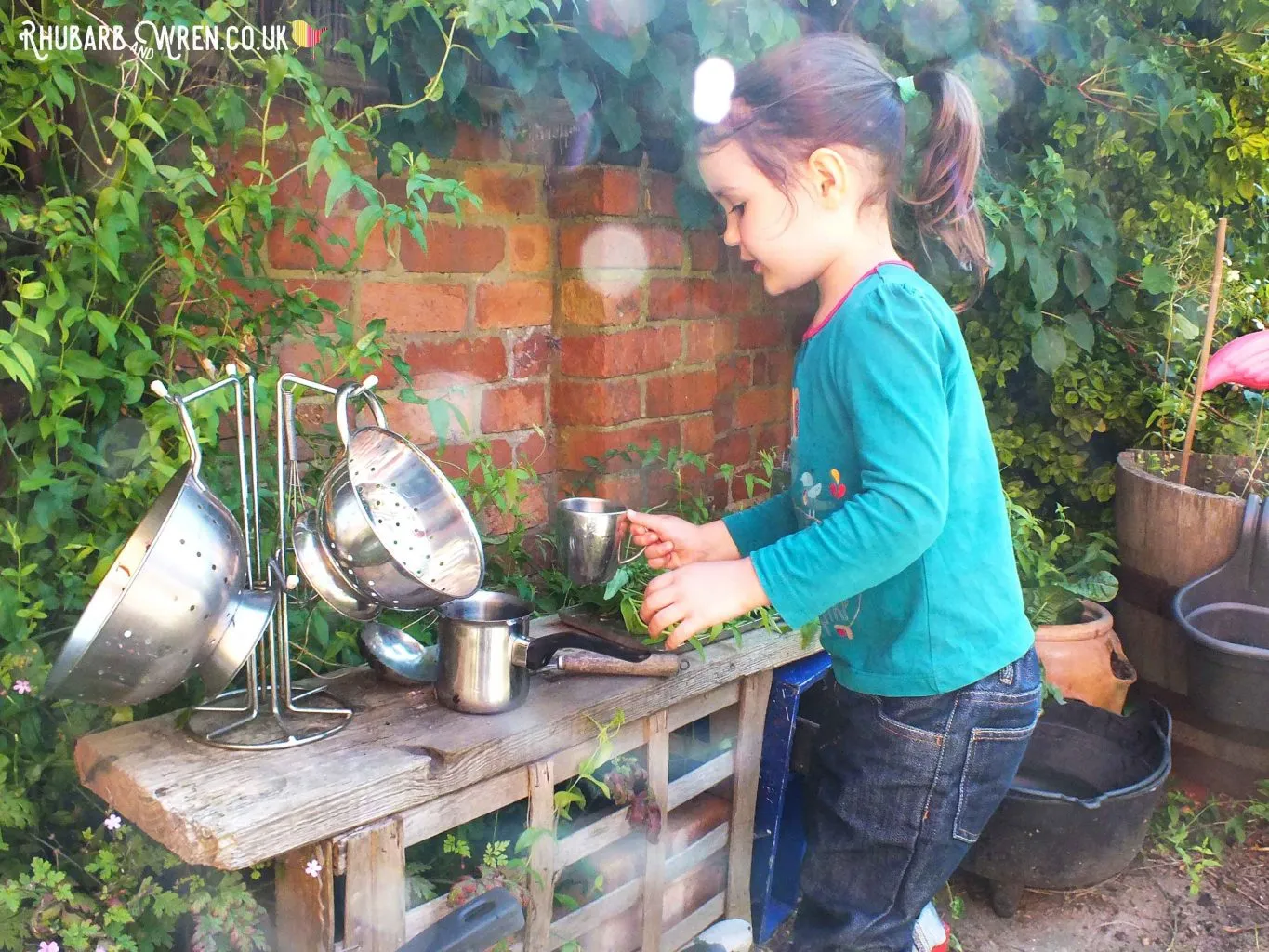 Nature's Storecupboard
Finding and foraging (from the garden or local neighbourhood) other things to add to their creations is another important and pleasurable part of mud kitchen play. If your garden is too sparse or precious to provide much for them to pick, just grab a bag and take them out for a walk – even a city park should have some grass, daisies, pebbles and leaves.
This is a good opportunity to to teach them about foraging responsibly: don't damage a plant when harvesting – always leave the roots and make clean cuts/breaks; only take a few of each plant and only where there is an abundance (leave plenty for others and wildlife, and to ensure the plant population can recover); don't trample over other plants to get to what you want; don't ever eat anything unless your adult has told you it's okay.
Kids usually respond really well to having clear rules to follow, and will love having a wild harvest to 'cook' with at home in their mud kitchen!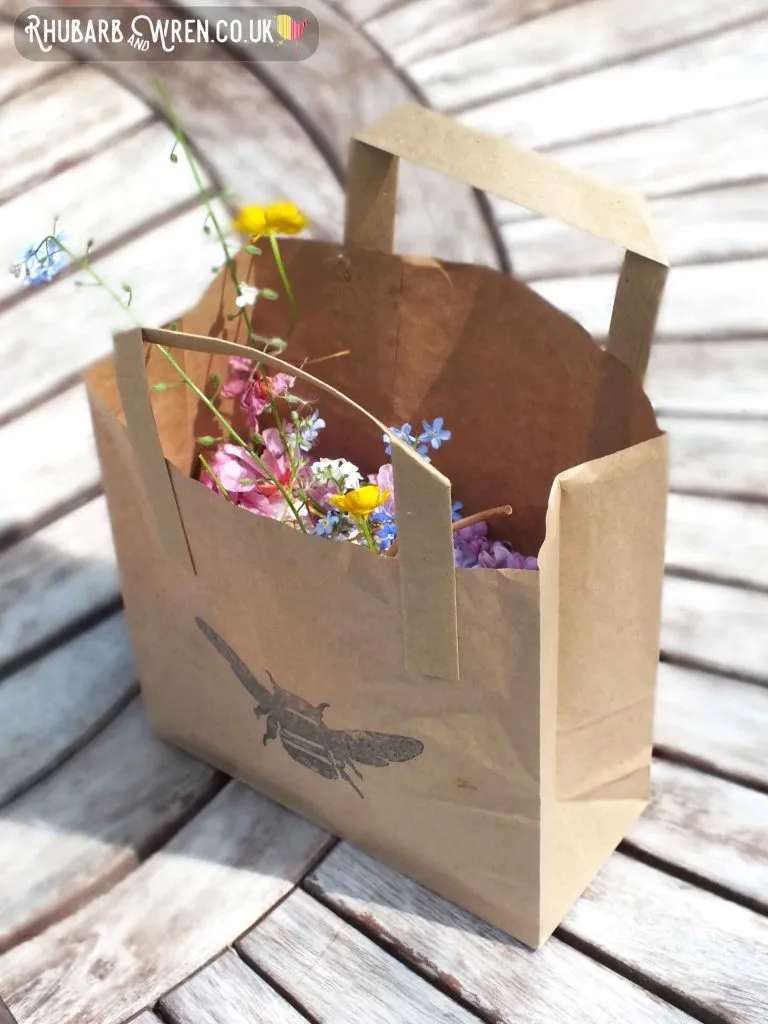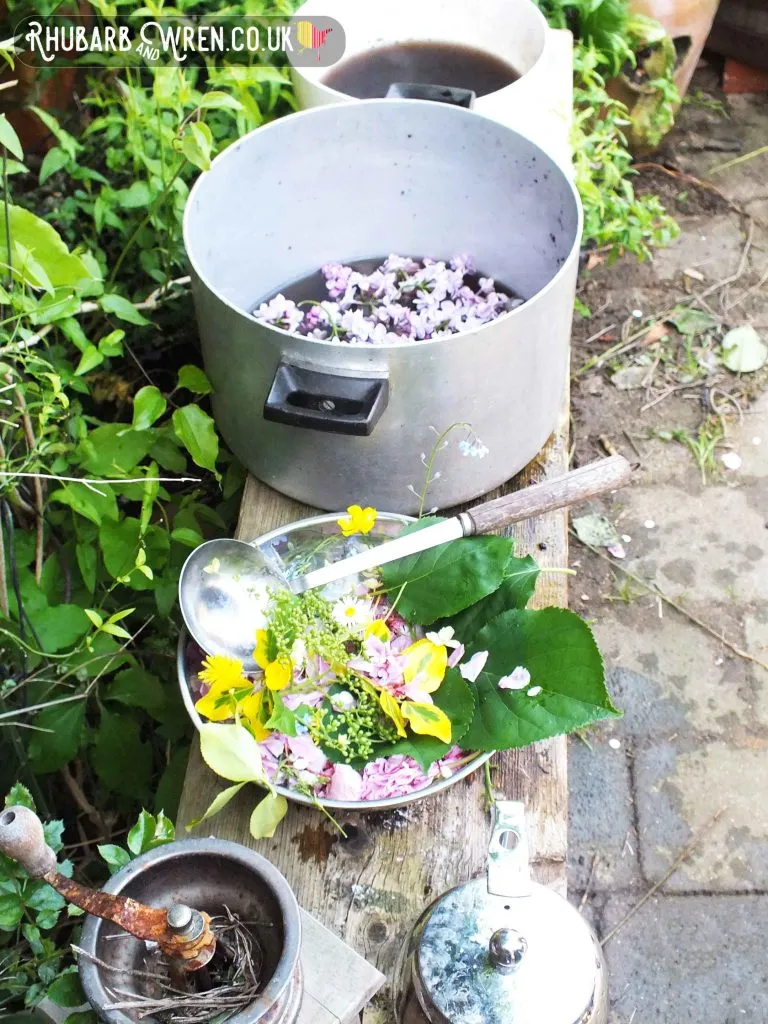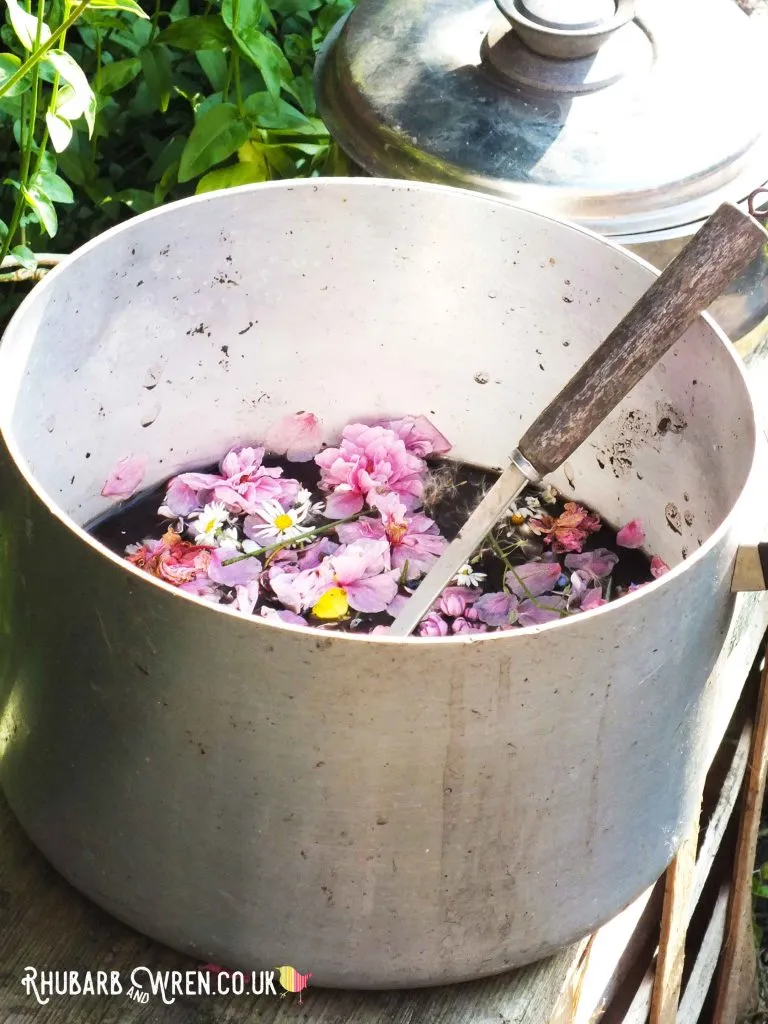 Making the Mud Kitchen
The next key thing any kitchen needs (mud or otherwise) is workspace. This needs to be set up somewhere with a bit of shade and at a good height for your kids to stand at and work on as they mix and measure and make.
This is where the internet gets fancy, but I'm here to tell you that your kids will be fine with a mud kitchen made from an old plank raised up on some bricks or upturned flowerpots (that's what we used).
Have a look around your garden and house, or brave the spiders in the shed – and remember that the surface doesn't have to be rectangular. Just ask yourself, can they put a container on it for mixing/cooking in? A large upturned tub or bucket, for instance, would do for now. Finesse it later!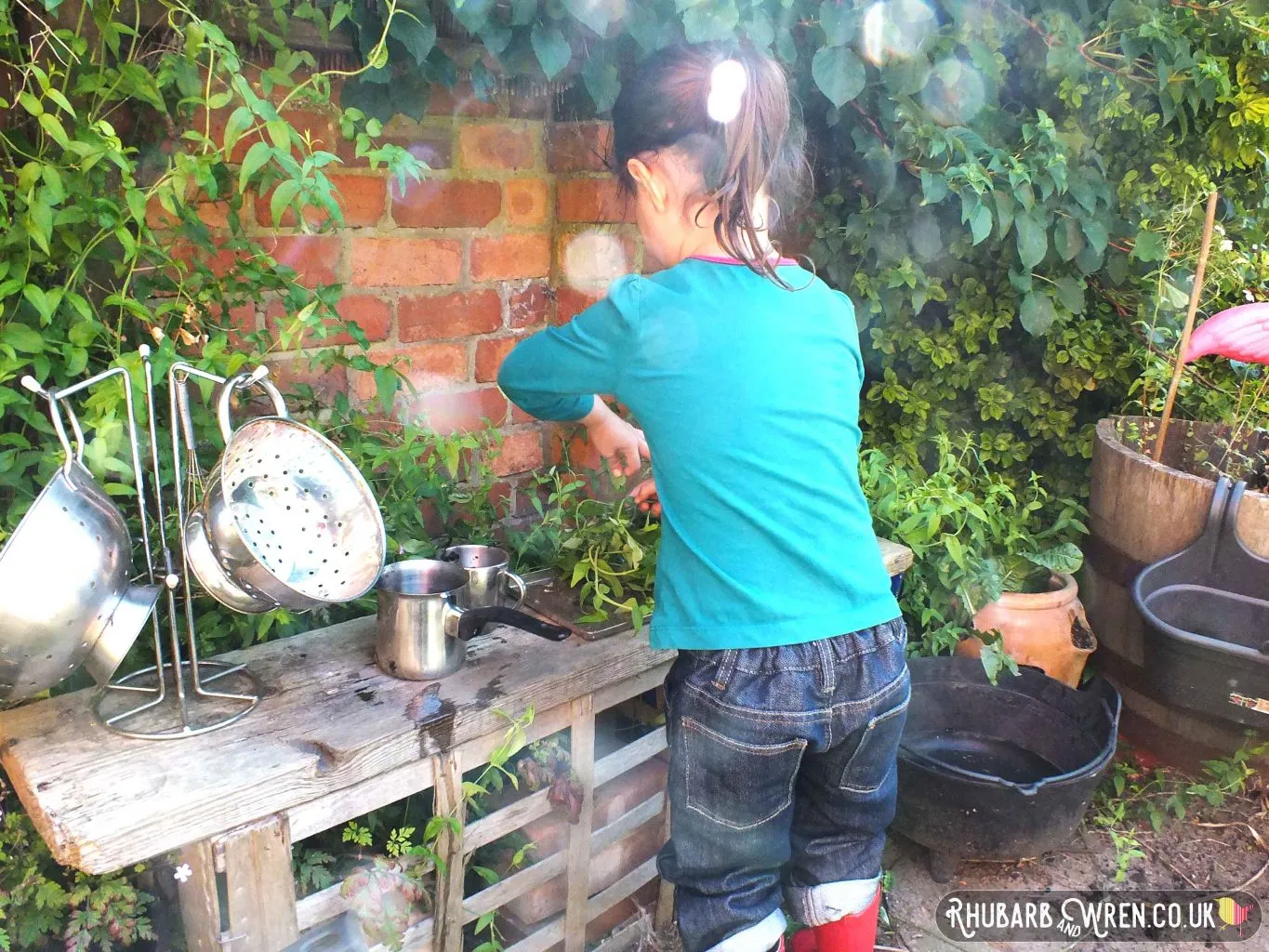 Water, Water, Everywhere
Water is another important requirement for a mud kitchen. Got an outdoor tap or water butt? Teach them how to use it! T-bird has been using ours since she could walk – I keep an eye on her to make sure she turns it off properly, but rarely do I have to intervene.
As a result of using this, she has learnt bucket-loads (ahem) about the volume of different containers, weight, pressure, temperature and how water flows. Just from using the tap!
But if you don't have an outside water supply, don't worry. Just fill a bucket for them and put it in the garden. Kids LOVE transporting water to their mud kitchen to use (just as they like to travel around the garden watering the plants), so don't put it right next to their mud kitchen. Make 'em work for it! They'll honestly enjoy it all the more.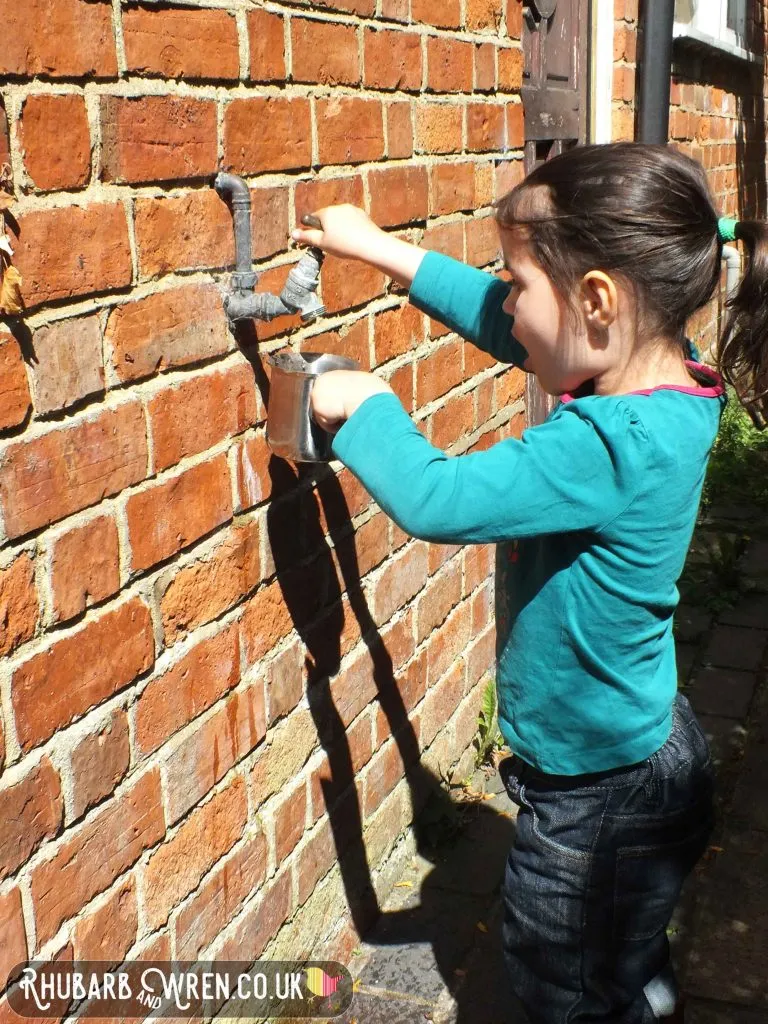 Mud Kitchen Tools
So you've got a source of mud/mixables and water, and a worksurface? All you really need to add to the mud kitchen now now are some containers and tools. If you've got any old saucepans or pots you can spare, donate them to the garden in the knowledge they'll now be helping to feed your kids' souls.
If not, any container that the kids can mix in will be okay – old tupperware, buckets, flowerpots… anything will do for today. Similarly, dig out any sacrificable kitchen tools like large spoons, sieves, colanders or whisks. See if any of their play kitchen or bath toys will do – that toy plastic tea set, for example, will work a treat in their mud kitchen.
Something to mash and pound with is extremely good fun – a pestle and mortar is the ideal, but a potato masher or a smooth, round stone or thick stick will also do the job. Don't forget mud kitchen clean-up – throw in a past-it's-best scrubbing brush, and the kids can wash everything up in some warm, soapy water at the end of play session. It may even turn out to be their favourite part of the activity.
These types of things are often sold for next to nothing in charity shops and car boot sales, so don't worry too much if you've not go much right now – it doesn't take long to build up a fabulous supply of utensils and pots for a mud kitchen secondhand, and they're often more interesting that the new, generic stuff you'll find in the shops.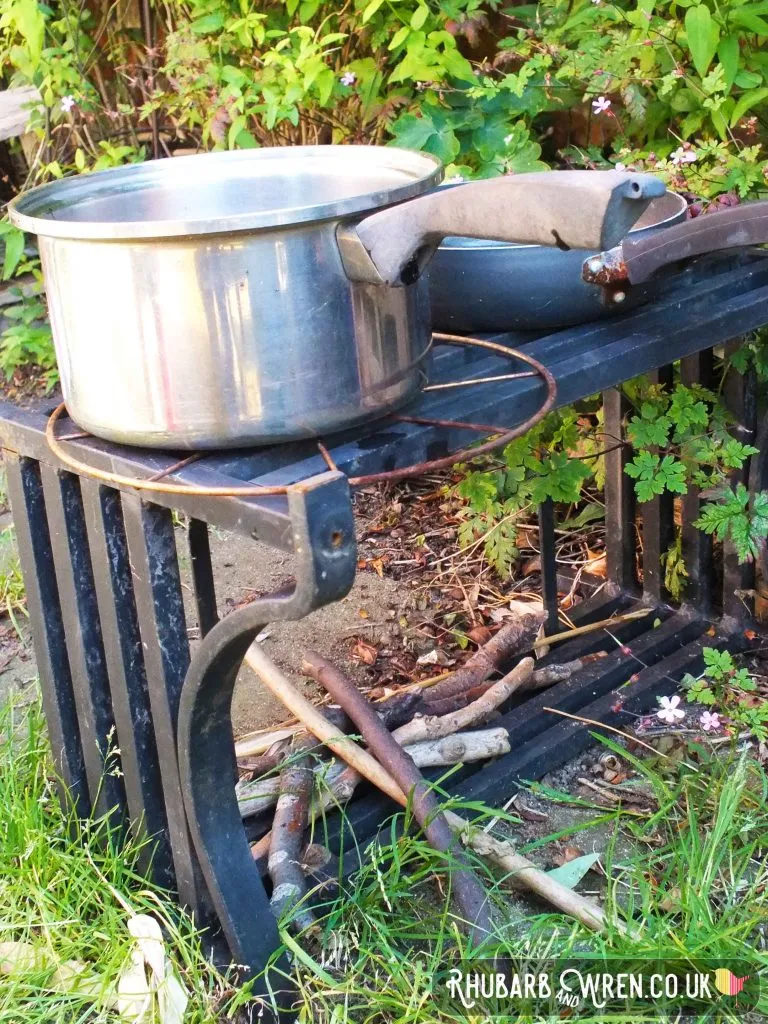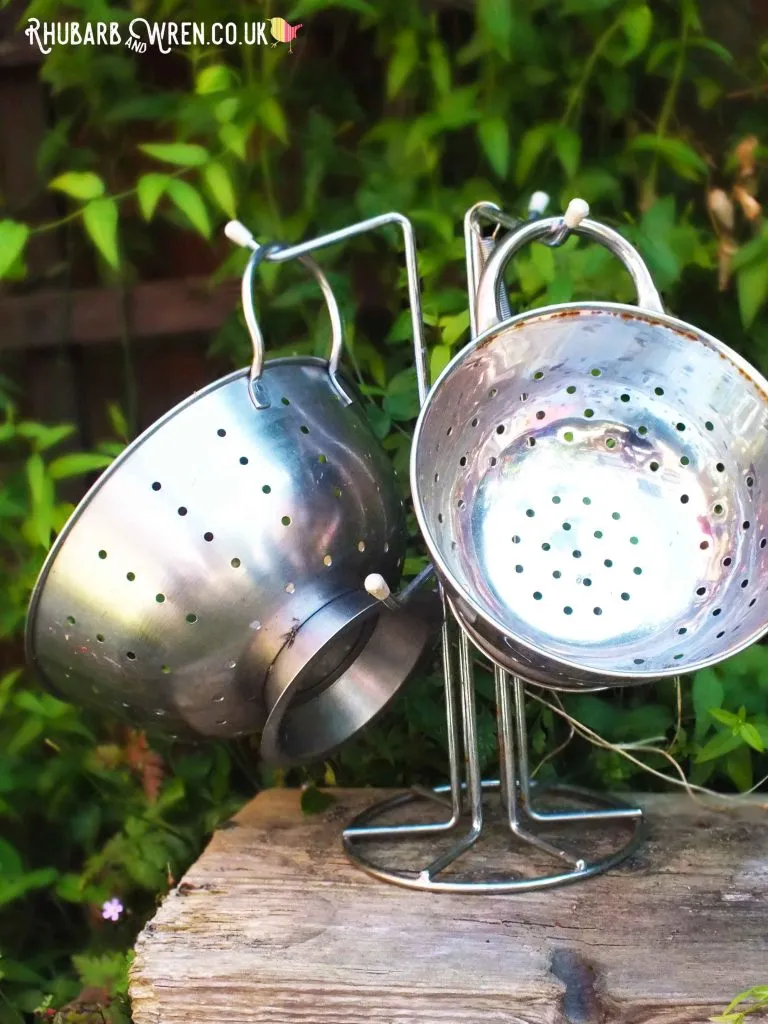 Playtime!
And, for today, that's about it! Don't stress the details – this is about getting the kids out and playing with their mud kitchen today. There are many more things you can do and add that will increase your children's enjoyment, but what I've described above is more than enough to give your kids a marvellous time.
So once you've completed your set up, take the kids outside and play with them a while – if they're new to mud kitchens, they'll need to see you mix up a nice cup of dirt tea (see what I did there?!) or a bowl of mud soup; or maybe sculpt and decorate a sticky mud pudding… Get dirty with them, and they will have the best time with their new mud kitchen!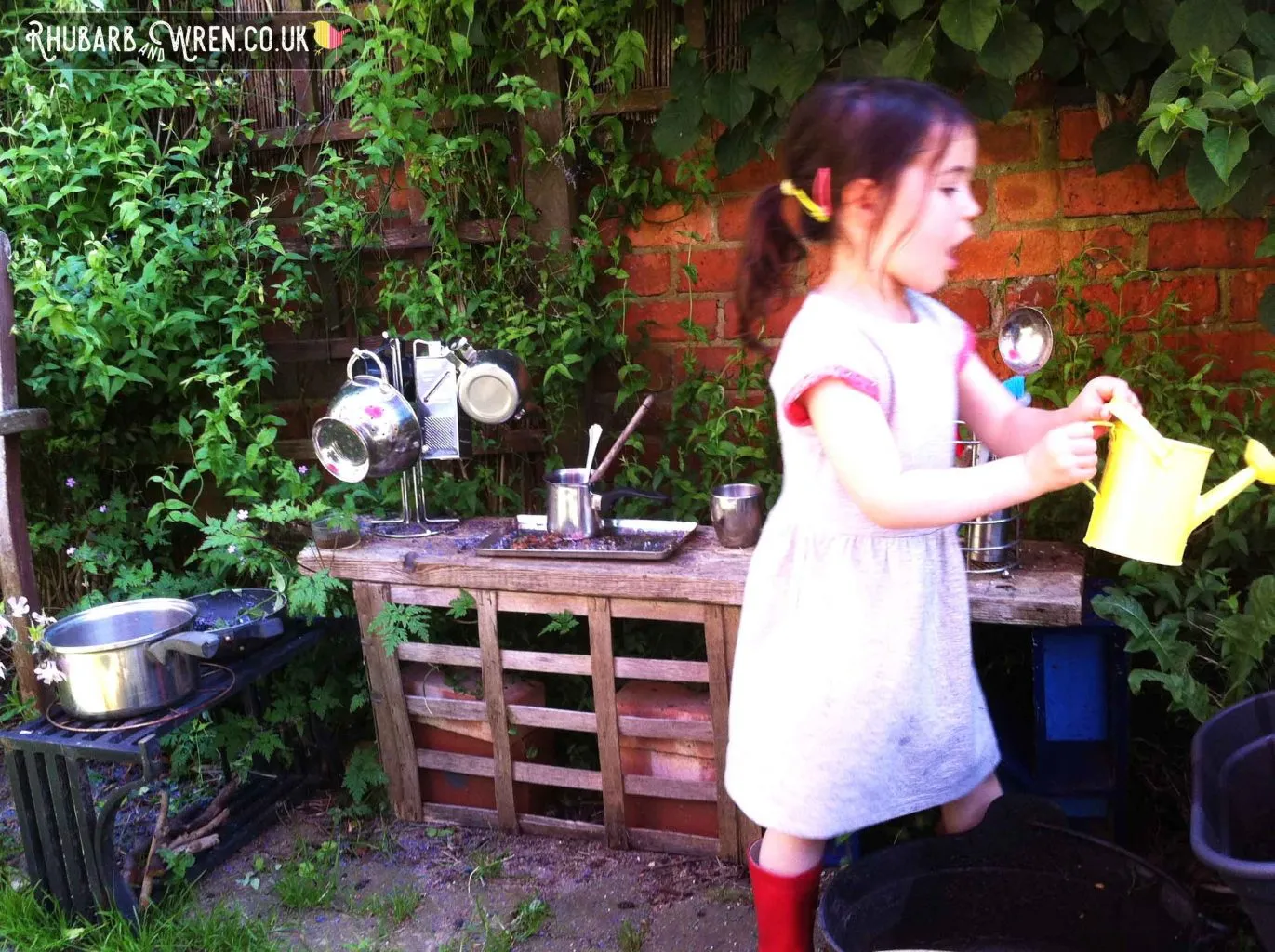 ---
Store Bought Supplies
I honestly believe that pretty much any parent will have what they need to get their kids out and playing with a rough 'n' ready 'n' utterly brilliant mud kitchen without buying anything special. But if you are looking for a few extra bits for your kids and you don't want to sacrifice stuff from your own kitchen or trawl the local charity shops, here are a few things that I would recommend.
These are affiliate links so if you click through and buy, I will receive a small amount towards the running of this blog, without adding anything to the amount you pay. Thank you so much for your support!
Muddy Reading
These books make a fabulous follow up or introduction to mud kitchen play. Very different, but both most definitely full of dirt.
| | |
| --- | --- |
| This is one of our favourite kids' books and makes for a great gift as it's so very pretty! Just as beautifully illustrated inside, and written with the serious mud kitchen chef in mind. Lot's of fun ideas for mud kitchen recipes in this. | An ode to muddy hands and feet, brown earth, and new grass. A fun, muddy read after a hard day working in the mud kitchen! Simple text and colourful images make this one suitable for kids of all ages, whereas very young kids probably won't fully appreciate the recipe book until they're older. |
Pots, Pans and Utensils
Want some basic pots and pans but short on space and time? Personally I think 'real', grown-up pots and pans add a certain something to mud kitchen play, but these toy versions make a practical alternative if you are short on space, and being stainless steel will stand up well to mud kitchen play.
| | |
| --- | --- |
| Melissa and Doug's brilliant Stainless Steel kitchen set contains a kid-size colander, a pot with lid, two saucepans, and two wooden utensils. There's also a handy storage rack that is a great way to organise the equipment out in the mud kitchen, and will save you finding something to put all the bits on! This gets my vote as the best pan set for mud kitchens if you're looking for an instant fix. | If the wooden spoons that come with the pan set aren't enough for you, Melissa and Dough also do this set of seven cooking utensils in another handy storage container. Smaller versions of the real thing, these are a good size for very little kids especially, and will obviously work well with the pots and pans set. |
Tidy up Time
And let's not forget clean-up! Give kids the tools to tidy up after themselves and it will become part of their play, while also building great habits for the future…
| | |
| --- | --- |
| Give them their own scrubbing brush for the garden that can live with their mud kitchen stuff. Then they'll be more likely to use it after (or during) play. | After they've scrubbed their pots clean, they'll need somewhere to put them. These sink baskets on feet are an easy solution as they can stand on the ground and just be piled up with wet pots as the kids clean them. |

Proper mud kitchen clean up almost always requires the use of a broom. This great child-sized one
will allow them to do the work themselves – they'll love it, trust me!


A bucket to carry their water, whether for washing up or for mixing in their mud kitchen. This one is a squat shape specially designed to be easier for kids to carry and harder for them to knock over. Bonus!
---
More from Rhubarb and Wren
Looking for more play ideas? Have a look at some of these other entries for some fabulous ways to bring nature into playtime!
---
Pin this for later!
Want to bookmark this post for later? Save it to Pinterest!