'The Bog Baby' by Jeanne Willis and Gwen Millward is one of our favourite picture books. It is a rare beast that captivates both my seven-year boy and my three-year old girl time and time again.
I couldn't count how many times we've read this, yet it still brings a tear to my eye too. But in a good way!!
Forest play
An enchanting and beautifully illustrated story, 'The Bog Baby' is about two sisters who sneak off on a forbidden trip. They head to a pond in a bluebell wood to fish for newts, but catch a bog baby instead.
Small and blue, with wings like a dragon, the sisters fall in love with this magical little creature. Unable to resist, they take him home to care for in secret.
And at first, it's all great fun.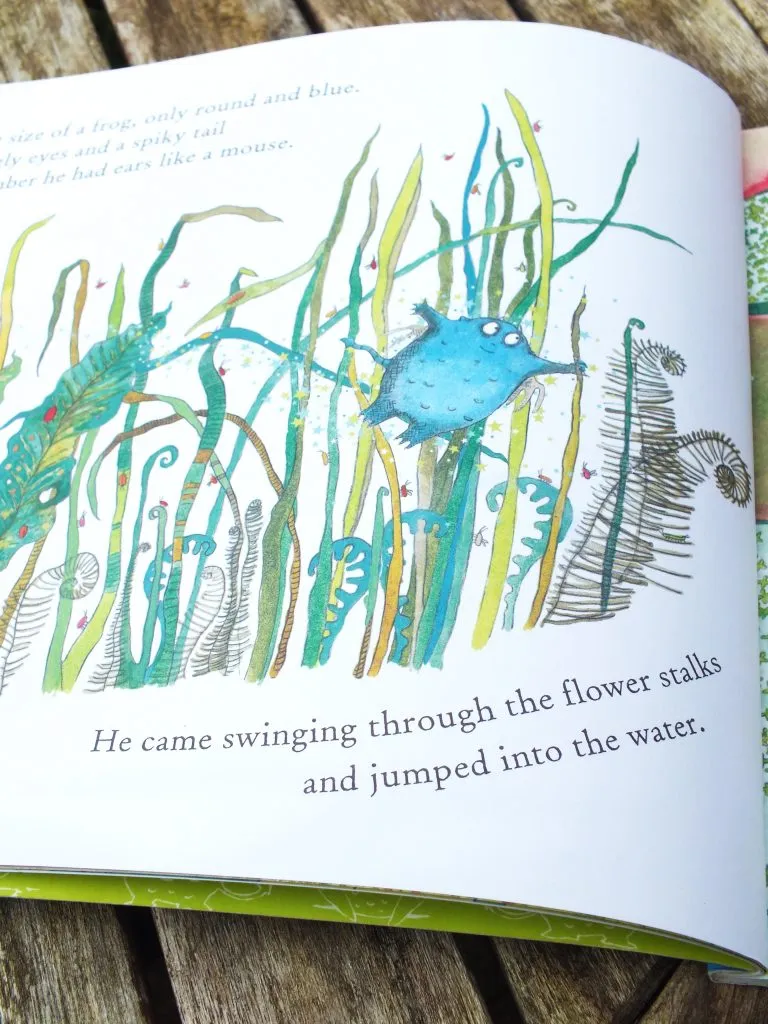 Wild at heart
But the bog baby is a wild thing and, kept in a bucket and fed on cake crumbs, he begins to pine away.
The girls must choose whether to keep their secret or admit their original naughtiness to their mother and ask for help saving their beloved pet.
This is when they learn that hardest lesson; loving something sometimes means letting it go.
Perfectly capturing the matter-of-fact, innocent voice of young children, the story is simply narrated by the youngest sister (sweetly illustrated in her red pinafore and wellies). She starts the story telling us that "Long ago, when we were little, me and Chrissy did something bad."
Tales of naughtiness
My kids, like most I know, adore tales of naughtiness. There's one in particular that they both love. It involves their mother-as-a-child and the big, red, 'stop' button on a Parisian department-store escalator…
So this admission of guilt from the sisters hooks my kids right from the beginning.
The narrator, making us co-conspirators after the event, then tells us exactly what bad thing it was they'd done.
"We said we were going to Annie's house to play, but we didn't."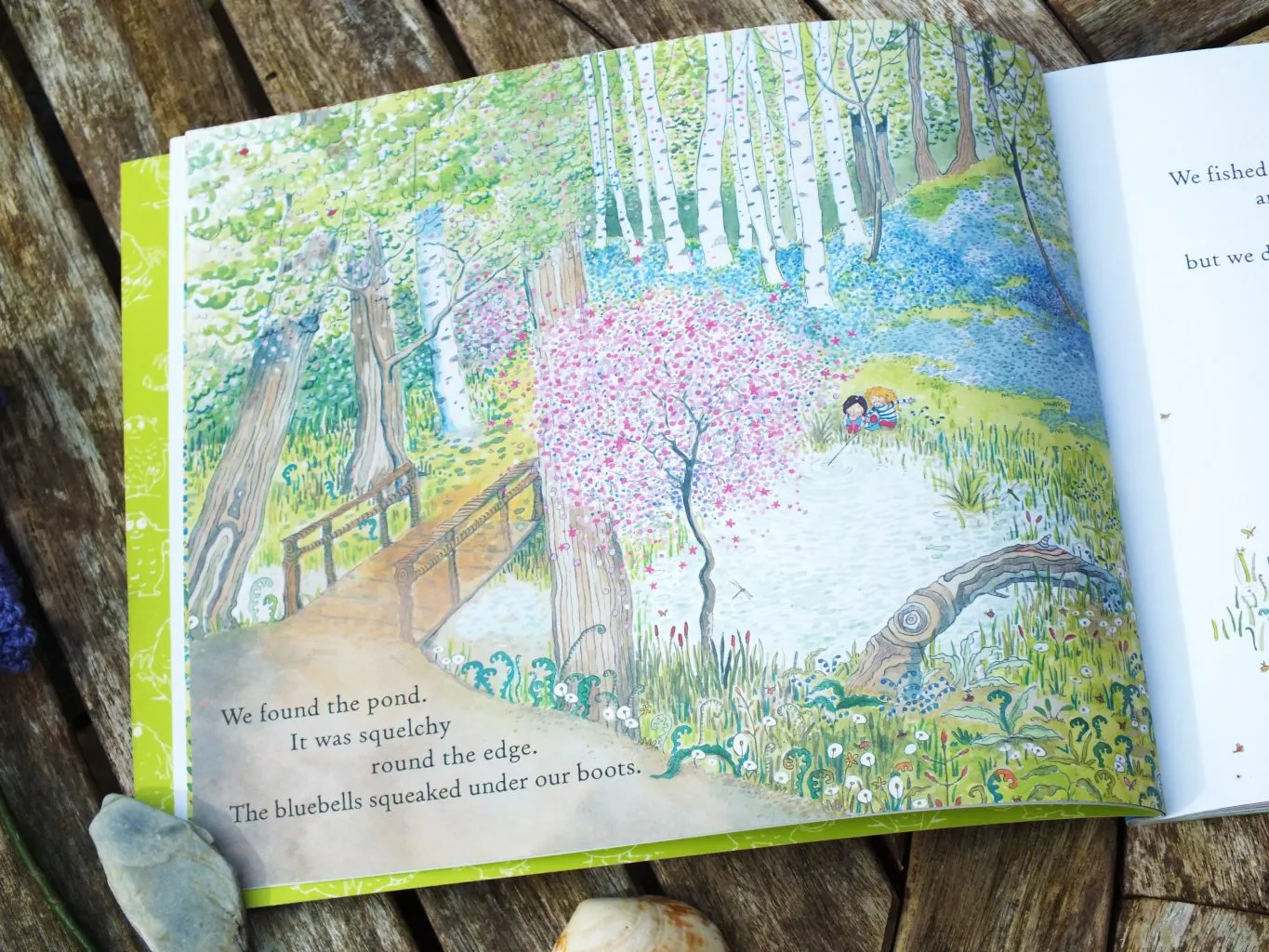 What they did instead, of course, was head into the spring-time woods for a fishing trip.
But this first lie (which has been known to bring gasps of outrage from my extremely honest son, though not from his more pragmatic sister) has consequences. And the girls discover this later on, when they realise they need help caring for the bog baby.
Consequences
It's one of the many great talking points in the book. Was it wrong to lie? Why was fishing in the woods forbidden? How did the sisters feel about it when they finally told their mum? Yet the situation emerges very naturally and conversationally as part of the story.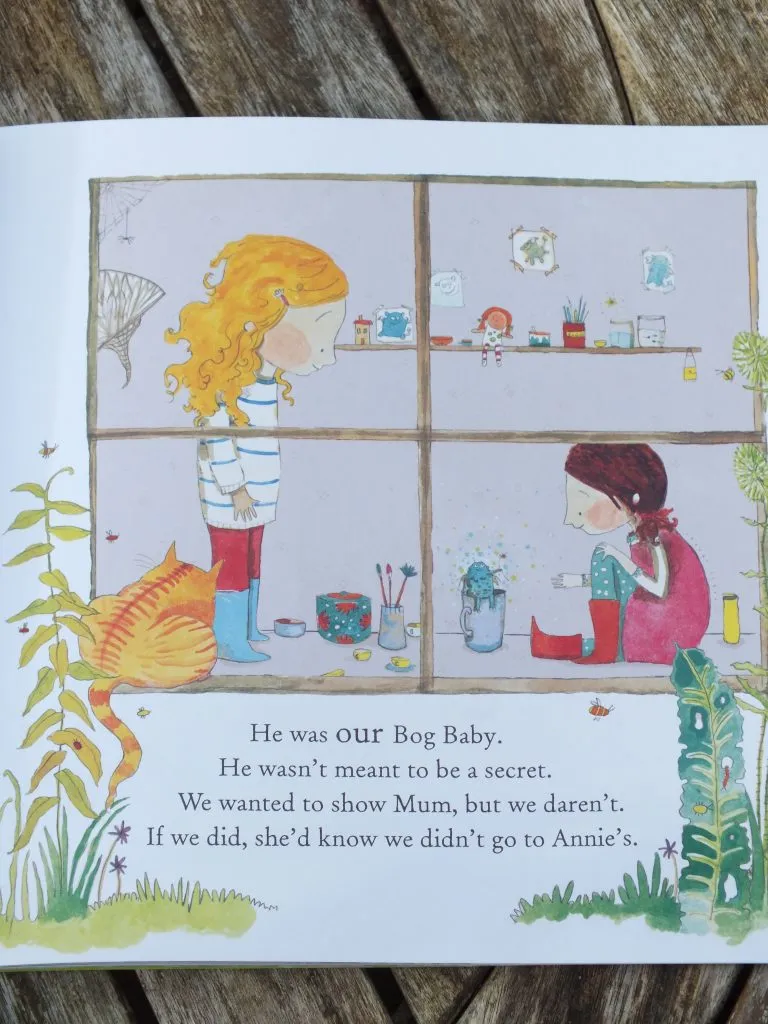 This is also a great book to get kids thinking about the needs of wild creatures, and what it means to be free.
The bog baby itself is of course a fantastical and purely magical creature, and that allows Willis and the illustrator, Gwen Millward to give it a range of very human expressions that help children empathise with its predicament even as they might still identify with the mischievous sisters.
Responding with bewildered calm to its' abduction, the bog baby is only ever gentle, and seems to bond with its' new owners.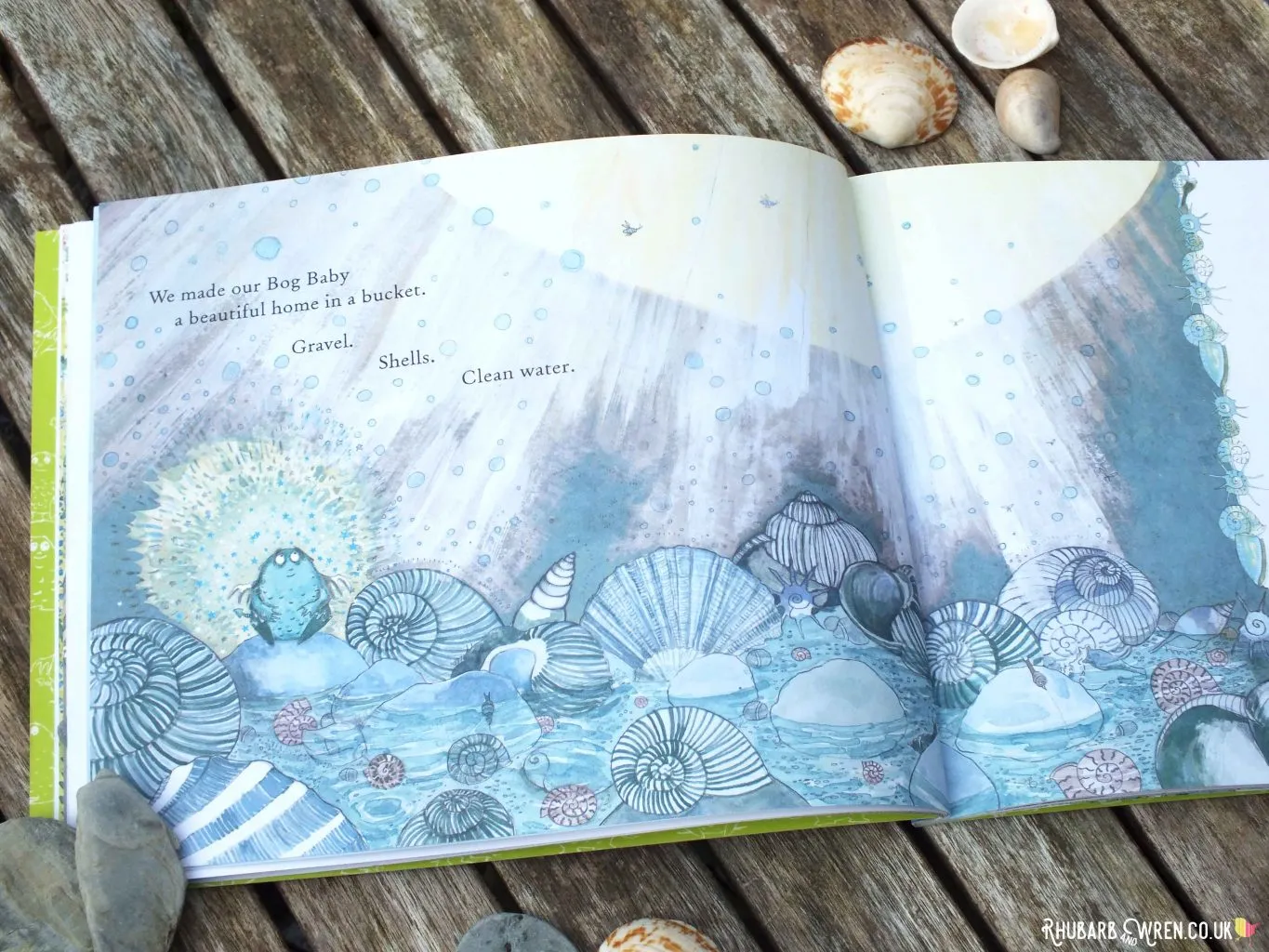 But trips to the school in a margarine tub or walks on the end of a leash can't compare to floating free in a muddy pond, sucking its toes.
The bucket home that the girls decorate for it is very nice, but my children were quick to understand, as I think most kids would, that this can't compare to what the bog baby has lost.
Bog babies aren't meant, after all, to live in buckets or eat cake crumbs.
Words and pictures
This is a very gentle and beautiful book. It has just a touch of melancholy, leavened by humour. And thankfully it also has a happy end.
There are some simple but profound messages on freedom and responsibility, secrets and the consequences of actions. These are all handled in a forthright way that makes it all just part of the story. The Bog Baby never falls into the trap of seeming overly preachy.
And while the illustrations are undeniably stunning, the story is also masterfully written. Little details like the squeaking of the bluebells underfoot evoke the whole sensory experience of the woods. But the text is spare enough to avoid drowning the story in unnecessary words.
And overall, the language is simplistic enough to evoke childhood without being patronising. This makes the text easily accessible even for very young children like T-Bird. But also having enough depth to satisfy older kids like her avid-reader big brother too.
'The Bog Baby' is quite honestly one of my all time favourite kids' books (and I've read an awful lot of them!). But of course, more tellingly and importantly, it's also one of my kids' favourites too.
I'm happy with that. I hope the magic stays with them until they're old enough to tell their own children about bog babies.
And when T-bird and I go pond dipping next week, I know what we'll both be hoping to find. Though e we know we'd need to let it go again straight afterwards, no matter how much we might want to keep it.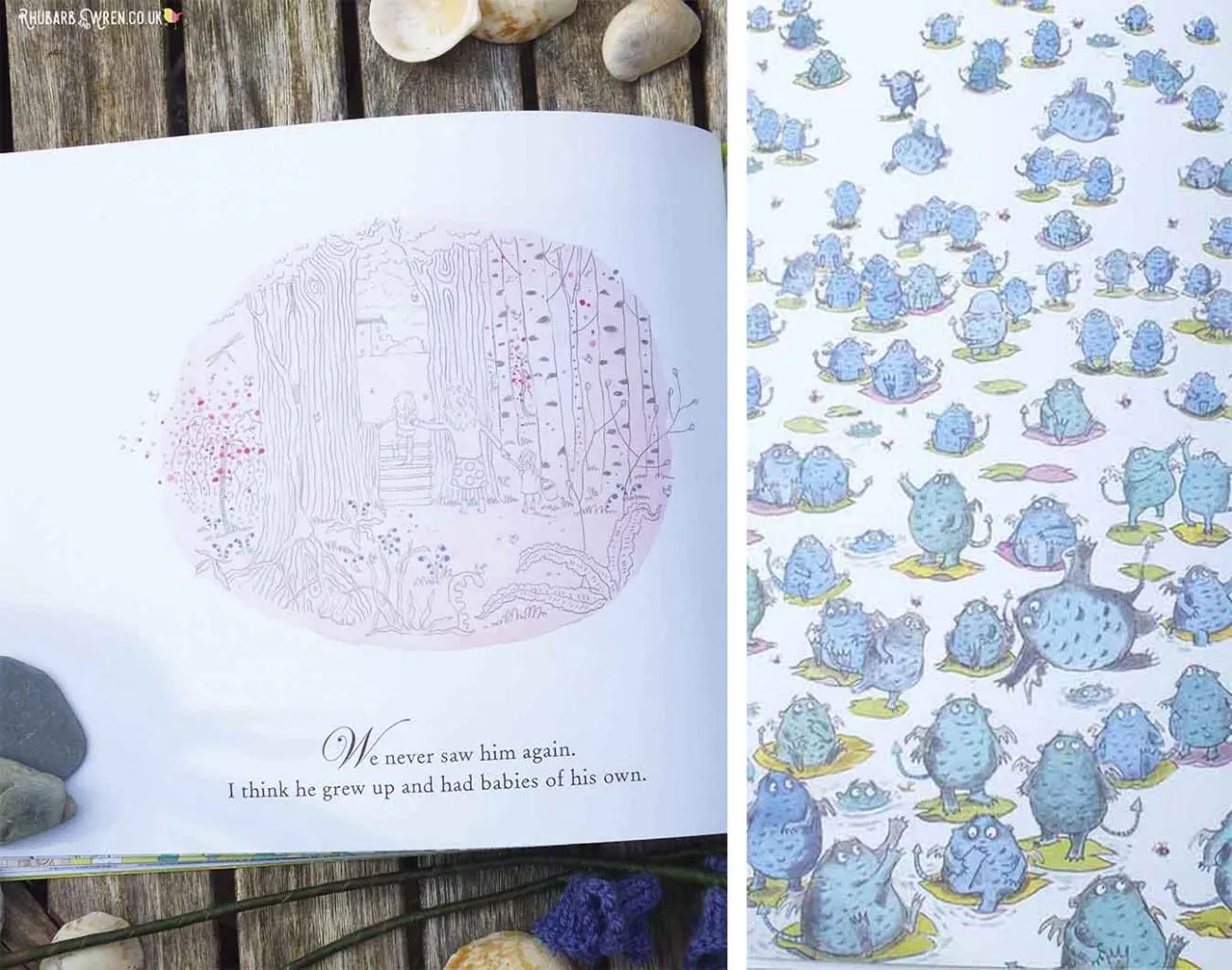 ---
If you'd like to get your own copy of 'The Bog Baby', the images below will take you to Amazon. Check out Jeanne Willis and Gwen Millward's other magical collaboration too: 'The King of Tiny Things'.
These are affiliate links. This means if you click through and purchase, I will receive a (tadpole sized!) amount towards the running of this website. It doesn't add anything at all to the cost you pay. Thank you so much for your support!
Already have a copy? Check out our charming 'home-made play dough bog baby kit' to see how we mixed up our own play dough and accessories for some bog baby creations.
For more about these great authors, check out their own websites:
Gwen Millward (illustrator)
Jeanne Willis (Writer)
Jeanne Willis' website has a dedicated section on the Bog Baby, with a lovely gallery of bog baby drawings by children and a 'Guide to finding Bog Babies – Hints and Tips' sheet, as well as a printable 'Bog Baby Survey Form' to fill in with kids and send in to the publishers, Puffin (UK).
---
If you've enjoyed reading this, why not check out one of our other bookish activities?
---