Find out how to make these simple yet beautify little air-dry clay leaf bowls with this quick tutorial. This is such a simple activity that I even do it with preschool and primary age children at my forest school sessions. And yet, while it is so easy to do, the results are spectacular!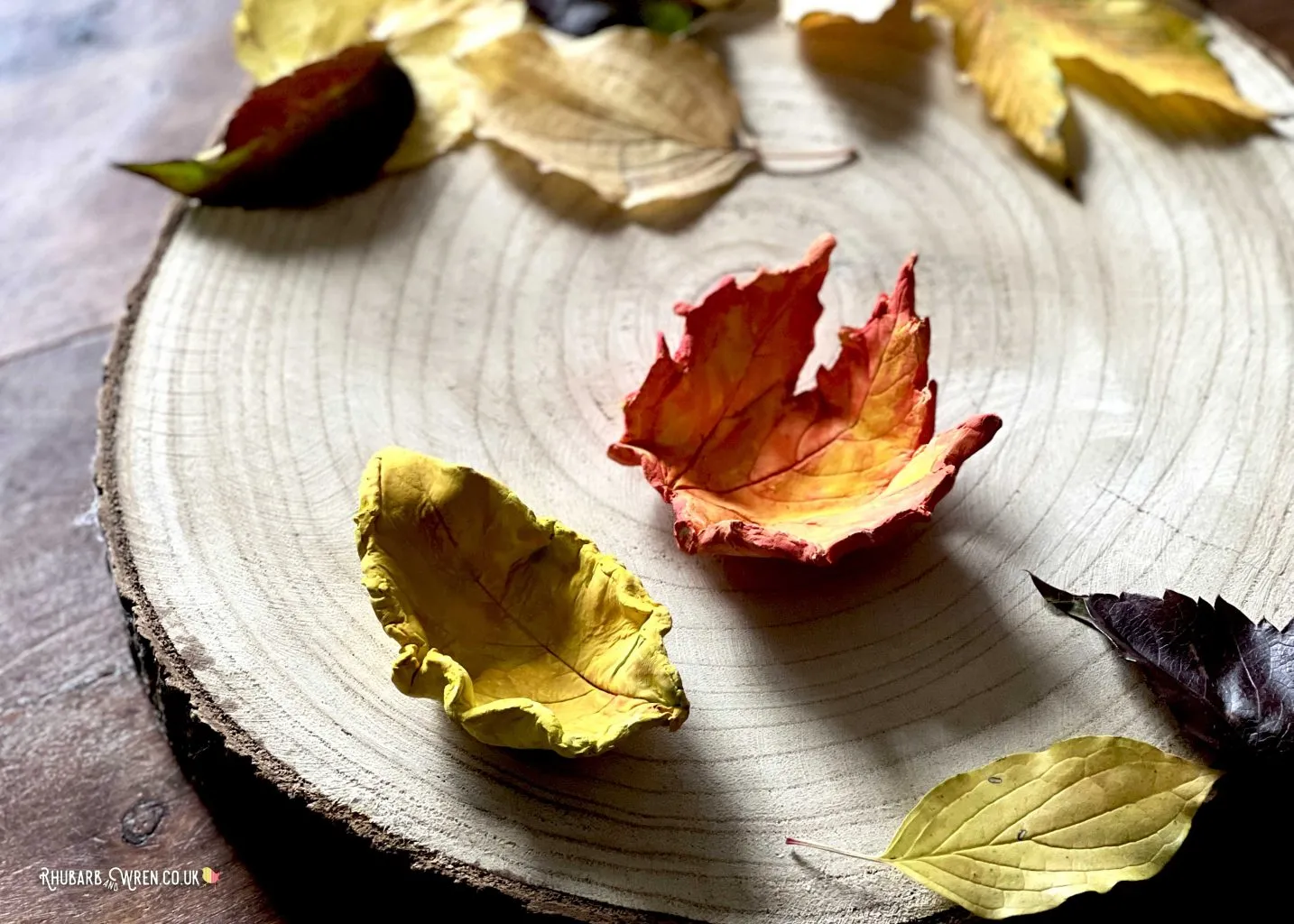 Not got much time or just want the bullet points on how to make these? Click here for the Quick Read Instructions.
You can tell that I'm a child of the eighties, because when I was a kid we didn't make lovely, nature-inspired leaf bowls out of clay. We made big, ugly, ashtrays (even though my parents never smoked). Times have changed – thank goodness! – and these little beauties make much more appropriate keepsakes.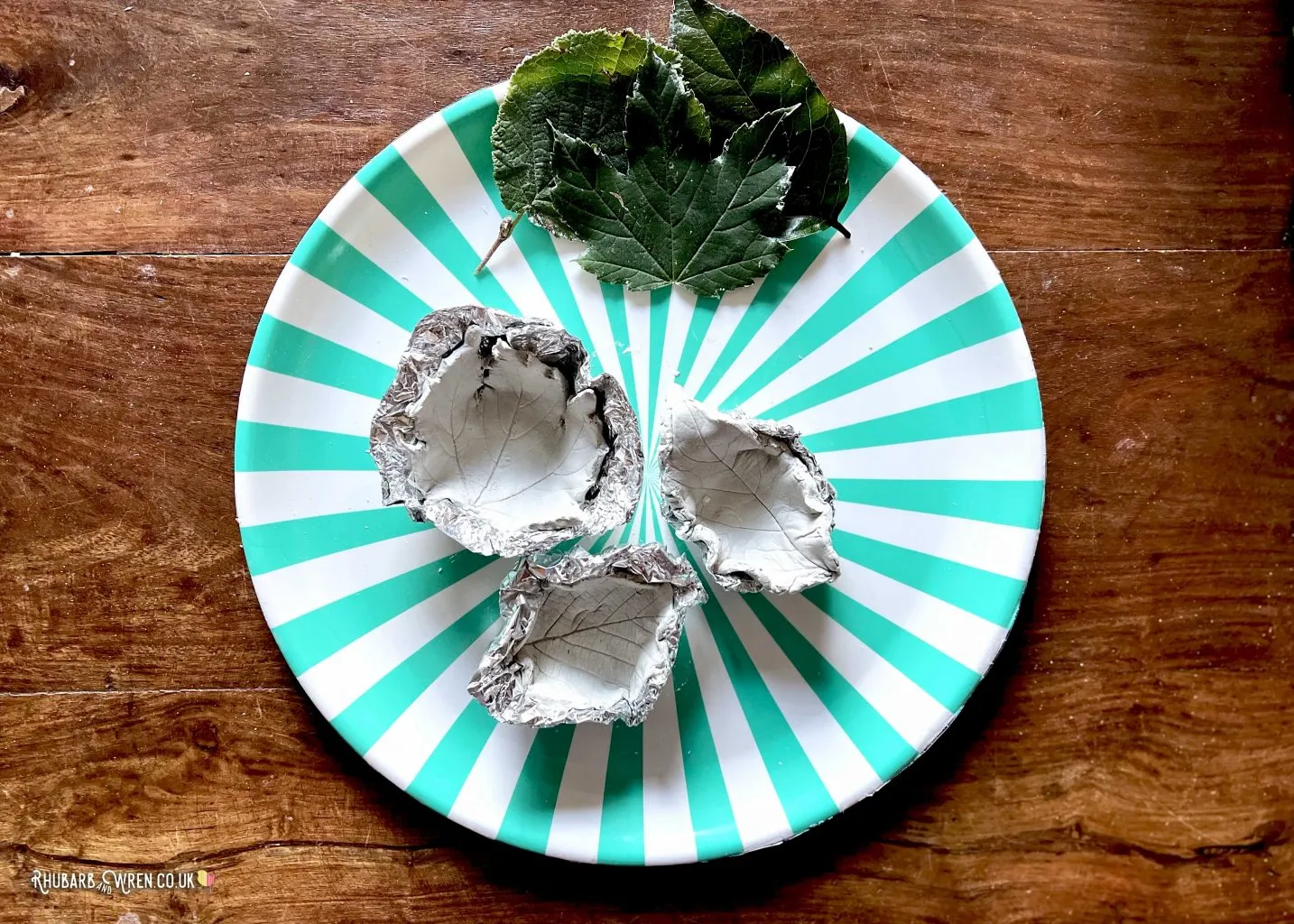 Make these air-dry clay leaf bowls in the spring, summer, or autumn. They are great way of getting children to look really closely at leaves. While you are making them, have a chat about why leaves change colour in the autumn, or how leaves feed the trees they grown on.
How to make air dry clay leaf bowls
I tend to make these bowls using air-dry clay, because I'll be making them with fifty or sixty children over the course of a day and life is too short to make that much salt dough. However, salt dough is absolutely something you could use to make these instead.
This post uses affiliate links, which means I receive a small amount when you click through to a link and buy. You can find out more on my 'about affiliate links' page.
Materials needed
DIY leaf bowl instructions
1. Find a leaf that has a nice shape and is about the size you want your bowl to be. You can use any type of leaf, though you'll get the best result from ones with prominent veins.
2. Fold a piece of kitchen foil to a rectangle or square that is slightly bigger than your chosen leaf. You will need the foil to be two or three layers thick, so that it is strong enough to support the clay later.
3. Take a ball of clay and roll it out flat on top of the foil. The flattened clay should be between 5mm – 1cm (1/2 inch) thick.
Making a Leaf Print
4. Press your leaf onto the clay. You will probably find the veins stick out more on the back of the leaf, so try pressing that side down into the clay to get the clearest print.
5. Go over the leaf with the rolling pin, to really push it into the clay. Be careful not to flatten your clay too much though.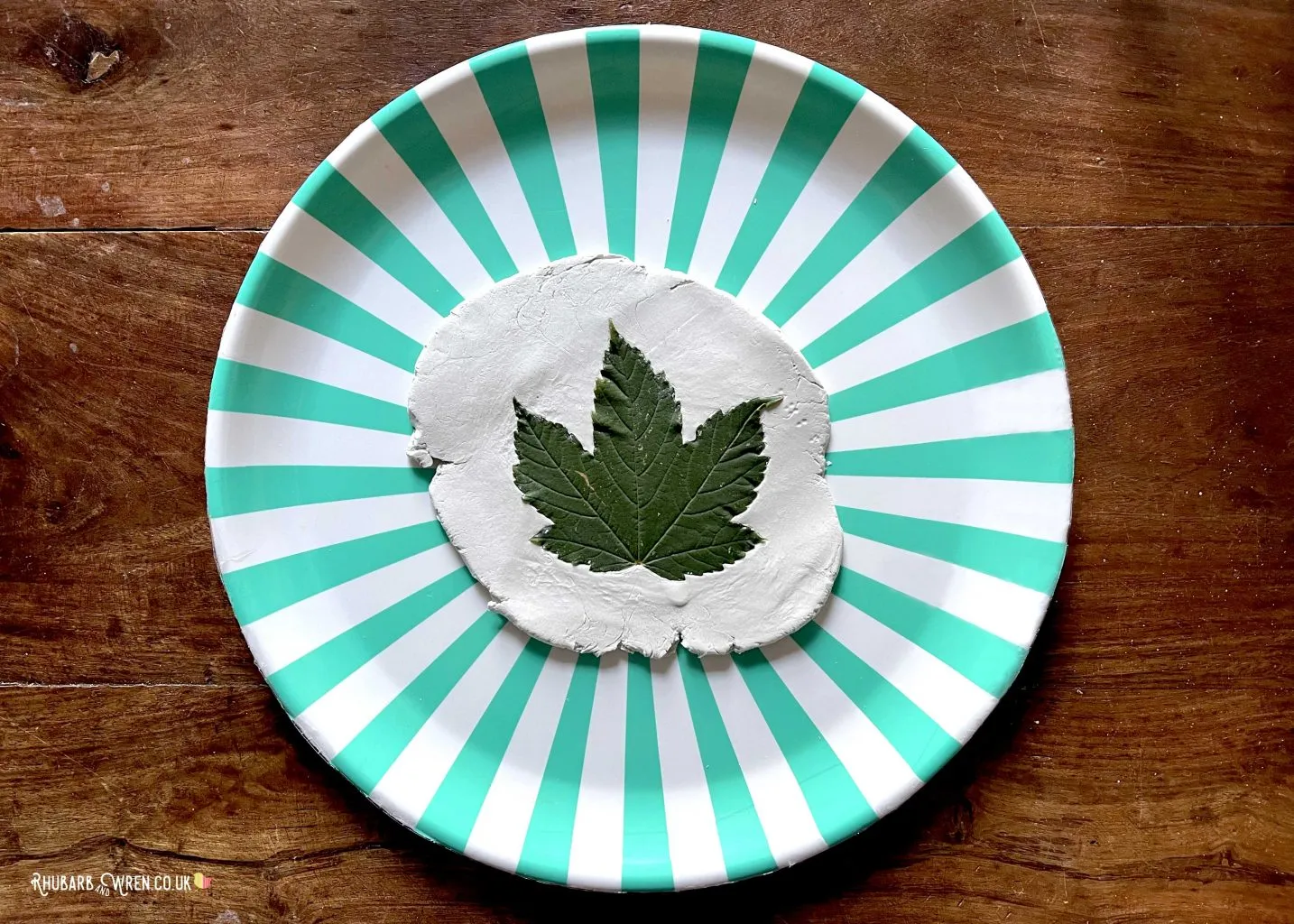 Leave the leaf in place for the next few steps, as this will help prevent you accidentally pressing into the clay and smudging the leaf pattern with your fingerprints.
Cutting out your leaf
6. Cut around the leaf with a clay tool or a knife, and pull away the excess clay. Once you have the leaf cut out, neaten up the edges with your tool or fingers.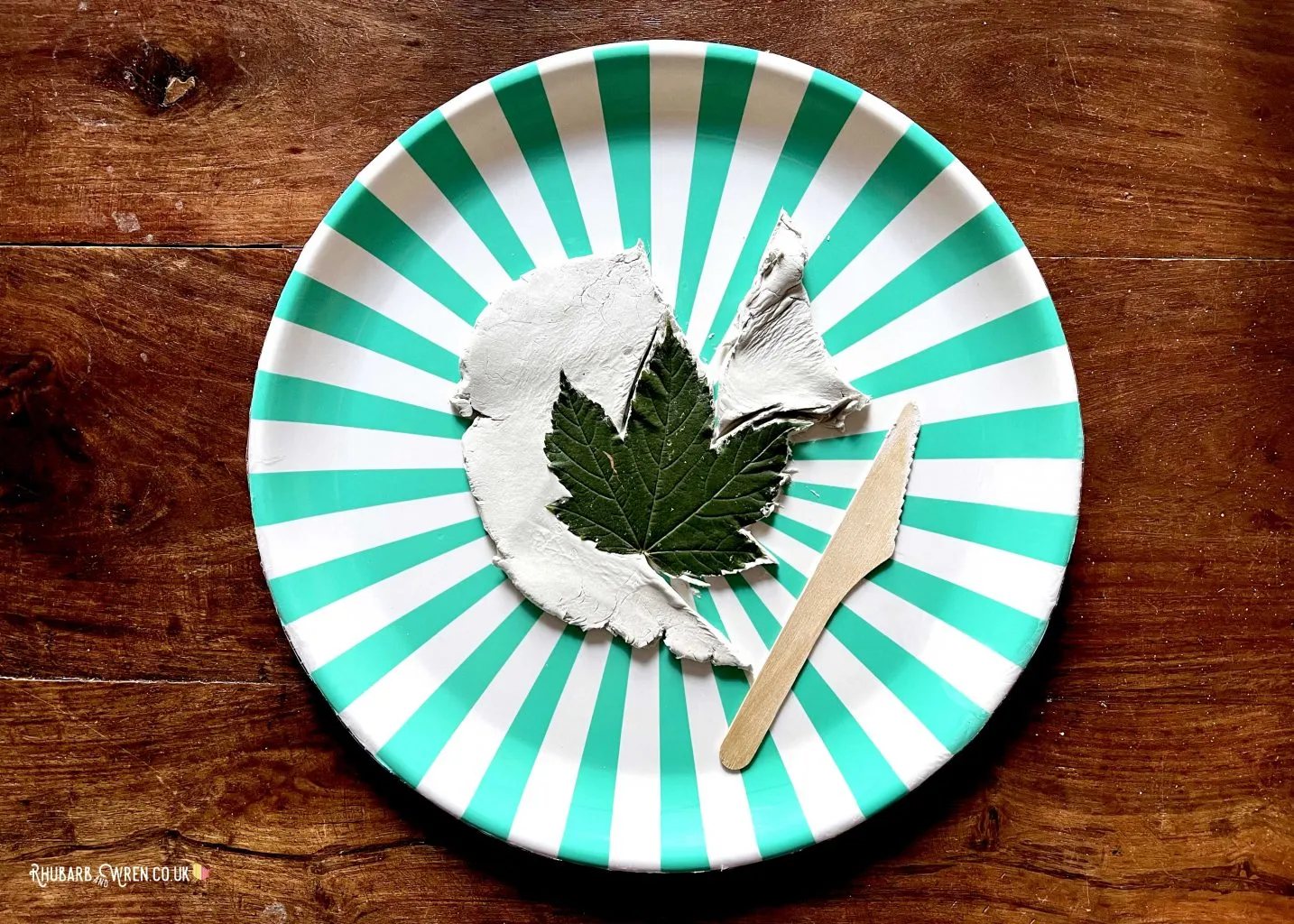 If you are working with very young children, then you could skip this step and use a circle cutter instead.
7. Gently fold up the edges of your leaf (and the tin foil it is resting on) to make a bowl shape. The tin foil will support the clay to hold it in position.
Experiment with the shape to get something organic-looking. Don't go for perfect symmetry, but instead try bending some points down or up in more natural curls.
Drying time…
8. Once you have your leaf bowl shape exactly right, peel away the leaf. And now all that's left to do is to leave it in a warm, dry, place to harden. It should take about 2 – 3 days for the clay to dry out completely.
Once your bowl is dry and hard, you can paint and varnish it…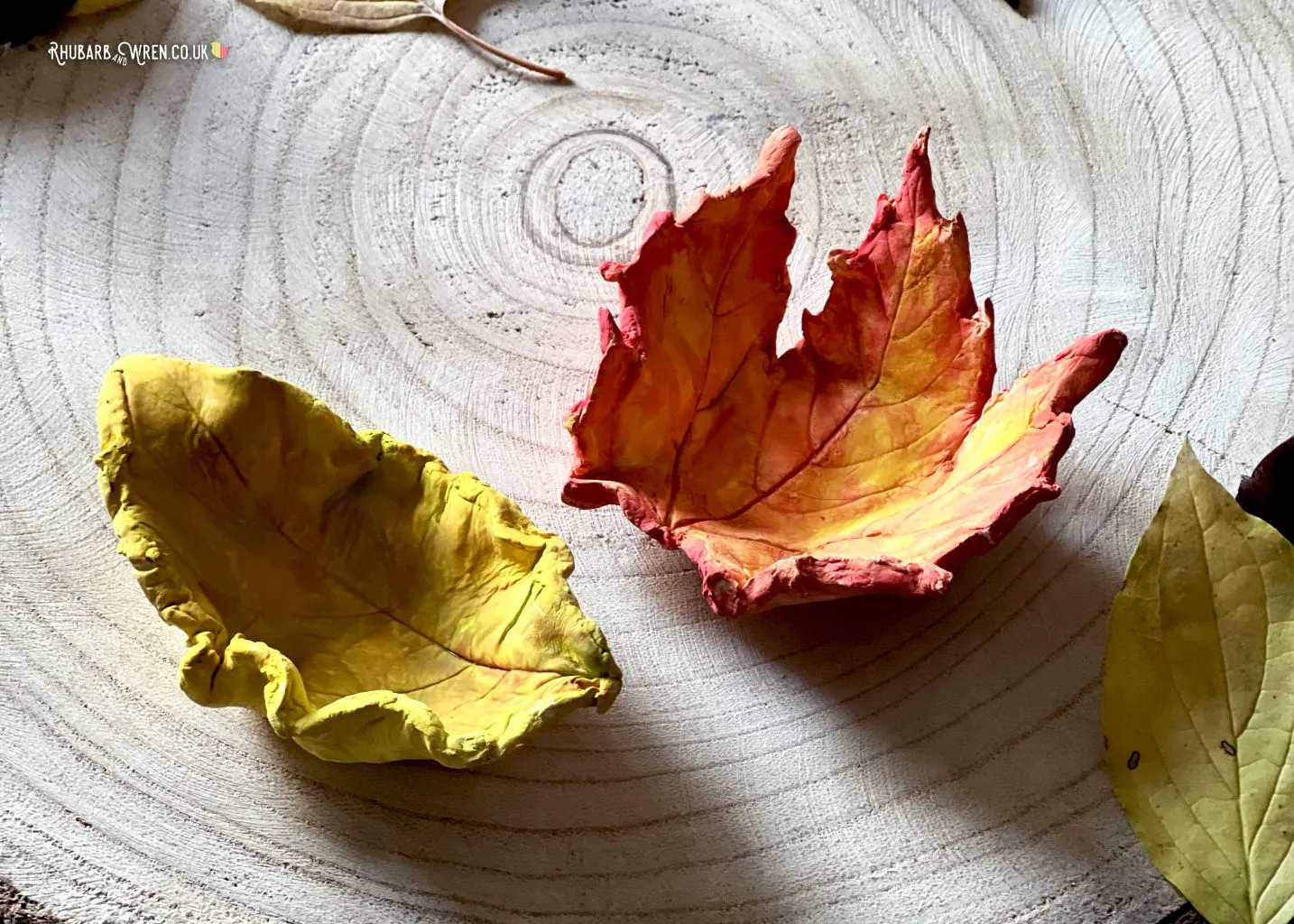 …or just leave it as it is.
---
More from Rhubarb and Wren
Looking for more fun things to make and do with the kids? Then check out these great activities from Rhubarb and Wren!
Pin how to make air-dry clay leaf bowls for later!
Want to bookmark this for later? Save this post to Pinterest!
---
Air-Dry Clay Leaf Bowls Quick-Read Instructions
For when you just want to get right to the point…

Materials needed:
(these are all Amazon affiliate links – see my 'About Affiliate links' page for more information)
Air dry clay (salt dough also works)
Leaves
Rolling pin
Clay cutting tool or knife
Kitchen foil

Method:
1. Find a leaf with a nice shape, and that is the size you want your bowl to be.
2. Fold a piece of tin foil into a square just bigger than the leaf.
3. Place a ball of clay on the tin foil and roll flat, to about 5 – 10mm (1/2 inch) thick.
4. Lay your leaf on the clay and use a rolling pin to press it firmly down.
5. Cut round your leaf with a clay tool or knife, and remove the excess clay.
6. Gently mould the leaf and foil into a bowl shape.
7. Once the shape is exactly right, remove the leaf.
8. Leave in a warm, dry, place for 2 – 3 days, for the clay to harden.
9. Once the clay is dried out, you can paint and varnish it or just leave it as it is.

Hints and Tips:
If your clay is hard and sticky, roll it into a ball and knead it for a few minutes to soften it before you use it.
Use a leaf with prominent veins to get the best print
Don't use a leaf that is too dry, or it might get stuck in the clay. Fresh leaves peel off easily.