This sweet pinecone robin makes a lovely, forest school inspired Christmas decoration, and is easy enough for even very small children to make. This Christmas nature activity is pefect for a forest school session, or for some home crafting after a winter walk.
Not got much time or just want the bullet points on how to make these? Click here for the Quick Read Instructions.
How to make a robin from a pinecone
Whether you're looking for Christmas forest school activities or Christmas nature crafts to do with the kids, this cute little pinecone robin is wonderfully easy to make. Making this pinecone robin at home, my children and I used Christmassy kitchen spices such as cinnamon, cloves, and allspice to make embellishments. So our robins not only looked good, they also smelled lovely too!
When I've done this as a Christmas forest school craft, the children have had great fun finding suitable materials to use to decorate their robins. Torn yellow leaves make great beaks, and there are all sorts of bits that can be used as eyes.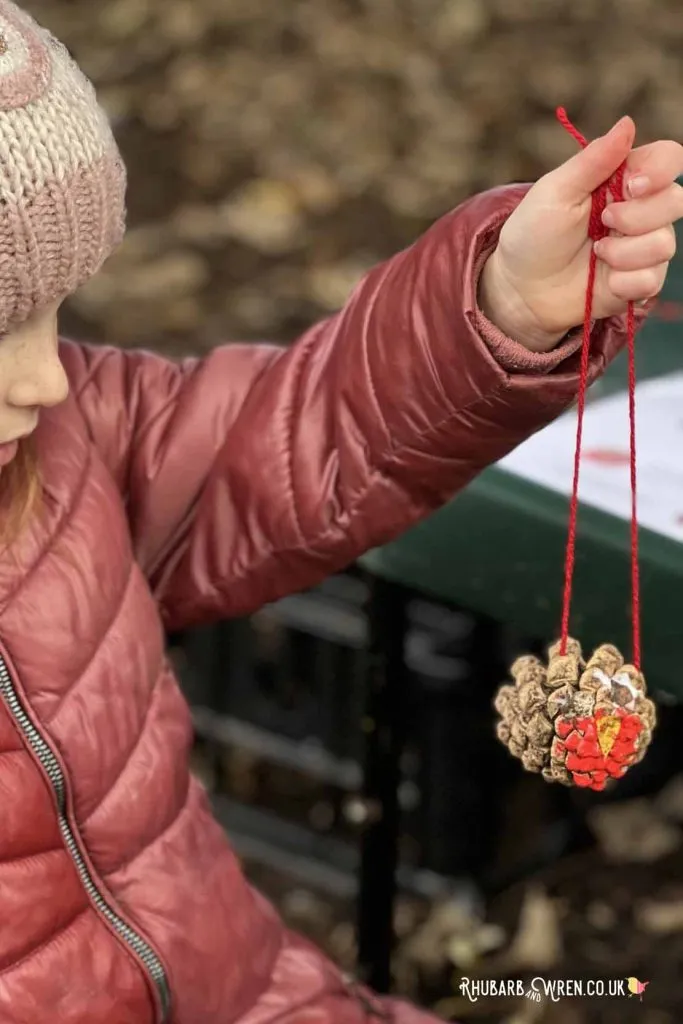 As the pinecones in our area have often dropped long before Christmas, I usually provide a big bag of these for the children to use. So having something else to hunt for is a great way of keeping them active and engaged with their surroundings.
Materials needed to make a pinecone robin
This post uses affiliate links, which means I receive a small amount when you click through to a link and buy. You can find out more on my 'about affiliate links' page.
Pinecone
Red paint
PVA/white glue
Kitchen spices or bits of twigs and leaves
String
Pinecone Robin Instructions
1. Start by tying some string around your pinecone, so that it hangs sideways (as shown).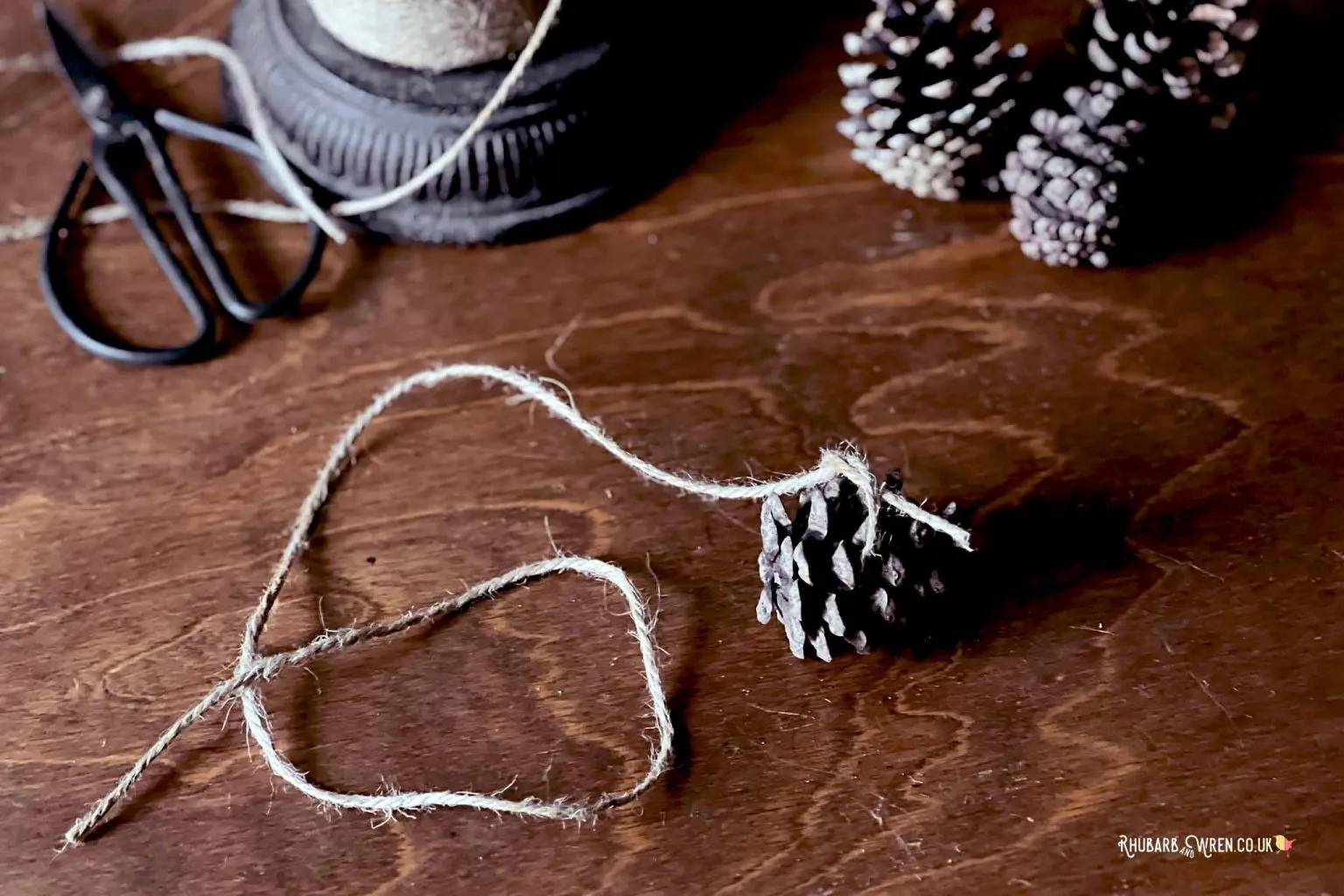 2. Paint the flat bottom of the pinecone with red paint, to create the robin's red breast. Look at a picture of a robin to see what this should look like – notice that the red goes all the way up to the robin's eyes and beak, as well as on their chest.
You should therefore only paint about two thirds of the base red. Leave the top brown.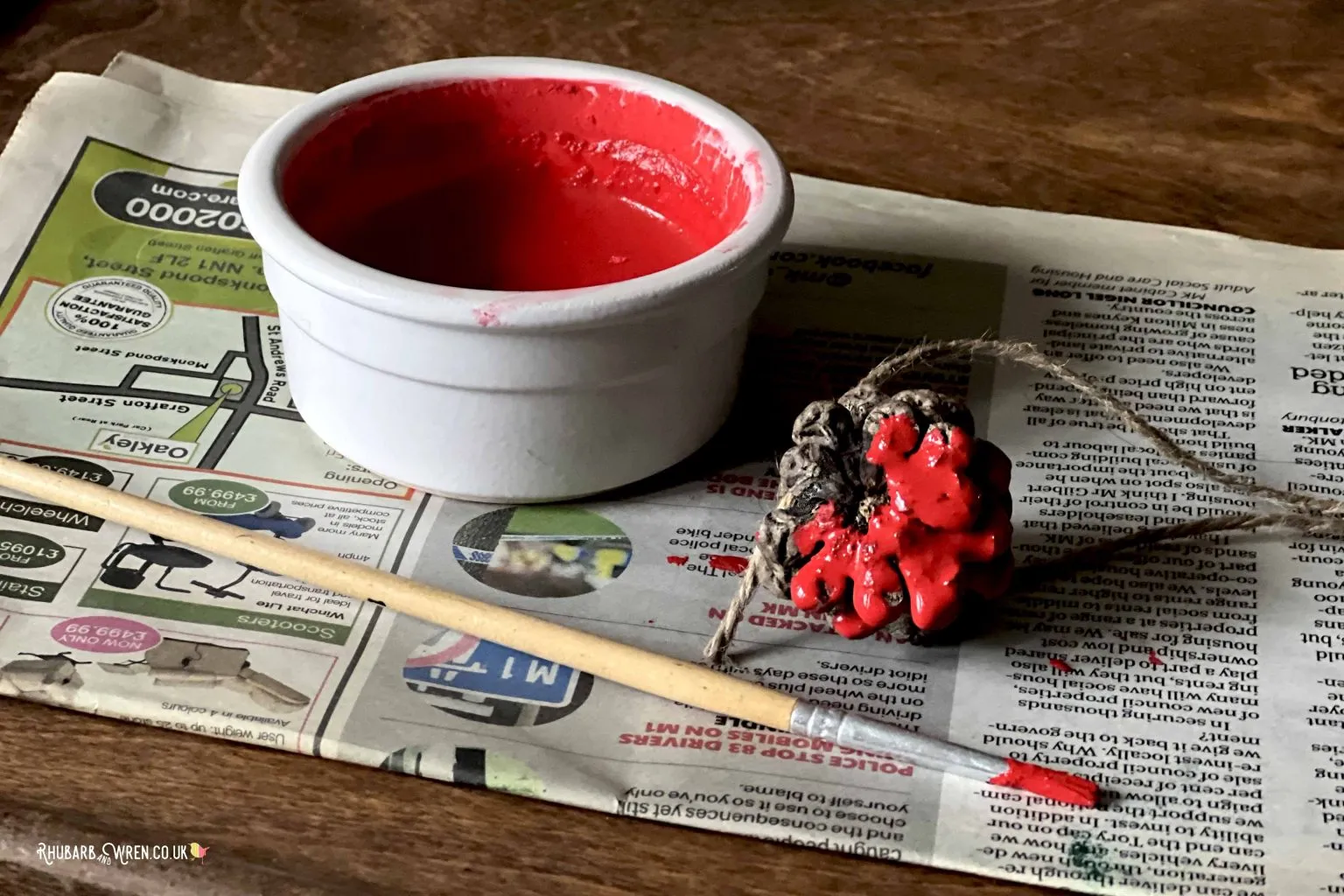 3. Add eyes and a beak. Robins have small, beady, black eyes, so I used peppercorns for my kitchen spice version, and a bit of a cinnamon stick for the beak. When we made these out in the woods during a forest school session, the children foraged for bits of twig, bark, leaves, or seeds instead.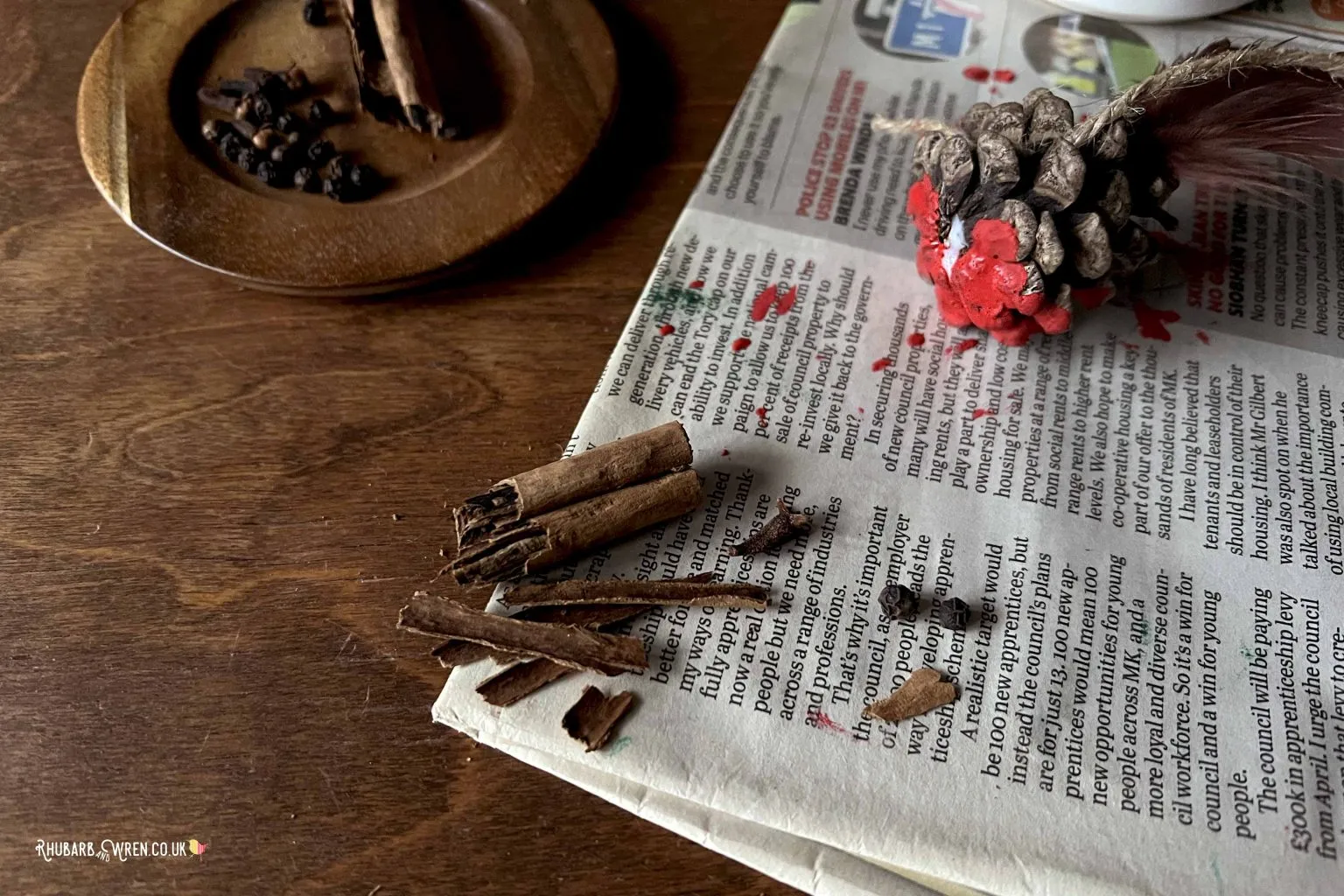 4. Dip the tip of your feather into some white (PVA) glue. Then insert this tip into the pointy end of the pinecone (what was the top). This makes a lovely tail, though you might need to trim it down a little if the feather is too long.
And that's it! Your robin is finished. Now hang it somewhere to dry, and then you can use it as a beautiful little Christmas decoration. You can also make other birds in the same way – just use different colour paint and feathers to capture their colouring.
---
Robin themed picture books
After doing an activity like this, sometimes we'll read a story that ties in with what we were doing. There are lots of fabulous robin story books, but these are my favourites.
This lovely picture book is the perfect robin story for the festive season. It's the sweet story of a robin who gives away all his winter vests to a succession of needy animals, only to be rewarded with a brand new vest made for him by a very special couple…
This edition has new illustrations – I quite liked the old ones (the book is over twenty years old) but this new version is charming as well.
You can of course make pinecone robins at any time of year. This picture book is focused on the coming of winter rather than the festive season, so it makes a great alternative when you don't want it to be all about Christmas.
Coming Home by Michael Morpurgo & Kelly Hyndman
The king of animal stories to tug at your heartstrings, Michael Morpurgo has of course got a robin book. Coming Home follows the return of a robin on a long and dangerous journey to meet up with his mate. While there is a slight hint of Christmas, this one is really about the amazing migration of robins (only some migrate – others are resident here in the UK all year round).
Lastly, and mostly because it was one of my favourite stories growing up. Who could forget the cheeky little robin that helps Mary discover the key to The Secret Garden? This lovely edition is by MinaLima, the award-winning design studio responsible for the graphic design in the Harry Potter films. Full of interactive elements and wonderful illustrations that capture the magic of the story beautifully. Of course, this is a full-length chapter book…
…Luckily there's an equally beautiful picture book version adapted by Geraldine McCaughrean and illustrated by Margarita Kukhtina. This is a great introduction to the story for younger readers.
---
More children's Christmas activities from Rhubarb and Wren
Looking for more fun things to make and do with the kids? Check out these great Christmas activities from Rhubarb and Wren!
---
Pin this pinecone robin tutorial for later!
Want to bookmark this for later? Save this post to Pinterest!
---
How to Make a Pinecone Robin – Quick-Read Instructions
Materials needed:
(these are all Amazon affiliate links – see my 'About Affiliate links' page for more information)
Pinecone
Red paint
PVA/white glue
Kitchen spices or bits of twigs and leaves
String

Method:
1. Tie string around the pinecone so that it hangs horizontally.
2. Paint roughly two thirds of the flat end (the base) with red paint, to make the robin's red breast. Leave the top third brown.
3. Add eyes and a triangle for a beak by gluing on either kitchen spices or bits of leaves and twigs.
4. Dip the tip of a brown feather in white glue, then insert at the pointy end of the pinecone, to make a tail.
5. Hang your robin up to dry – you're done!

Hints and Tips:
Use different colours to make different birds.
Pinecones come in lots of shapes and sizes so use ones that are most appropriate to the bird you want to make.