These flapping butterfly peg automata are a breeze to make, and flap their wings just like the real thing! Using a little bit of paper engineering, card, sticky tape and pegs, you can make all sorts of fantastical beasties. We've gone for real-life butterflies, but you could just as easily make dragons, phoenixes, or spooky vampire bats…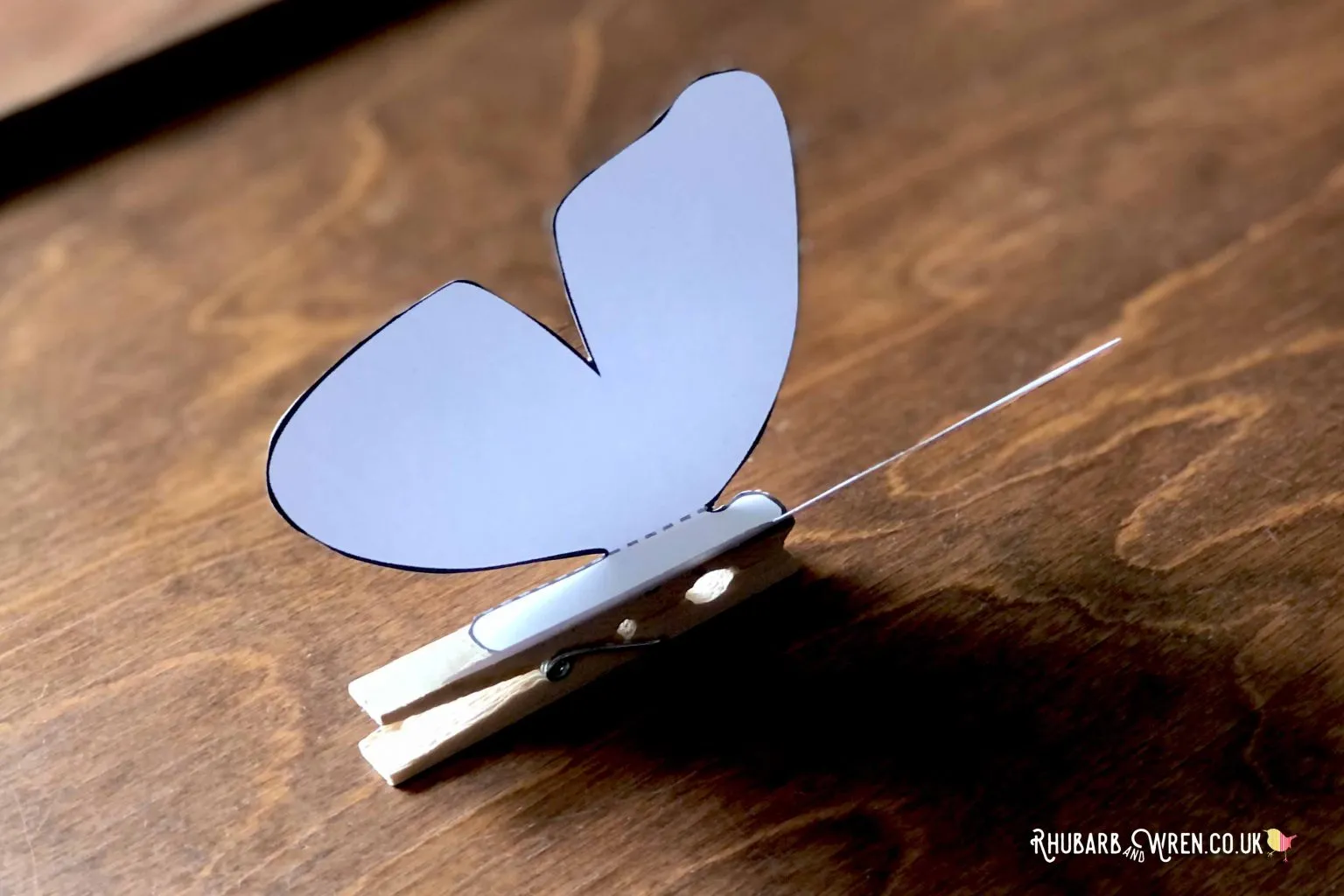 Not got much time or just want the bullet points on how to make these? Click here for the Quick Read Instructions.
Here's a little video of our butterfly in action. We decorated these later, as we were collecting flowers and leaves to make the patterns on the wings. If you are decorating with paint or other colouring materials, you'll probably find it easiest to decorate your butterfly before you stick it to the peg.
Paper engineering and junk model automata
This automata is just one of many easy mechanical marvels that you can make out of paper and card, and ordinary household bits and pieces. Simple machines like these are a really good way of helping children get to grips with basic mechanical engineering concepts such as cams, cranks, gears, and leavers. We've tried out quite a few, and our favourite place for ideas and instructions is the fantastic website of Rob Ives. So if you are looking for more things to make, I highly recommend checking it out.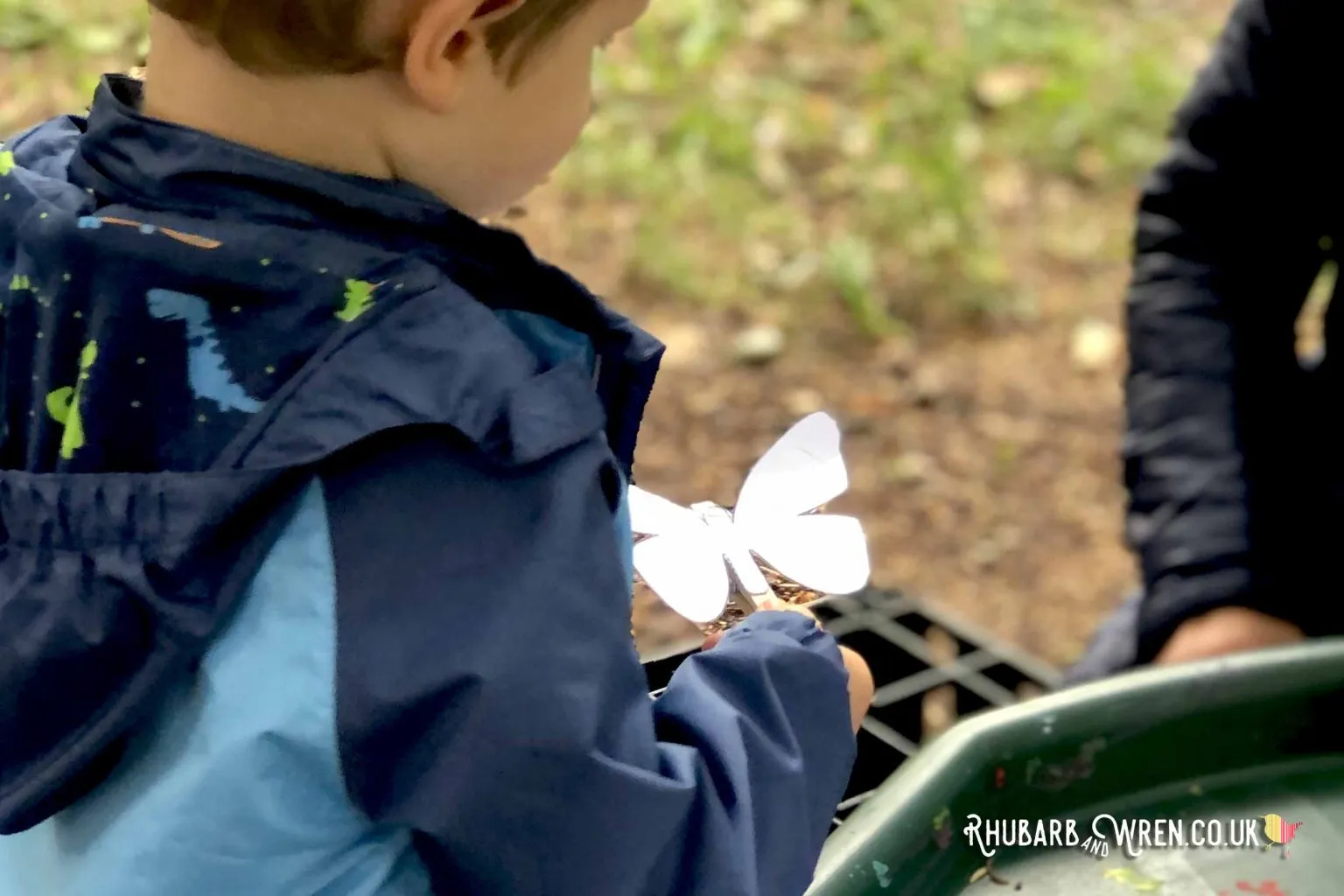 How to make a flapping butterfly peg automaton
This is a really simple activity that children of all ages can do with little or no adult help. However I find it helps the children understand the instructions if there is a working example for them to look at while they build their own. Which is a great excuse for you to have a play too!
Materials needed
This post uses affiliate links, which means I receive a small amount when you click through and buy. You can find out more on my 'about affiliate links' page.
Flapping butterfly peg automata printable template
Part of the fun of this craft is creating your own butterfly, and it is easy to draw your own. You will need to start by drawing around the peg as you need to get the right width and length for the body. Once you've got that sorted, all you need to do is add wings either side.
If you prefer to use my template instead, you can download this from my printables page. There is a version that comes with instructions as well the template, and alternatively one that has three butterflies squeezed onto an A4 sheet, for maximum efficiency. Both Butterfly templates are exactly the same.
This template is based on the pegs I had, which were generic wooden pegs 7cm long and roughly 1cm wide.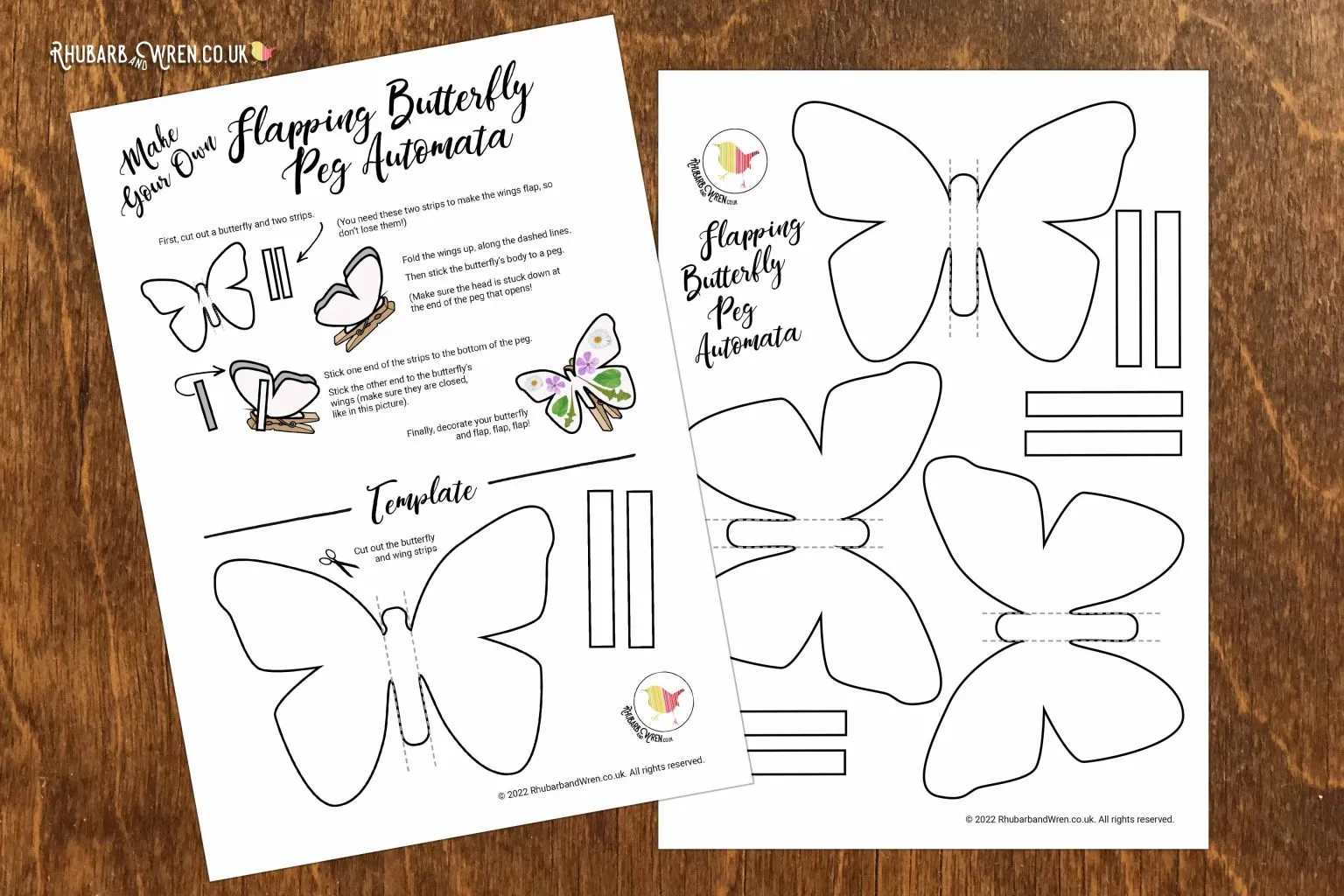 Flapping butterfly peg automata Instructions
1. Cut out the butterfly template, or draw and cut out your own. Also cut out the two strips on the template. Don't lose the strips because you'll need these bits to make the wings flap.
Stick the body of the butterfly onto the top of the peg, and make sure that the butterfly's head is at the pinching end of the peg.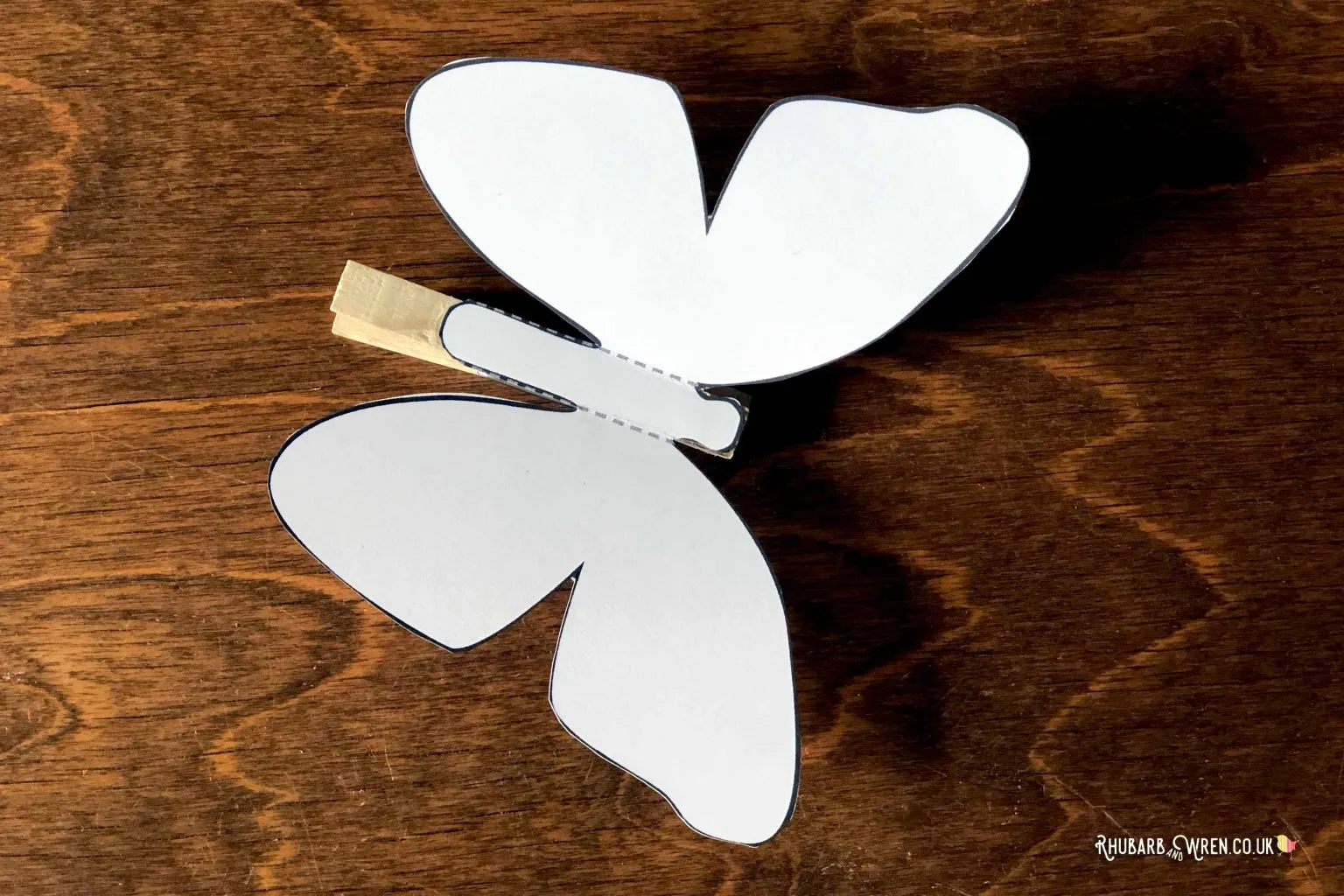 2. Fold the wings along the dashed line, so that they are pointing up from the body, as shown in the picture below.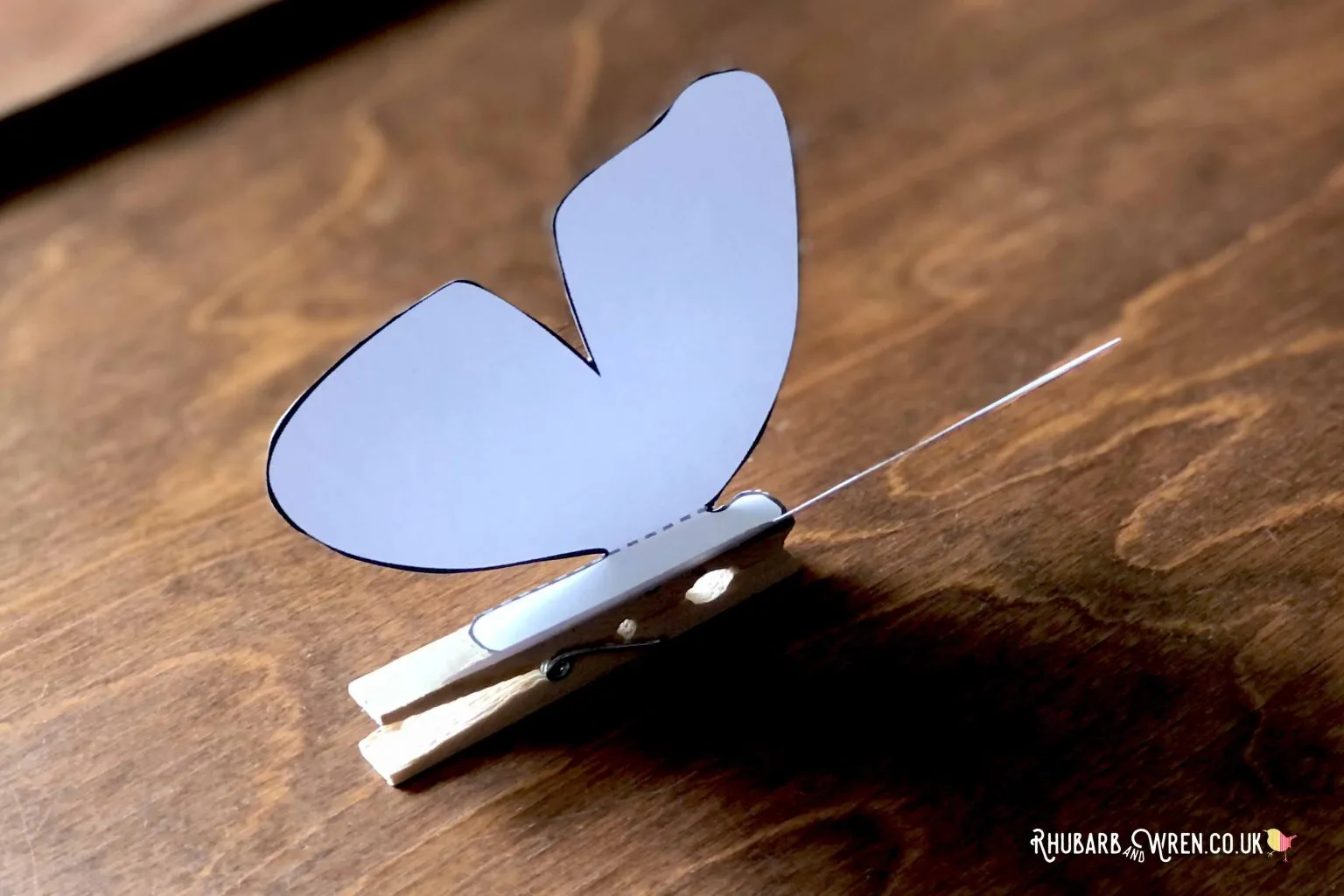 3. Next, add sticky tape or glue to either end of the two strips you have cut out, so they are ready to stick into place. These strips are what makes the wings flap when you open the peg.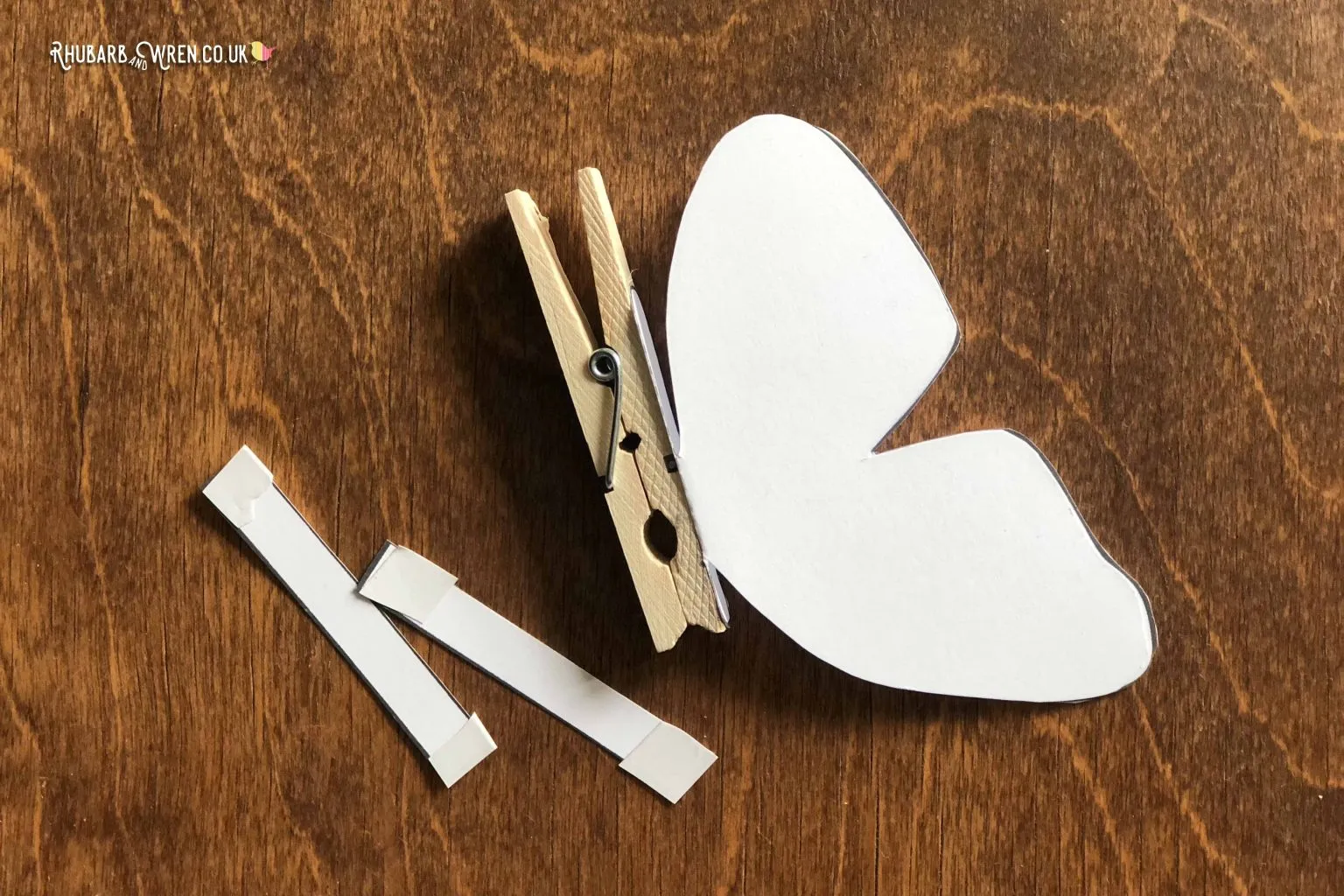 4. Now stick one end of the strips to the bottom of the peg, as shown below.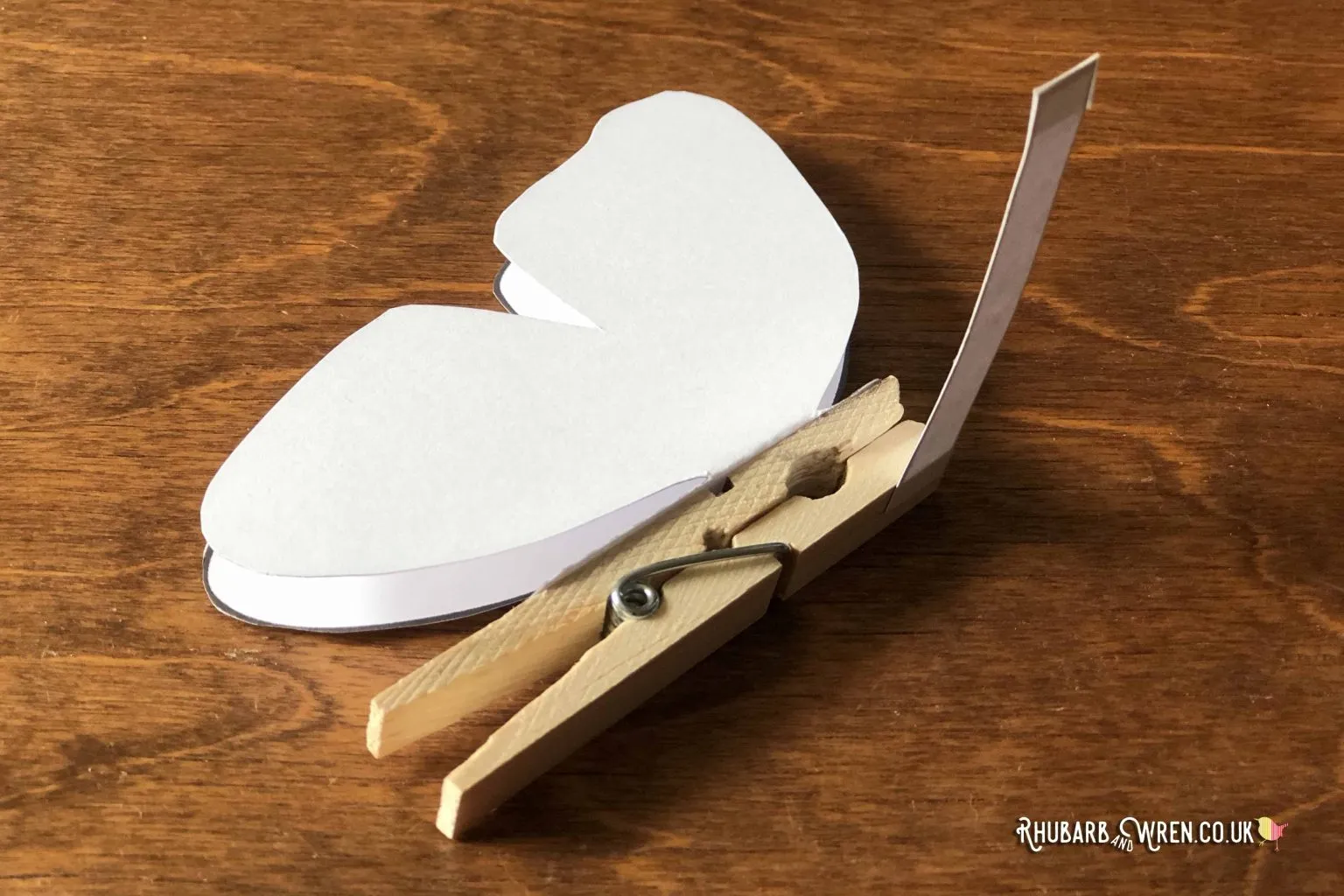 Fold the strip up around the peg and stick the other end to the underside of the butterfly's wing.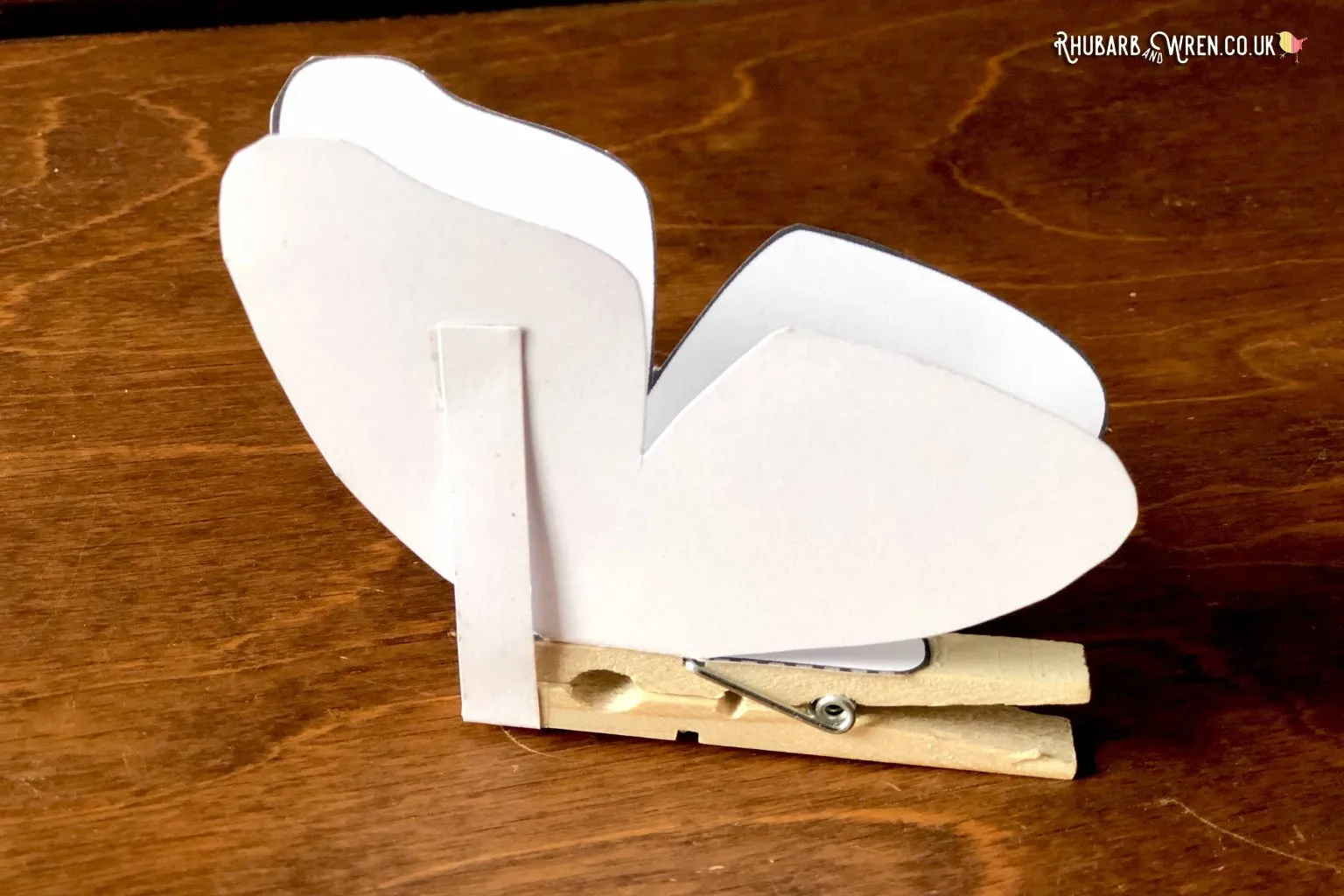 Repeat with the other side. You can overlap the strips underneath the peg so that they are in the same position on both wings.
Now when you squeeze open the peg, your butterfly will flap its wings!
I do this craft with my forest school groups, so after we have finished our butterflies, we go hunting for pretty leaves and flowers to decorate them with. You could of course use paint, pencils or pens instead, but if you do that, then it will be easier to decorate your butterflies before you stick them on the pegs.
If you do use paint, this works perfectly as an exercise in symmetry. Simply dab a few blobs of different colour paint onto one wing, and then press them together to make identical patterns on both wings.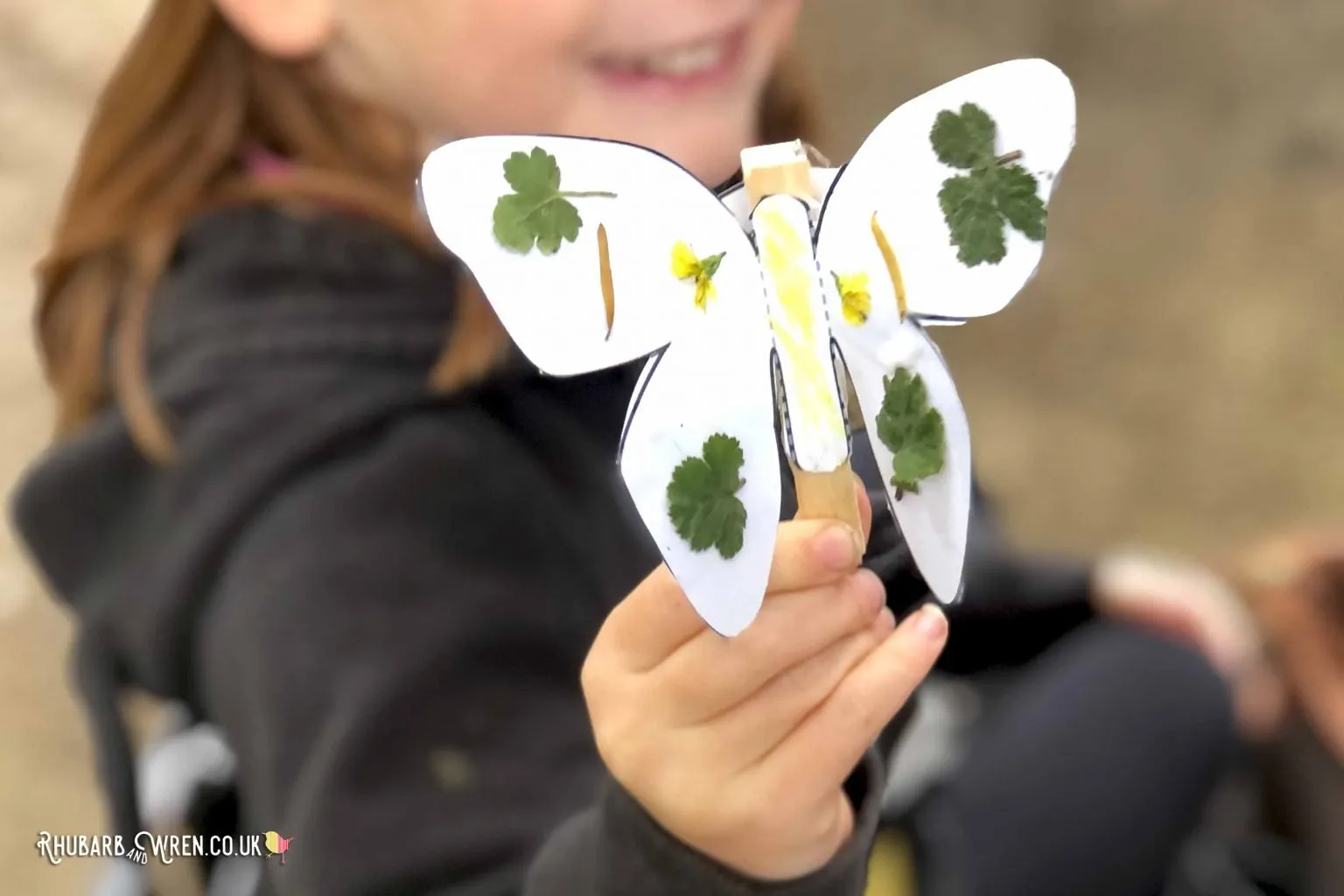 ---
More from Rhubarb and Wren
Looking for more fun things to make and do with the kids? Then check out these great activities from Rhubarb and Wren!
Pin this for later!
Want to bookmark this for later? Then save this post to Pinterest!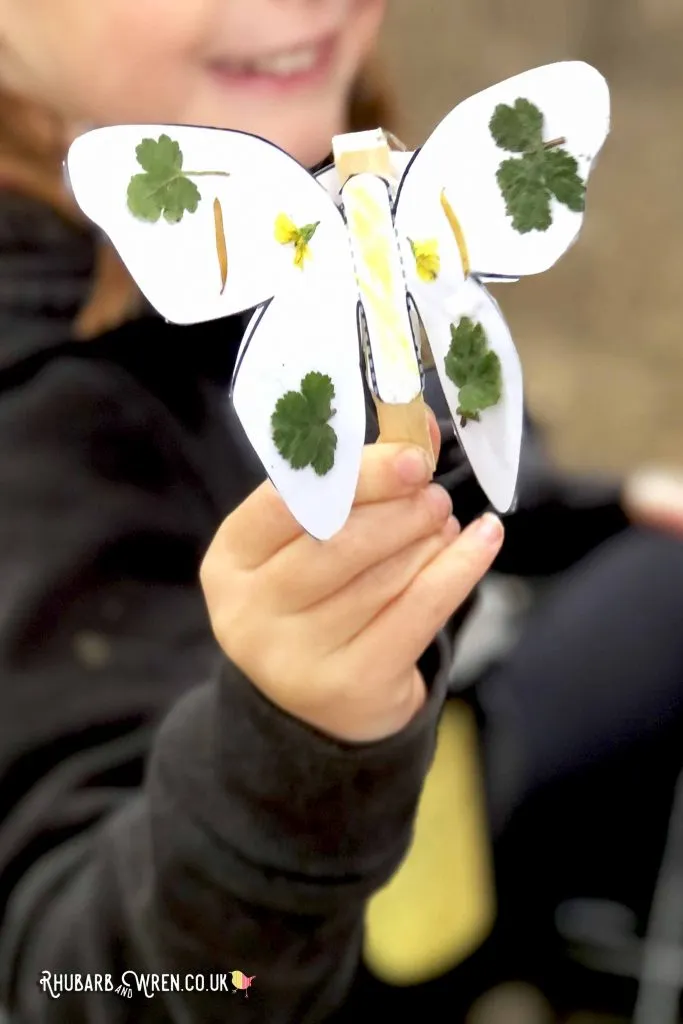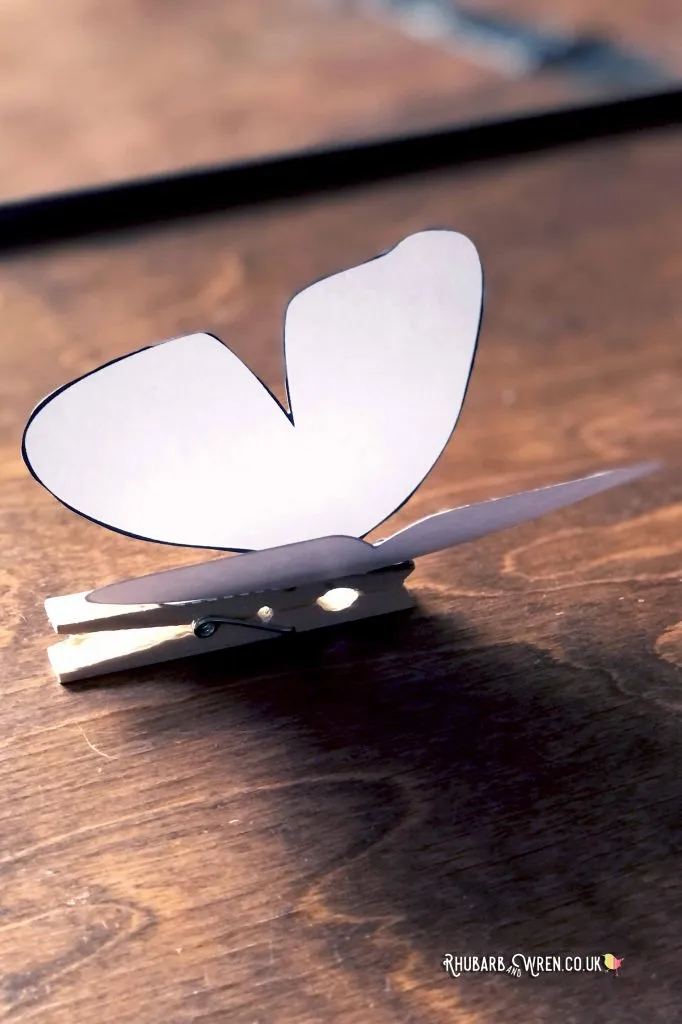 ---
Quick-Read Instructions
For when you just want to get right to the point…

Materials needed:
(these are all Amazon affiliate links – see my 'About Affiliate links' page for more information)
Paper or card
Pegs
Double sided-sticky tape (alternatively, you could also use ordinary tape or glue).
Butterfly automata template – download from my printables page.

Method:
1. Cut out the butterfly template and two strips for the wings.
2. Decorate your butterfly. Unless you want to decorate with leaves and flowers, like we did, in which case, do this last.
3. Stick the butterfly body to the top of the peg, but make sure the head is at the pinching end of the peg.
4. Fold the wings up along the dashed line.
5. Stick the end of one of the strips to the underside of the peg, near the head end.
6. Next, stick the other end of the strip to the underside of the butterfly's wing. (See picture)
7. Repeat for the other wing
8 Decorate the butterfly now if you are using found things from nature and sticking them on.
9. Finally, open and close the peg to make the butterfly's wings flap!

Hints and Tips:
Butterflies wings are symmetrical. Think about this when decorating yours.
If your butterfly's wings are not flapping, then check it is stuck to the peg with the head at the end that opens.