This flapping bat mobile looks like it is flying as it flaps it's wings over and over again with just one tug on its pull cord! Made from a few simple materials, and using pennies as weights, this is a great project for older children to make, but younger ones can do it too with a little help.
Not got much time or just want the bullet points on how to make these? Click here for the Quick Read flapping bat mobile instructions.
You could make this flapping mobile as an amazing flying bat Halloween decoration. But don't worry if you can't wait for Halloween as there is a an International Bat Appreciation Day on 17th April, International Bat Night at the end of August, Bat Fest throughout September, Bat Week in October, or if you want to go the whole bat, some countries make all of October Bat Month as well. That's a lot of days to go all batty!
How to make a flapping bat mobile
All you really need for this project is a bit of cardboard, string, a few pennies, a bit of black paint and the printable template. The only remotely fiddly bit is getting the balance right, but even that is pretty easy. Younger children will need some help with that, but everything else they can do themselves.
This post uses affiliate links, which means I receive a small amount when you click through to a link and buy. You can find out more on my 'about affiliate links' page.
Materials:
Cardboard (thin corrugated or strong card that will hold its shape)
String
Sticky tape
4 small coins (such as pennies) or similar items, to act as weights
Paint
Stick
This project can also be made out of thin plywood for a more durable finish, and makes a great woodworking project for kids. My sister has a seagull version she made at school way back in the 80s, and it is still going strong.
If using wood, you will need to attach the wings with small hinges instead of sticky tape, and use heavier weights, but the method is otherwise exactly the same.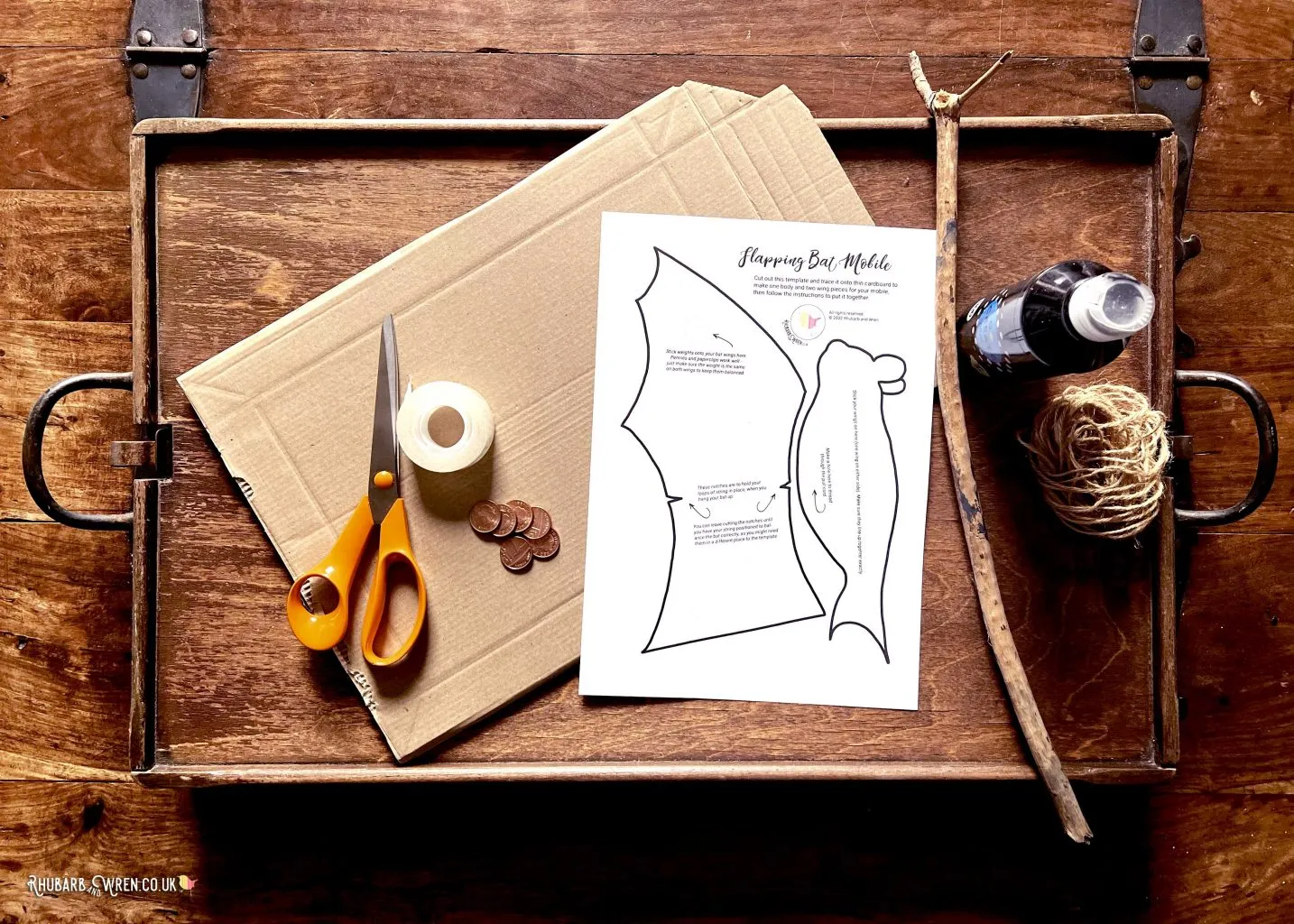 Flying bat toy instructions
1. To make a flapping bat mobile, you will first need a printout of the template, which you can download for free from my printables page.
Cut out the paper template body and wing shape, then trace around them to copy both shapes onto thin but strong cardboard. Something like thin corrugated cardboard works well – you need something that can hold its shape. If your cardboard isn't strong enough, try doubling it up.
Cut out one body and two wings.
If you want to paint your bat, you might find it easier to paint the pieces now, before it is assembled.

Assemble your bat
2. Using sticky tape, attach the cardboard wings onto either side of the cardboard bat body, where shown by the dashed line on the paper template.
You can mark this on your cardboard by overlaying the template, and then pushing the tip of a pencil through the paper at the start and end of the line. Join these marks on the cardboard together and you will have the position for the wings..
Make sure that the wings line up together when they are fully upright.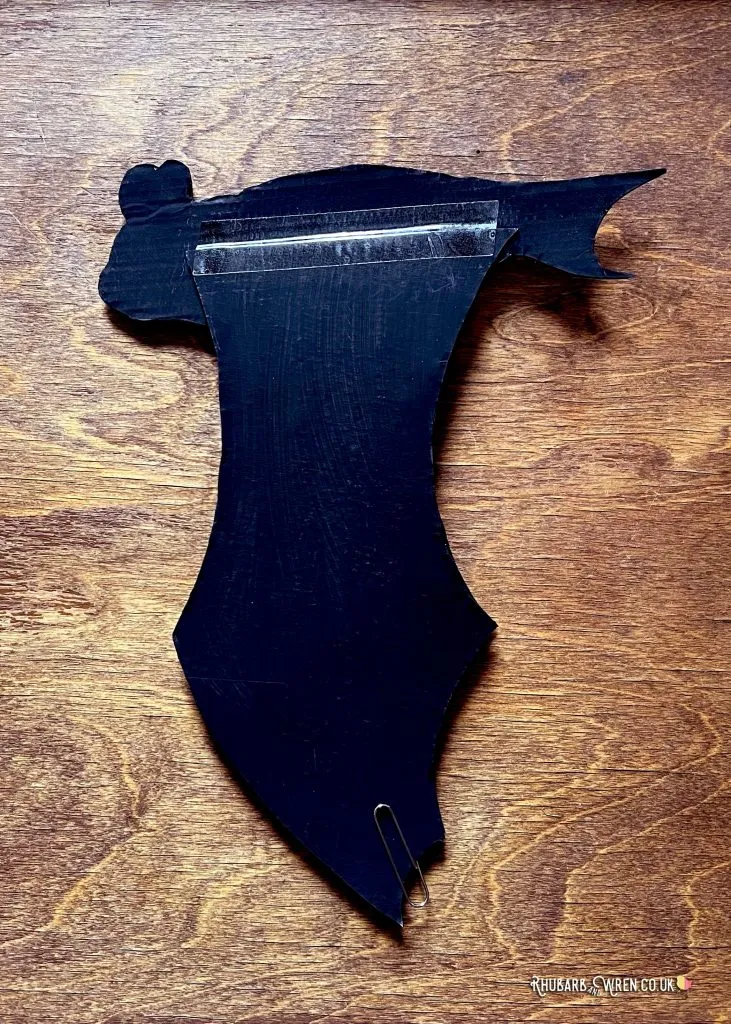 Strings for suspension
3. Cut two pieces of string that are each about 50cm long. These will be used to hang your bat by its wings from the stick.
Tie the ends of each piece of string together, to make two loops – one for each wing.
4. Find a stick or piece of dowelling that is about the length of your bat's wingspan. Put each loop of string around one of the bat's wings, and then thread the stick through so that the bat will hang down from it.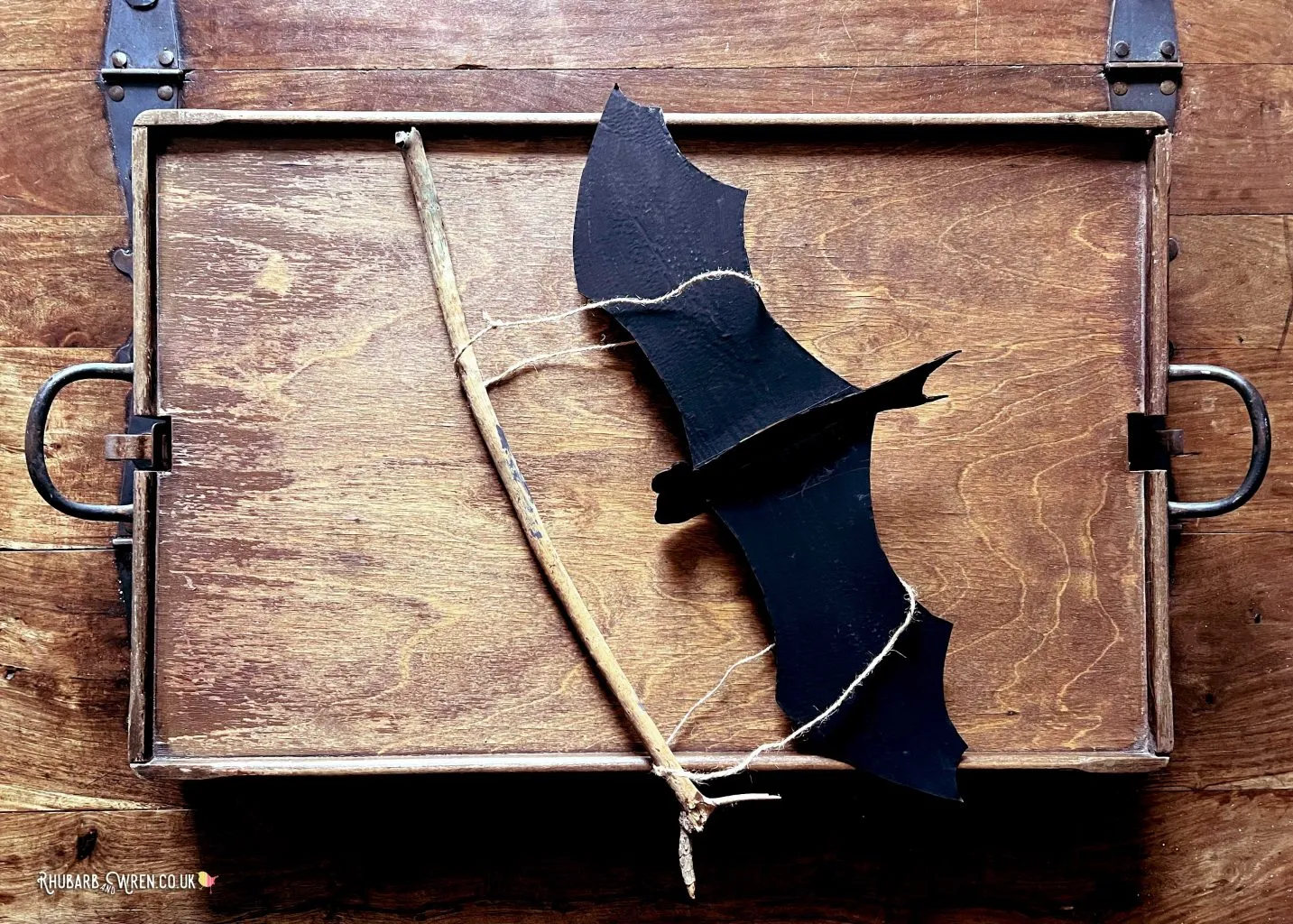 Support stick
5. Cut another long piece of string for the hanger. Tie this string to either end of your stick (the loops should be on the inside) and use it to suspend your mobile so that the bat is dangling down.
Balance your bat mobile
6. When the bat is hanging, the wings should be horizontal. To get this balance right, you may need to move the loops further in or out along the wings. The loops will need to be in (roughly) the same place on each wing.
7. Once the bat is balanced horizontally, cut small V-shaped notches in the wings to hold the loops in position.
At this point, the structure of your flapping bat mobile is pretty much finished, but you will need to add a pull cord to set the bat flapping, and weights to keep it going.
Add a pull cord to your mobile flapping bat
8. Make a hole in the belly of the bat's body, and thread through a piece of string about 20cm long. This is your pull cord. Give it a tug, and the bat will flap its wings.
But without weights, you'll probably get only one flap. We want our bat to fly, so the next step is to add weights that will pull the body and wings repeatedly up and down once you set it in motion with a tug of the pull cord.
Weights for the wings
When your bat is balanced WITHOUT weights (don't skip that step!), it's time to add the weights. Anything will do, but coins work well as you can be sure that coins of the same denomination weight exactly the same. This is important as you need the same weight on each wing, and double on the pull cord.
Start with a small weight – such as as one penny coin on each wing.
Weight for the pull cord
Next, add another weight, this time to the end of the pull cord. I find that using the same amount of weight as on both wings combined tends to work best. So if you have a penny on each wing, put two pennies on the pull cord.
Balancing the weights
If all three weights are balanced, the bat will once again sit with wings outstretched horizontally, just as before you added the coins. You will probably need to experiment with the weight positions to get this right!
If your bat isn't balanced, try moving the position of the wing pennies, but be sure to keep both sides mirrored. You should not need to adjust the position of the string loops though, as they will already be in the right place to achieve neutral balance.
If moving the wing weights doesn't work, try moving the weight on the pull cord, or alternatively adjusting the amount of weight attached.
You'll know when you've got it right as your bat will once again sit balanced with wings straight out to the sides when 'resting'.
Once balanced, give that cord a pull, and watch those wings flap!
---
Find out more about bats
Bats are amazing creatures, and can be found in almost every part of the world and type of habitat. They are also the only mammals that can fly; gliding squirrels don't count (gliding, not flying), and flying foxes aren't foxes – they are actually a type of bat.
Bats come in sizes ranging from as small as a bumblebee to as big as a dog, and everything in between, and while you may not realise it, there are bound to be bats living not too far from you, where ever you may be. While they get a bad press in fiction, they are also a vital part of our ecosystems and help control other creatures we regard as pests. I'm looking at you, midges!
National Geographic have a great page full of fascinating facts about bats, and I also recommend the Bat Conservation Trust which has tons of information and resources.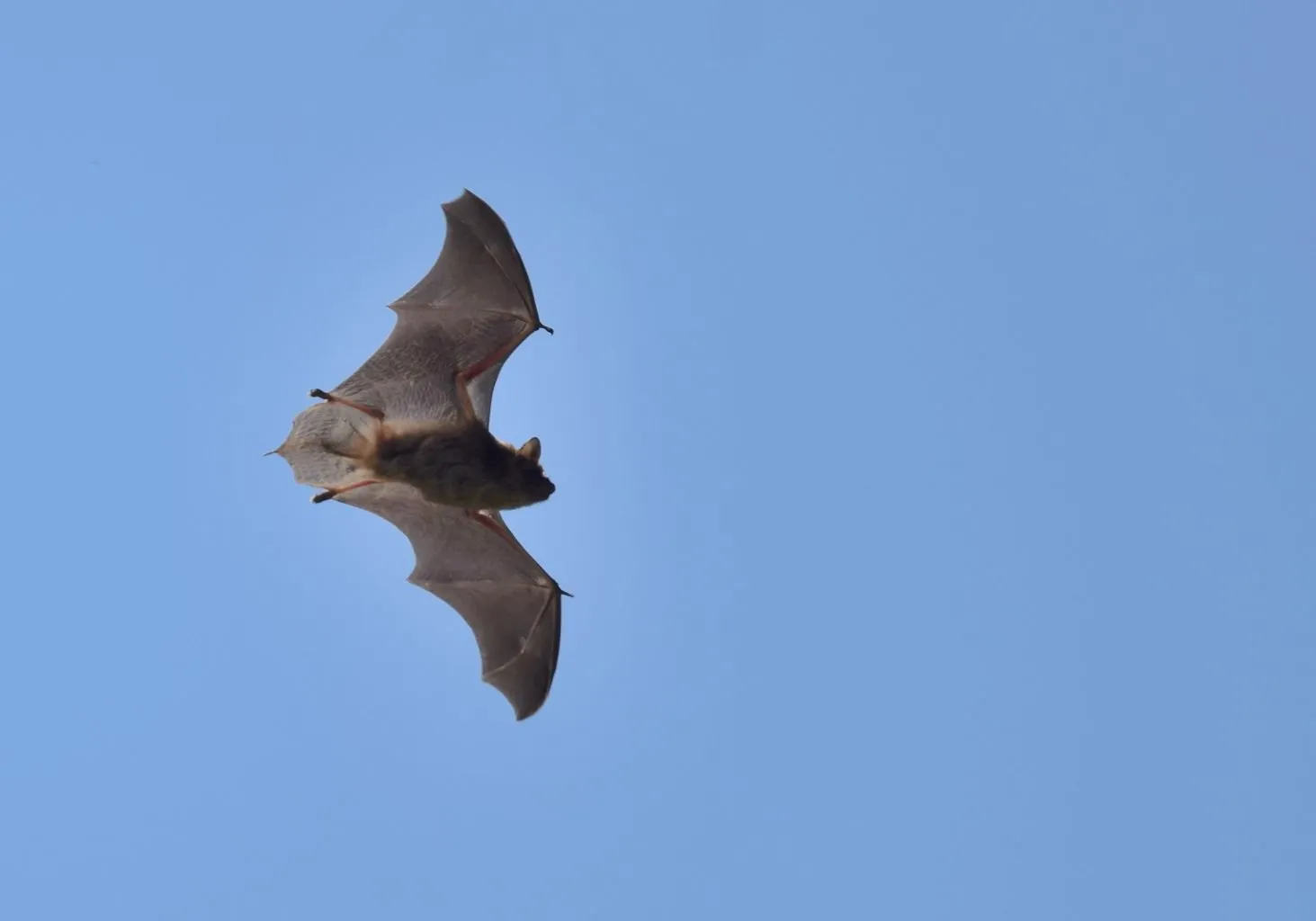 More from Rhubarb and Wren
Looking for more fun things to make and do with the kids? Check out these great activities from Rhubarb and Wren!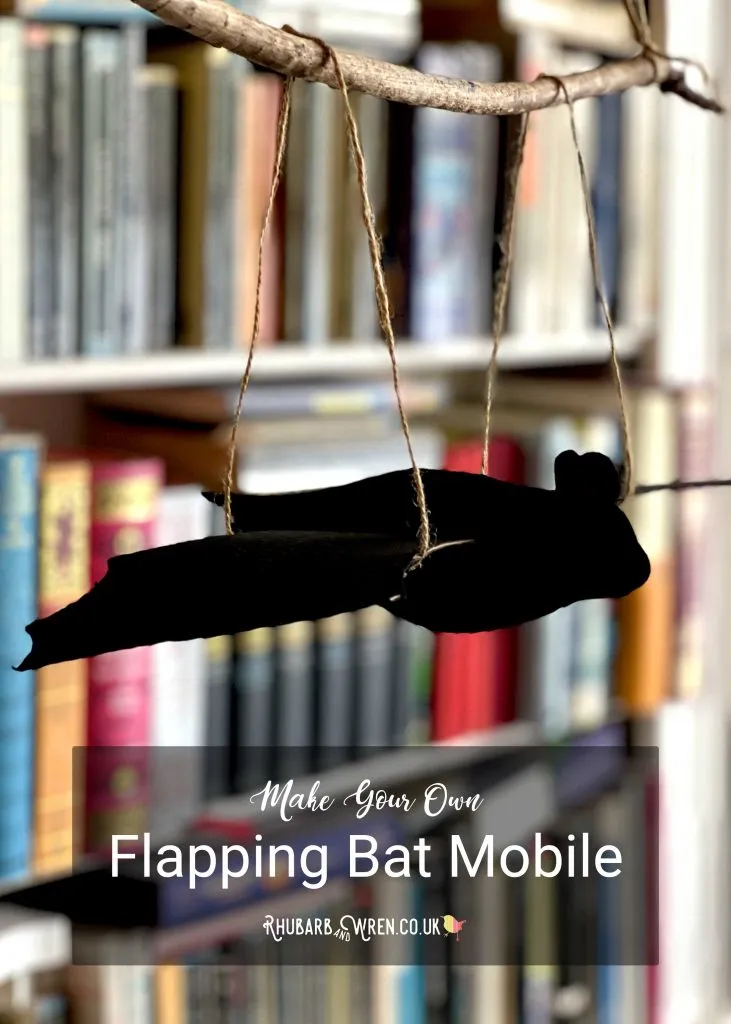 Pin this flapping bat mobile for later!
Want to bookmark this for later? Save this post to Pinterest!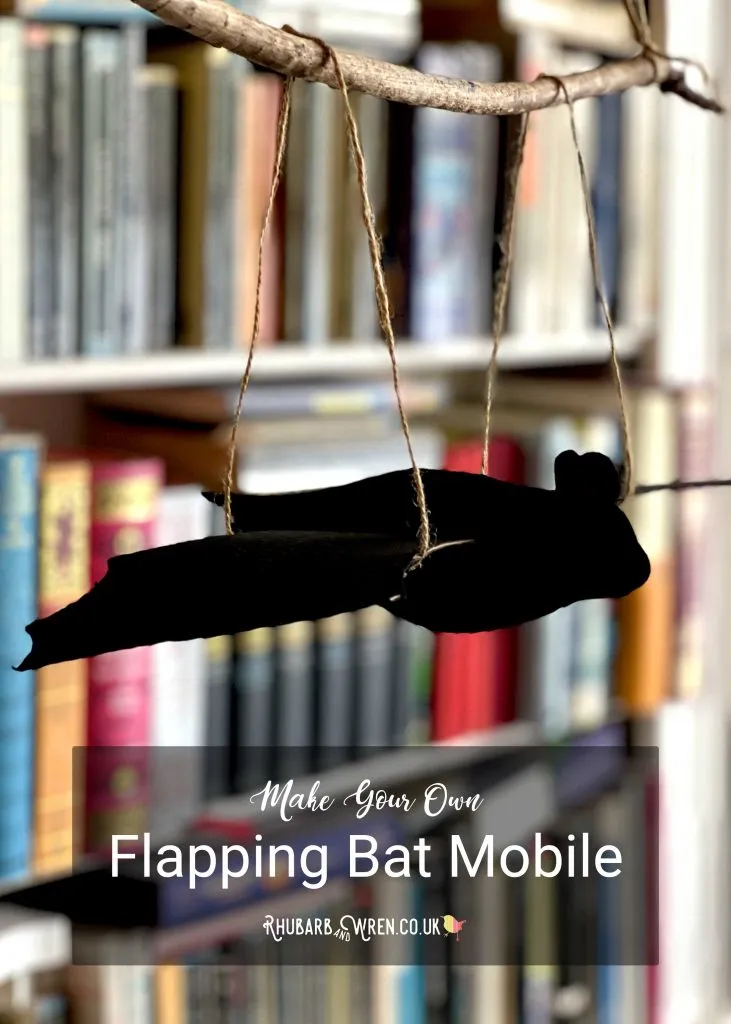 ---
Flapping Bat Mobile Quick-Read Instructions
For when you just want to get right to the point…

Materials needed:

Template
Cardboard
String
Sticky tape
4 small coins (such as pennies) or similar items, to act as weights
Paint
Stick

Method:
1. Use template to cut out one body shape and two wing shapes from thin corrugated cardboard or stiff card. Paint the shapes before assembling your bat.
2. Attach the wings to either side of the body using sticky tape, as per the position marked on the templated with a dashed line. The wings should line up together when folded upwards.
3. Cut two pieces of string, 50cm long each, and tie into large loops.
4. Place a loop of string around each wing and use these to hang the bat from the stick.
5. Cut a longer piece of string to make a hanger. Tie this to either end of the stick, and hang up the mobile so that you can get the balance and flapping mechanism right.
6. The bat should hang suspended with its wings outstretched as if gliding. You will need to play around with the position of the string loops, to get this right.
7. Once you've found this 'neutral' position (with wings horizontal, pointing neither up nor down), cut small notches in the wings to hold the string in position.
8. Make a hole in the belly of the bat, in the centre, and attach another piece of string for a pull cord to make the bat flap its wings.
9. Add weights to the wings of the bat in the position marked on the template. Make sure that the weight is the same on both sides, and in the same position.
10. Add further weights to the end of the pull cord. You will probably need roughly double the weight on each wing, but play around with this until the weight on the pull cord once again brings the bat into the neutral position of wings outstretched horizontally.
11. Pull on the weighted cord to see your bat flap its wings.