Made by hanging up several different ribbon curtains or ribbon backdrops (whatever you want to call them), this beautiful rainbow dell is a simple but really successful activity at my Forest School sessions in the summer. And is just as popular with the parents as the kids!
In fact, while I used it as an outdoor children's activity, it would work just as well as a ribbon canopy, tent or backdrop for an outdoor event like a wedding, birthday, or festival.
Want to know how I made it, and what I added to keep the kids busy? Read on to find out more!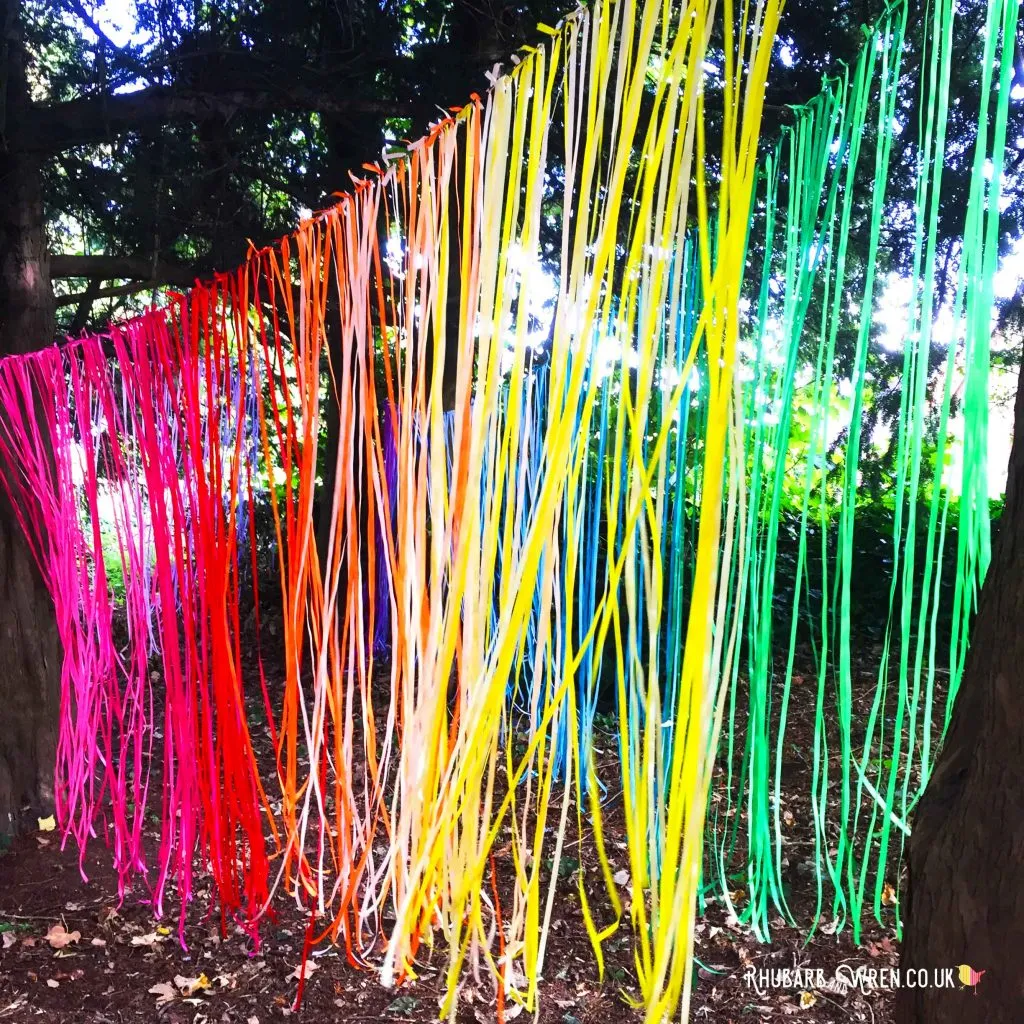 Not got much time or just want the bullet points on how to make these? Click here for the DIY Ribbon Curtain Quick Read Instructions.
Children of all ages (and quite a few adults) are drawn to the magic of a rainbow curtain of ribbons in a leafy dell. There is something wonderfully enchanting about pushing your way through strands of colour, and it makes any space look amazing.
Best of all, the ribbon curtain set up is simple and reusable, so it's perfect for events and parties.
How to make a ribbon garland backdrop or curtain
There's very little to this, and just looking at the picture probably tells you all you need to know. However having used my ribbon curtain for a few different sessions now, I've got a few tips and tricks that will help make the set up even easier.
This post uses affiliate links, which means I receive a small amount when you click through to a link and buy. You can find out more on my 'about affiliate links' page.
Materials needed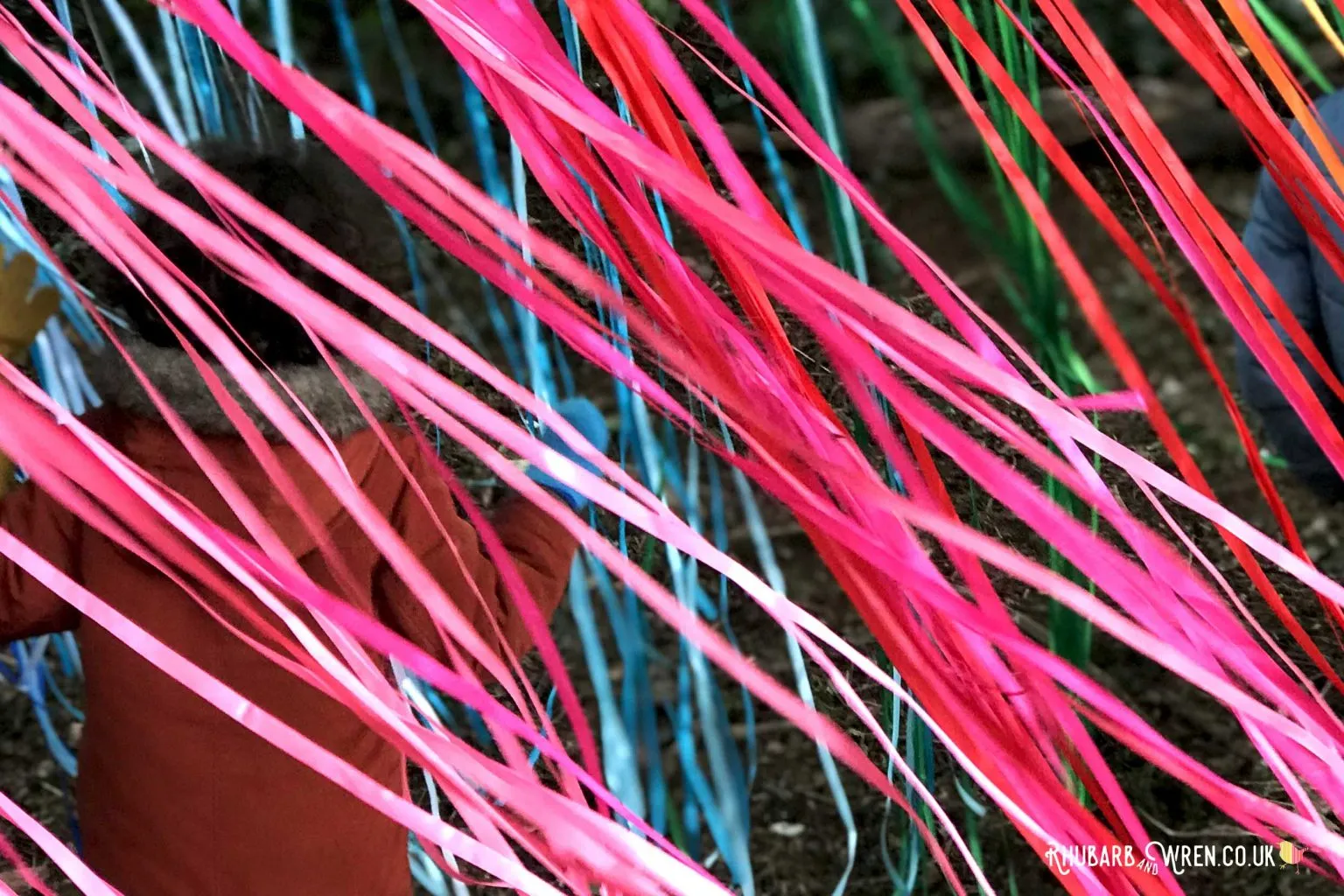 DIY ribbon backdrop instructions
1. First of all, measure the space where you will hang your ribbon backdrop. Cut your cord accordingly, allowing enough length to tie it in place once the ribbons are attached.
2. Attach your ribbons to the cord. It doesn't really matter how you tie them on, as long as they are secure. Leave gaps of about one or two centimetres (half to one inch) between the ribbons.
If your ribbon dell is as big as mine, then this will be a slowwwwww job! Give yourself a good few hours (and a glass of wine) to get it done.
3. An optional step to increase the reusability of the ribbon curtain. Seal the ends to stop them fraying. The simplest way to do this is by either using pinking shears or by cutting a triangle into the end. This will slow fraying, but it won't stop it.
A better way is to seal the ends by either dabbing on clear nail varnish, or heat sealing by holding the end of the ribbon near (but not actually touching!) a candle flame. The heat from the flame will cause the end of the ribbon to shrink in on itself, sealing it from fraying.
4. Finally, hang your ribbon backdrop up! If you are going to want to take the ribbons down and then use them again another day, I highly recommend attaching some bungee cord hooks to your rope to make this easier. Alternatively, tie a loop into the end of your cord, which you can use to hook the ribbon curtain onto your tree or post. You can also use separate bungee cords for this.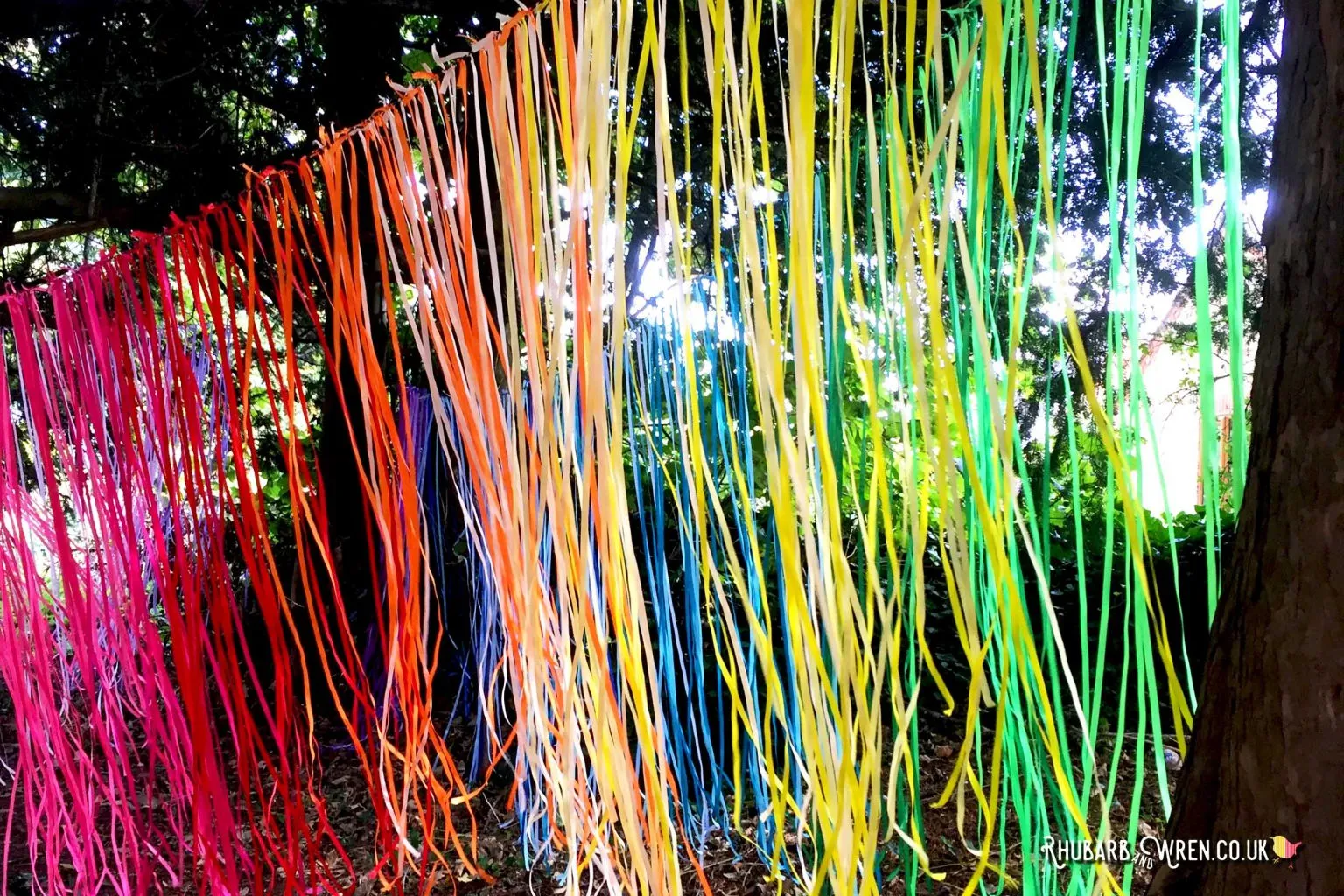 ---
Ribbon curtain hoopla
If you don't have enough space to string up long lengths of ribbon curtains, then an alternative method is to use a hula hoop instead. Simply tie your ribbons around the hula hoop, and then some string to form a hanger.
With this method, the ribbons form little tents that children love to dart in and out of. And if you've got more than one hula hoop, hang several at slightly different heights for maximum effect.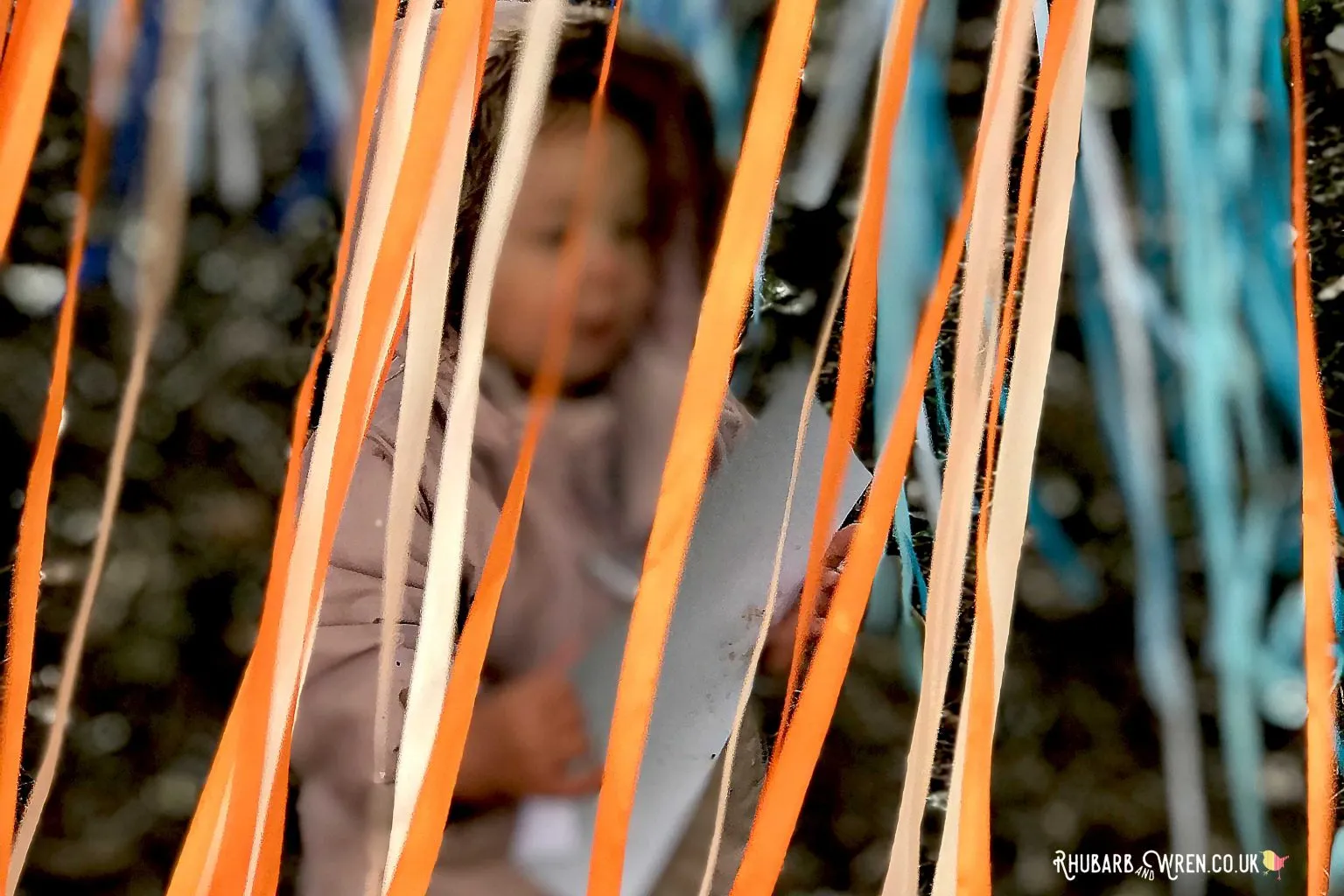 A Forest School Ribbon Dell
There's no denying the entirely man-made nature of this ribbon dell, so when I use it in my forest school sessions, I tend to save it for special occasions. I also add a nature hunt element by hanging wood cookies decorated with cut-outs of real life colourful insects for children to find.
If you'd like to do this activity too, you can download my rainbow insect spotter sheet here.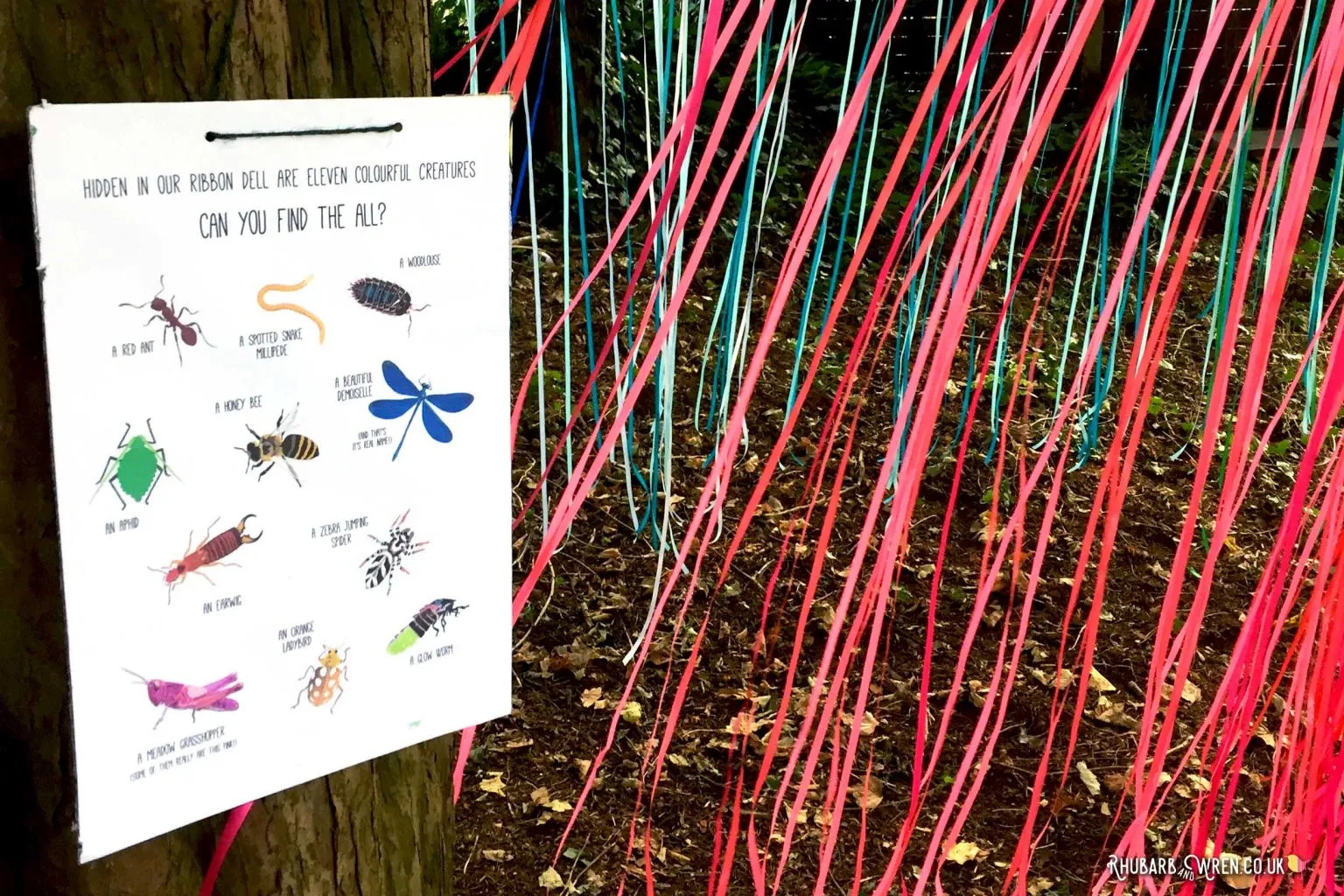 More from Rhubarb and Wren
Looking for more fun things to make and do? Check out these great activities from Rhubarb and Wren!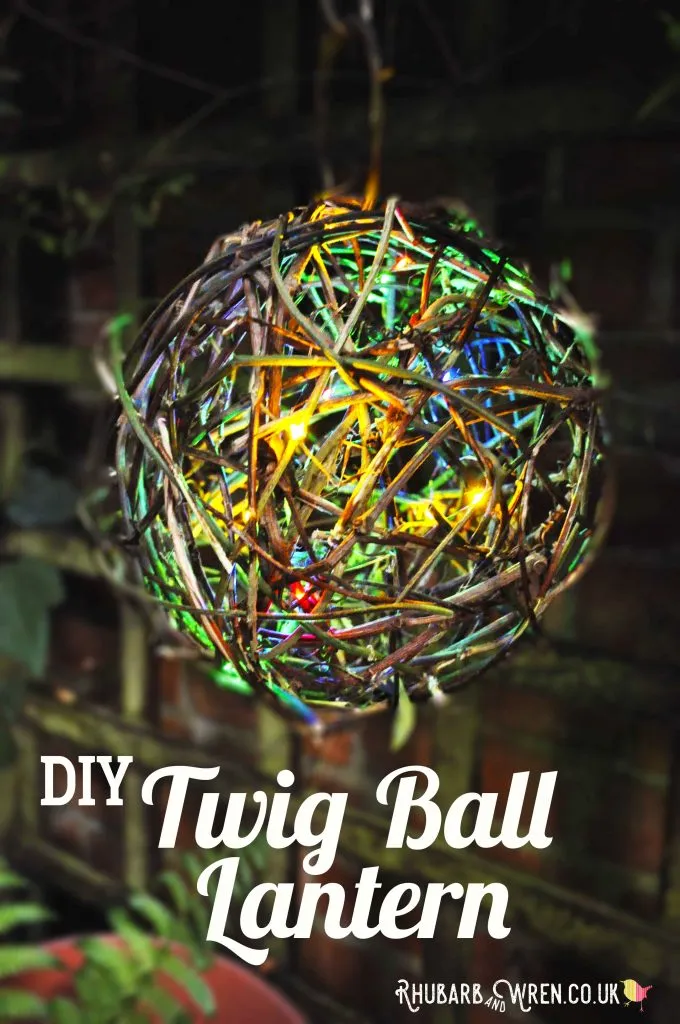 Pin this for later!
Want to bookmark this for later? Save this post to Pinterest!
---
DIY Ribbon Backdrop Quick-Read Instructions
For when you just want to get right to the point…

Materials needed: 
(these are all Amazon affiliate links – see my 'About Affiliate links' page for more information)
Ribbons
Rope, cord, or strong string
Alternatively, a hula hoop to hang your ribbons from.
Bungee cord hooks or bungee cords (optional)

Method:
1. Measure the space where you will hang your ribbons. Cut your cord allowing enough length to tie it in place once the ribbons are attached.
2. Attach your ribbons to the cord.
3. Seal the ends of the ribbons to stop them fraying.
4.Hang up your ribbon backdrop / ribbon curtain.