Campfire Welsh cakes are a vegan spin on traditional Welsh cakes that I cook over the fire at my forest school sessions. As there are usually large groups of children in my sessions, I try to ensure that the food we cook can be eaten by everyone. That means making them vegan and avoiding ingredients that are common allergens.
But rest assured, they still taste just as good as traditional Welsh cakes that use egg and milk.
Traditional Welsh cakes
Welsh cakes are a bit like a flat scone, but instead of being cooked in an oven, these campfire Welsh cakes are cooked on top of the stove on a bakestone (or griddle). Traditionally made with flour, egg, butter, milk and raisins, they are flavoured with a touch of nutmeg or mace, though you can use cinnamon or mixed spice too.
Growing up with a Welsh mum, these little cakes were a regular family treat for us. They are really quick to make, so my mum would often whip up a batch for after school on Nan and Grancha's old cast iron bakestone, and we'd eat them still warm from the stove with a little butter, maybe a bit of jam, or just as they came.
Lovely as the traditional recipe is, this vegan version tastes just as good and has the advantage of being suitable for almost everyone. You can cook these in a heavy frying pan if you don't have a bakestone or griddle, and on your stove at home if you don't fancy cooking over a campfire.
If I'm cooking these outdoors in a Forest School session, I make the dough ahead of time and let the children do the rolling out, cutting, and cooking.
Any product links in this article are mostly Amazon affiliate links. You can find out more about what that means on my 'about affiliate links' page.

Equipment
To cook these campfire Welsh cakes outdoors at my Forest School sessions, I use the following equipment.
(I also always have on hand my standard fire safety equipment – a water bucket, fire blankets, Fire gloves, and burns kit – plus my fire steel to light the fire!)
Campfire Welsh cake ingredients
Makes about 15 Welsh cakes
225g (8oz) self raising flour (you can substitute gluten-free self raising flour)
A pinch of salt
1 -2 teaspoons of nutmeg
100g (4oz) vegan butter (for example, Vitalite)
2 tablespoons of plant-based milk
2 tablespoons of apple cider vinegar (substitute white or cider vinegar if you can't get this)
2 teaspoons of bicarbonate of soda
50g (2oz) currants (or raisins or sultanas)
Dash of vegetable oil (I use rapeseed oil as it has a high smoke point) to oil the pan
Instructions for making campfire Welsh cakes
Time needed: 10 minutes
Method
Mix up a faux-egg

Combine your bicarbonate of soda and apple cider vinegar in a small dish, and set to one side.

Mix together the dry ingredients

Combine the self raising flour, salt, and nutmeg in a mixing bowl

Rub in butter

Rub your 'butter' into the dry ingredients between your fingertips, until you have a texture like fine breadcrumbs.

Add the wet ingredients

Add the 'milk' and the faux-egg you made in step one. Use a wooden spoon and your hands to mix together until you have a stiff dough. If the mixture is too crumbly, add a little more milk.

Optional – add currants

Mix in the currants, raisins, or sultanas. Fold into the dough until evenly distributed throughout.

Roll out your dough

Sprinkle a little flour on the dough and your surface, then use a rolling pin to roll out your dough to about 5mm (roughly 1/4″) thickness. You don't want them too thick or they will not cook all the way through.

Cut out your Welsh cakes

Use a cutter to cut out circles. Fluted circles are the traditional shape for Welsh cakes, but hearts, stars, or other shapes also work.

Cook!

Place the uncooked Welsh cakes onto a preheated bakestone, griddle, or heavy frying pan (grease this first with your oil or butter).
Let them cook on one side for a few minutes, then lift the edge to check if they are ready to turn.

Flip over

Once golden brown on that side, flip to cook the other side

Ready to eat…

Remove from heat when both sides are golden brown and the Welsh cake is puffed up to about twice the original height. They should take about 5 minutes to cook.
Tips for campfire cooking
If using a cast iron cooking surface, flick a bit of water onto it to test the temperature is right before you start cooking. You want the water to form little rolling beads.
When cooking over an open fire, wait for the initial orange flames to die down. Cook over the white hot embers and you will get a steady, even heat that is less likely to burn your food.
Food allergies
If you need your Welsh cakes to be as allergen-free as possible, be careful as to which particular products you use, as vegan doesn't mean allergen-free. I use Vitalite vegetable spread for the butter, for example, because it is gluten-free, lactose-free & soya-free, not just dairy-free.
Be aware some sorts of vegan milk also contain common allergens – I am careful to use an oat milk that is certified gluten-free, but I also make sure to check that there are no children with oat allergies in the group, for whom oat milk would be no good.
Vegetable oils can also be problematic for allergies. I use rapeseed oil as its high smoke point means it can cook at higher temperatures without becoming smoky, but people with seed allergies might not be able to have this. You could use some of your vegan butter to grease the pan instead, or use an alternative vegetable oil that works for your participants.
To replace the eggs, another common allergen, I use a mix of bicarbonate of soda and apple cider vinegar. Plain old cider or white vinegar also works. Many other common vegan egg substitutes are allergy no-nos – flax or chia seeds, for example – so this particular substitution is the most universally acceptable I could find.
However even bearing all the above in mind, as I am far from being an expert on allergies, I find that the best approach to take with group cooking is to give a list of ingredients (including brand names) to participants before the session. That way they can check in advance if there is anything unsuitable themselves.
More campfire recipes
Another of my favourite things to cook over a campfire with kids at my forest school sessions is damper bread. Cooked twisted around sticks, it makes a great alternative to marshmallows. Check out how to make it in my damper bread recipe post.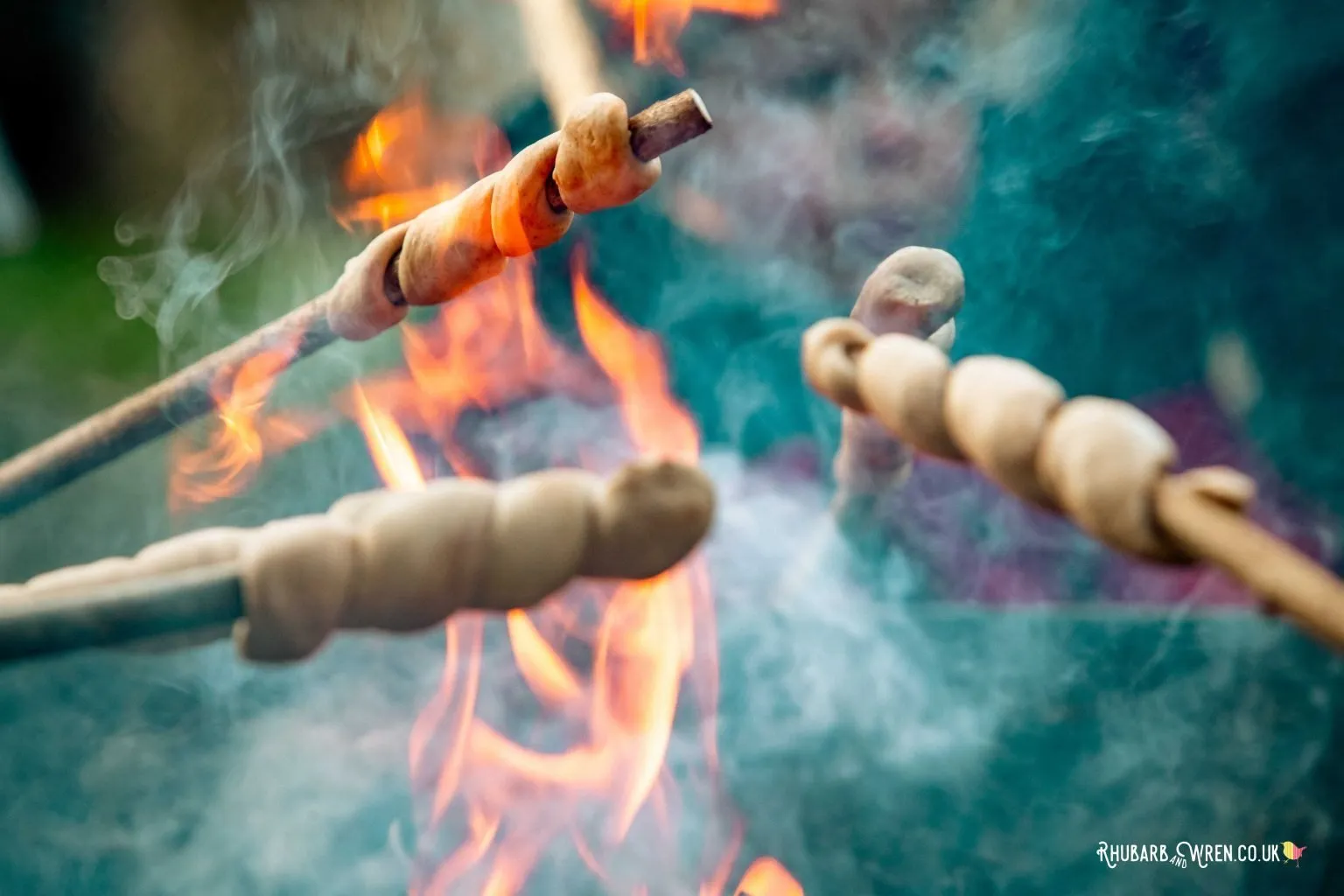 Pin this for later!
Want to bookmark this post for later? Save it to Pinterest!